Well, once again it's time for the Holiday Open House at Lucketts Store and The Design House!! The event is this weekend Nov 2 – Nov 4. Everyone has outdone themselves this year, I think I say that every year… but it really is true every single year! I had so much fun being at the shop today and taking photos of all the magical displays, it was so nice to be able to just enjoy it all and not have to stress about filling a space. I hope you enjoy this preview of the Design House.
The pass through in the barn was filled with fluffy flocked Wreaths and Trees and other Wintery White goodness!
There was silver and gold glittering everywhere…
and breathtakingly beautiful displays!
Gold, gold and more gorgeous gold!
The red and white room was a feast for the eyes! Love that crisscross painted wall!
A charming Mantel with stockings all hung up.
The Peacock room was amazing!
My absolute favorite though was the Garden room. So serene and lovely …
and full of beautiful textures … I adore the rustic floor too.
This wonderful space had a Ralph Lauren-esque style to it.
Owls can be found through out the whole house. Don't they look Darling on this bed?!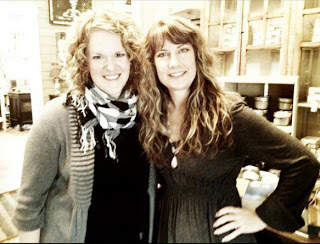 Marian and Me at Lucketts
And as if all the amazing decor wasn't enough, my friend Marian from Miss Mustard Seed will be doing a book signing in the tent outside! If you live in the greater D.C. area, you won't want to miss this event! You can find more info HERE. Or you can shop the Lucketts Online Store.  I'll be working on Friday and Saturday, I'm not sure which building yet, but I hope you'll say hello if you see me!