{This post contains affiliate links}
Today, I'll be showing you how to make a graphic's background transparent so it can be layered with other graphics.  This is a quick workaround when you need to edit a graphic and may not have the more expensive software on your computer.  We'll be using Free online software called PicMonkey to do the job. {There is a paid version as well, if you want to upgrade, for additional features}
This post is a companion to two earlier posts that  showed you how to make simple edits (e.g., rotate, mirror image), and simple edits to photos (e.g., recolor, add text, change to black & white) using PicMonkey.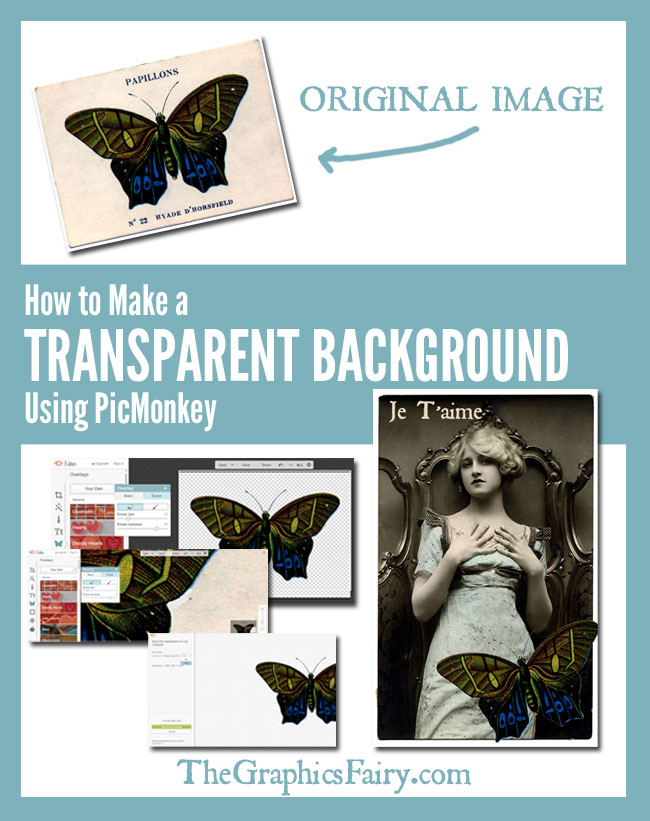 Essentially what we'll be doing in the following steps is creating a new blank canvas in PicMonkey, changing the canvas background to transparent, adding our graphic, and erasing the portions we don't want.  The FAQs at the end of the post answer some common image editing questions we get via email.
Download and Save the Image.  First, download the image you want to work with and save it to your computer.
Create a Blank Canvas in PicMonkey.  Go to PicMonkey and hover over the Design option at the top.  A menu of sub-options will open, click on Custom.  Enter the dimensions of the image you'd like to make and click the Make It button.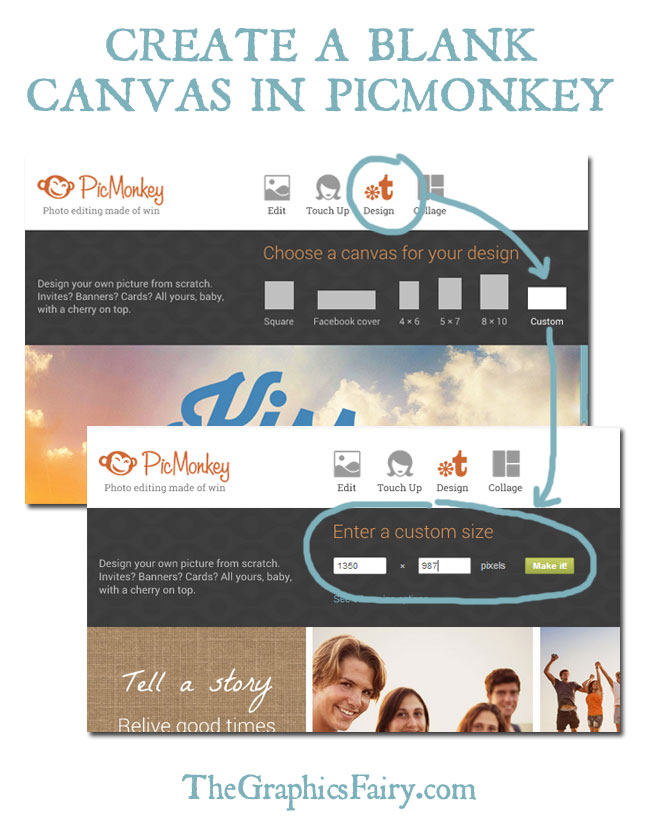 Make the Canvas Transparent.  I now have a blank canvas but I first need to make it transparent, not the white color it defaults to.  Go to the Basic Edits menu (first icon on left side that looks like square), select Canvas Color and click Transparent Canvas.  Hit the Apply button.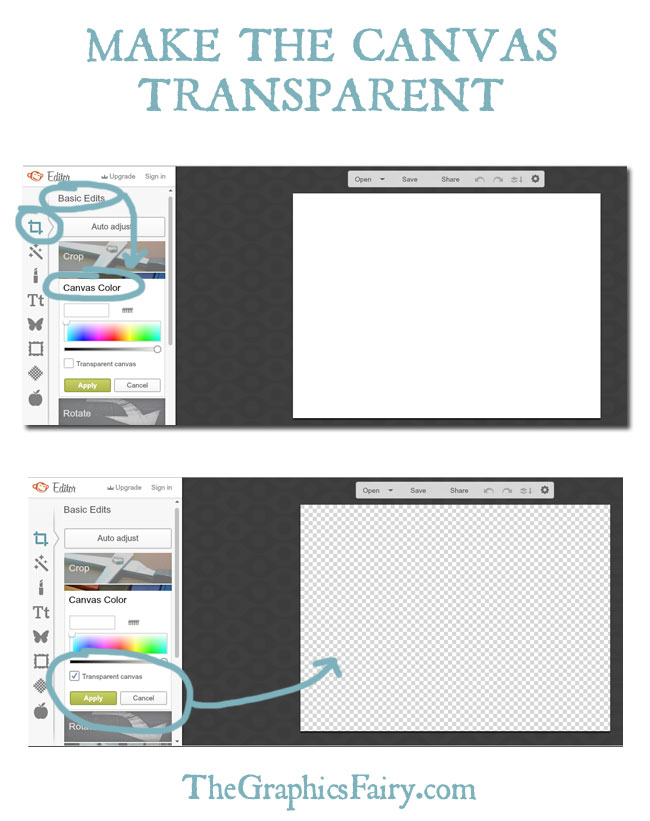 Add the Image Using the Overlays Menu.  On the left, select the Overlays option (the symbol is a butterfly).  Click Your Own to add the graphic you want to work with.  TIP:  when the image pops up, you may need to pull on the corners to resize it to fit the canvas.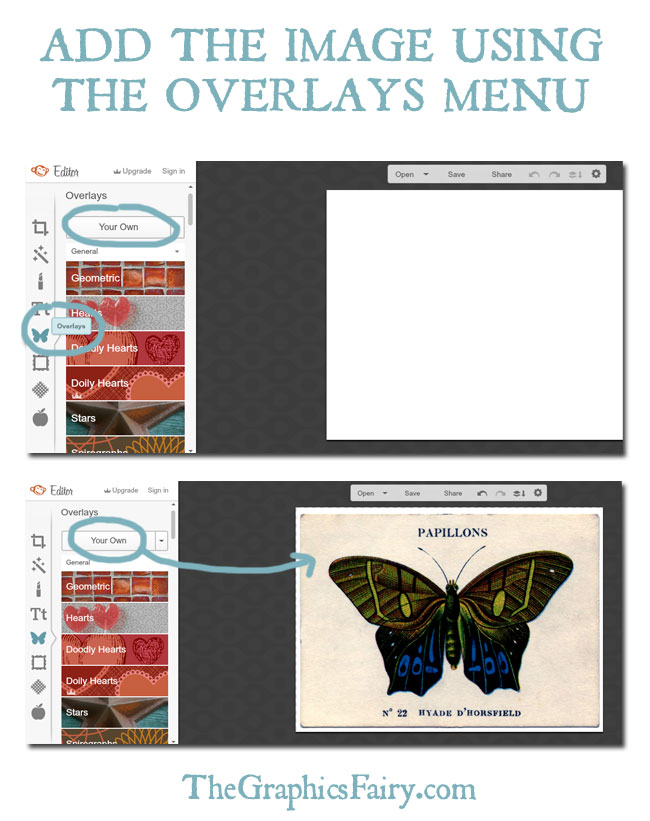 Erase Portions of the Image You Don't Want.  A small Overlay menu pops up when you insert an overlay.  Click on Eraser and your mouse pointer becomes an eraser.  Erase the background you don't want by holding down the mouse button and moving the mouse/eraser (use a large eraser size for large sections, and make the eraser size smaller for fine details close to the image).  TIP:  there is a zoom function in the lower right corner that can help you really zoom in for detailed sections.  ANOTHER TIP:  When you get close to details, unclick every so often (which "picks up" the eraser, and resets the action).  Otherwise if you've put in a lot of work, then make a mistake, you can undo the mistake (using the undo arrow at the top of the screen), but it will go back to when you last "picked up" the eraser.  If you erased everything without picking up the mouse, you would have to do a lot of work over.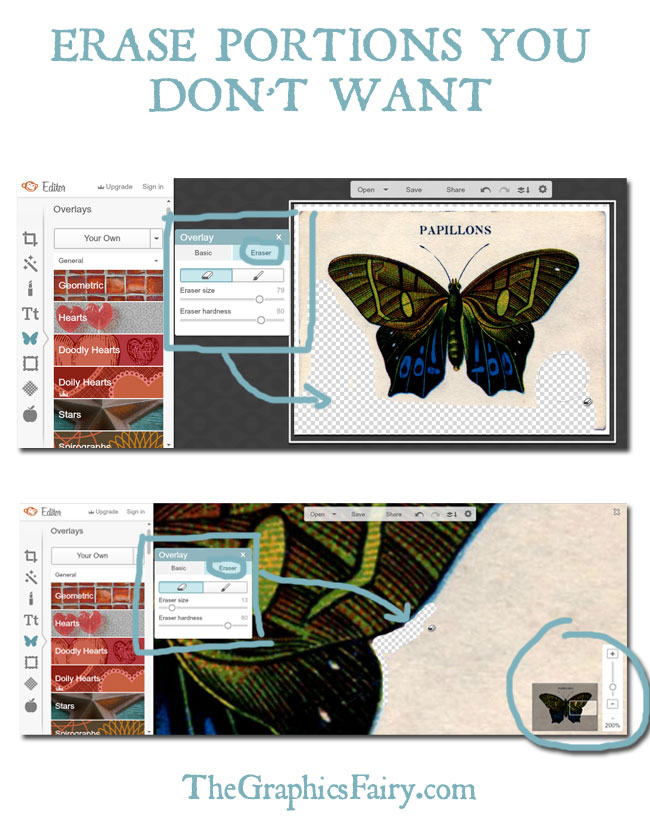 Save the File as a .PNG.  When you're happy, click the green Save button at the top.  Select a filename and click the file type drop down box as .png.  This preserves the transparent background you created (saving it as a .jpg would add the white background back in).  Click the Save to My Computer button.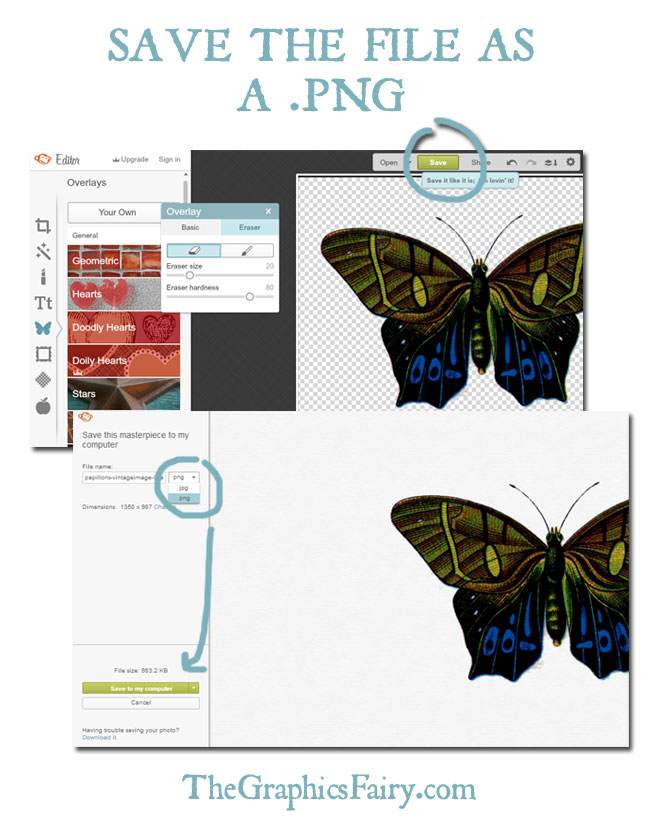 Here is my butterfly image now layered on top of one of my favorite images.  It would probably look really pretty layered over some vintage ephemera too.
***UPDATE 7/16:  a few people asked about layering the newly created transparent image.   It really depends on the graphics programs you have on your computer and what you're trying to create.  If you want to use an image you already have and put the transparent one you just created on top using PicMonkey, 1) go to PicMonkey and click "edit" at the top. Choose the image you want in the background. 2) Now click the "overlays" menu on the left (the butterfly) and click "your own" —- now select the image with the transparent background. It will appear on top of your other image (you can resize and rotate using the edges of the image's box). You can add as many (transparent background) images as you want doing step #2 again and again. Save using the save button at the top.    I can do a full post on layering images using PicMonkey specifically, and show screenshots if anyone is interested, just leave a comment.***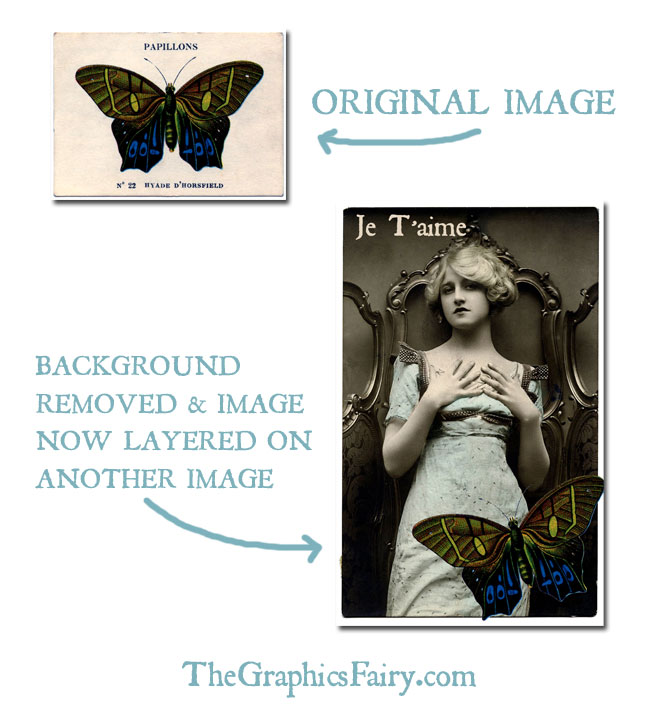 *********************************************************
FREQUENTLY ASKED QUESTIONS:

When would I need to remove the background of an image?  This is helpful if you're layering graphics or want to erase a portion of a graphic.
What images work best?  Can I use the workaround for any image?  Images with clear shapes that are not too intricate work best.  Simple shapes (e.g., butterflies, silhouettes) work well with this technique.  Intricate images (e.g., an intricate frame, lots of text) would be difficult to do & would require lots of patience.  If you're going to be working with more complex graphics, or layering lots of graphics, or doing this often, I'd recommend purchasing a graphics editing program like PhotoShop Elements.  Some readers have had success using sites like Fiverr.com to hire someone to edit more complex images.
Why use PicMonkey?  It's free, web-based, and fairly straightforward.  PicMonkey is best as a quick workaround for simpler graphics and edits if you don't have PhotoShop.  If the image is very intricate, a graphics editing program like PhotoShop is more appropriate.

But PicMonkey isn't really free, right?  I have to sign up, right?  Not for the features used in this tutorial.  There are additional advanced editing options, fonts and graphics available in PicMonkey to subscribers.  Everything covered in this tutorial is done using the standard free version and sign up isn't required.

*********************************************************

I hope you enjoy layering your graphics and creating something fun.  Be sure to share your creations on the Reader Submissions Page!
********************
Hello! Are you new to The Graphics Fairy?
Welcome, I'm so glad you're here! Browse around to find 
thousands of Stock Images
 that you can use in your projects or designs! I post new Vintage images every day. You can 
subscribe via email
 so that you 
don't miss a single graphic
, just 
click
HERE
to sign up
!  Need more info about my site? Try my 
FAQ
 page.