Hi guys! Well, we are super close to releasing our Second Online Crafting Class that Heather Tracy will be teaching right here on The Graphics Fairy! Many of you have signed up already to get more info about the Mixed Media 2 Class – Extend Your Skills, via our email list.  If you are on our email list then you know that some fabulous Free bonuses will be coming your way very soon!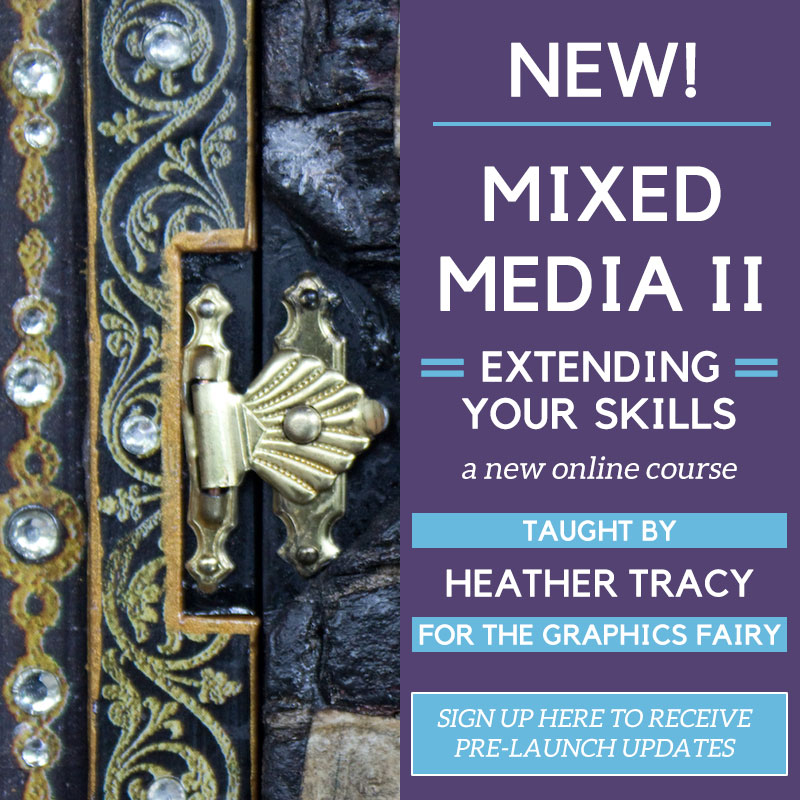 Heather has created 3 fantastic Art Technique Videos, that we will be sending to those of you that signed up for our eCourse email list. And trust me you do not want to miss out on these bonus videos! We polled everyone last week on that list and we had such a great response to all 3, that Heather just went ahead and created them all. She's super generous like that!
These are the 3 Video Techniques that we will be emailing out next week:
How to Waterproof Inkjet Prints
How to Create cool looking Rivets out of Paper Tubes
How to Create gorgeous Faux Dresden Trims
If you're not on the email list yet, it's not too late to sign up and get the free Bonus Art Technique Videos! You don't have to purchase the course, the bonuses are yours to keep whether you sign up or not, so make sure you subscribe now so that you don't miss them!
We will also be offering this course for a limited time (just 5 days!) so make sure you are on that list if you are interested in taking the course, so that you don't miss out!
(Don't worry, we won't share your email address with anyone else)
Would you like to see a preview of the Course Introduction? Just watch the video below as Heather discusses what's in store for the Class! 
Here's what some of our Students had to say about Heather's first Course, Mixed Media 1:
I just want to put this out there… I am a creative course collector. I have purchased approximately 300 courses. (I believe wholeheartedly in the healing power of creativity.) I have never run into a course with as much rich delicious content as this one, for such a low price. And I have never experienced a course where the instructor is so willing to help and is immediately available to answer questions. We are all so lucky to have Heather Tracy as our instructor. I appreciate everything you are doing and will sign up for all your courses.
Mischelle W.
I have watched all of the videos and all I can say is this is so very Heather Tracy! Your instructions, your tips, your demonstrations, your explanations are all so very very clear and understandable. You are the creme de la creme in the arti/craft/creative world.
Carol S.
I just watched the 1st 2 videos of the class, you have given so much information/techniques for a ridiculously LOW price! This is a $100 course or more & I've taken tons of classes that don't give you 3/4 of what your teaching! By breaking it down into small little chunks participants should be fine… & because you have given life-long access this removes the pressure of keeping up!
Martha R.
I watched all of the tutorials in the introduction and basic skills sections and I'm even more excited to get to the first project! Heather Tracy I love your style! And everything's so easy to follow. I love the idea that I'll have those videos to refer back to if I need to as I move forward through the courses. This is gonna be some fun!!
Nancy B.
I have been doing mixed media and art journaling for about 10 years. But when I saw that Heather Tracy was teaching a mixed media class, I knew I was going to sign up for it. Even though I have been playing with this type of product for so long, I still learned some great techniques and awesome money saving tips from this class. Whether you are a novice or a seasoned artist, you will enjoy this class!
Kristie T.