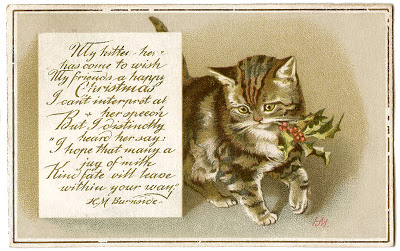 Click on Images to Enlarge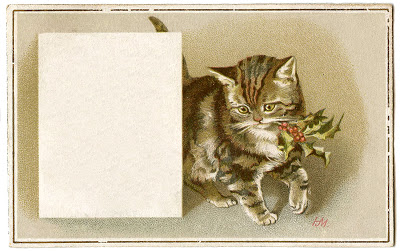 I just adore these!! These charming Vintage Christmas Images, show a cute Kitty with a sprig of Holly in it's mouth. The original is at the top, I've also created a second graphic with the words removed. I think it would make a darling Holiday Gift Tag! I have another one with a dog that I'll be sharing next week, so watch for that one too! You can find a matching Graphic with a cute Dog HERE.
In Other News: My friend Laura at The Shed, has started a Sock Drive for those that were hardest hit by Hurricane Sandy and are living without even the barest necessities like clean dry socks. She lives in New Jersey and will be collecting and delivering warm comfy things, like Socks, Mittens, Gloves, and Winter Hats, to bring a little comfort to those in need. If you would like to participate, you can get more info Here.