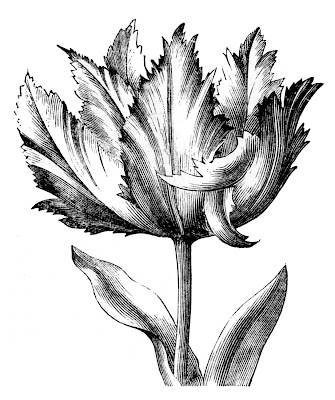 Click on Images to Enlarge
 These lovely Floral Engravings are from an 1870′s Gardening Book! These are from a chapter about Holland Bulbs. I've included the Chapter Title, (if you enlarge it you'll see how beautifully detailed it is) along with 3 cheerful Tulips. Spring flowers always bring a smile to my face!  I hope you can use these images in your Vintage Craft Projects, or use as Digi-Stamps!
In Other News: My new Contributing Editor, Gina Luker, has created an awesome Project Tutorial over on my DIY Blog. I've included a French Transfer too!