We've rounded up an additional 40 Free Christmas Images for you.
This grouping has Victorian Santas, 50's retro images, angels, vintage photos, animals, religious imagery, line drawings, and holiday greenery.  These are some of my favorites that can be used for making ornaments, cards, signs, and pillows this holiday season.   I hope you enjoy this group!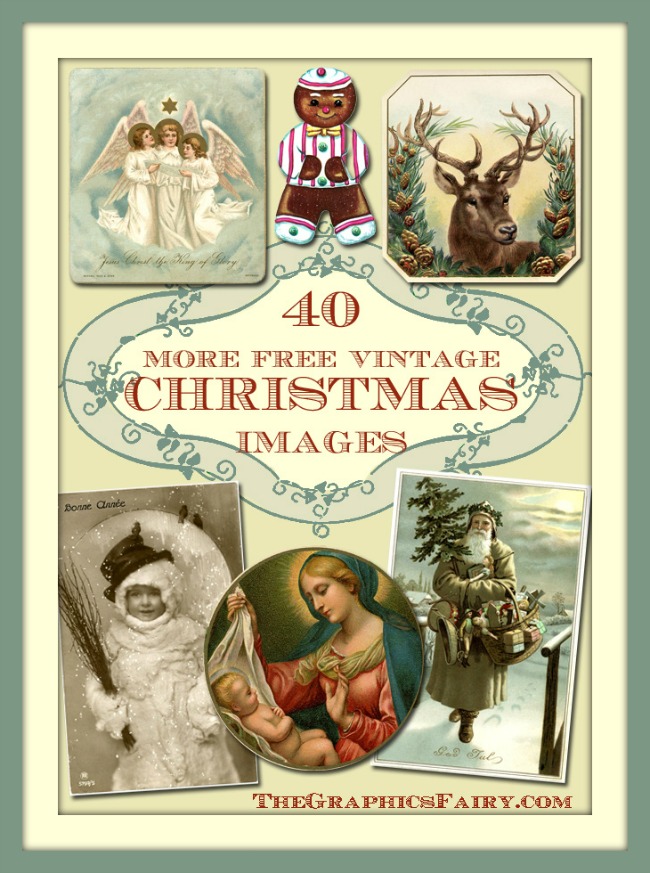 SANTAS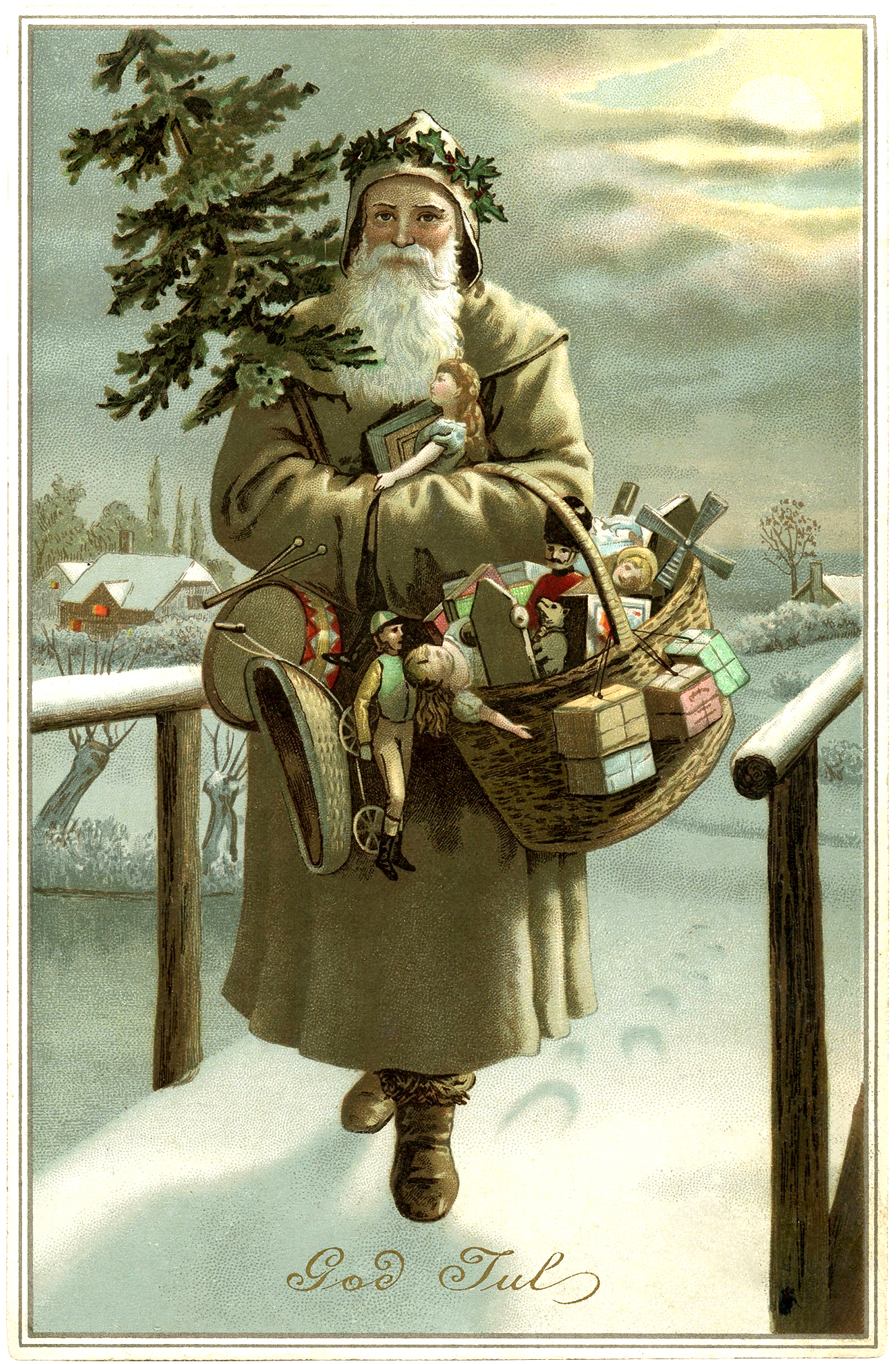 1)   Swedish Santa with Gifts.   This is a beautiful Old World Swedish Santa!  The glorious looking Santa has a light colored coat, he has a holly wreath on his head and he's carrying a small Christmas tree and lots of toys! The greeting on the card is "God Jul" (Merry Christmas).
2)   Victorian Santa with Horn.  This is a wonderful Victorian Santa image! This great looking Old World Santa is wearing a traditional looking red coat and an nontraditional looking brown cap.  He's got lots of toys and gifts in his sack and he's having a little fun with a toy horn.
3)   Santa with Sleigh.  This is a fantastic vintage Santa with sleigh.  This is a scan of a marvelous antique postcard.  The card shows Santa riding in his sleigh, with fur and toys, tucked all around him!
4)   Santa Checking List.  This is a fun vintage Santa with list image.  This is a circa 1940's illustration.  This one was scanned from the back of an old coloring book. He's wearing his traditional red and white suit with black boots and a matching belt. He's smoking a pipe and checking out his very long list!
5)   Retro 50's Santa Image.  This is a spectacular retro Santa Claus image! This gorgeous image was scanned from my latest find, a fabulous vintage wrapping paper sample book.  This Santa has a little sprig of holly on his hat, his head is surrounded by pine branches, forming a wreath or frame around him. The background color is a beautiful teal green.
HOLIDAY PHOTOS
6)   Child Snowman Photo.  I think this vintage snowman is just so fun!!  This adorable little boy dressed up in a fluffy white snowman costume! I've never seen a card like this before, I think it may be quite unusual! The card is French and it has the greeting "Bonne Annee" or Happy New Year, on it.
7)   Sepia Angel Child Photo.  This is the sweetest little angel photo!  This is an antique real photo postcard showing a very pretty little girl dressed as an angel. She has beautiful wings and she's holding a musical instrument, I think it's a lute. I love the sepia tones on this one.
8)  Christmas Angel Girl.  This is a darling angel girl photo image!! This vintage postcard shows a pretty little girl dressed up as a Christmas angel. She's wearing a pretty pink dress/robe and some very realistic looking white feather wings. She's pushing a little wooden wheelbarrow with a Christmas tree inside of it. The French greeting reads "Joyeux Noel" on it.
9)  Angel Sisters Photo.  This is a precious Antique Italian photo postcard of two angel girls!! Featured is a darling black and white picture of two pretty little girls dressed up in angel costumes.  In the background you can see a beautiful Christmas tree. The caption reads "Buon Natale".
10)   Snowy Kids with Pedal Car.  This vintage postcard shows a fun image of two little flapper girls in a toy pedal car!   The colors are so bright and fun on this one.   The girls are wearing red/rust colored coats and they are riding in a bright cobalt blue pedal car!  Both girls are holding some holly branches and there is a snowy scene around them.
ANGELS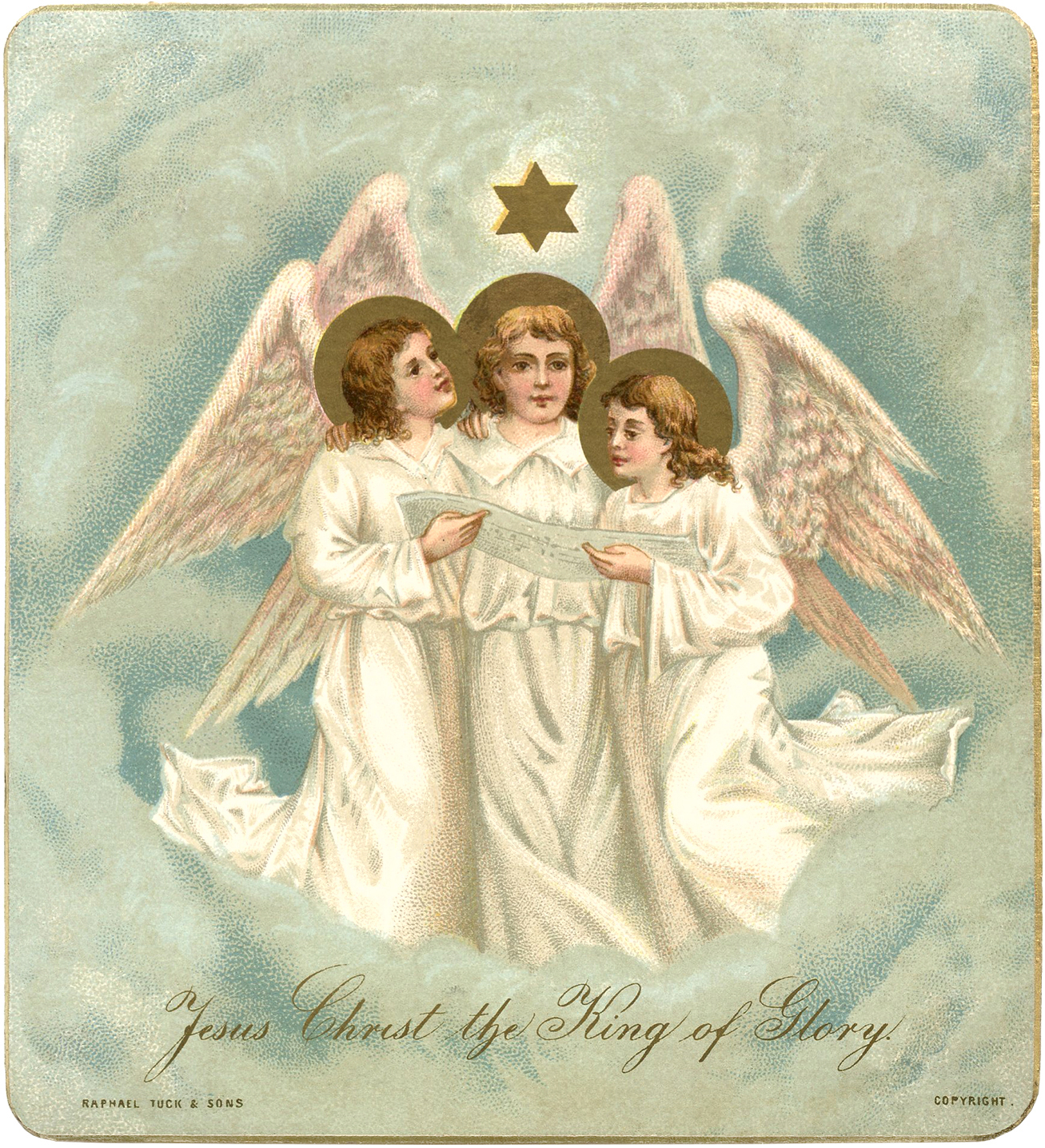 11)   Christmas Angels.  This lovely religious card shows three glorious angels! The angels are dressed all in white with gold halos and a golden star above them. They are holding some music and appear to be singing. The background is a wonderful blue and white cloud scene!
12)  Angel Postcard.  This is a pretty vintage angel postcard!  The card has an illustration of a beautiful angel with large white wings. She appears to be placing a candle on the branch of a Christmas tree. The greeting on the card is "A Happy Christmas".
13)  Victorian Scrap Angel.  This is a gorgeous Victorian scrap angel.  She's all dressed for the Snow in her white furry coat, with matching hat and muff. She's also wearing some charming high button boots. My favorite part of this lovely scrap piece though, are her beautiful pink wings!!
14)  Angel Greeting Postcard.  This is a charming Christmas greetings angel tag!! This is a scan of an antique postcard. The card shows a beautiful angel woman holding a sign with a wreath around it. The greeting on the card is "Christmas Greetings".
15)   Angel with Torch Print.  This lovely black and white print shows an angel flying through the air over a town.  She has a torch in her left hand.  She has such a serene look on her face and gorgeous flowing hair.  The card reads "Angel of Prayer."
ANIMALS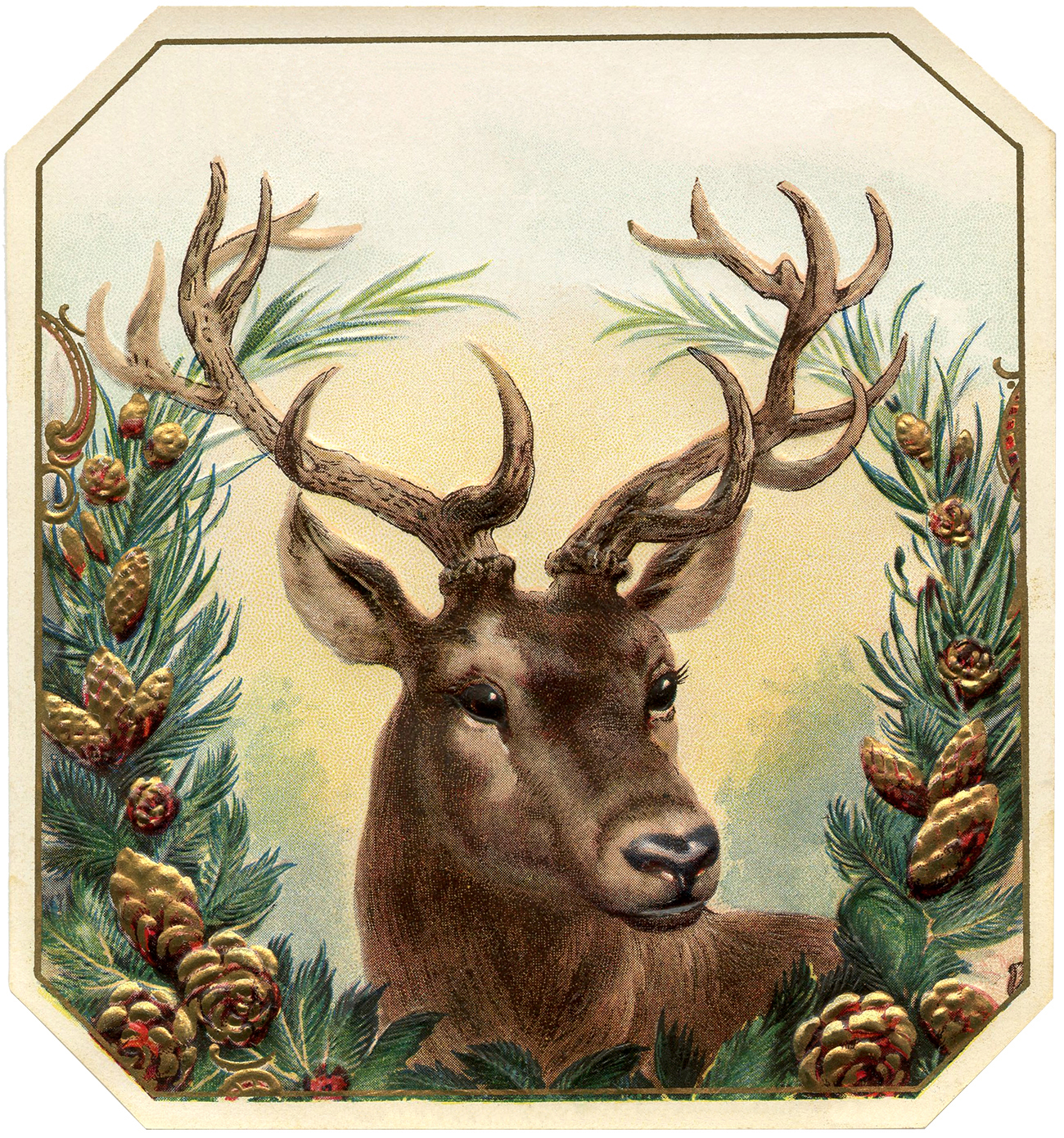 16)   Deer with Pine Wreath.  This is a beautiful free vintage Christmas image of a deer!  Shown above is a beautifully illustrated deer with a pine wreath and cones surrounding him. This guy has lovely soft brown eyes and marvelous large antlers!
17)  Winter Bunnies.  These are two darling vintage Christmas bunnies from a set of  retro Christmas cards that I picked up last year!  Such a sweet scene, with the holly berries, snowy pine branches and little bird! These date to around the late 1950s to early 1960s.
18)  Cardinal and Pine.  This is a charming holiday cardinal image! This beautiful red bird is perched on a pine tree branch, that is full of lovely pine cones! This little picture was scanned from a darling circa 1922 children's bird book.
19)  Reindeer Etching.  This is a fabulous white reindeer image!  This offering was scanned from a rare and early, circa 1790's, German natural history print in my collection!
20)  Polar Bear Printable.  This one is an excellent polar bear printable! This wonderful natural history animal print dates to about the 1860's. Shown on the print is a lovely polar bear standing on an iceberg.  I think the soft sepia tones in this print are really pleasing.
MOTHER MARY & JESUS
21)   Old World Mary and Jesus.  This is a lovely Old World Christmas image featuring the baby Jesus and Mary! There's a beautiful branch of holly framing the picture. This would make a nice card or gift tag!
22)  Madonna & Child Holy Card.  This is another beautiful Madonna & Child holy card! I love Mary's crown and the pretty stars around her head.
23)  Serene Madonna and Christ Child.  This is a wonderful vintage holy card featuring the Madonna and Christ child! The artwork is gorgeous and I love the soft blue, gray, brown color scheme. I think the pretty frame around this one could be quite useful in other applications as well.
24)  Lace Holy Card.  This is another gorgeous antique Holy card.  I adore these lace edged cards, I have a number of these in my collection and they are so delicate and lovely! This one shows an amazing engraving of the Madonna and Child standing on a crescent shaped moon.
25)  Victorian Madonna & Child Scrap.  This one is a beautiful Madonna with Child image! This is a lovely Victorian scrap piece. The color image is done in such pretty blue and pink tones.
HOLIDAY GREENERY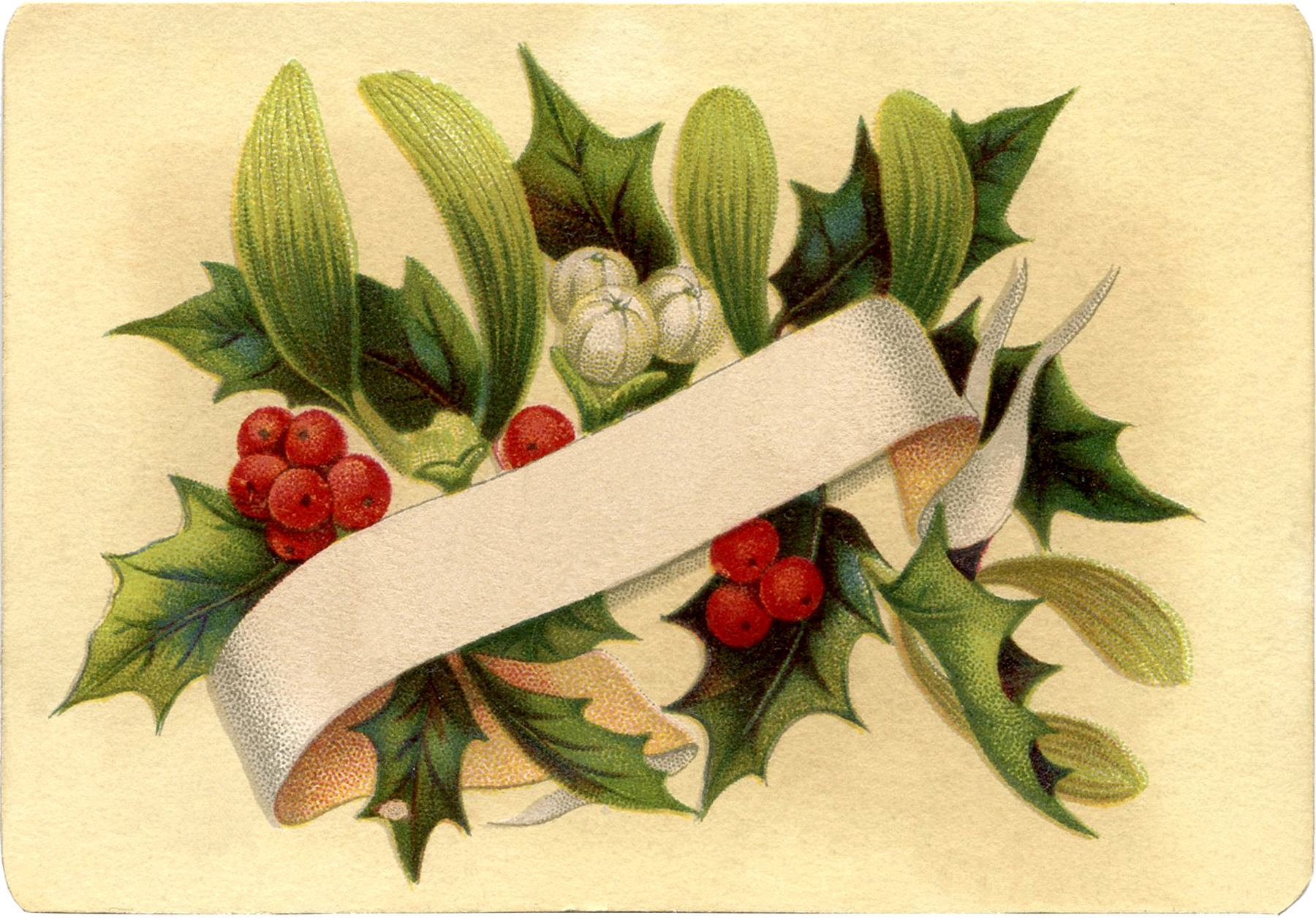 26)  Holly Label.  This is a gorgeous Christmas holly label! Featured above is a beautiful antique card showing some softly colored holly sprigs and a bit of mistletoe too! Along the top of the arrangement is a ribbon banner, perfect for adding some text to!
27)  Mistletoe Clip Art.  This is a lovely old fashioned mistletoe clip art image! This Victorian Christmas greeting card, with some beautiful green sprigs of mistletoe with white berries. The background is a dreamy looking dark sky with clouds. The message on the card reads "A Christmas Greeting with Love".
28)  French Woman with Mini Christmas Tree.  This one is a charming French lady with gifts!  This is an old French postcard, that shows a fashionable lady walking through a wonderful snowy scene! She's carrying a few brown paper packages tied up with string, and a small Christmas tree.
29)  Holly Sprig.  This is a cute little sprig of holly with some bright red berries that I cut out of an old Christmas card. This one is handy for embellishing collage work and mixed media projects. It would also look great layered with several of these to make a holly bunch.
30)  Pine Branches and Pine Cones with Scroll.  This is a pretty old fashioned Christmas graphic from the early 1900's. This one shows a paper scroll surrounded by pine branches and pine cones. There are two versions here, one with a Christmas Greeting and one without.
LINE DRAWINGS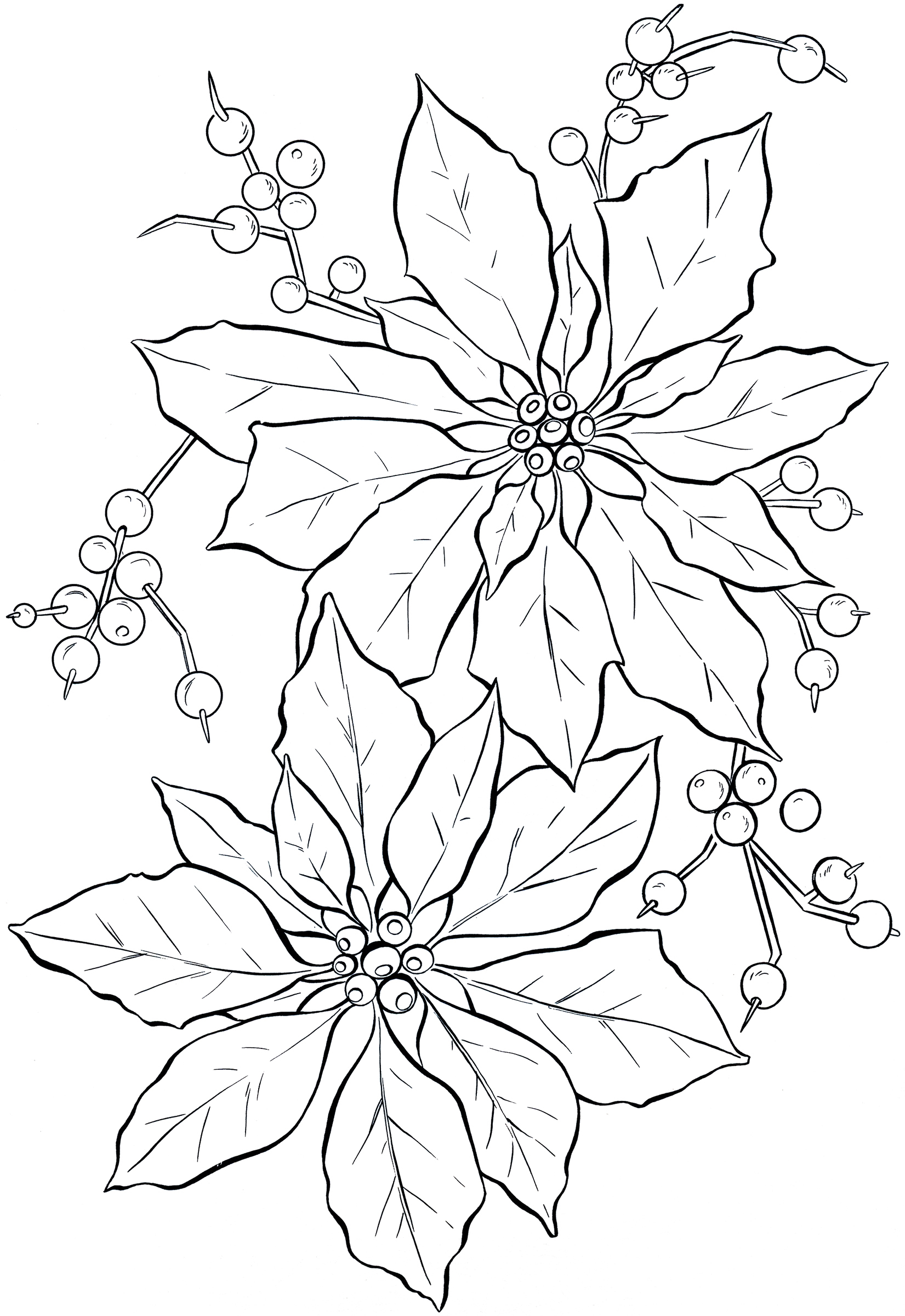 31)   Poinsettia Line Art.  This is a lovely Poinsettia line art drawing!  This one was scanned from a 1950's children's coloring book. This would be nice to use as an embroidery pattern or lovely on a card. I think it would be so fun to color this in with markers or water color pencils!
32)   Santa Gift Box Coloring Page.  Here is a cute Santa gift coloring page for you to play with today! Shown above is a fun little Christmas present line art drawing! On top of the box is an adorable picture of Santa! This one was scanned from a vintage book of children's activities.
33)  Christmas Stockings Line Art.  This is a cute Christmas stockings line art image! This one was scanned from a 1915 printer's book. Featured above is a cute black and white picture of four stockings hung on a mantel, some are filled with toys and candy.
34)   Angel Children Line Art.  Here are some free Christmas coloring pages for you to play with today! Shown above are two adorable retro angels!  These little cuties were scanned from a vintage book of children's activities. The book does not have a copyright date in it, but it appears to have been made around the 1950′s.
35)  Vintage Ice Skating Couple.  These are three fun vintage ice skating images! These 1940's black and white retro clip art images each show people on ice skates.   One shows a figure skating couple, the next one shows a skating lady, and the last one is a skating man, who appears to be a speed skater!
RETRO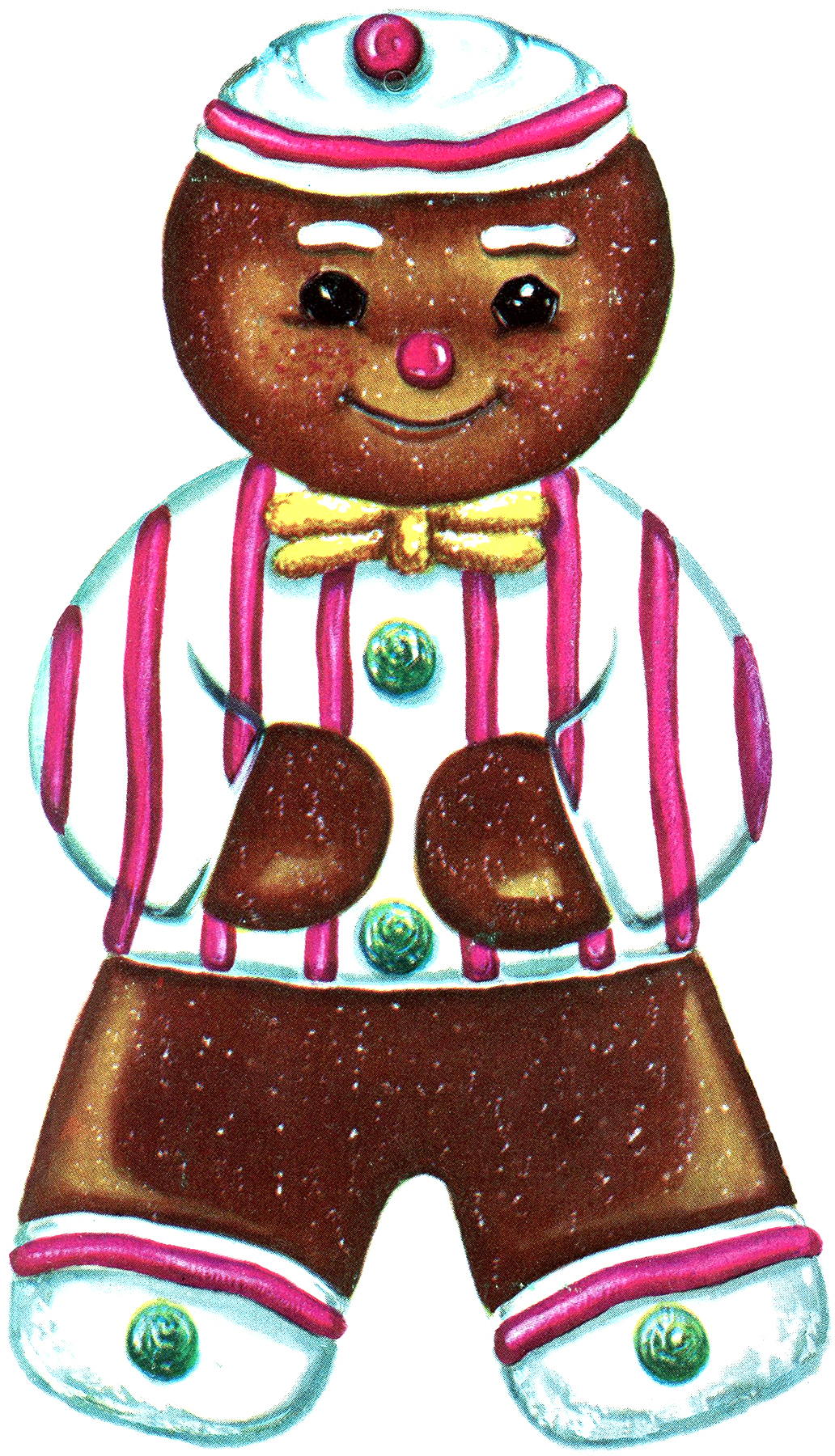 36)   Retro Gingerbread Man.  These are some fun printable ornaments!  Offered today are two super cute retro Christmas images, including a gingerbread man.   This 1950's smiling gingerbread man has a striped pink coat with adorable green buttons.
37)  Cute Skating Snowman.  This adorable retro snowman was scanned from an old Christmas card. The cards date to around the 1950s-1960s, although there is no date on the original box. This festive looking fellow is skating with his red and silver ice skates on. He's got on a matching red knit cap and scarf and some green mittens.
38)  Poodles with Wreaths.  This is a retro Christmas poodles image! This fun image was scanned from a vintage wrapping paper sample book from 1954.  There are two adorable gray and black poodles! Each poodle is wearing a red collar with a bell on it, and is framed up with a pretty holly Christmas wreath!
39)  Retro Santa with Pack of Toys.  This is a darling retro Santa with a big sack of toys! He was scanned from an old 1950's children's activity book. This was originally made as a paper ornament, to be punched out and hung on a Christmas tree!
40)  Retro Lantern Image.  This is a fun retro Christmas lantern image! This is another one scanned from the undated children's activity book, that was most likely made around the 1950's.   The black lantern has a burning red candle inside and a cute sprig of holly on the top of it.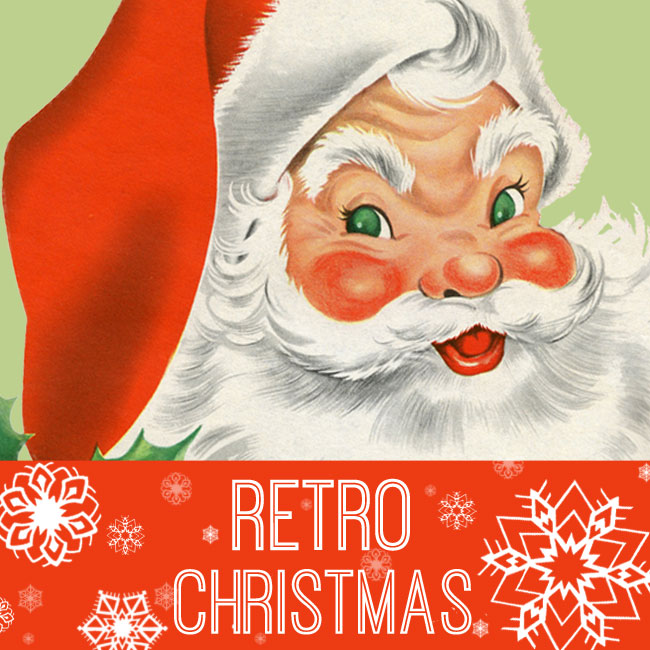 You might like even more Christmas images, & Printables,  in the latest Bundle from our Premium Membership site, you can learn more about the Retro Christmas Set HERE.
Hello! Are you new to The Graphics Fairy?
Welcome, I'm so glad you're here! Browse around to find
thousands of Stock Images
that you can use in your projects or designs! I post new Vintage images every day, as well as projects and DIY's too!  Need more info about my site? Try my
FAQ
page.