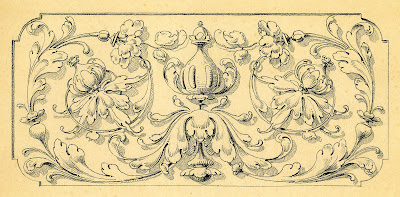 Click on Images to Enlarge
These are some gorgeous Ornate Scrolls from an Antique Design book! I really never get tired of these Romantic Images!! The original creamy version is at the top and I played around and made you a few more choices. The black and white ones would make great Photoshop Brushes. You can make some very pretty Stationery with these!
 In Other News: I'm guest posting over on my sweet friend Kim's site at Today's Creative Blog ! I hope you'll pop over and leave a comment if you have time. This is a fun series she's doing, so check out the other posts in the series while you're there!