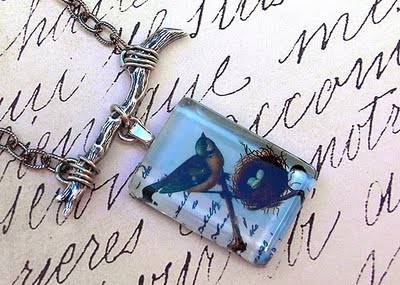 Woohoo! Once again it's Brag Monday! It's so much fun each week seeing what all of you do with the graphics from this site. There have been so many fabulous creations. I so appreciate each and everyone of you that participate!
Today I'm bragging about Judith from Beads Online blog. Judith made this gorgeous glass pendant using 2 images from here at The Graphics Fairy. You can find the Nest image here and the Bird image here. Judith has everything in stock, in her shop, that you need to make this pendant and she even has a tutorial here.

Now it's your turn! Have you made something from an image here at The Graphics Fairy that you would like to share? Don't be shy, we want to see it!! It's time to brag! You might even be featured on a future Brag Monday post. Just add a link below in the McLinky box.
Here are just a few rules:
1)Artwork/creations or projects displayed must include at least one image (up to a maximum of 4 images) from this site.
2)Add a link to your items specific blog post (in the McLinky gizmo at the bottom of this post) or page, not the main page of your site.
3)Add the "Brag Monday" button to your post. Just cut and paste the code above and add it to your post and the button should appear, or you can use a regular text link if preferred. (This is required and should make things more fun, so that we can all hop around and see everyone's creations!) You could also add the button to your sidebar if you like.
4)Test your link and make sure it's working! If your link gets deleted, it's because you missed one of the rules, so just reread them and repost again!
5)Visit as many of the other "Braggers" 😉 as you can and leave comments on their blogs. Oh, and have fun!
I'll leave the McLinky open until Tuesday night so that gives you a little extra time to put something together if you don't already have something to share!
XXXOOO