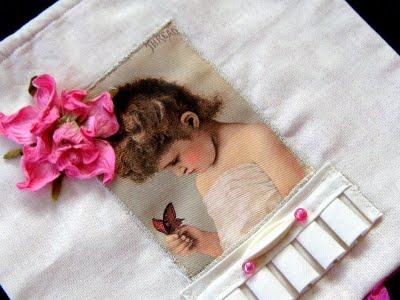 Today I'm bragging about 2 participants from last week's Brag Monday party!
First I'm bragging about the very talented Cathy from Cathy Michaels Design. Cathy made this darling Muslin bag using the little girl image found Here . Be sure and stop by her blog to see this and many other cute muslin bag designs ( fyi-you can purchase these in her Etsy shop). Also, you may be interested in following along with her as she discovers her Joy, through "The Joy Diet". I think you will be inspired by her journey!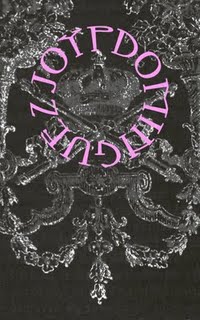 Next I'm bragging about Joy from Querencia. Joy made this lovely logo using this French Garland image from HERE. Talk about inspiration, Joy is an amazing person with multiple talents. She does the most beautiful photography, and she is an exceptional interior designer. This inspiring lady doesn't use a lot of words in her posts, but when she does it's often something so wise and uplifting that you will want to write it down! I hope you will stop by her blog for a huge dose of inspiration.

Now it's your turn! Have you made something from an image here at The Graphics Fairy that you would like to share? Or do you have a favorite image from here that you would like to share on your blog? Don't be shy, we want to see it!! It's time to brag! You might even be featured on a future Brag Monday post. Just add a link below in the McLinky box.
Here are just a few rules:
1)Artwork/creations or graphics displayed must include at least one image from this site. (Pssst – you can link to an old post if you like, so check back in your archives)
2)Add a link to your items specific blog post (in the McLinky gizmo at the bottom of this post) or page, not the main page of your site.
3)Add the "Brag Monday" button to your post. Just cut and paste the code above and add it to your post and the button should appear, or you can use a regular text link if preferred. (This is required and should make things more fun, so that we can all hop around and see every one's creations!) You could also add the button to your sidebar if you like.
4)Test your link and make sure it's working! If your link gets deleted, it's because you missed one of the rules, so just reread them and repost again!
5)Visit as many of the other "Braggers" 😉 as you can and leave comments on their blogs. Oh, and have fun!
I'll leave the MckLinky open until Tuesday night so that gives you a little extra time to put something together if you don't already have something to share!