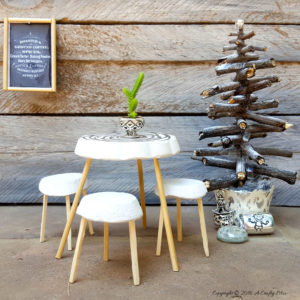 This morning's reader feature is this Adorable Fairy Bistro Set, submitted by our friend Michelle Leslie.  Anyone who is a fairy lover will love this mini Fairy Bistro Set!  Michelle first made a driftwood Christmas Tree using twigs that she found, some glue, a small bell for the top, a covered lid wrapped in foil and pretty paper for the base.  Next, she created the table and chairs using silicone muffin cups, plaster, and skewers for the legs.  Michelle also used a flat bead to create the design for the inlay on the top of the table.  For her final step, she used my Coffee Sign Typography image for the cute bistro sign hanging on the wall that's framed out of skewers.  This project has such a magical and relaxed feel to it!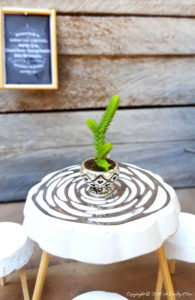 Thank you, Michelle, for sharing your talents with us! To visit more of Michelle's projects, please visit her Blog Site here.  To learn how to transfer images yourself, visit the Transfer Methods Page.
Do you have a project you'd like to submit?  You can share your projects, HERE! We would love to feature you!