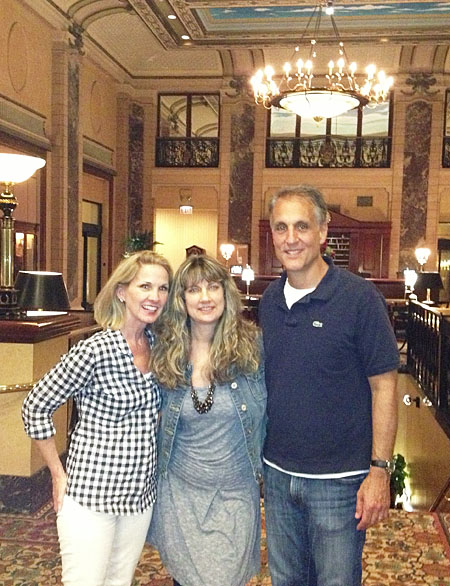 This post may contain affiliate links which won't change your price but will share some commission, you can find our
privacy policy here
.
If you saw my post last week, you may recall that I was heading off to Chicago for the BlogHer 13 conference! It's a huge conference geared mainly towards women bloggers. About 5,000 people attended and I had an amazing time! I thought I would share a few highlights of my trip.
I am lucky to have family in Chicago and my sister in law Lisa picked me up from the airport. The first night there she, and my brother in law Paul, took me out to dinner at a lovely French restaurant. It was in a gorgeous building, check out the cloud painted ceiling, I thought that was very fitting as you'll see below!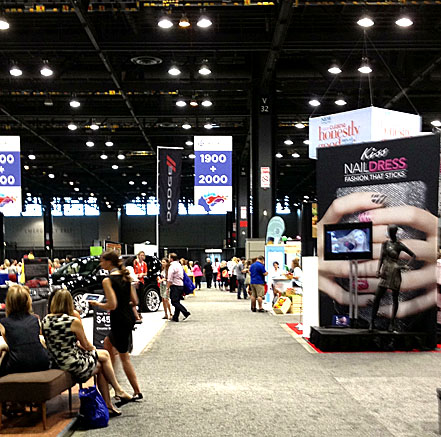 In the morning we were treated to breakfast and key note speaker Ree Drumond, from The Pioneer Woman. (None of my photos of Ree turned out, sorry!) Then after breakfast I decided to forgo the morning classes and walk the Expo Hall and get the lay out of the building. The building was huge!  The photo above shows the Expo Hall.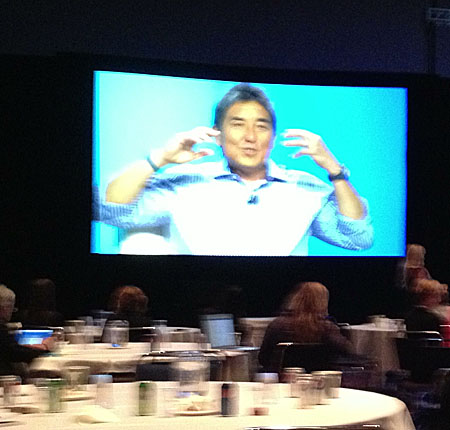 I met up with some friends at Lunch and we watched Guy Kawasaki speak about self publishing. That was really interesting, I think he made a lot of us look at the business of publishing in a whole new way.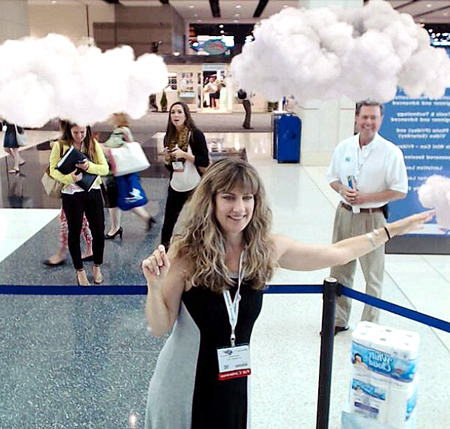 Next I stopped by the White Cloud booth. You may recall that I was selected to be an Ambassador for White Cloud at the conference. I couldn't wait to check out their virtual reality booth, that I had heard about, and it was really fun! See the clouds in the picture? When you touched them, magical things happened … rainbows appeared, lightening and sunshine popped out and my favorite one was the cloud that White Doves flew out of! Each participant was given a photo so that they could remember the experience.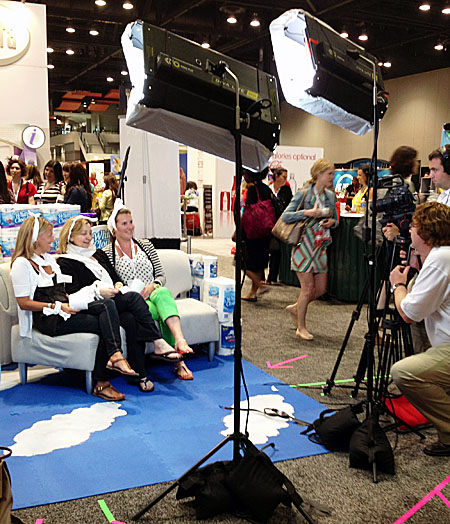 They also had a video booth set up. In order to enter for the $1,100 prize package that they were offering, you were required to participate in the video booth, where the camera man asked some fun questions about your life, your family and what you look for when shopping for bath tissue.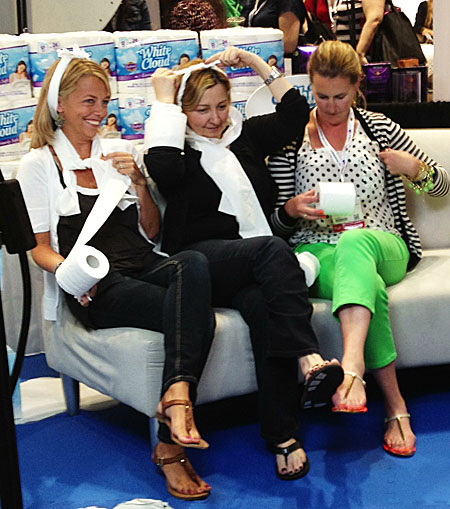 Look how much fun these ladies had with it all! I love how creative they got with the White Cloud bath tissue!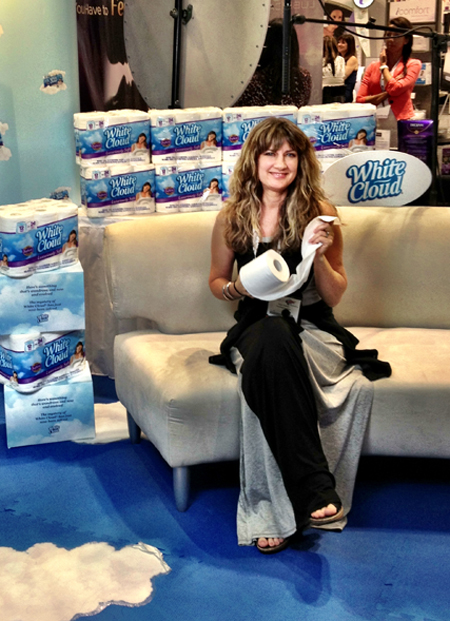 I gave it a go too. I wasn't quite as creative as the bunch before me! I must say that the new White Cloud Luxuriously soft product is super soft!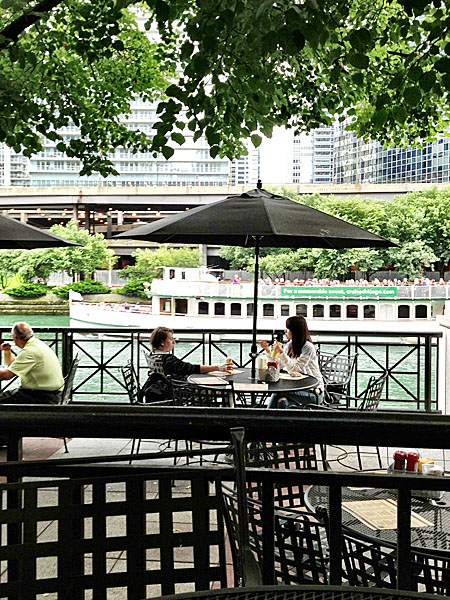 After spending a couple of hours in the booth, I went back to the hotel and enjoyed a quiet moment alone outside by the river. So pretty! I grabbed a bite to eat and then proceeded to the next event ….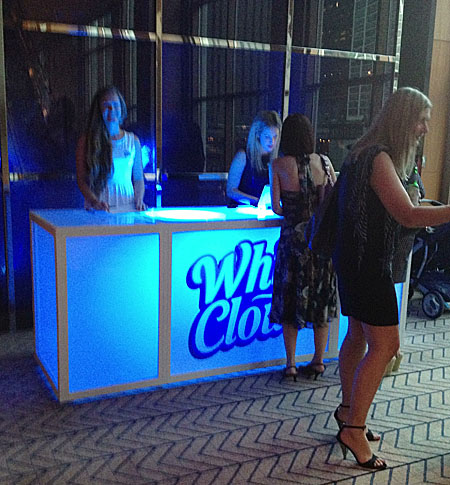 Cocktails in the clouds! I didn't think I was going to get to go this event, since the party list filled up almost immediately, but they were nice enough to squeeze me in!  Before going in we all registered at this desk, we gave them our address because they are sending us all a lovely gift in the mail! I think they said a fluffy white bathrobe would be in the package and a few other goodies as well!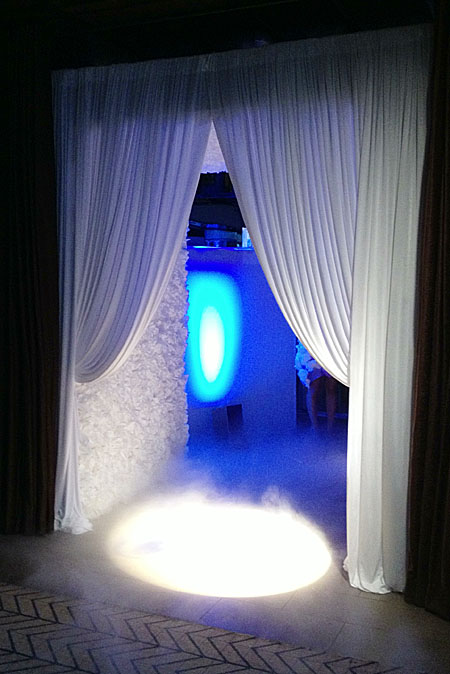 This was the entrance into the party. Whoever designed the decor did a gorgeous job! The walls to the entrance were lined with soft fluffy white tissues!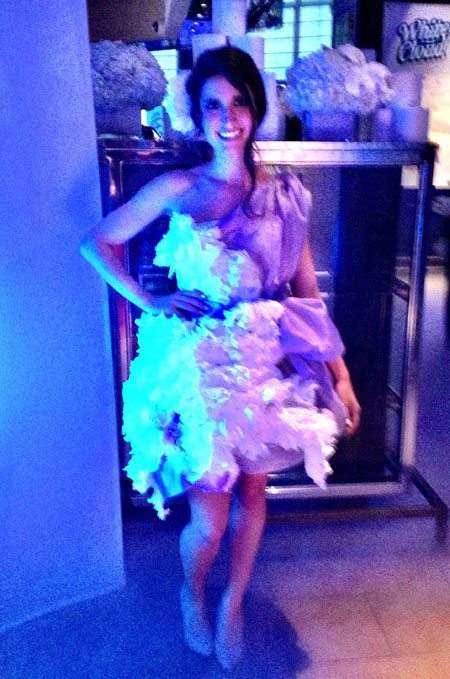 We were greeting at the door by this pretty women, wearing a darling, and super creative, bath tissue dress!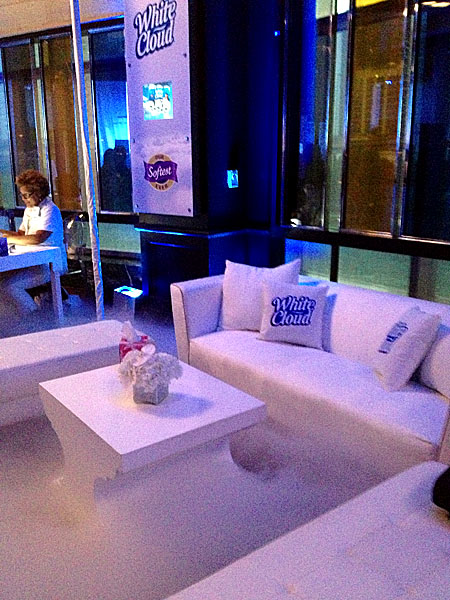 I managed to get a few photos just before the crowd go to the party. The floor was filled with clouds!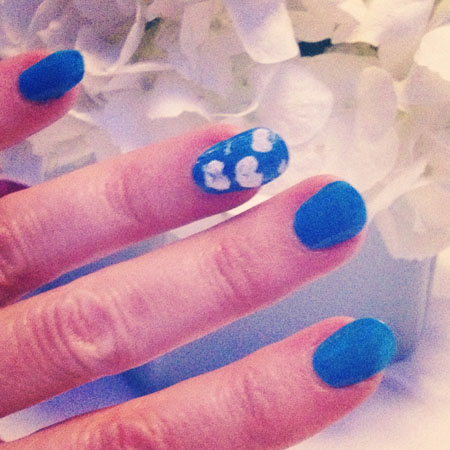 There were several manicurists there giving cloud manicures, I signed up for that right away!  It was such a treat getting my nails done, it was only the second time in my whole life that I've gotten a professional manicure!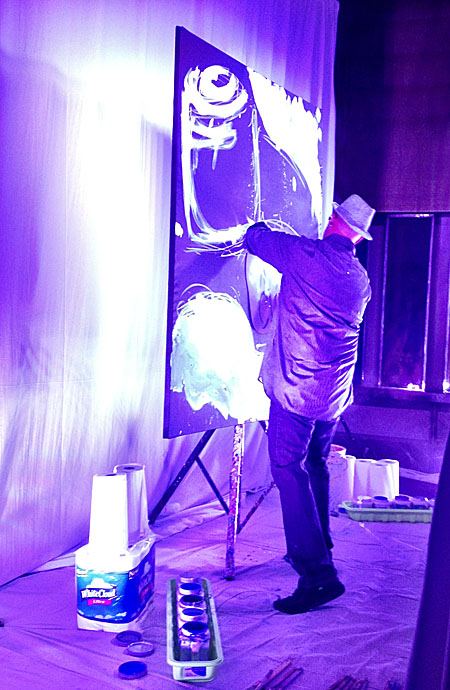 This guy was fantastic! He did 3 of these paintings while music played in the background. He was super fast and it was quite a show! He used the White Cloud products to paint with.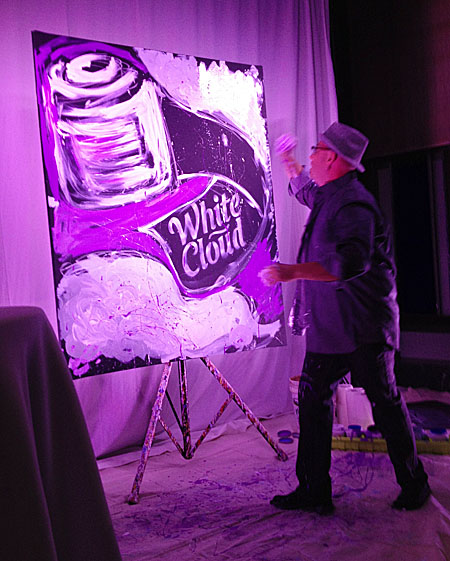 This is one of the finished paintings, so cool!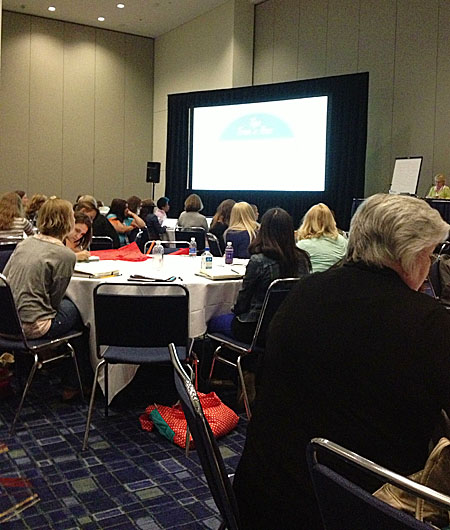 The next day I buckled down and went to some classes. There were so many to choose from it was hard to narrow it down!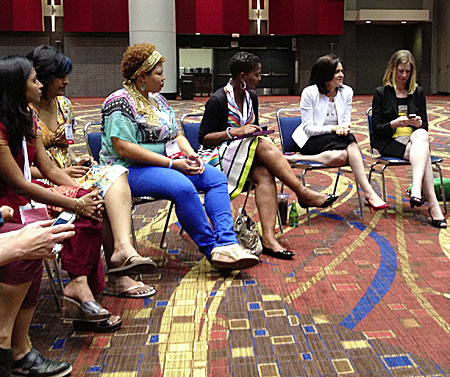 After lunch I was invited to meet key note speaker Sheryl Sandberg the COO of Facebook and author of the book "Lean In", and Lisa Stone CEO of Blogher. There were a small group of us that met with her and the group included some amazing women from all over the world! It was a truly inspiring meeting and one that I won't soon forget!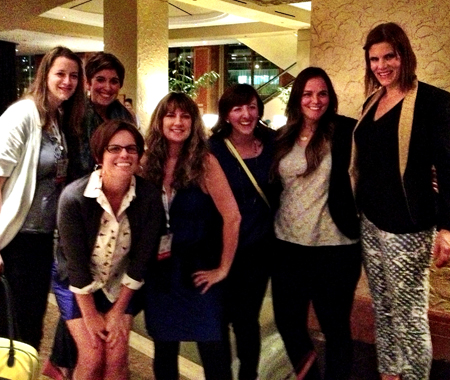 (Kathy Beymer, Candie Cooper, Amy Anderson, Me, Kaitlyn, Susan Petersen, & Rachel Faucett)
The evening ended with dinner with friends, a fabulous Fashion Show and then an impromptu meet up with some of my favorite crafty peeps, as seen above!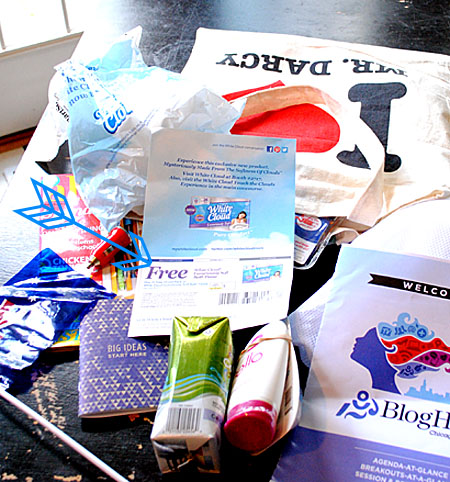 I flew back home the next morning and took some time to go through the swag that I received at the conference!  This is just a small sampling of what I got. I was excited to find that I had a coupon for a free 12 roll pack of White Cloud Luxuriously Soft Bath Tissue in the bag!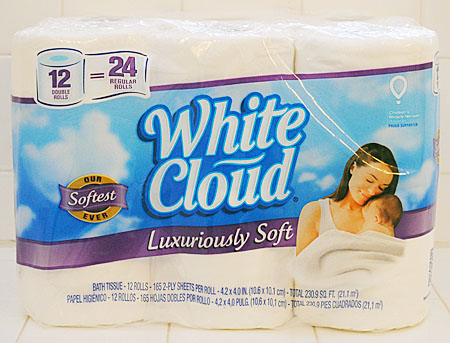 White Cloud is sold exclusively at Walmart, so I headed on over and picked up my free bath tissue to try out. I will for sure be switching to this product. It's just as soft as the expensive bath tissue that I was using, but it costs less, and I'm thrilled to be able to save some money on a product that I buy frequently. We are a family of 6, so trust me, that can add up!!
You can find a $1.00 off coupon in All You Magazine this month, or you can grab one from the White Cloud Facebook Page!
For more info about White Cloud check out these links:
http://mywhitecloud.com/
https://twitter.com/whitecloudmom
http://pinterest.com/mywhitecloud/
*Disclosure – This post was sponsored by White Cloud via my ad network BlogHer. All opinions are my own.