This post may contain affiliate links which won't change your price but will share some commission, you can find our
privacy policy here
.
I'm very excited to share with you another exciting craft project from the ever so talented Cathe Holden of Just Something I Made! Cathe made this project using vintage images and labels from right here at The Graphics Fairy, and turned them into gorgeous fabric patches. She will be my guest blogger today, all of the photos, text and project instructions come from her blog.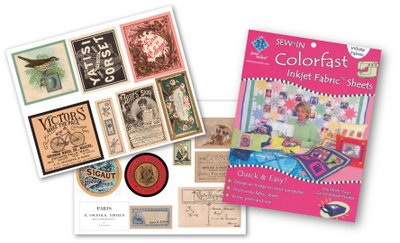 " This time I made patches from my favorite images. The only modification was adding borders to each to allow for stitching around the images and not having just white around each patch."
Click on any image to enlarge.
"I printed 2 pages onto Colorfast Sew-In Inkjet fabric sheets. I've included these bordered graphics as downloadble PDFs for you. But you don't have to limit yourself to my favs, there are many more to choose from on the site." Click
here
for the free PDF file.


"Once printed, I peeled the fabric from its backing and heat-pressed as directed. {1} I cut out each patch {2-3} and moved them around on my GAP jean jacket until I was happy with the layout.{4} "

"Once positioned, I took a photo for layout reference, then using spray adhesive, lightly sprayed the back of each patch to keep them in place while sewing. {5-6} "

"I stitched each patch inside their color border, overlapping some patches over others. {7-8}"

"Once all were sewn {9-10}, I tossed the jacket, along with a good load of clothes, into the washing machine then the dryer to distress the patches. It worked like a charm, all the patch edging fraying and the patches have a great worn appearance. Once removed from the dryer there were a lot of threads fraying from the patch edges. Instead of cutting I pulled each thread creating more fraying. "
"This is the final jacket! "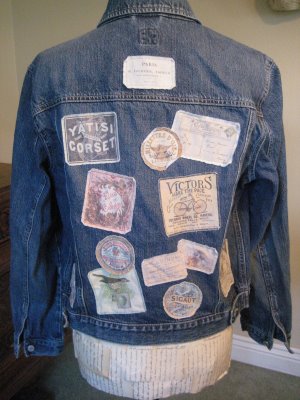 "Vintage patches would look great on a tote, pillow, jeans, shirt, you name it!"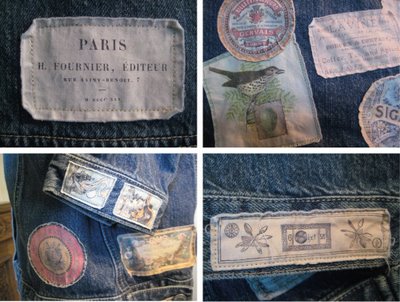 XXXOOO