This post may contain affiliate links which won't change your price but will share some commission, you can find our
privacy policy here
.
I'm very excited to share with you another great craft project from super talented Cathe Holden of Just Something I Made! Cathe made this project using vintage images from here at The Graphics Fairyand turned them into the cutest game. She will be my guest blogger today, all of the photos, text and project instructions come from her blog.
PLEASE NOTE: Cathe was given special permission by me to use this quantity of Graphics Fairy images in this project. My normal policy is still in effect, that no more than 4 of my images can be used in any one project or web/blog page (for personal or business use). The tiled images shown in this particular post are for personal use only and not for resale or reproduction as digital images.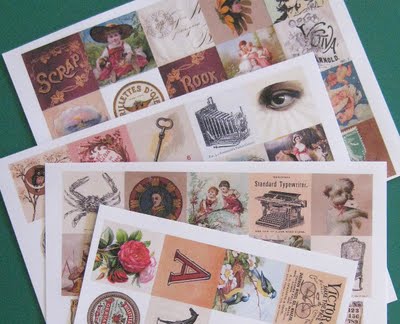 I've been wanting to make a custom game of Concentration with cool vintage images that even grown-ups would appreciate. So, naturally, I went over to The Graphics Fairy blog and grabbed some great images. With Photoshop and Adobe Illustrator, I tiled them into 2-inch squares and created 4 separate pages of designs.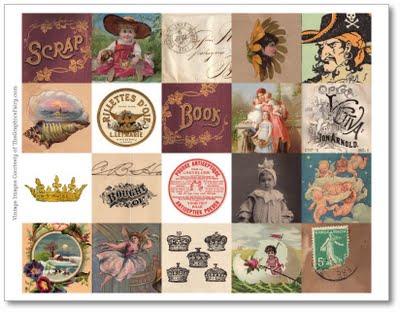 I printed out two copies of each page design, as this game is about matching pairs of images. I also created the pages as free PDF downloads for you.
PLEASE NOTE: You will need go HERE to get the actual PDF sheets for this project.
I needed some heavy card stock to create the game pieces and found some beefy old file drawer dividers (yes, I save everything) in my craft shed. I Mod Podge'd (glued) each page to the card stock, smoothed out well and let dry.

Once dry, I Podge'd a coat of satin finish to the surface and again let dry.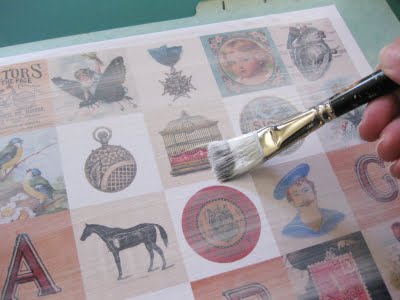 Using my trusty old paper cutter, I cut out each 2-inch image.
One page design copied twice makes one set of cards (one game) with 20 pairs of images. Shown here are 4 sets of games. Each set has 40 cards, 20 pairs. I made 4 total pages/games because I couldn't resist using all those wonderful images!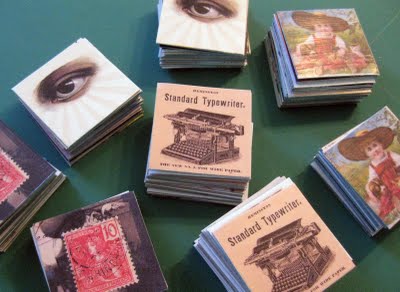 Once the cards were cut, each set of 40 were shuffled and the game began! Playing with just ne set, my daughter's had a blast demo'ing the game. Once this game was over we broke out a different set for a tie-breaker game. They enjoyed turning over cards and finding new funky graphics!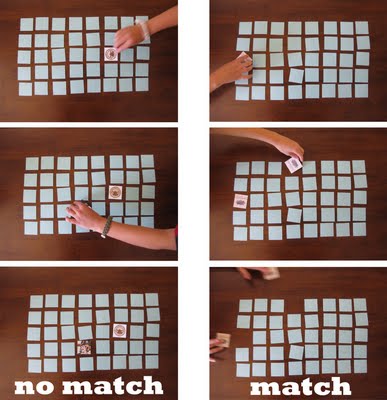 Concentration Game Directions:
Two or more players. One set of cards are placed on the table, in a grid for easier playing, scattered around and messy for more difficult play. Player 1, left photo, turns over two cards. If the cards don't match, the cards are turned back over and player 2, right photo, turns over two cards. If the cards match, that player removes the cards and takes another turn. The idea is to memorize where each image placement is on the table as the cards are turned over so as to match the most pairs of cards.

Once all pairs have been matched, the cards are counted and the player with the most sets of cards wins.
ADDITIONAL IDEAS:
If you don't have heavy cardboard, you can use the backs of yellow note pads, manilla folders, cereal & food boxes, or store-bought chipboard. Some craft and scrapbook stores don't mind giving away the card stock dividers that come with each pattern of loose scrapbook paper, so it never hurts to ask!
My card stock is a nice blue, but if you want to add some snaz to the backs of your cards, before cutting, Mod Podge patterned or solid color scrapbook paper or wrapping paper to the backside of the cardstock, or use printed out end paper images from The Graphics Fairy, found HERE. Just remember, for the sake of the mystery of the game, it's important for the card backs to all look the same.
Use pairs of family photos, pictures of items in your home and kids' rooms, and typed names in lieu of vintage graphics.
I think this would be a fun game to break out as a family or with adult friends (over drinks) as well. Oh, and I found this little orange truck in my studio just waiting for a purpose.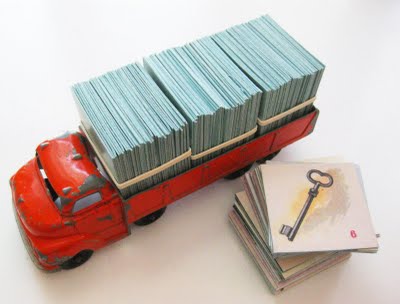 I hope you enjoy this delightful project and fun game from Cathe Holden!