Create a Vintage Junk Journal
We have new junk journal page layouts and easy techniques as our 'Vintage French Junk Journal'  journey travels back into Paris to visit Versailles and Notre-Dame de Paris. In this lesson, we will build on elements, layouts, and techniques as we complete our final signature. If you missed the first tutorials in this series, I recommend that you work through them before attempting this tutorial. You can find them here –>>> The Junk Journal Introductory Tutorial,  –>>>Page Layouts 1, –>>>Page Layouts 2,  –>>>Page Layouts 3, –>>>Page Layouts 4, and –>>>Page Layouts 5. Are you ready to create a Vintage Junk Journal?
Time to Fly
With any learning experience, there comes a time when the instructor must allow the student to make their own way with the knowledge they have gained. Today is the day…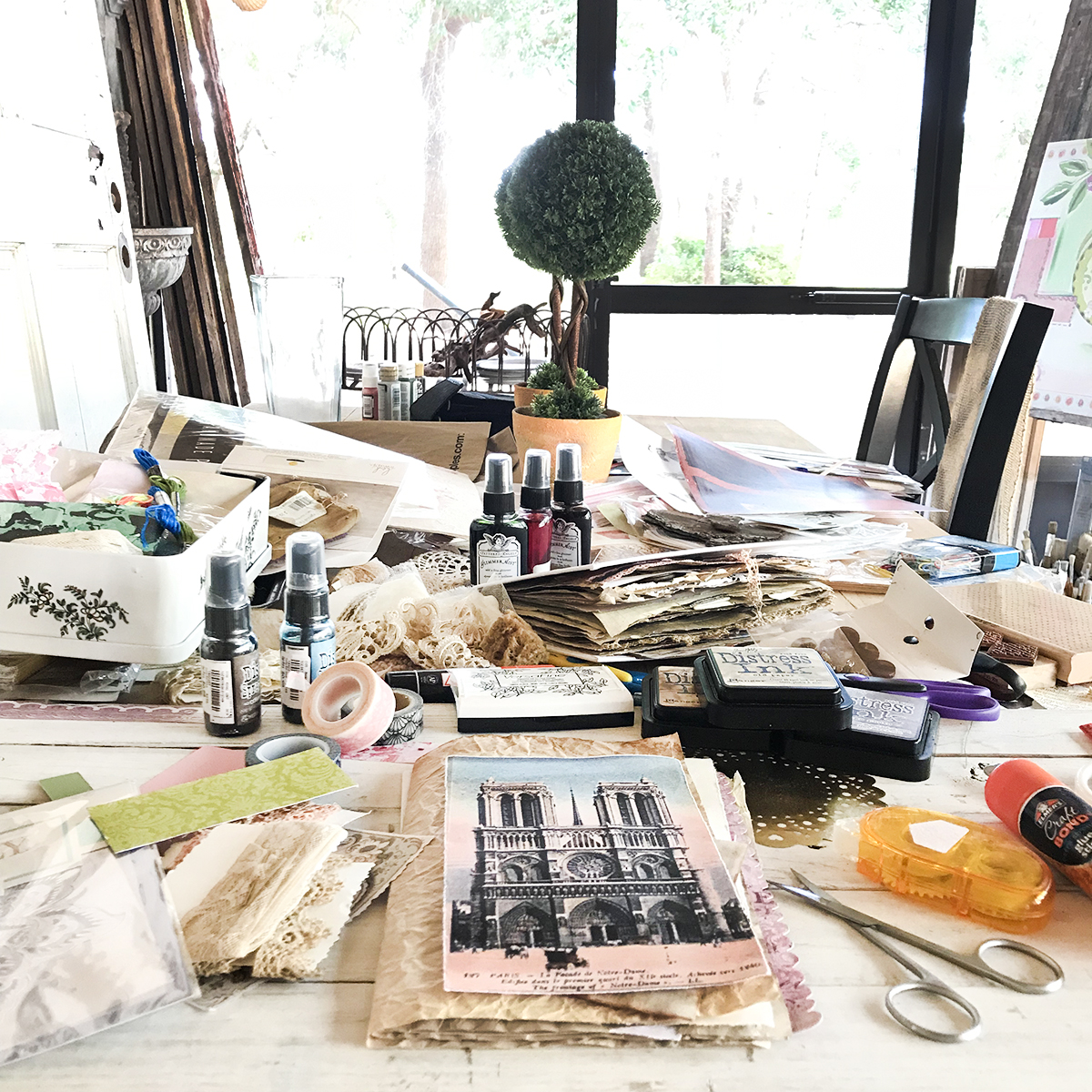 Applying New Knowledge
We have learned many new junk journal techniques, tips, and tricks in the six previous tutorials during our Summer series. As our thoughts turn to Fall, we begin to complete our very French journey and journal. For our final eight pages, we will expand on the skills and techniques we have played with and add a new twist or turn to make it look cohesive, yet unique.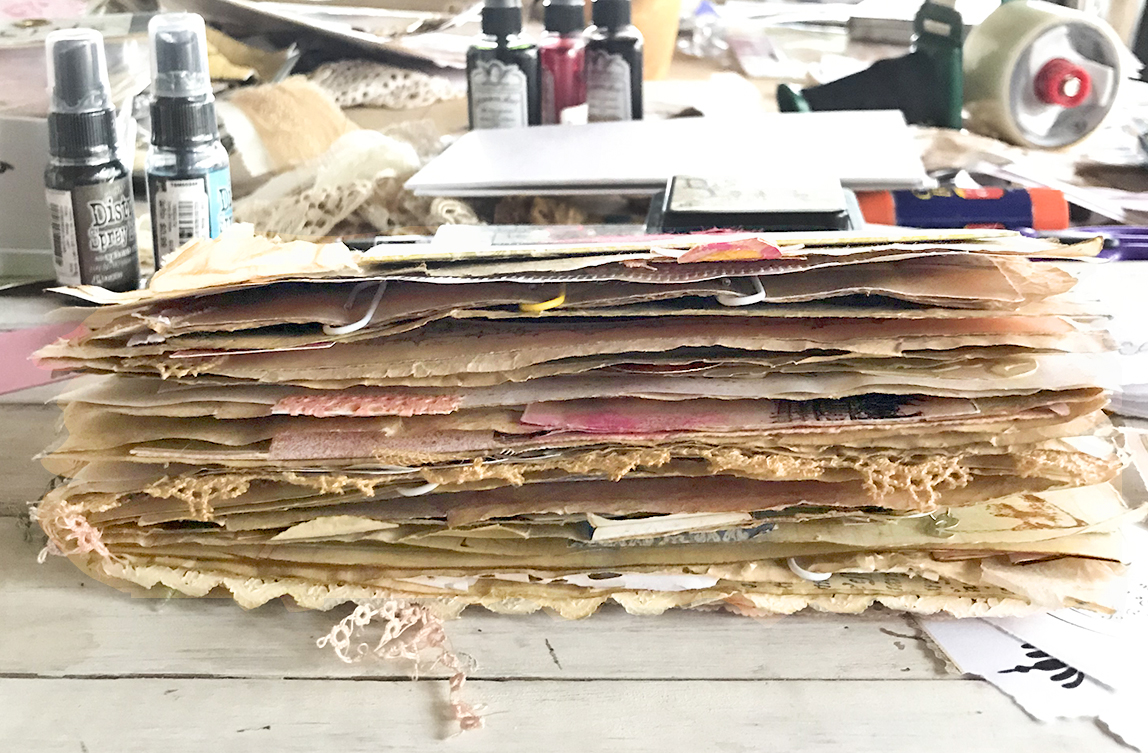 Techniques in this tutorial:
It is time, my friends, to let you free to explore your wondrous imagination and create pages with your special look and feel. Most of these techniques all play off of other things we have learned in this junk journal series. You will discover moving forward and creating junk journals that you will create new techniques and adapt old techniques inspired by YOUR junk! That's what it's all about anyway!!
Double Flap
L Trap
Envelope Tip In
Window Pocket
Tiny Booklet
Swinging Door
Pop Up

Basic Supplies
*This post contains affiliate links for your convenience
In this tutorial we will be using the Basic Supplies from Page Layouts 1, plus found objects from our  stash. I use Distress Ink Old Paper for aging pages and edges of almost everything, but sometimes I use other colors.
The Graphics Fairy images I used:
In addition, I use old stickers and paper from my stash, lace edging and ribbon, rubber stamps, stencils, and paints and potions. Create your pages with thoughtfulness. 🙂 Please feel free to use different images that suit your style more closely. Anything goes in this series.
Supply List
Packing tape
Sepia stamp pad
Scrapbook paper
Double sided tape
White linen envelope
Distress Ink
Dark garnet embroidery thread
Double sided cardstock
Embossing folder
Damask washi tape
Waverly Inspirations Laser Stencils – Floral Ornate, 6″ x 6″ (Walmart)
Techniques
Double Flap
This one is so easy! I applied the beautiful Notre Dame Cathedral image with a packing tape transfer of the words NOTRE DAME that I printed from my computer. I use this packing tape.
On the back side, I created another flap with a Sacred Heart Card image made into a postcard by backing it with one of TGFs carte postale backs. I attached it with a border sticker from my stash. That creates a Double Flap! 😉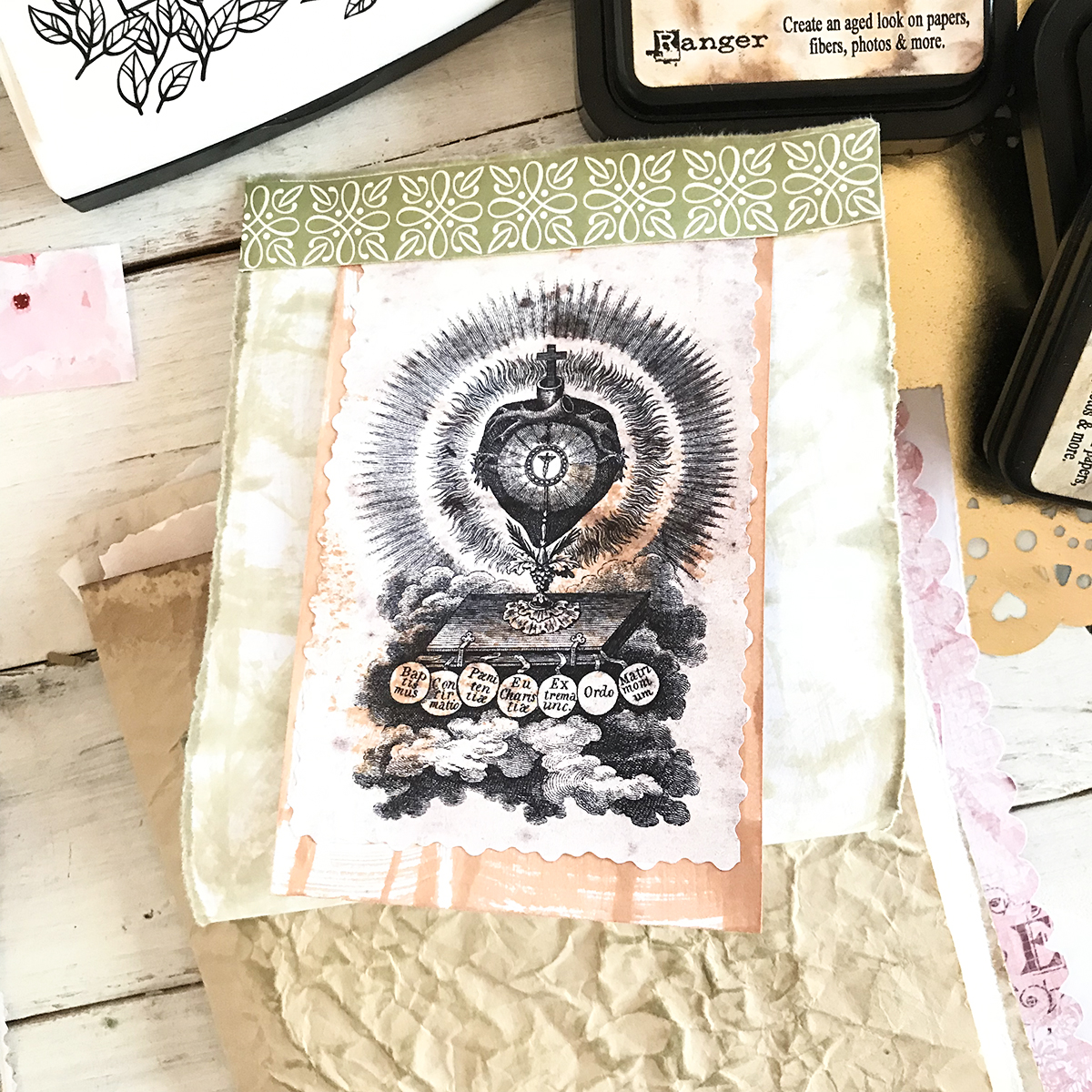 TIP: I used an index card as the base of this Sacred heart Carte Postale card. I made the card and the carte postale image on the back of the Sacred Heart look old and rough by tapping it with a sepia stamp pad a few times.
L Trap
I created another easy pocket trap that I call an L trap because it is only attached to the page on two adjoining edges – this forms a L shape. I applied double sided tape to the left edge of the card and the bottom edge. It allows me to trap a few postcards I created with TGF images.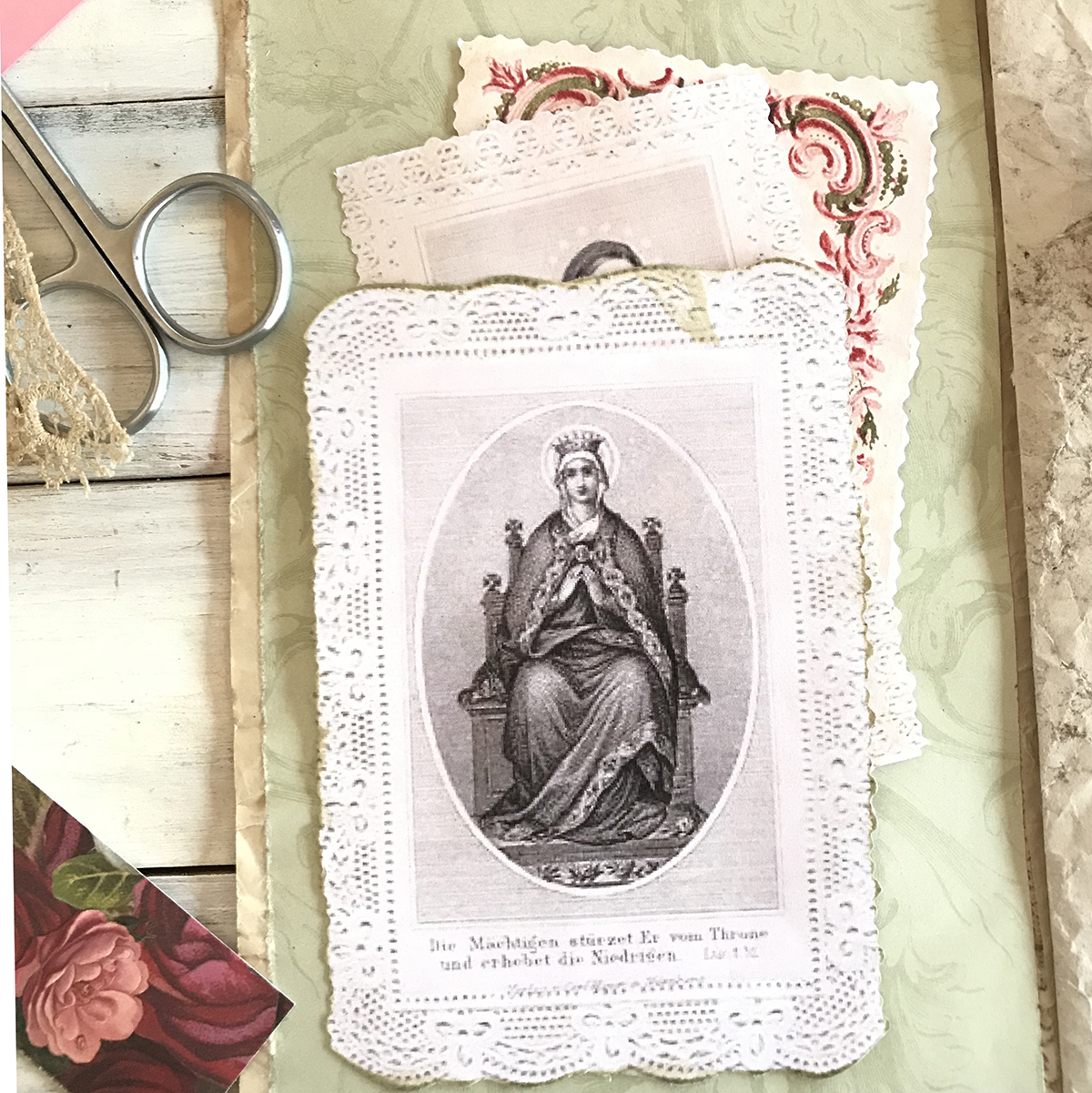 EXTRA Technique – I attached a beautiful piece of scrapbook paper from my stash to the page before I attached the Flip Trap. I used double sided tape to glue the outside edges, leaving the top open to form a pocket. I burnish the tape down with the scissors as shown below.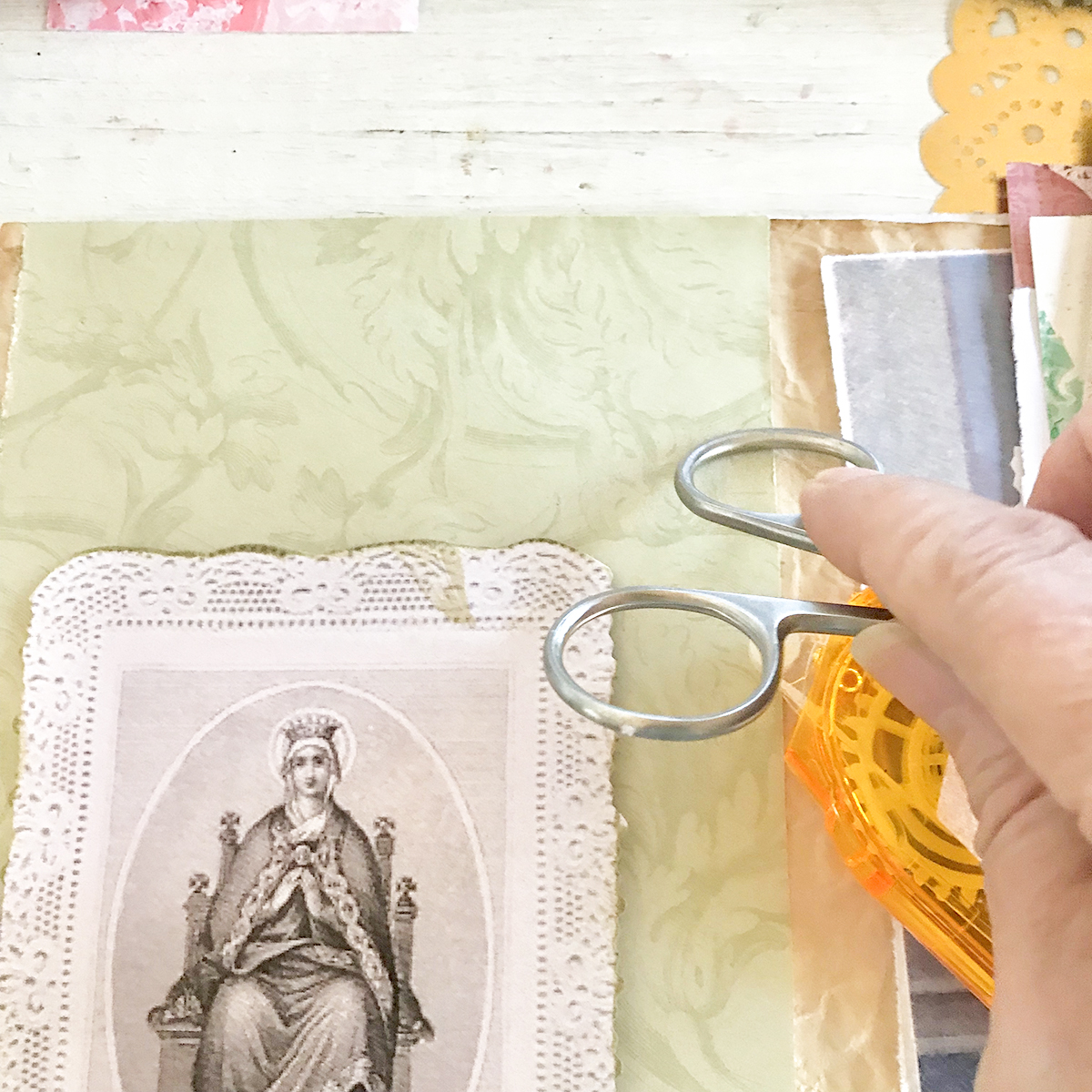 Here is what this pocket looks like. Little cards slip into the top of the page. I think this is a cool hiding place, don't you?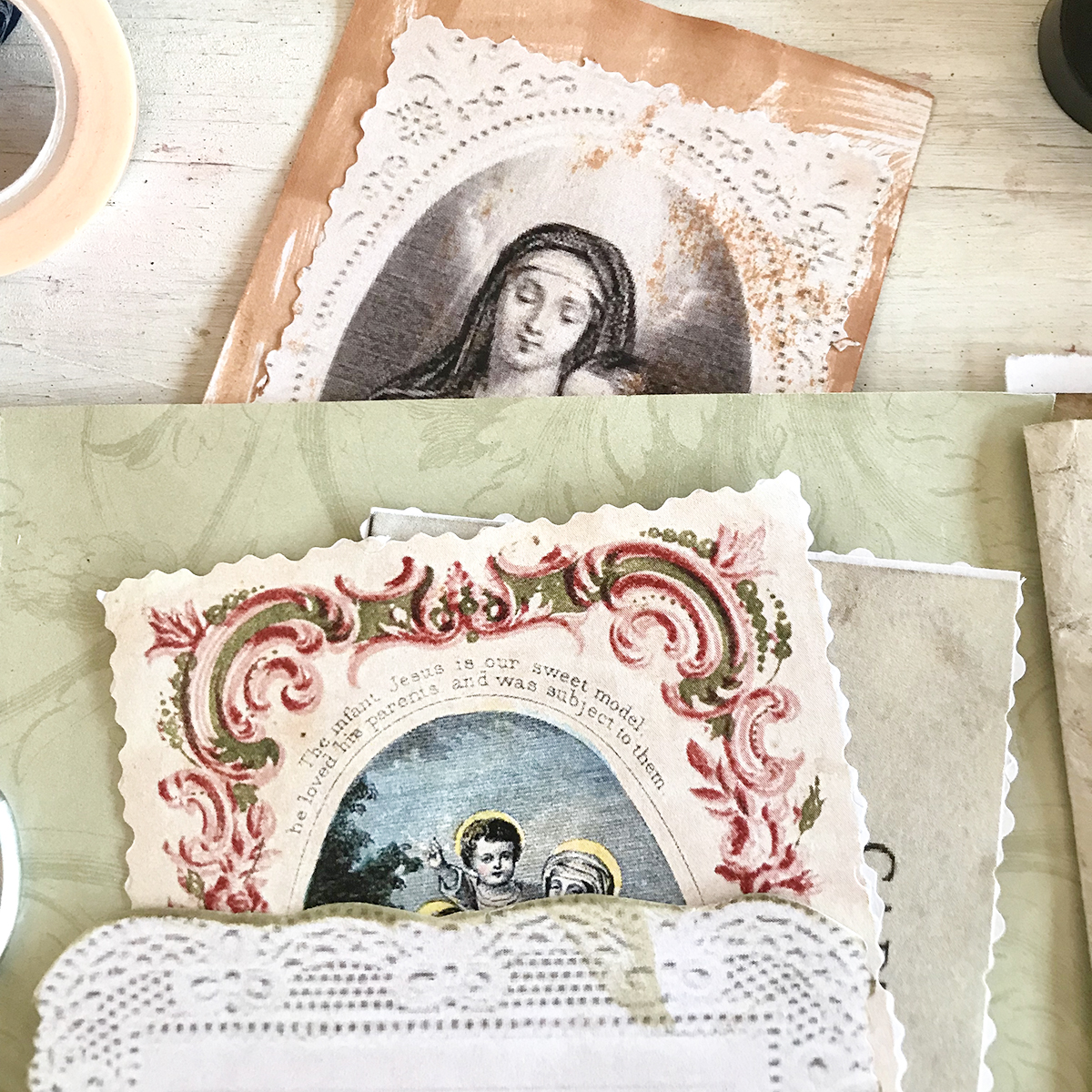 Envelope Tip In
I stenciled a beautiful pattern (here is a similar stencil) on the front and back of a white linen envelope. It is a standard greeting card size, but any envelope that fits the book page size will work.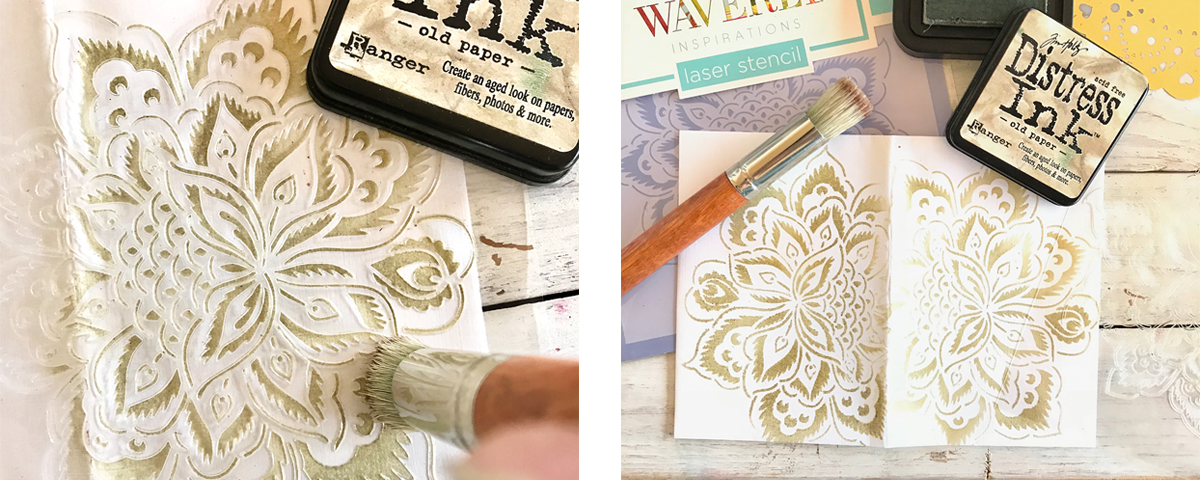 Then I sewed it with a straight stitch on my sewing machine into the center of the folio.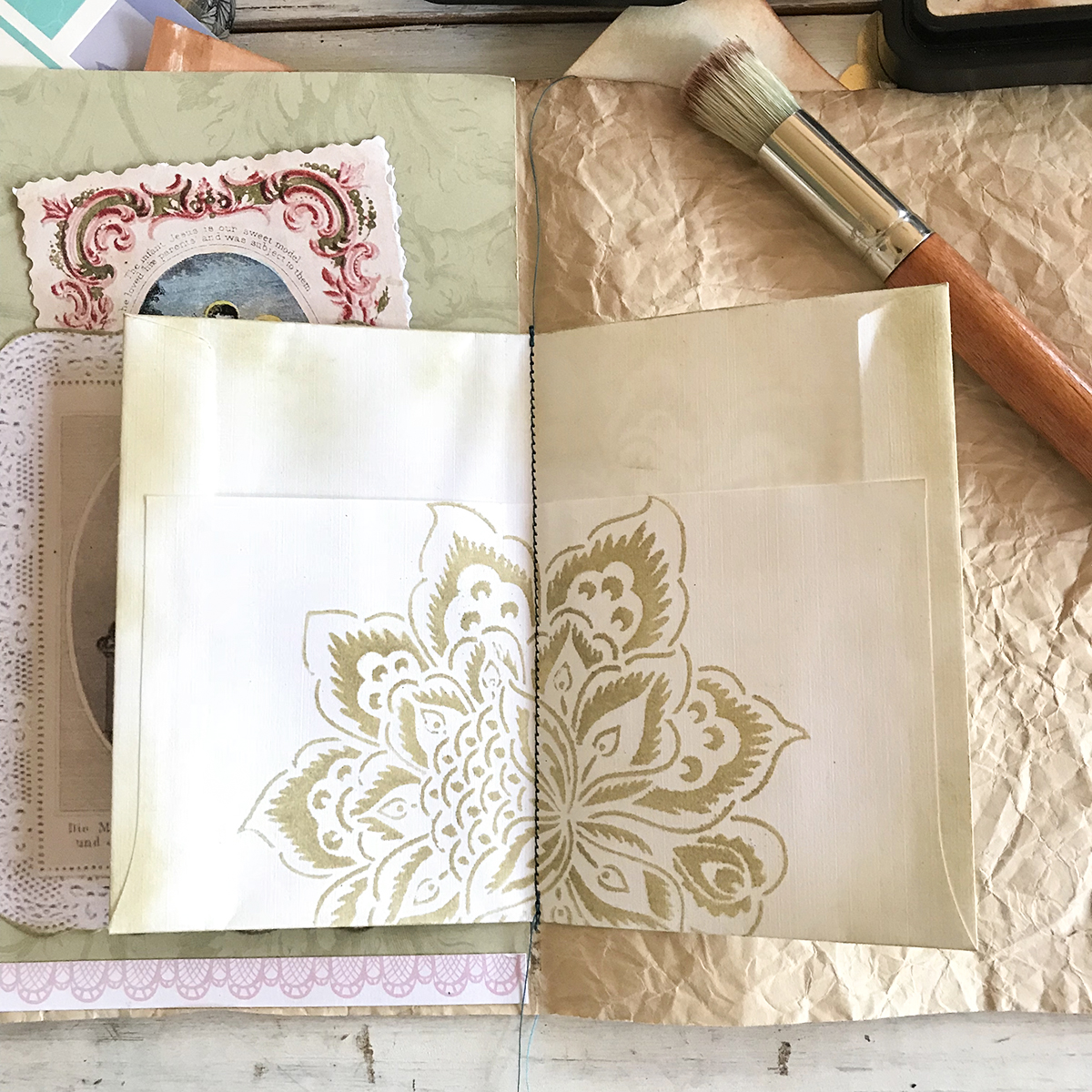 It will be a pocket between pages 38/39 and 42/43 giving the signature extra bulk and a fun space to hide treasures!!
Window Pocket
This is one of my favorite techniques for this junk journal. I love these two images that I used for my window pocket technique. The ornate oval frame just begged to be cut out. I fussy cut it, leaving about an 1/8th inch edge. TIP: Insert one scissor blade into the middle of the oval to have a place to begin cutting.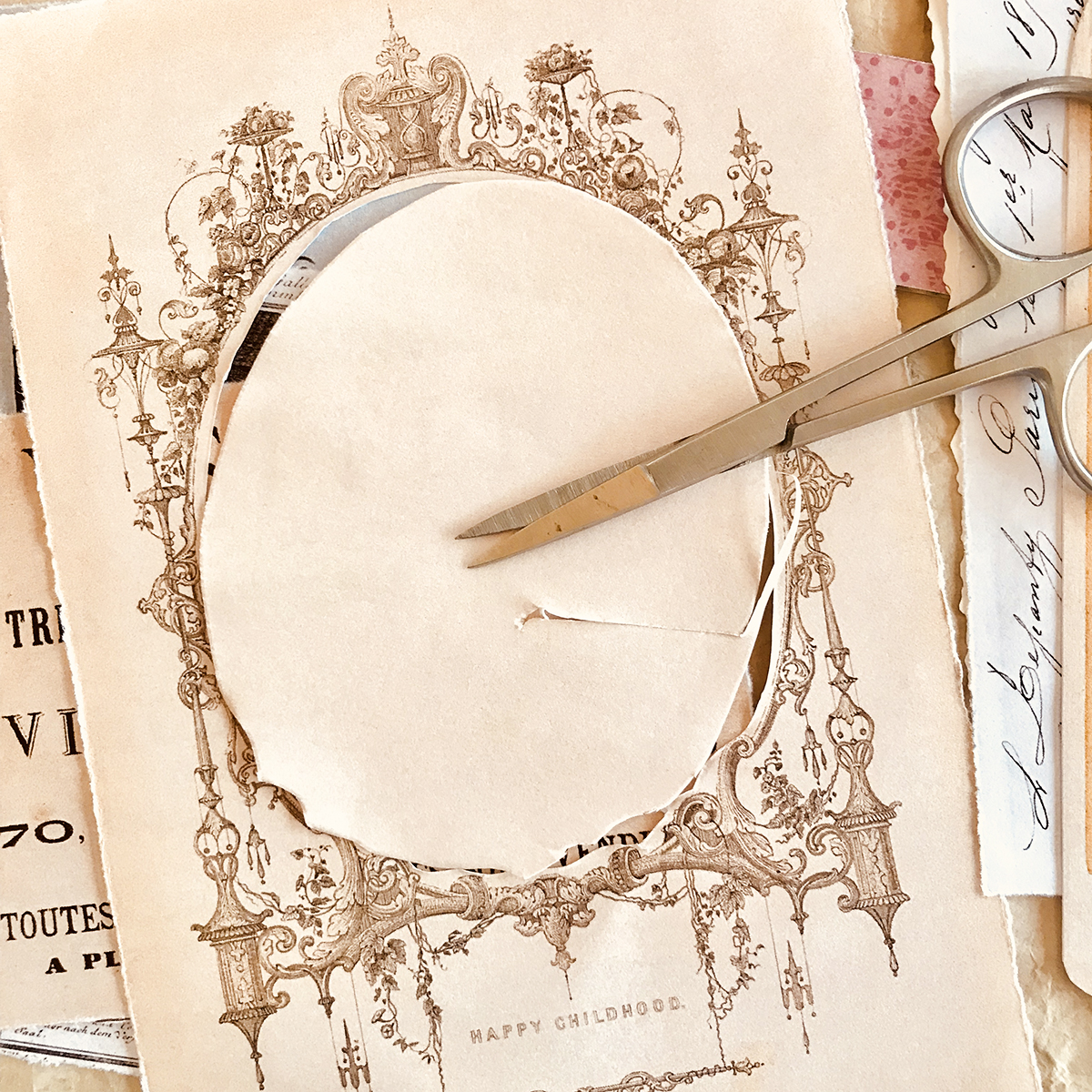 The beautiful interior architectural image reminded me of the grand halls of Versailles. It was carefully positioned inside the frame opening.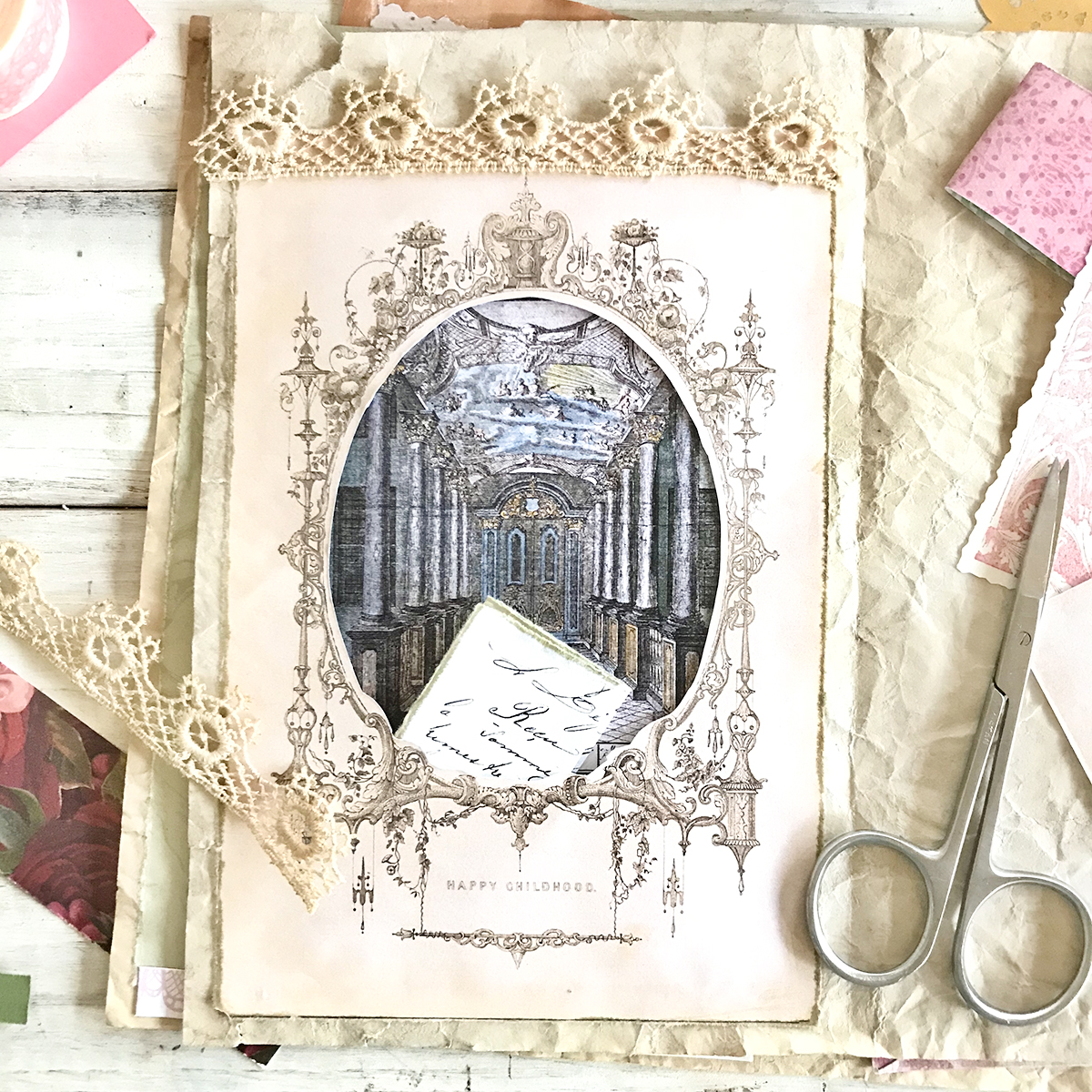 Then double sided tape was applied to the outside edges of the ornate frame only, leaving the interior oval edge free to insert the tiny booklet I created. Wait until you see this booklet!! 🙂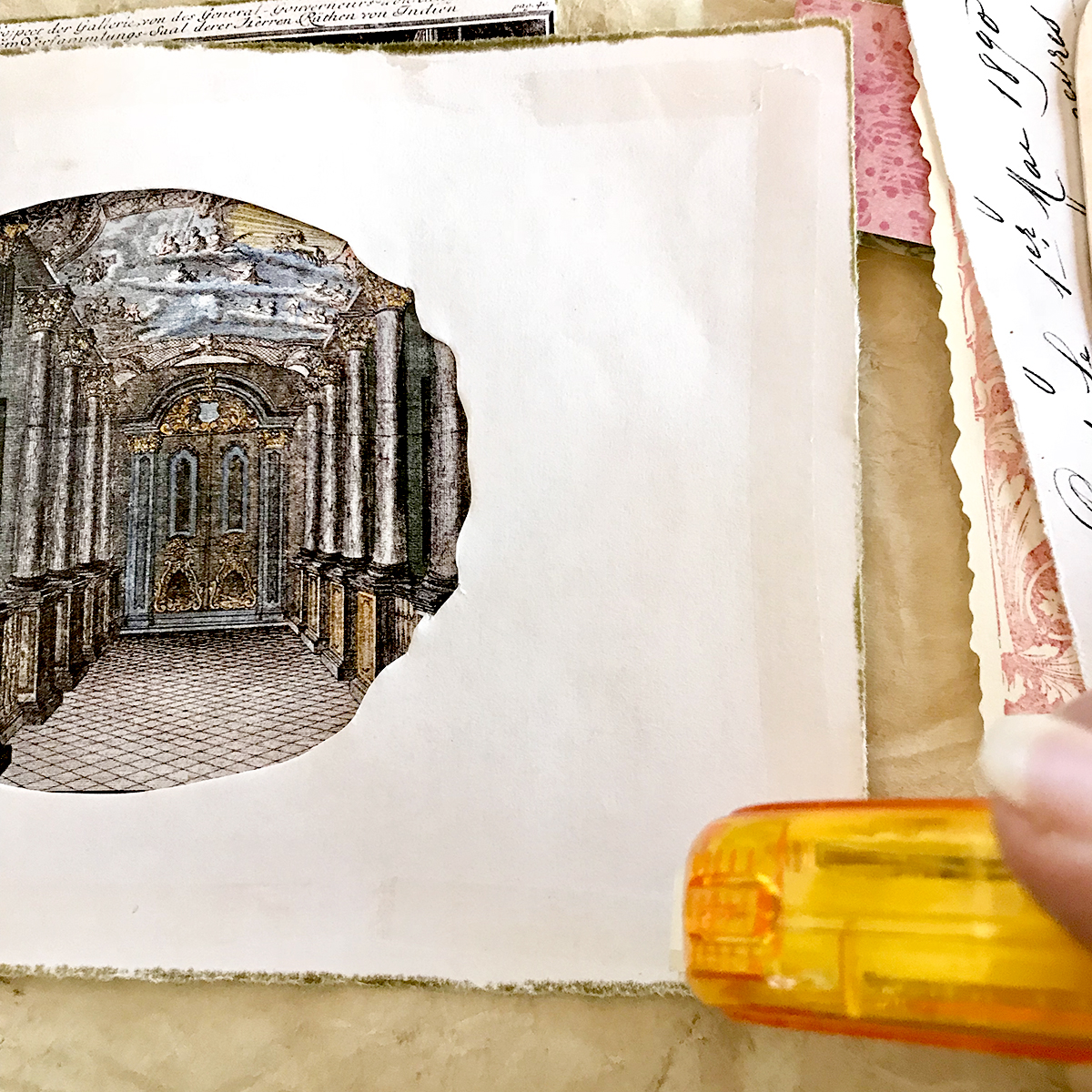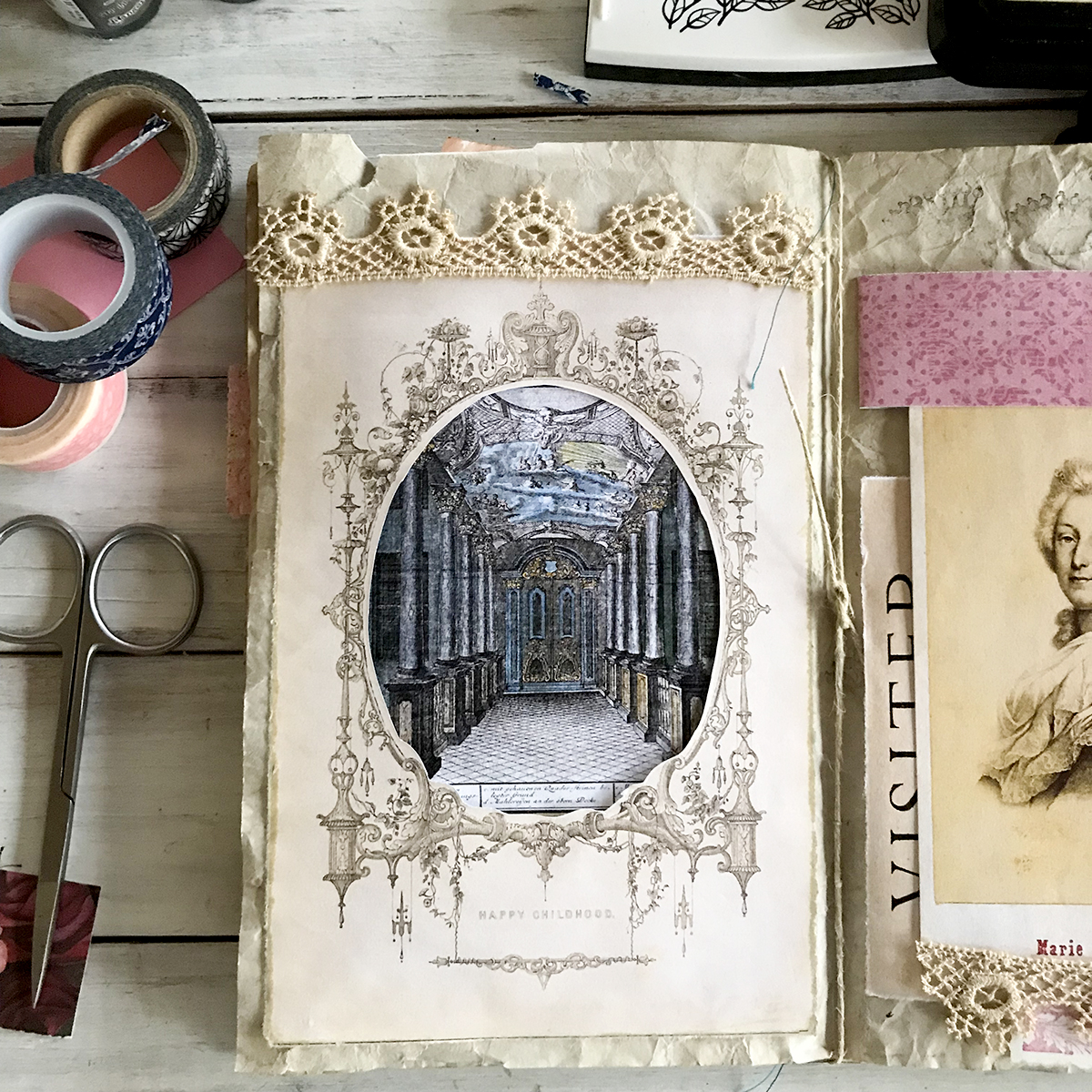 Tiny Booklet
This is a special somthin' somethin' to say thank you for taking this journey with me and completing all the pages in your junk journal. It is an intro into book binding also. I want you to get the feel of it before we bind the entire book. What is it?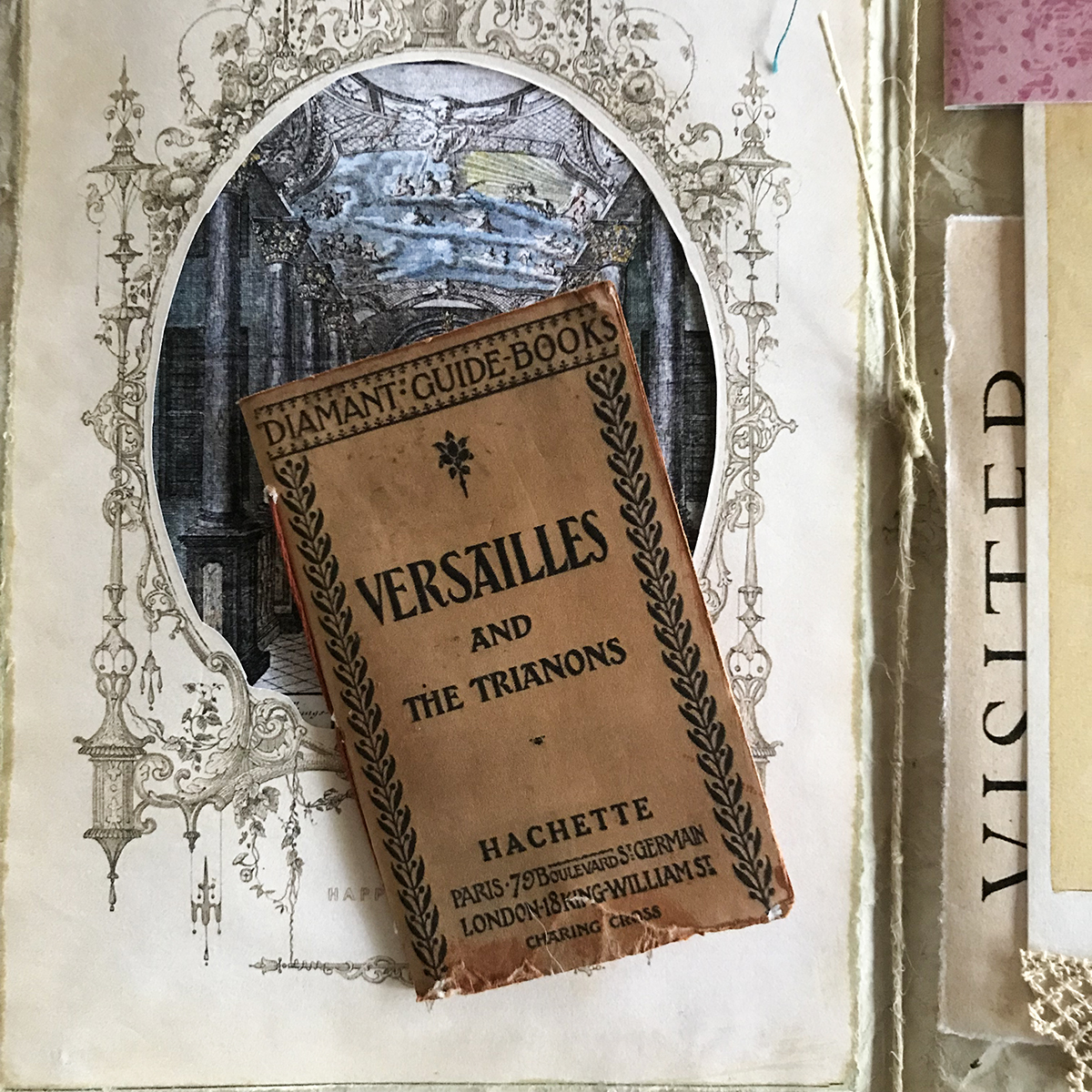 I am gifting you the pages of this tiny booklet so you can make one of your own. Here is a  Tiny Book Printable PDF designed for YOU. The images are scanned from a vintage Diamant Guide Book that I picked up at a flea market when I studied art in France in the 1970s. The date is 1921, so I believe it is copyright Okay, but I share this for your personal use only here in this Vintage French Junk Journal class.
TIP: I folded a dummy book first to get the images placed correctly. Trust me, it takes a lot of planning to create a readable book. Thankfully, my years of graphic design experience prepared me for this tricky composition. I created the dummy book first, then numbered the pages. Then I worked through what would appear on each page and wrote that image name on the page. Finally, I created the spreads in a page layout program (InDesign). From that the PDF was output.
Of course the edges were aged with Distress Ink before gluing them together to cover any exposed white areas.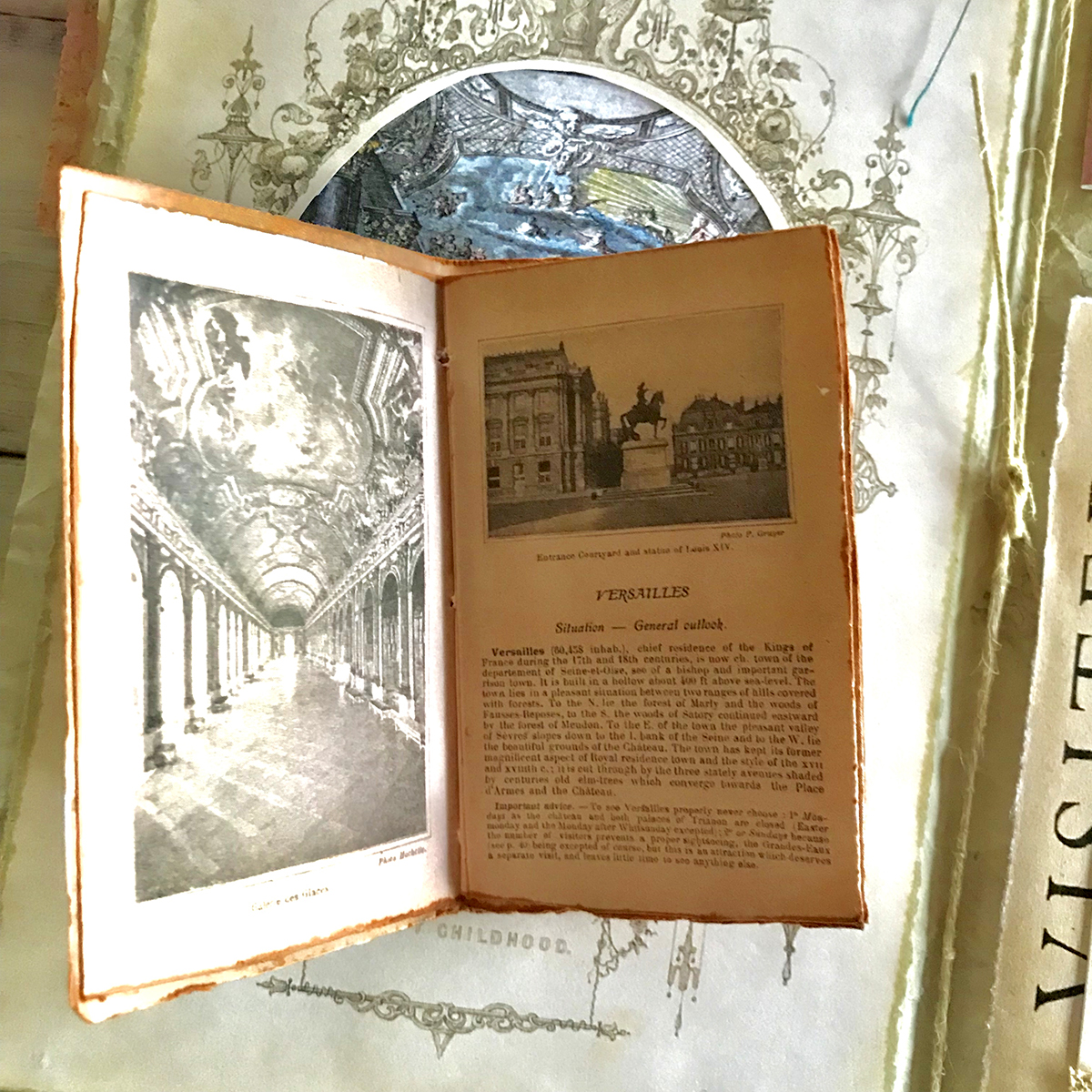 3-Hole Pamphlet Binding
When the glue was dry, I used dark garnet embroidery thread to sew the book together using the 3-hole pamphlet binding method. This is the easiest way to sew a book together. Assemble the book as shown in the PDF and above. Clamp pages together with firm paper clips or clamps. Using the hold punching template, punch holes in the fold through all the pages with an awl or the point of open scissors. You can use a sharp need also, but be careful to not get the holes too large. Then thread an embroidery needle with floss. Starting inside the book, draw needle to the outside from the center hole leaving a 3 inch tail inside the book. Hold this with your thumb as you sew the rest of the stitches. Next, pull the needle through the top hole from outside to inside. Then pull the needle through the bottom hole (shown below) to the outside. Then bring the needle and thread back through the center whole from the outside. Tie the two ends together at least three times over the long middle thread.
Swinging Door
Here is another easy adaptation for Marie Antoinette's Photo Card. This page has a large horizontal tear that needed attention (left below). I had a beautiful snippet of double sided cardstock that I wanted to use somewhere in the journal. A swinging door was the solution. I glued it to the page with just a tiny bit overlapping the edge to form a tab (right below).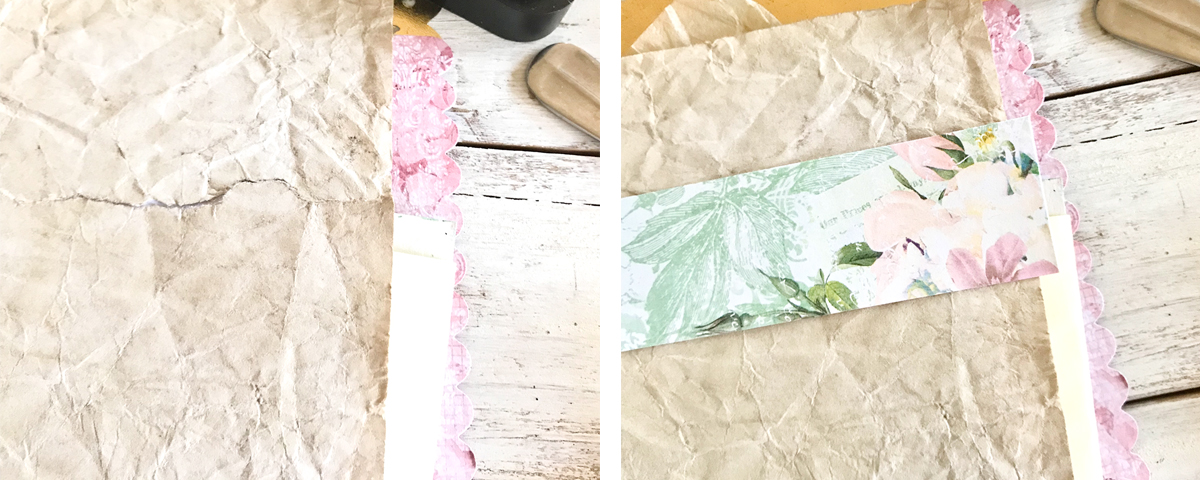 I folded the cardstock in half and trimmed one edge on the diagonal with edge scissors (left below). I glued the front and back of the Marie Antoinette's Photo Card together and rounded the edges with a corner punch. I then glued the top edge of the card to the inside of the free arm (right below). This creates a swinging door that opens to expose the interesting back of the card that Karen provides us.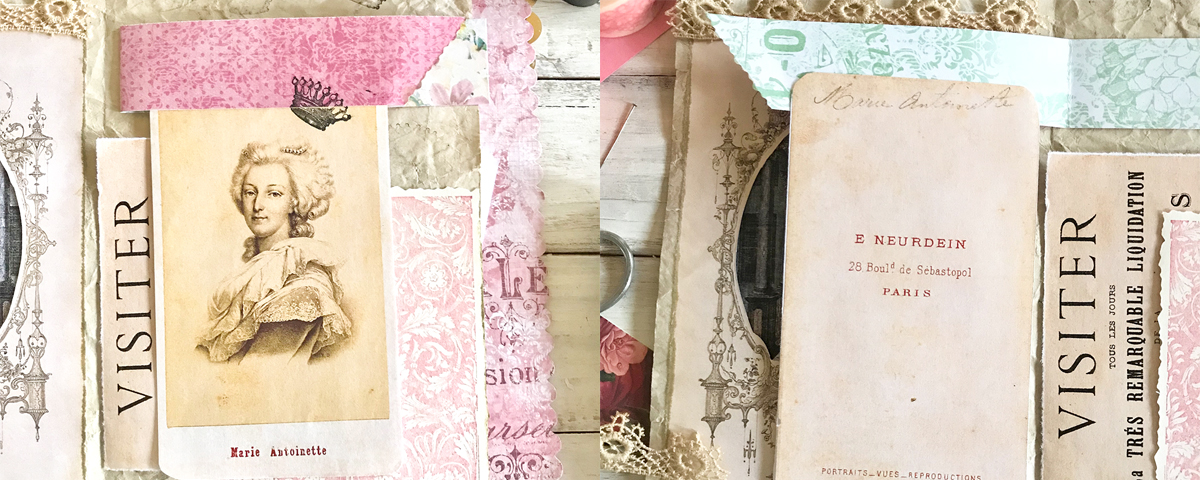 Pop Ups
I created a pseudo pop up by creating a flap with a scrap of embossed paper from my stash. I attached it with washi tape to the back of an index card I had marbled. I sewed around the edge of the marbled index card for effect. Then I attached the structure to the page with damask washi tape.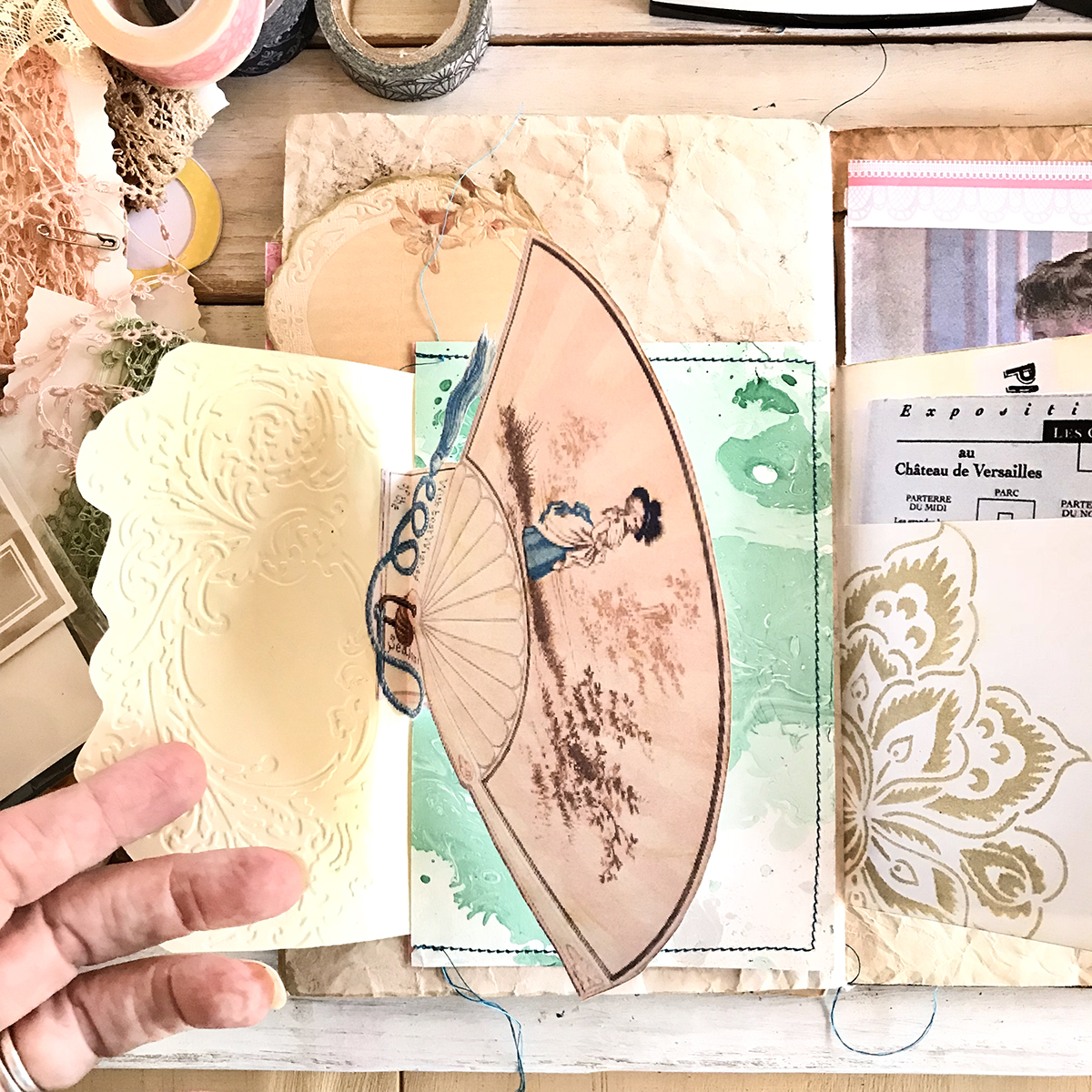 I glued the back of a handwritten French postcard to the back of the marbled card to cover where I had glued the embossed paper.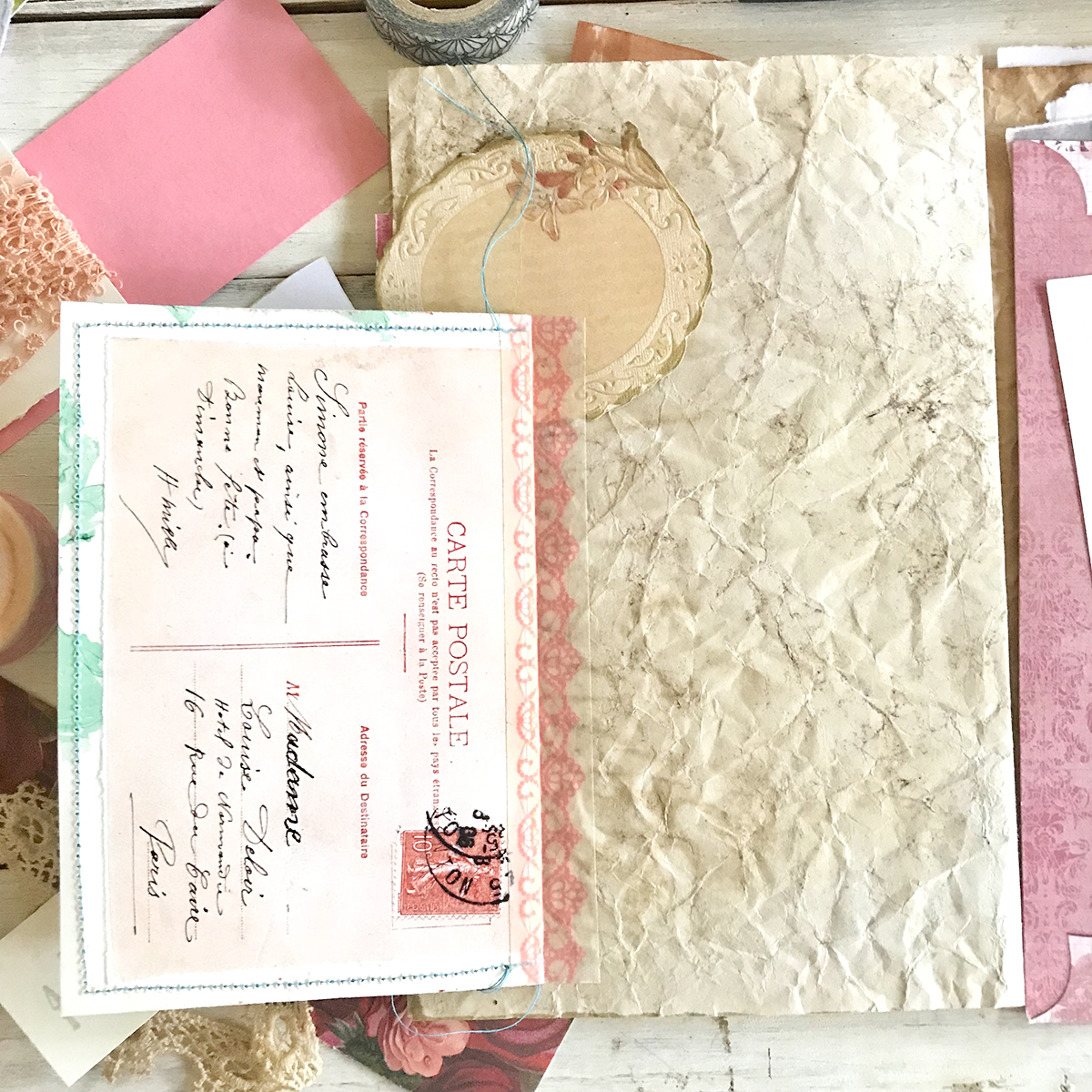 I opened the embossed flap and attached the fan image with glue (to the back of the embossed paper) as you see below.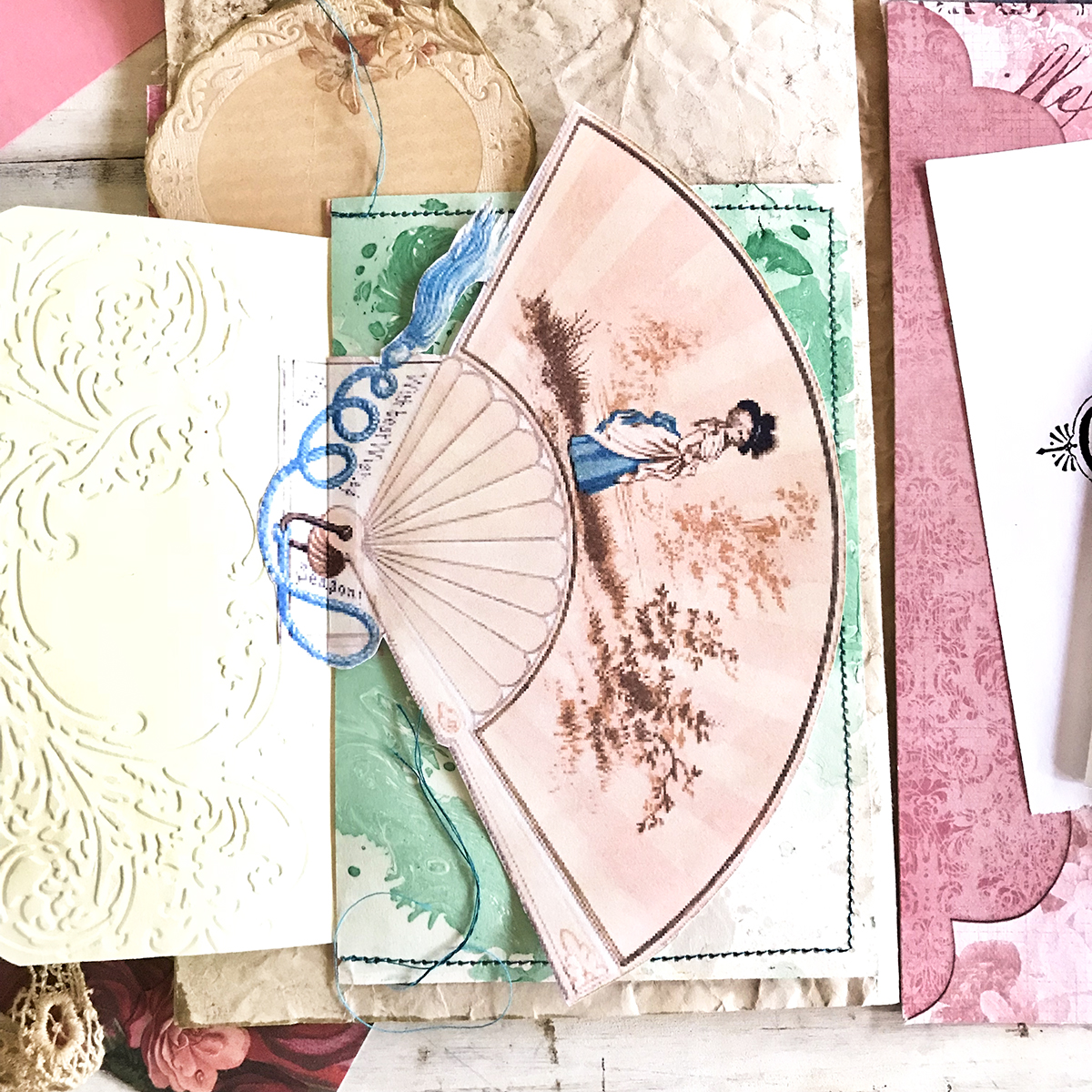 I attached the back where it was folded to the marbled card with a wide piece of washi tape.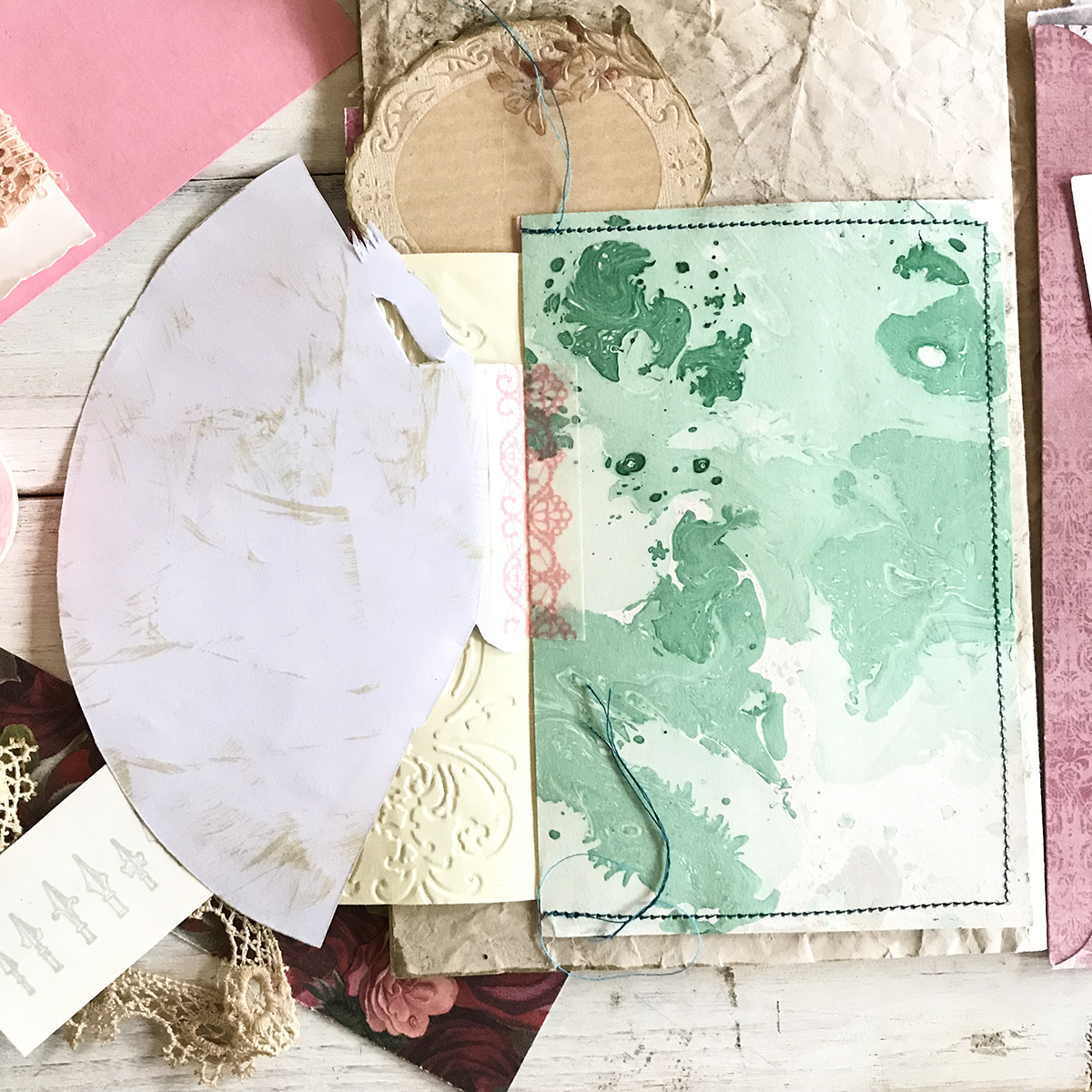 THE STORY
PAGE 37 – One of the favorite places Olivia visited was Notre-Dame de Paris – The Cathedral! She spent almost an entire day here looking into every nook and cranny, dreaming of the people who had been in the pews before her, and visiting the gift shop for Holy Cards.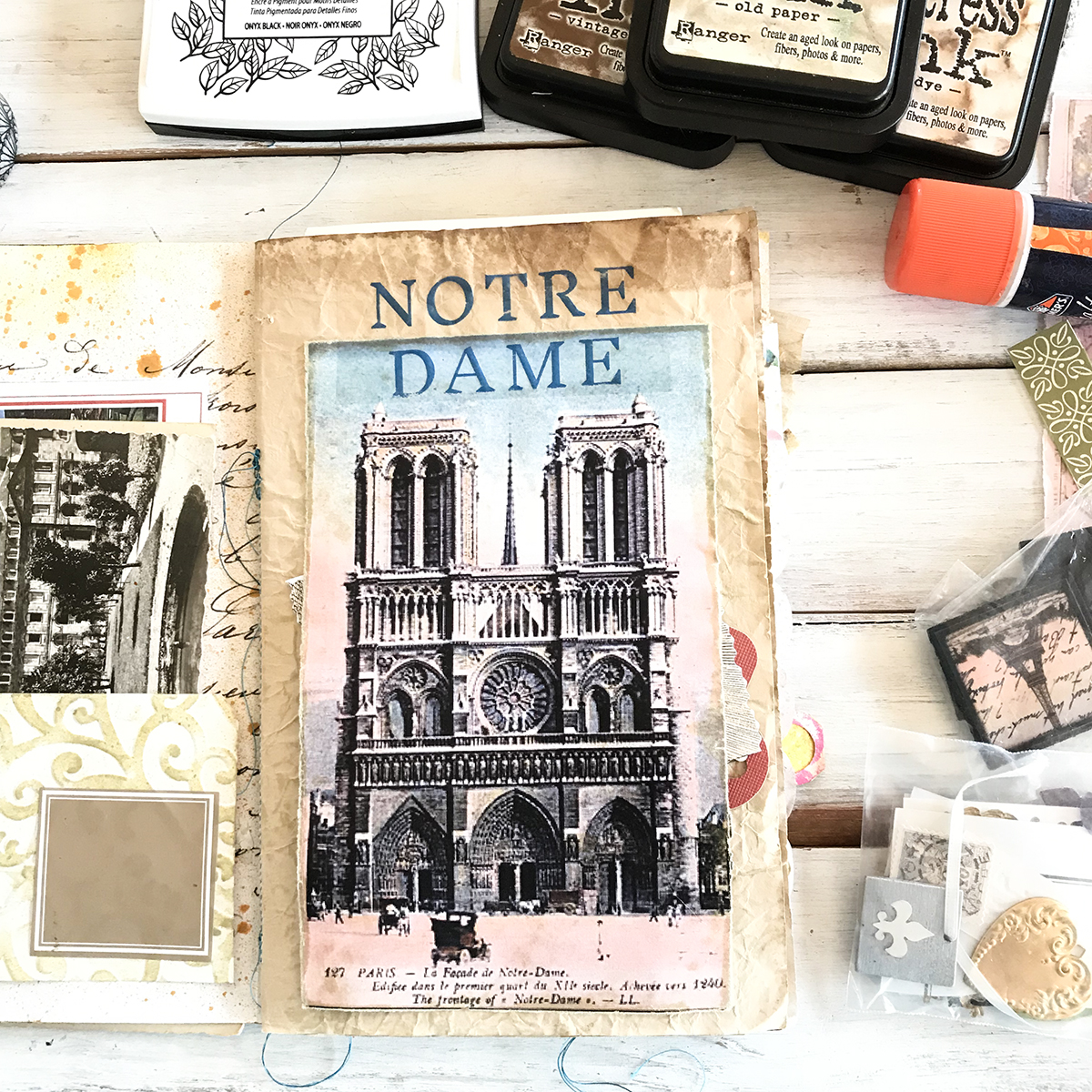 She gathered several of the cards to mail home and also to keep. The Sacred Heart images are her favorite. She attached one to the back of the painting of Notre Dame. She also tucked another in a fancy ornate trap along with a journaling tag.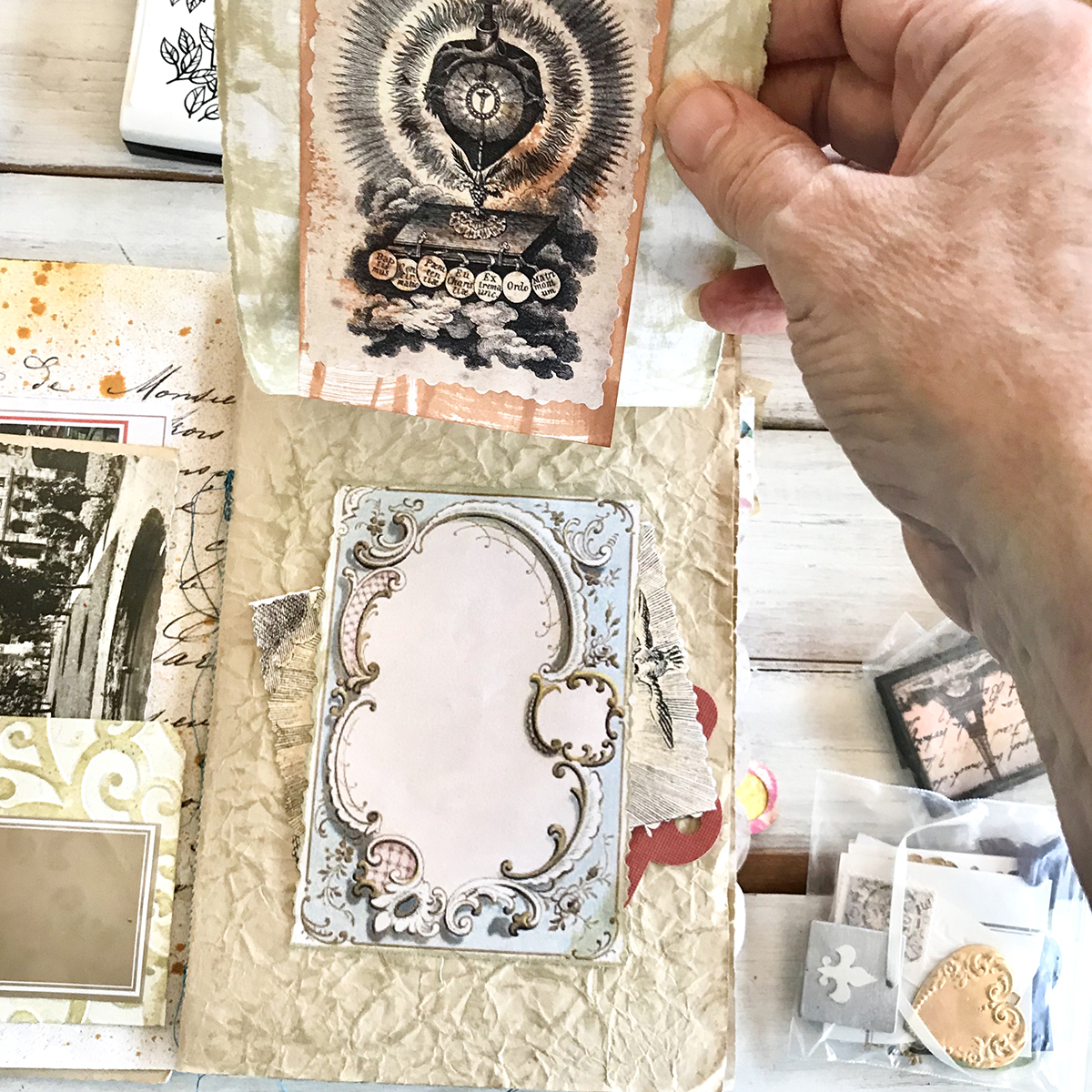 PAGE 38  – There are more Holy Cards tucked inside of a pocket L trap created with another of the lacy cards.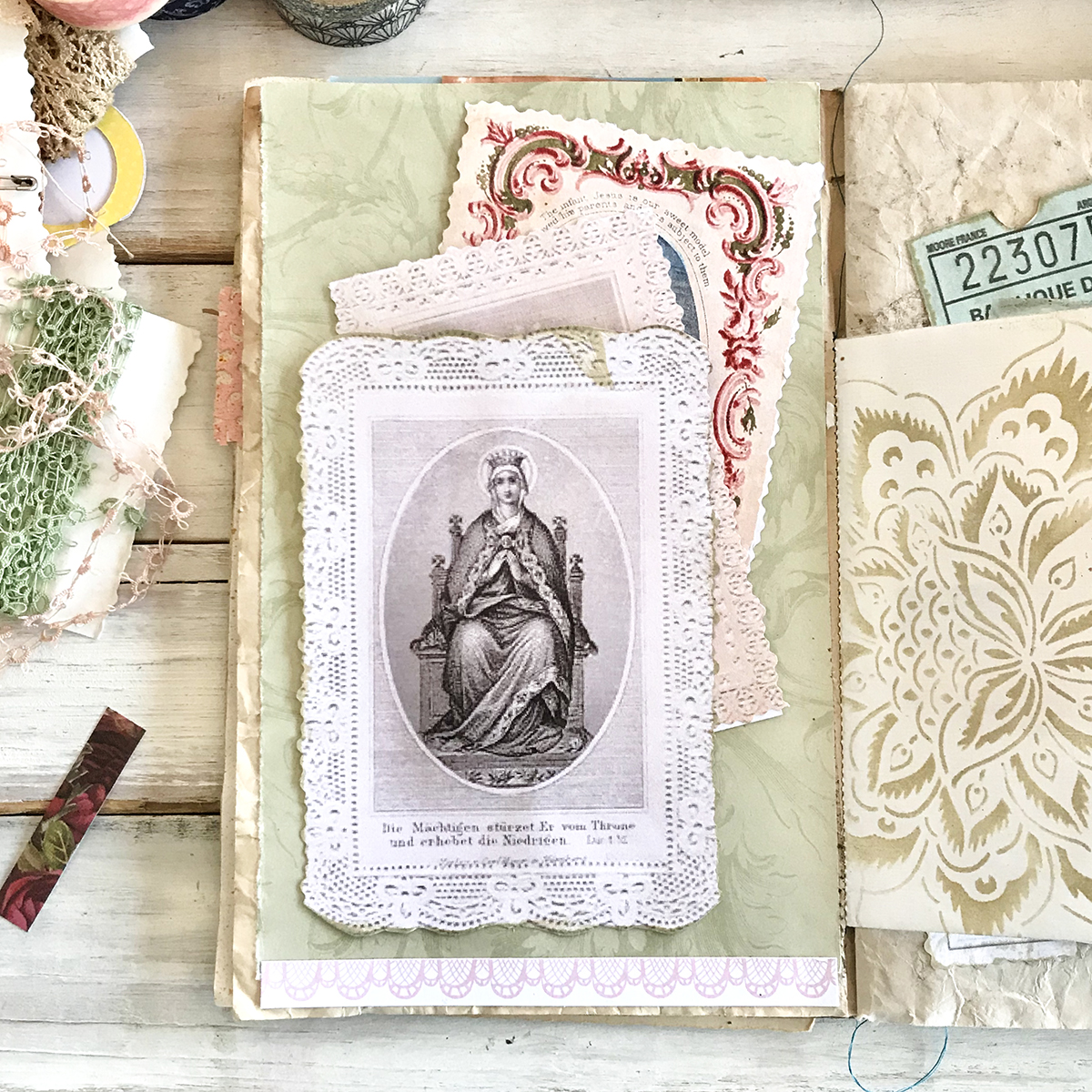 She also glued a beautiful piece of paper to the journal page, leaving the top open to hide other treasures.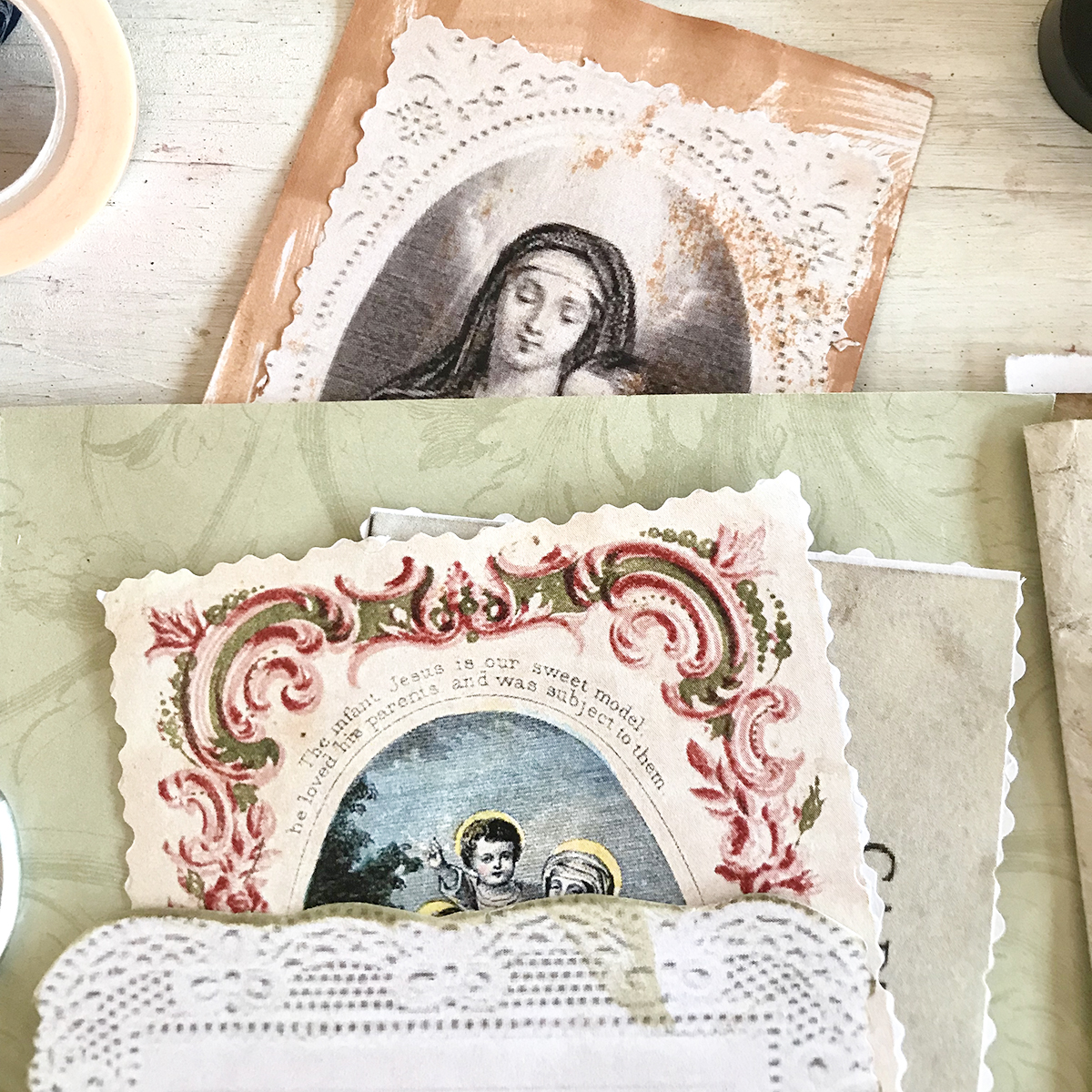 PAGE 39  – Olivia sewed a beautiful stenciled envelope to the page to stash some tiny bits and pieces. Below you see the back.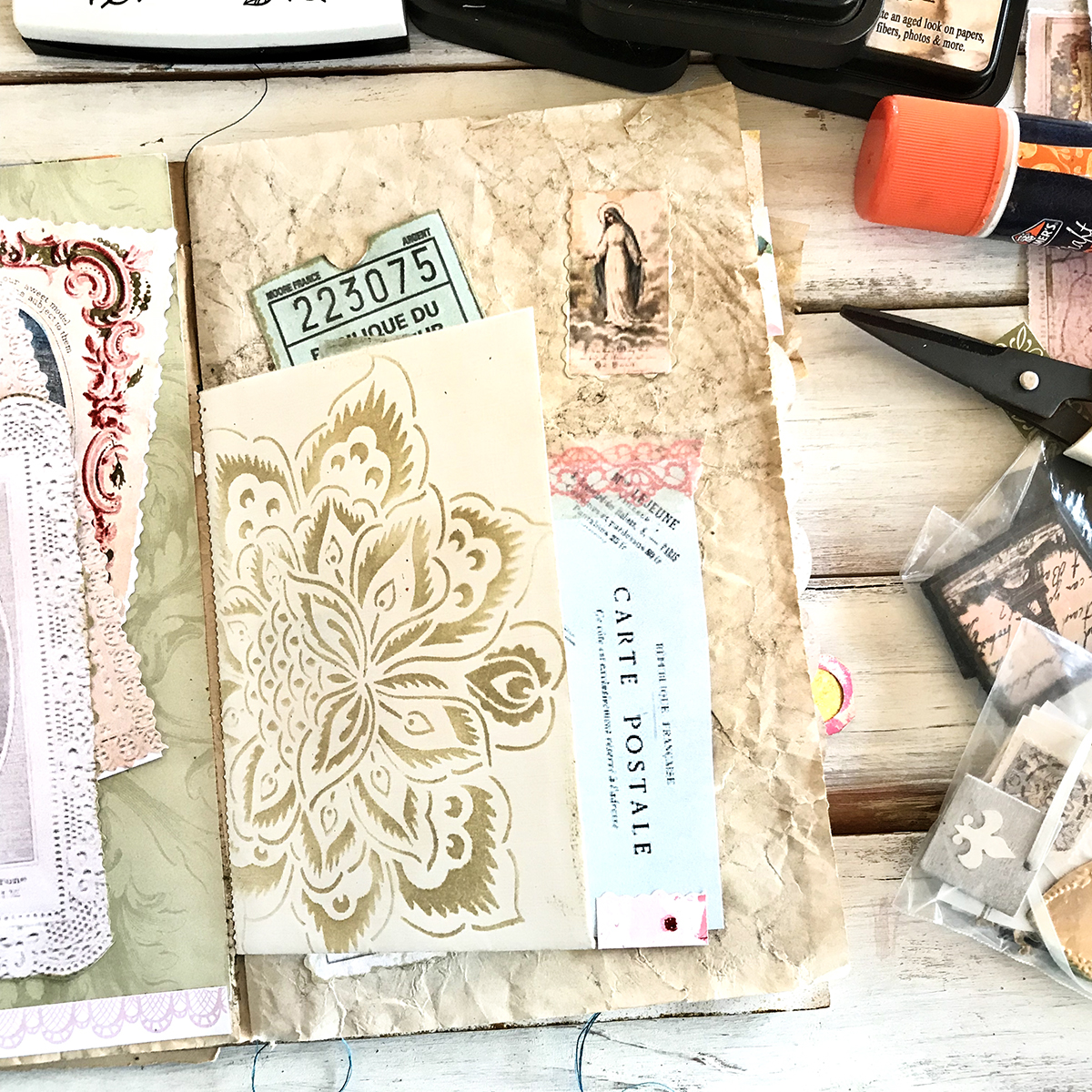 She glued two small cards to the page, a ticket to Scaré-Coeur (from my stash) and a postcard of Notre Dame.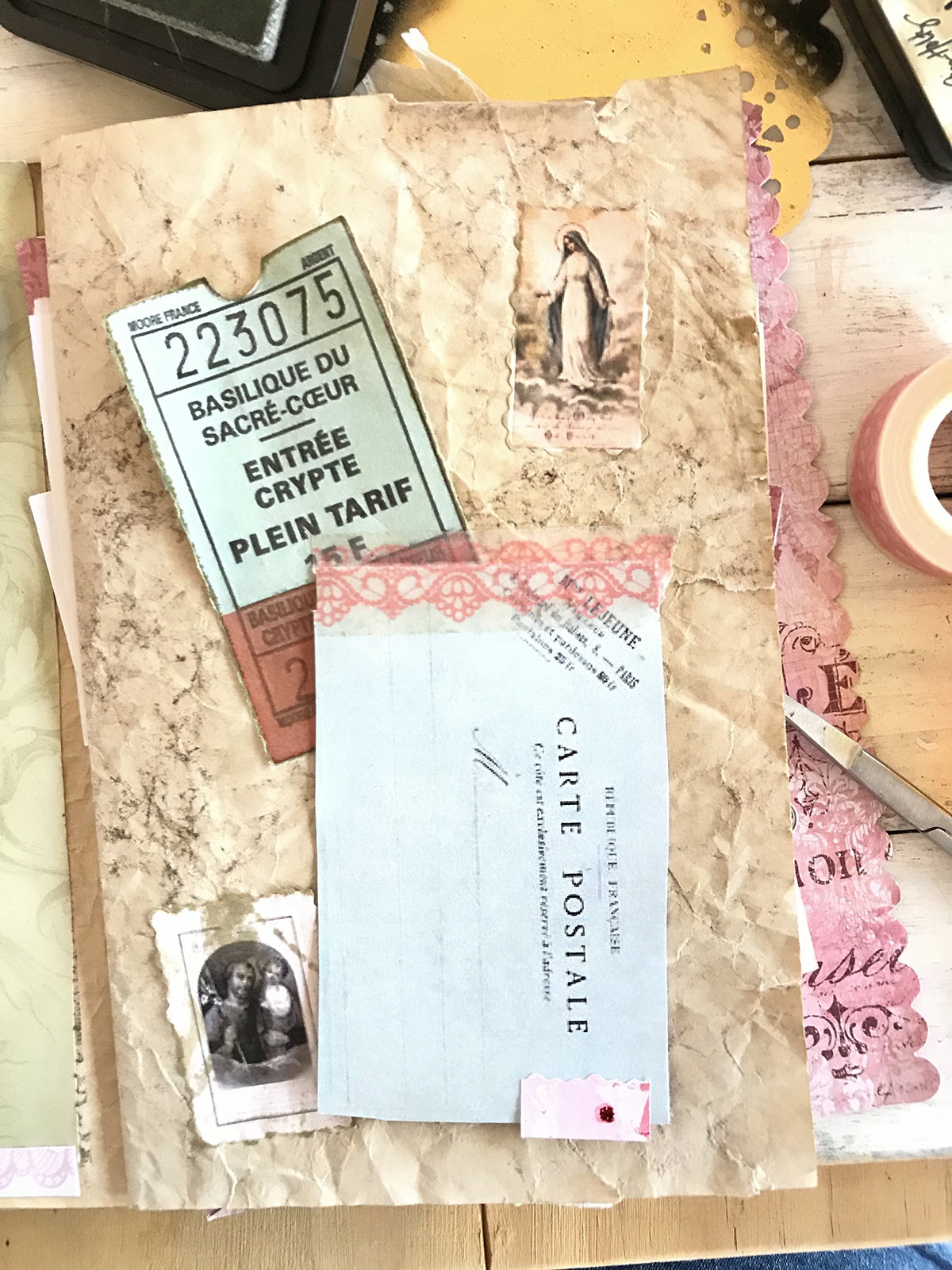 If you lift the tab on the postcard, it reveals a photo of Notre Dame from my stash.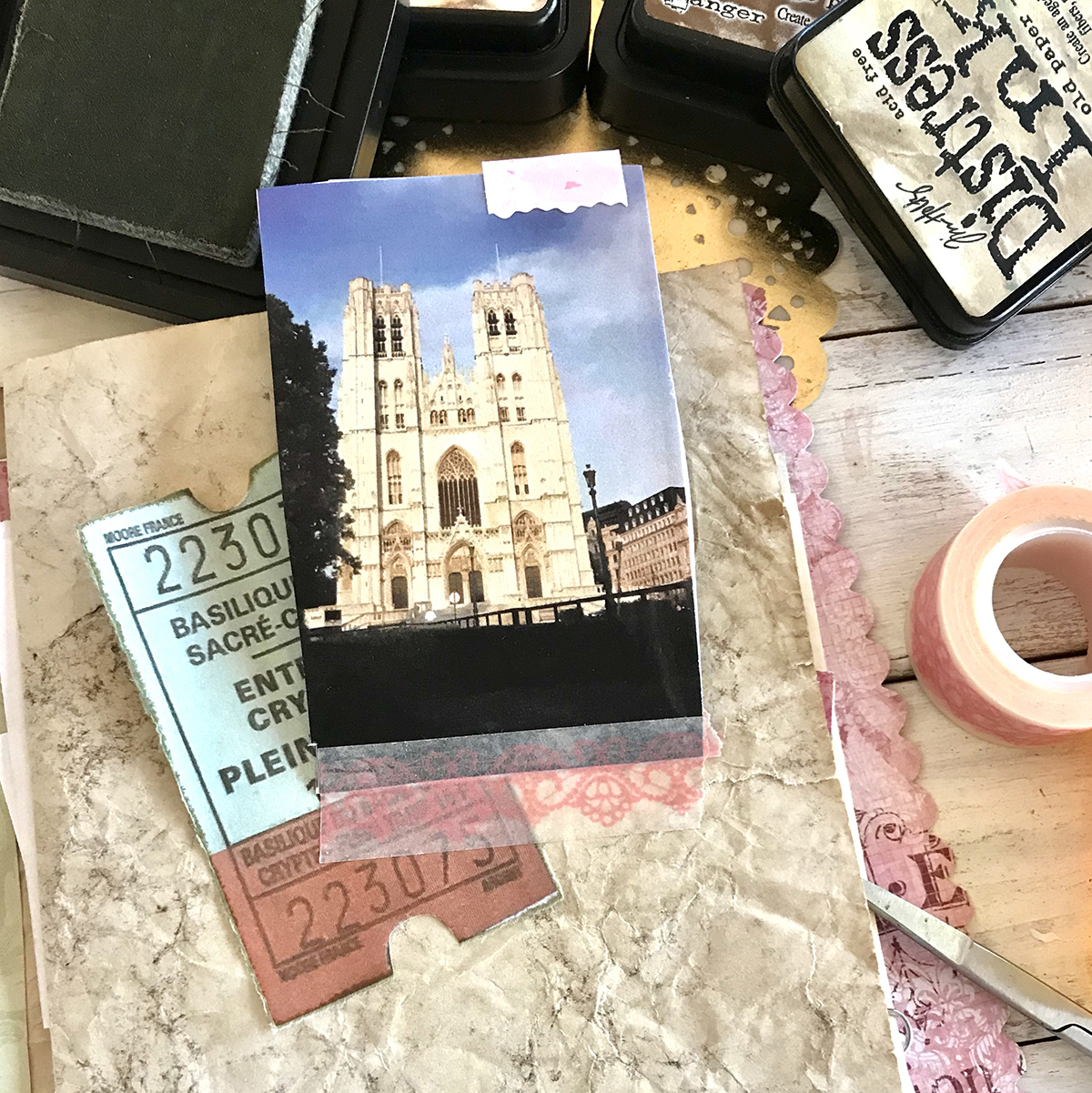 PAGE 40 – This page is for Versailles. Beautiful, opulent, grande Versailles!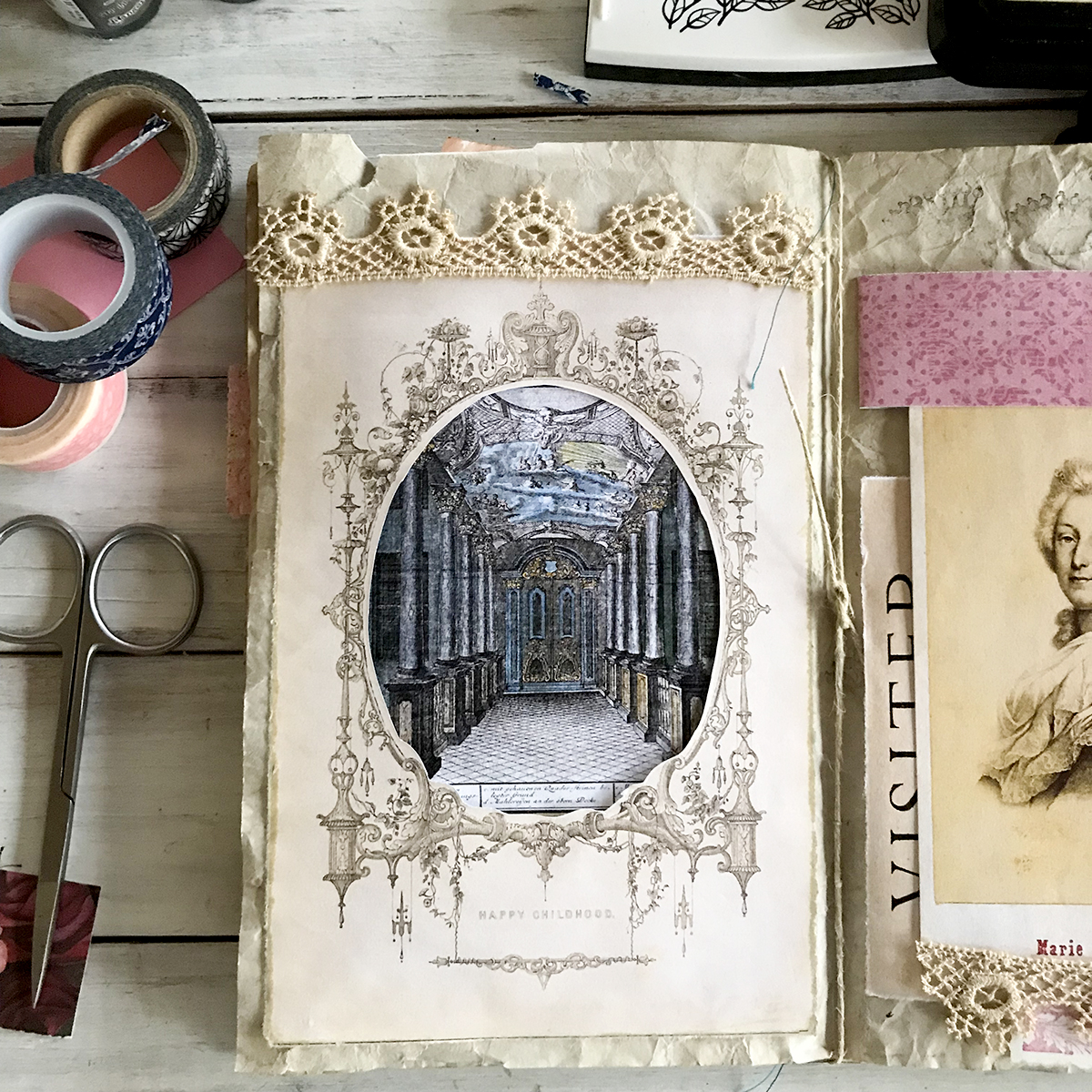 Olivia tucked a treasured miniature booklet that tells about Versailles inside an ornate window that shares a view inside the chateau.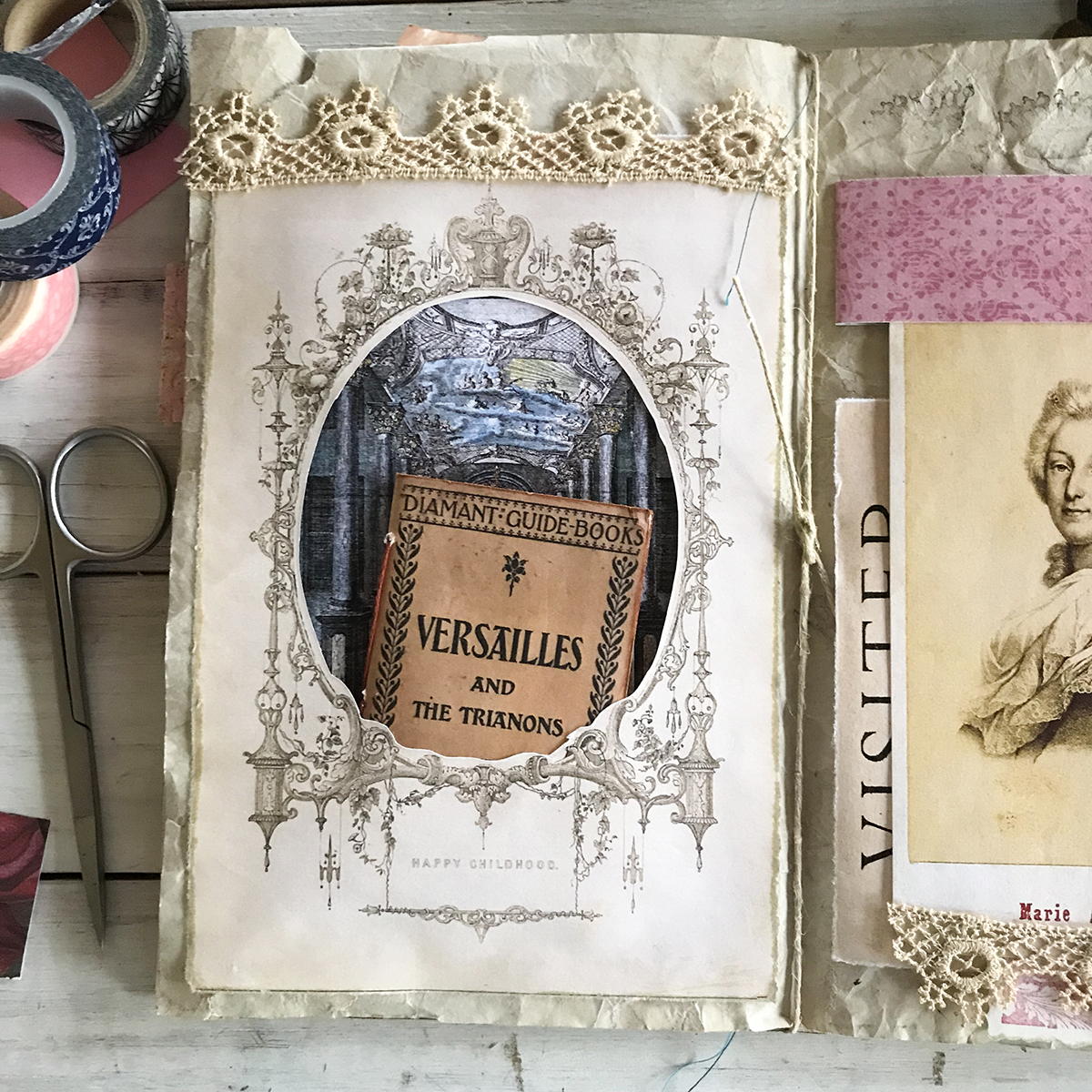 The Booklet shows some wear, but is beloved just the same.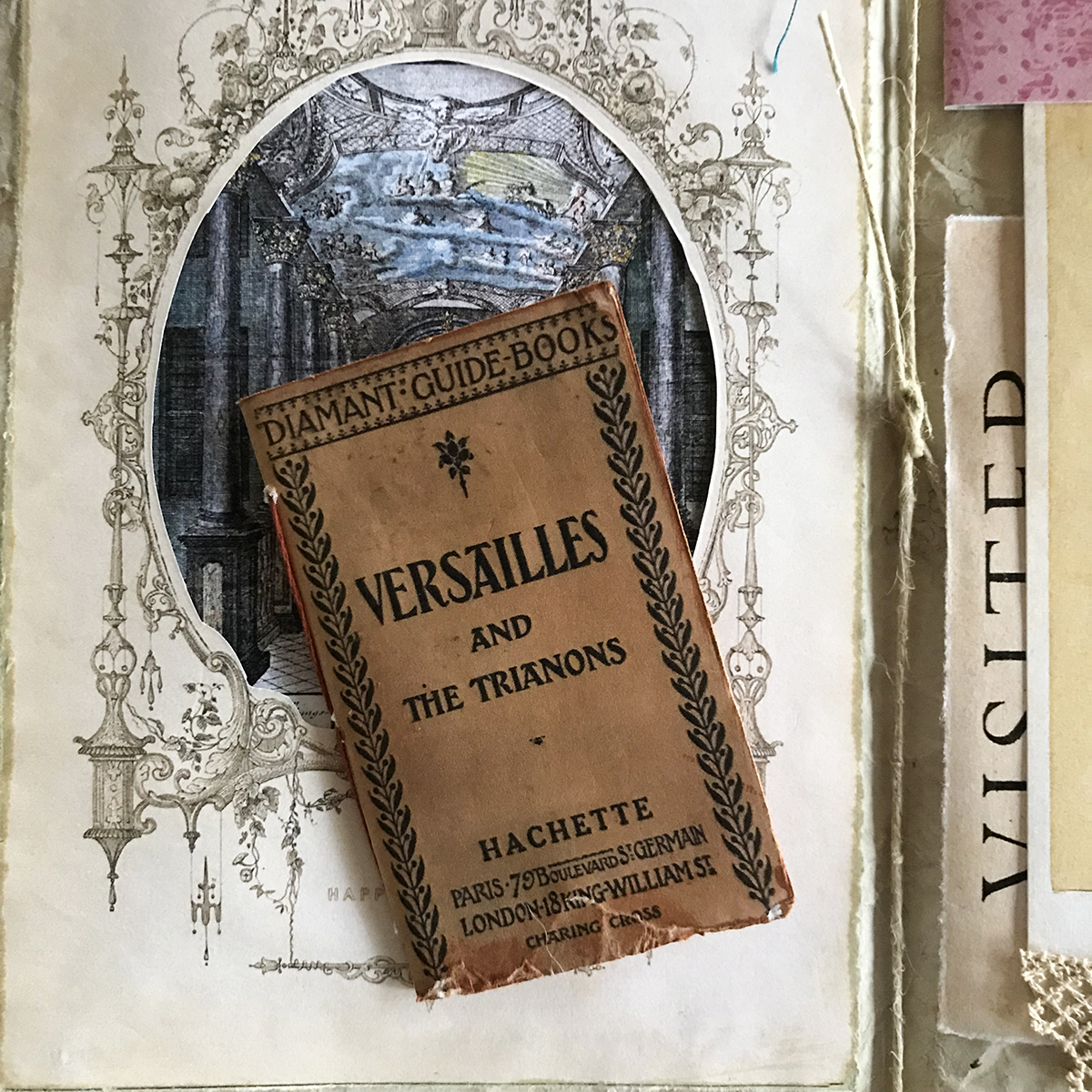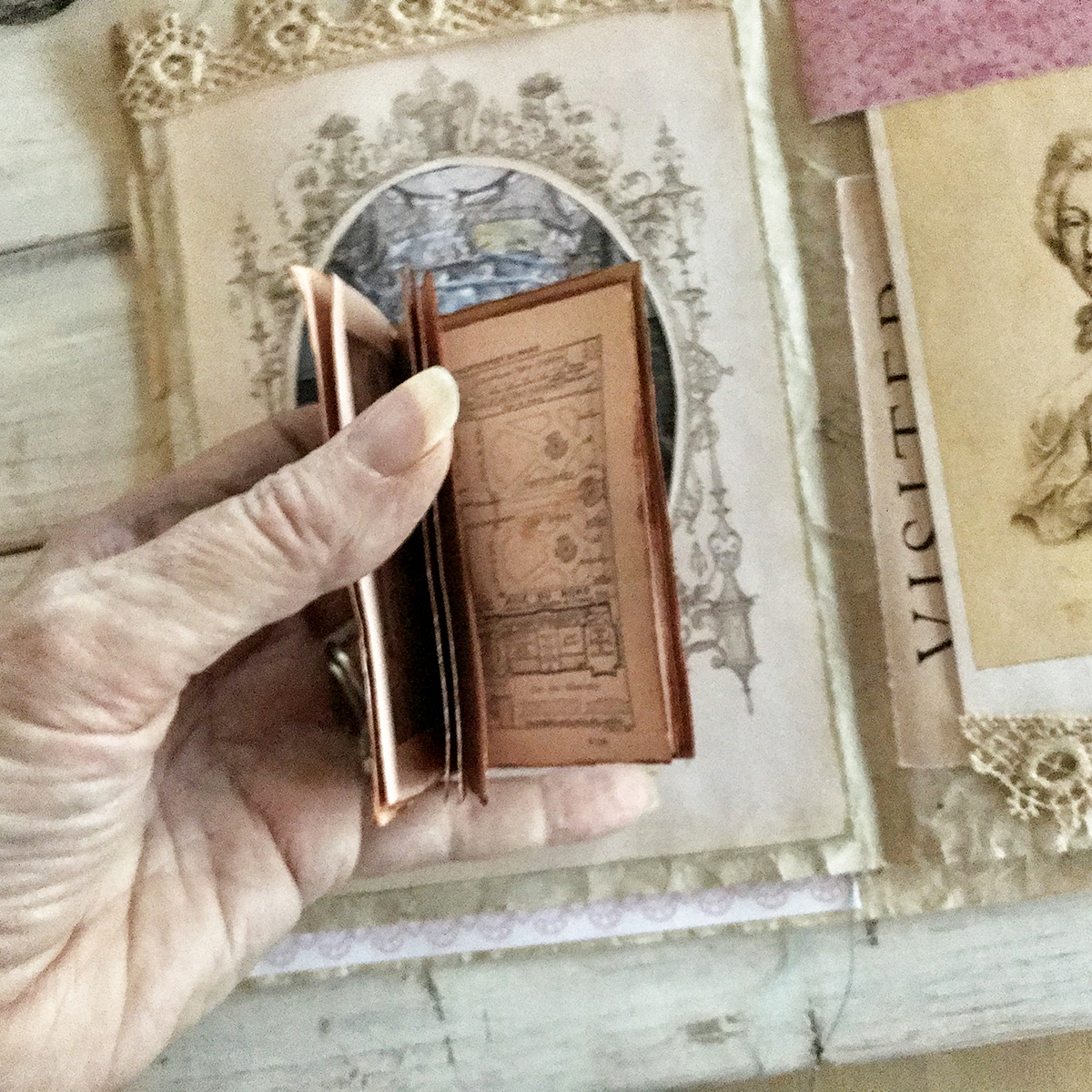 PAGE 41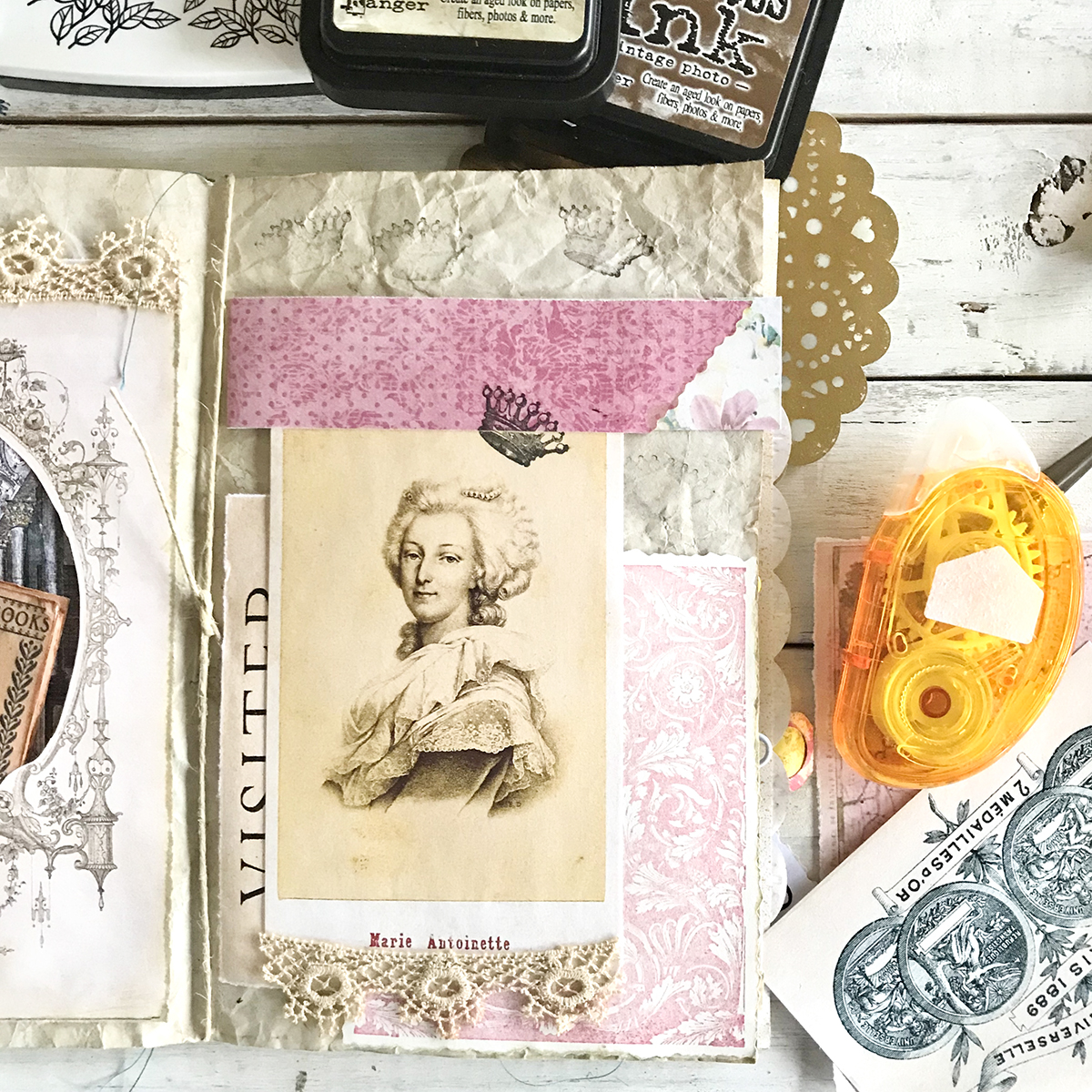 She stamped a crown, slightly askew, above Marie to represent her troubled time as a queen. She stamped a few shadow images around the page as well.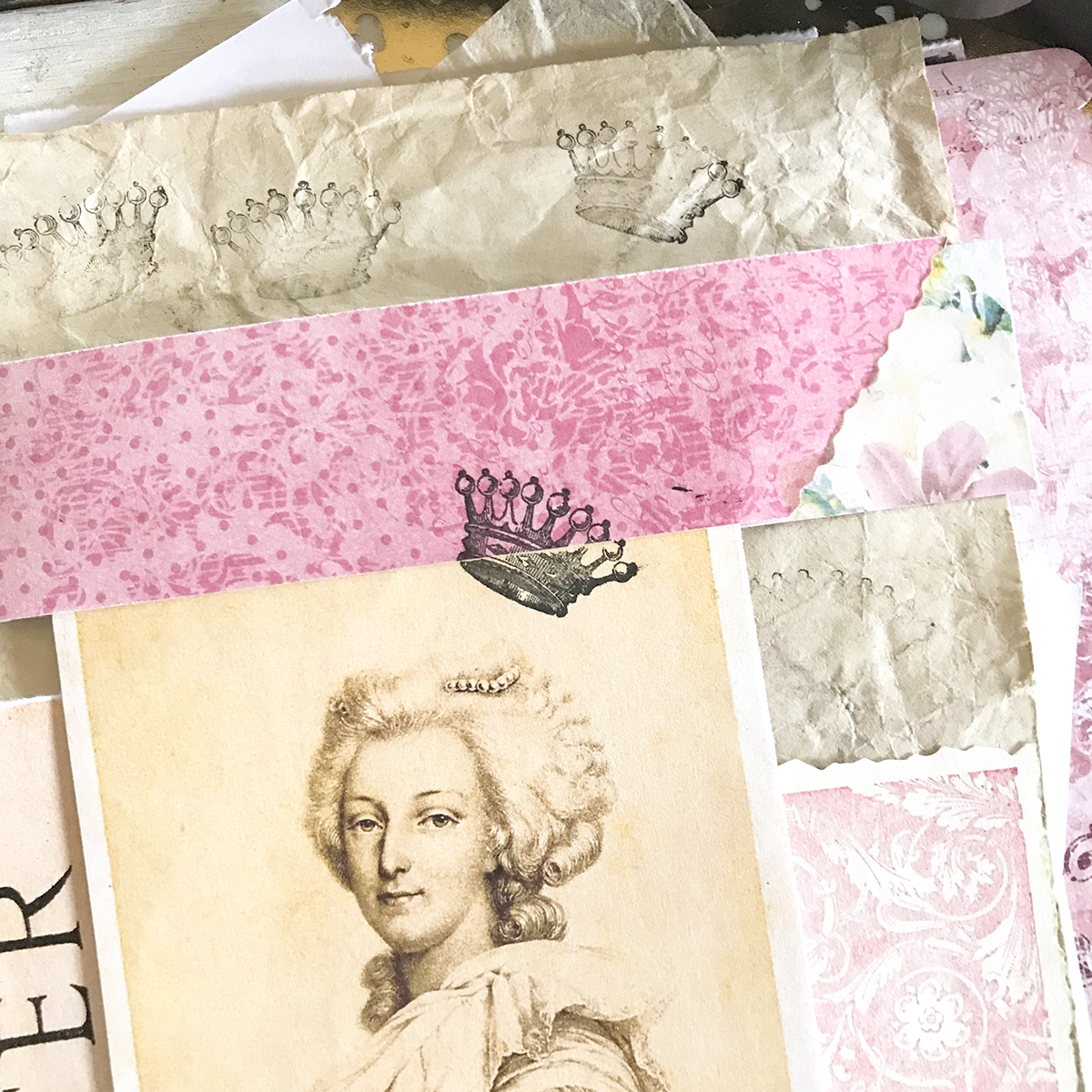 Inside the pink reverse L trap she placed another tongue-in-cheek 'Visiter' card because she was but just a visitor at Versailles as well. A tiny handwritten note is folded over the L trap.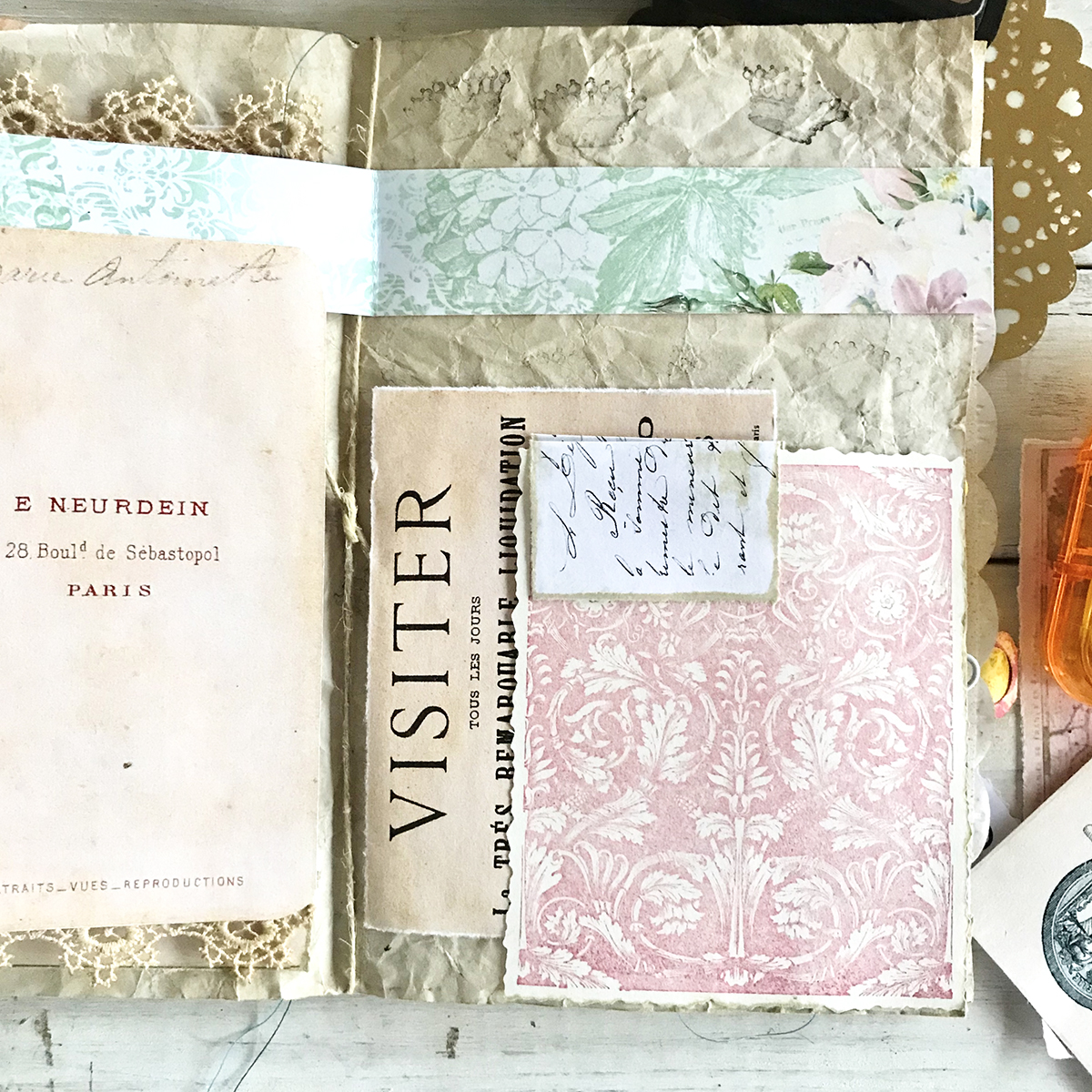 PAGES 42 – A miniature version of Marie's beautiful fan is tucked inside an embossed card with marbled paper that reminds her of her visit to Versailles.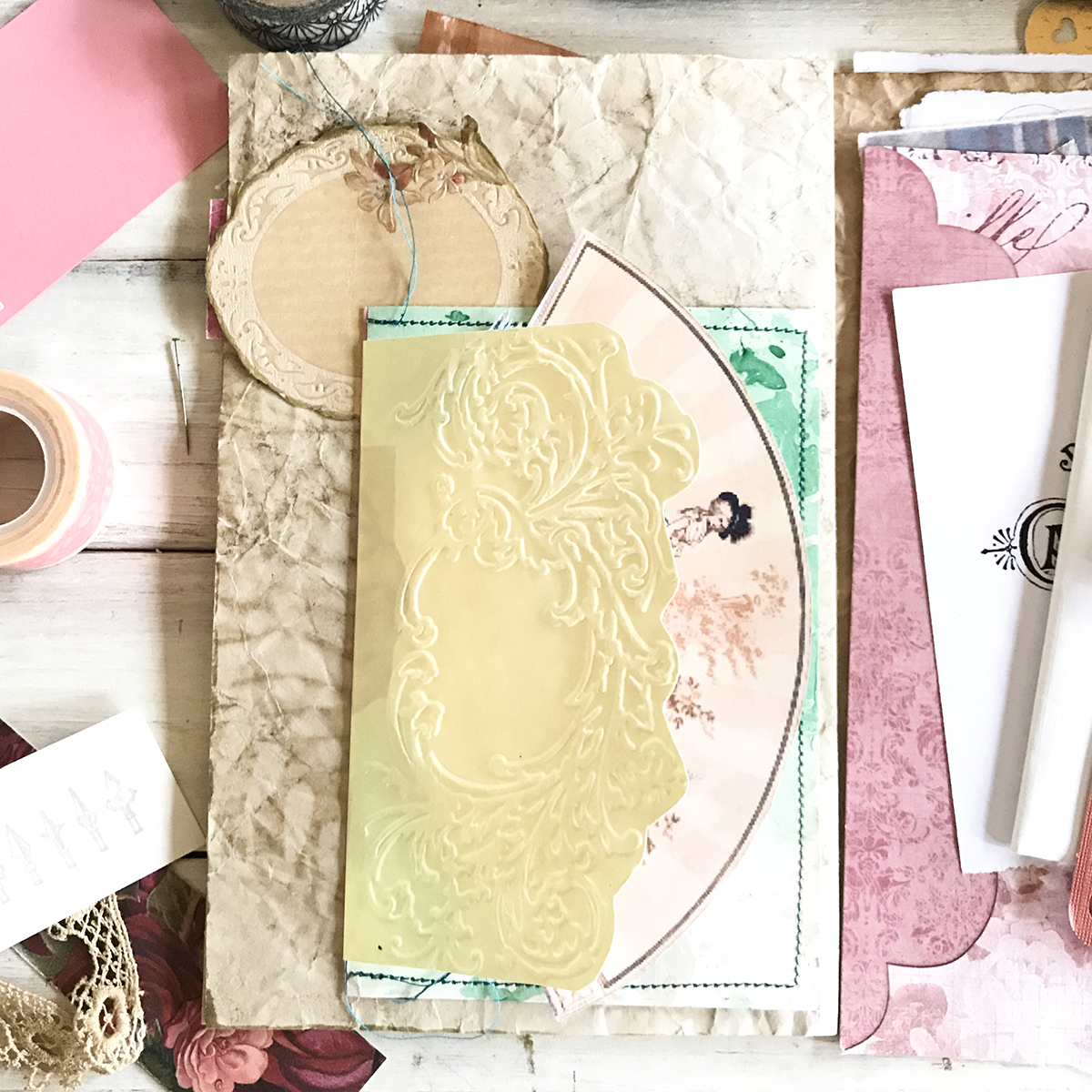 The fan pops up when the embossed card is turned.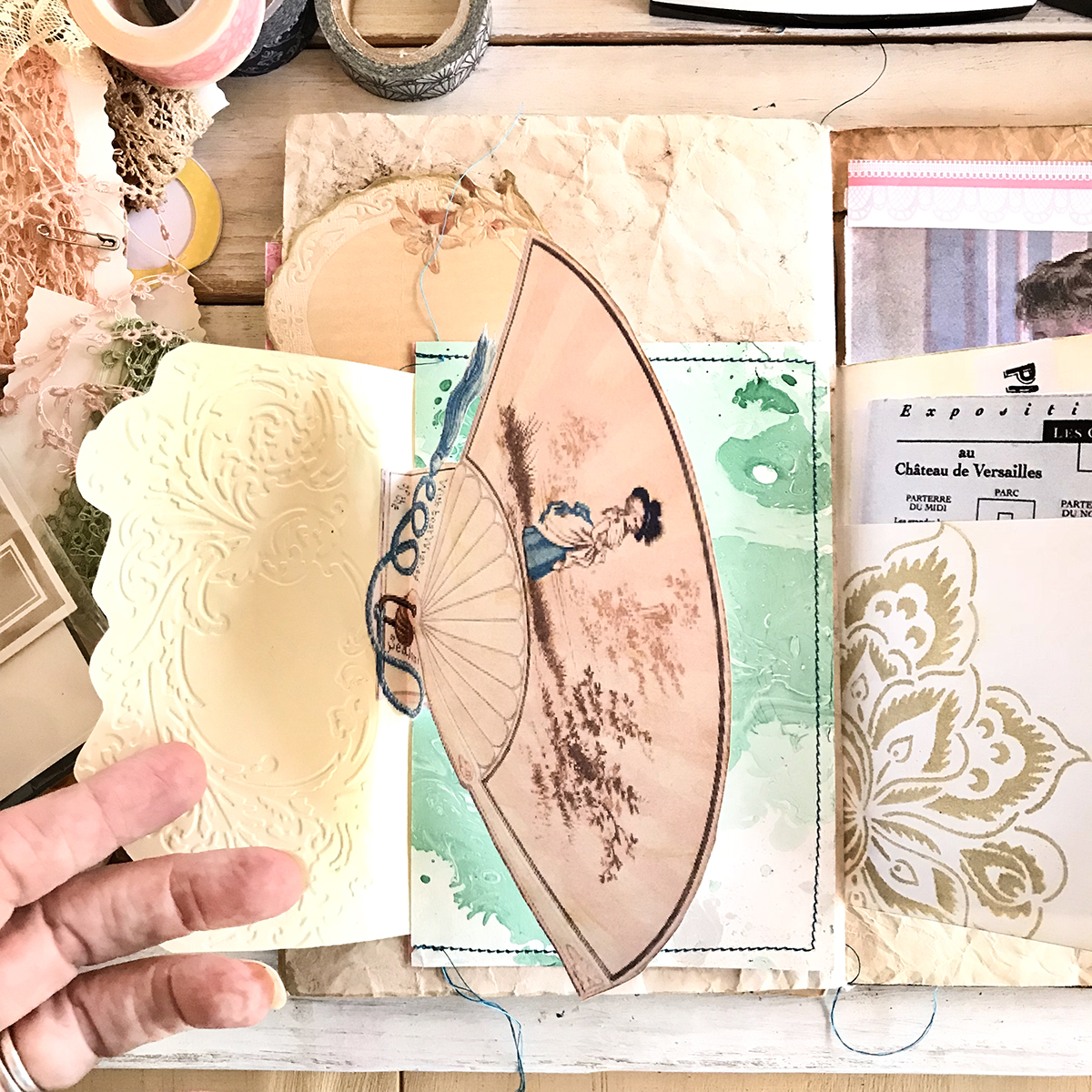 Also tucked inside is a little postcard souvenir. She has plenty of space to write her thoughts. You can see her entrance ticket to Versailles tucked inside the stenciled envelope pocket at right.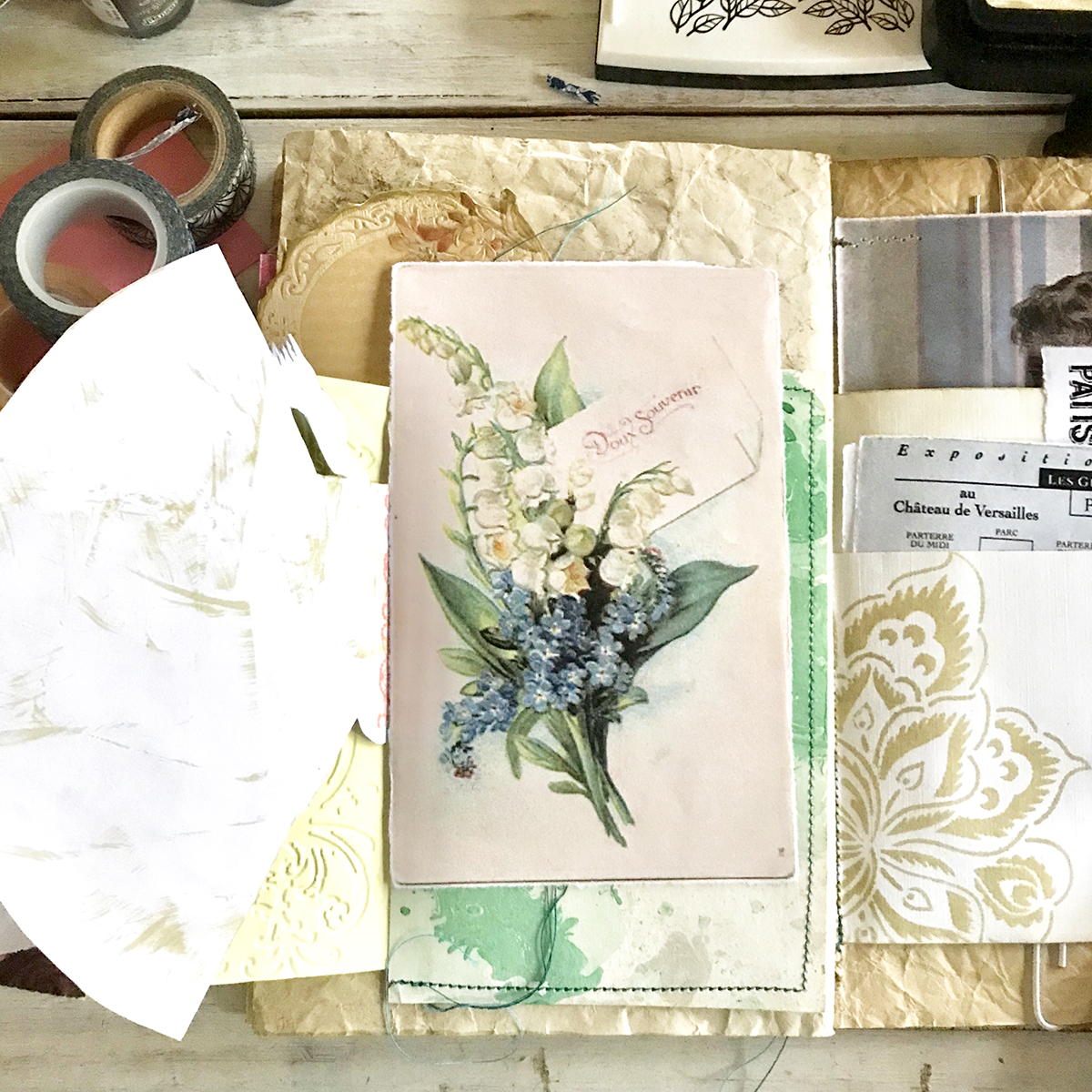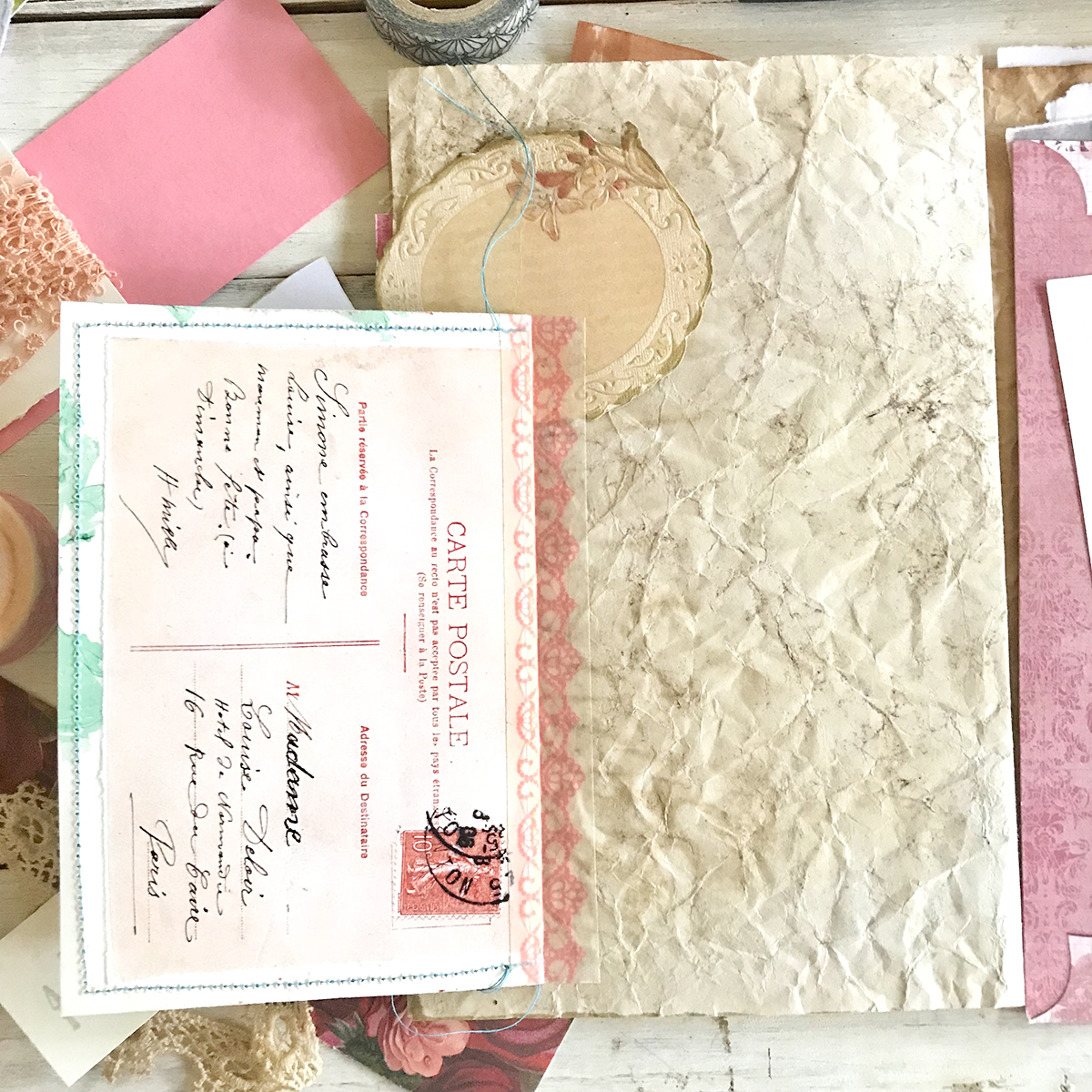 PAGE 43  – Olivia sat for two portraits during her stay in France. This is one of them.
Tucked into diagonal corner traps is a little advertising piece of a little something she loved.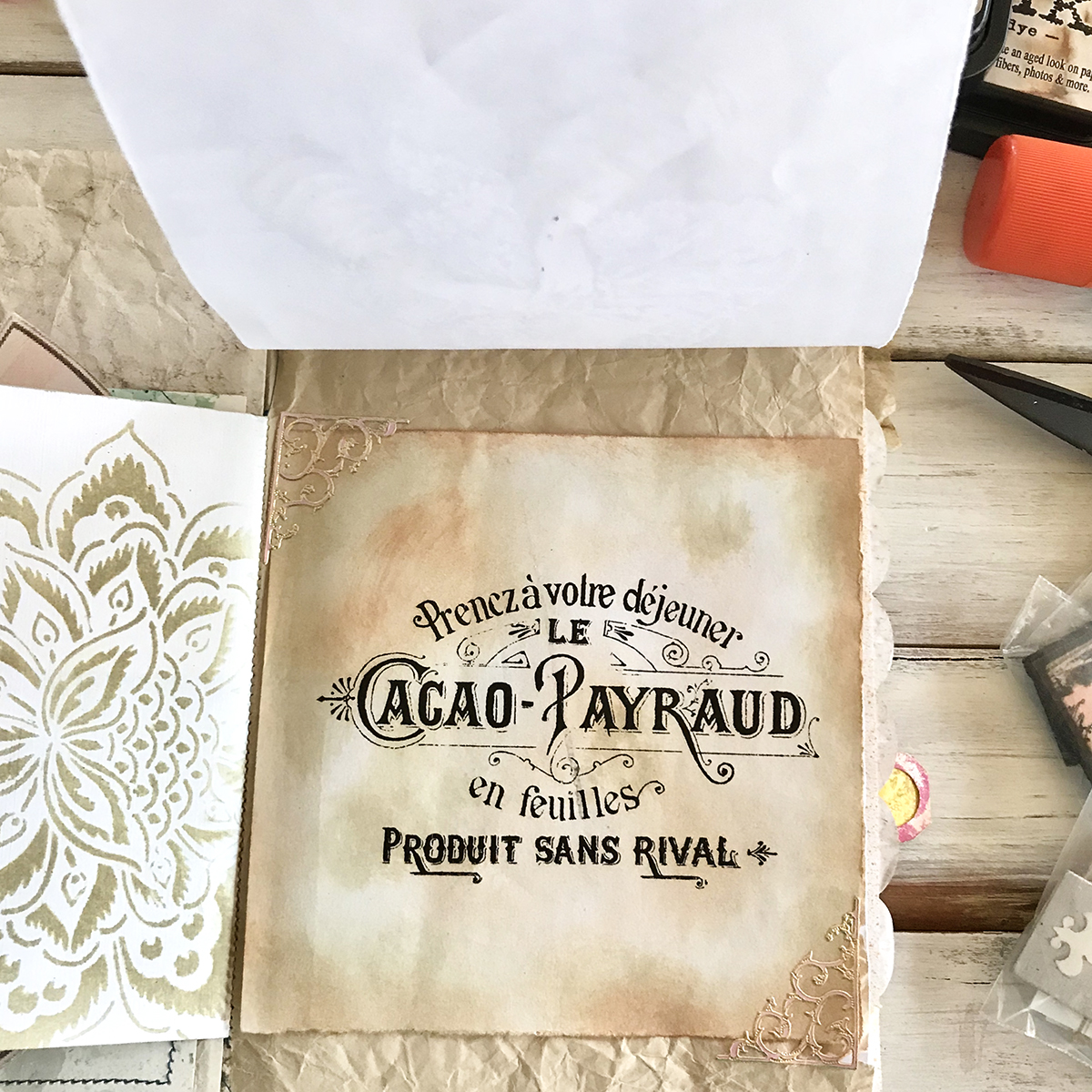 PAGE 44 – The second, more elaborate portrait, is hand sewn onto this page. She added the masthead of Le Petit Journal newspaper from the day the painting was shown to her. She placed it over part of the image to give a little intrigue and anticipation to the page.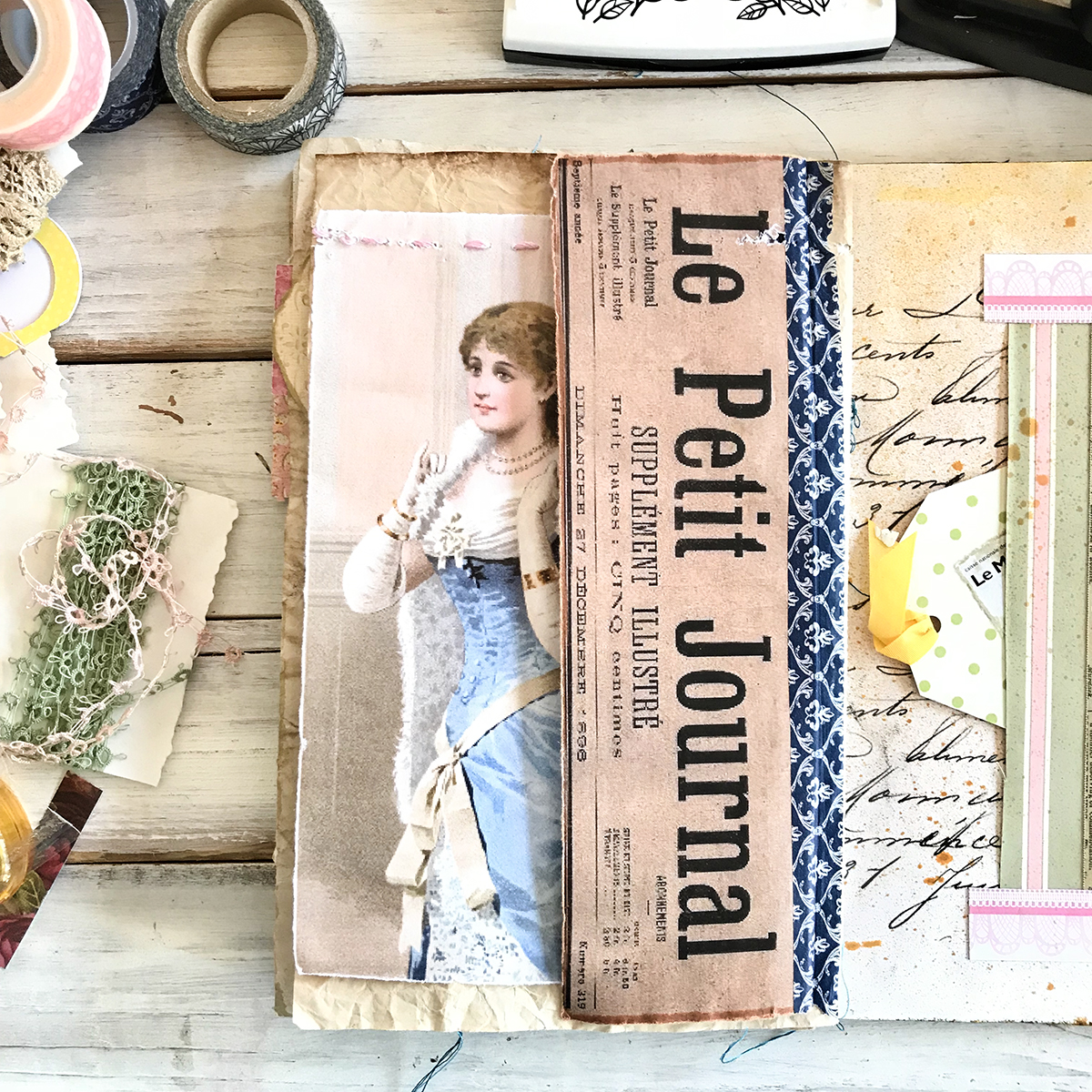 While sewing, Olivia uses paper clips to hold the image in place. As you can see below, she was going to use her sewing machine to sew the image onto the page. Something went awry with the machine and she had to go to Plan B…hand sewing.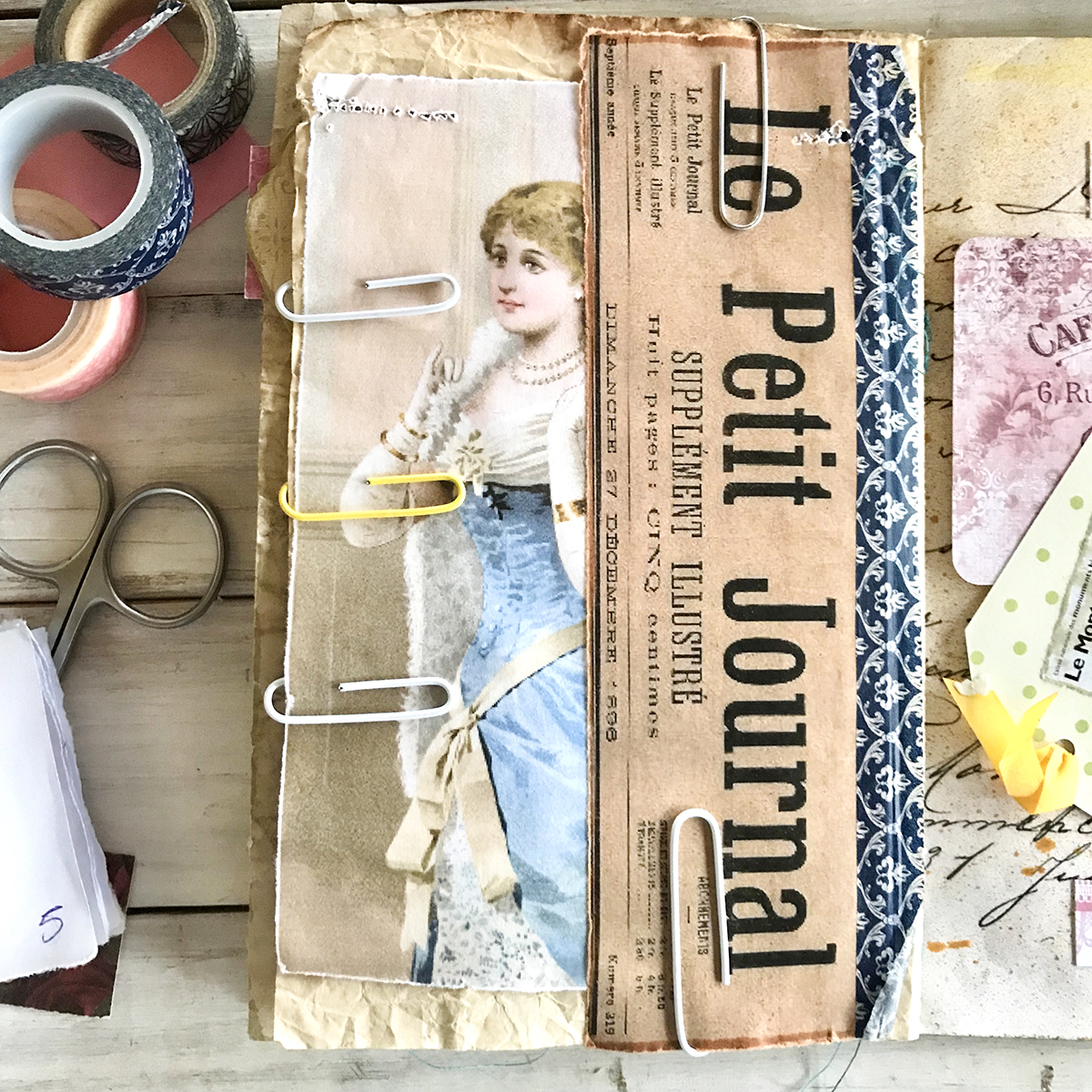 This hand sewing covers some of the damage.
There is plenty of space under the portrait for journaling about her journey.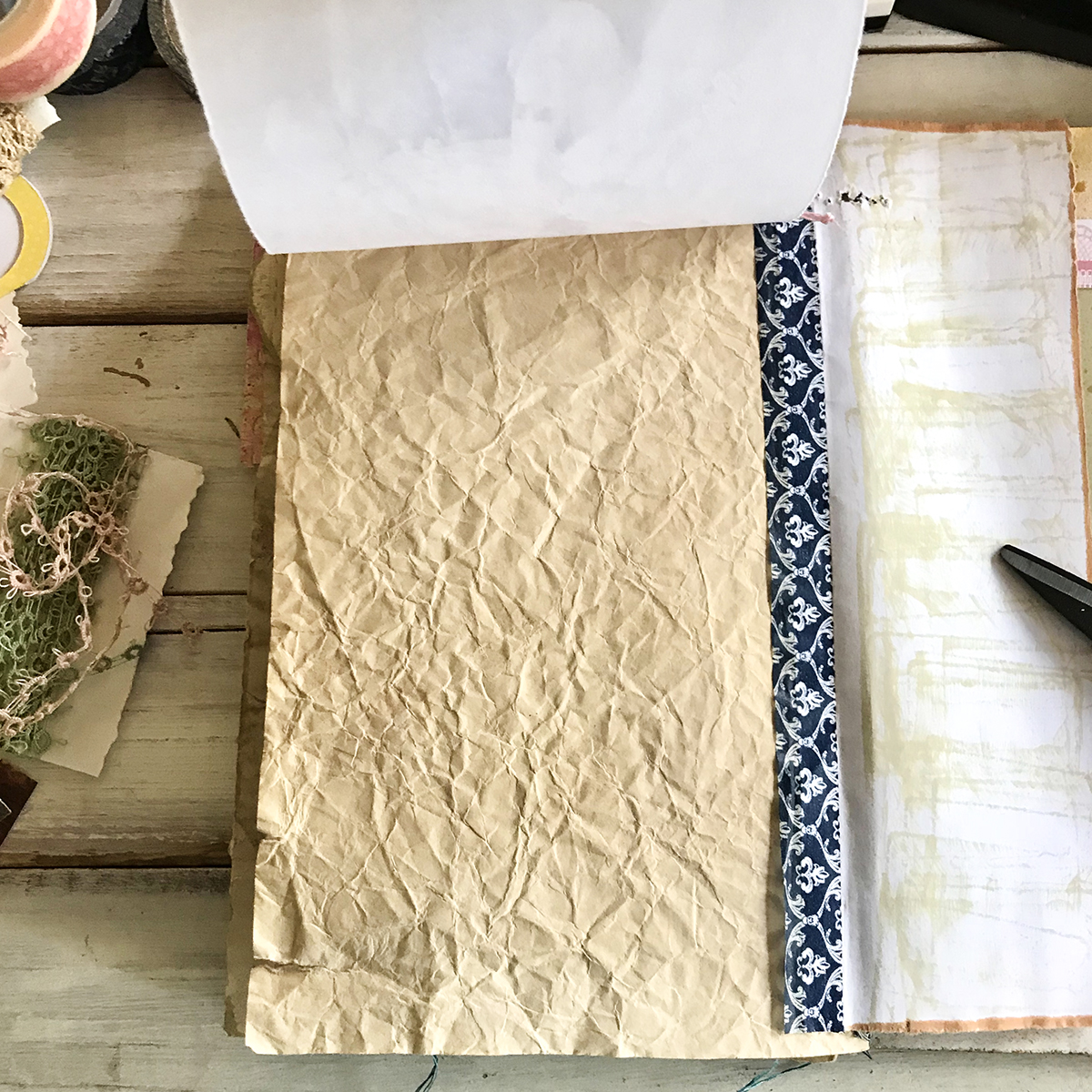 I had a delightful time this week playing with some new techniques, tips, and tricks to help you create your junk journal. It should take just a few hours to complete the pages. We have two weeks until our final tutorial in this series goes live, so you have plenty of time to complete your Junk Journal Page Layouts. It has been a delightful Summer so far for me. I hope it has been so for you too. Here is your assignment.
ASSIGNMENT
Complete eight pages in your second signature using the above techniques. You will have six single pages, which will be Pages 37-39, and 42-44, and two, two-page spreads, which will be Pages 40 and 41. You can create your own pages using your imagination or you can duplicate mine. Remember there is NO ONE WAY or RIGHT WAY!!! Just have fun!
Optional: Create your own story if you like.
Optional: Submit some of your pages here. 
Exciting times ahead!! In the next tutorial we will be embellishing the pages with some final touches, then preparing our cover and sewing the junk journal together to form a book structure. Please join me in the Finishing and Binding phase HERE.
I hope you enjoyed learning how to Create a Vintage Junk Journal! I also teach Photoshop Elements tutorials over on The Graphics Fairy Premium Membership site. You can find even more of my art, DIYs, and whimsical shenanigans on The Bookery, Cre8tiva, and loads of my digital art on Instagram.
Bonjour, May joy be with you all,