DIY Victorian Calendar – Color, Cut, and Hang
Hey Everyone – it's Rebecca aka Cre8tiva here with a beautiful DIY Victorian Calendar mixed media craft project. If you are anything like me, you love to understand how art tools and materials interact with other art supplies. Our calendar is a great mixed media craft using colored pencils and markers. I invite you to play with me today as we create this beautiful DIY Victorian Calendar Wall Hanging.
This post may contain affiliate links which won't change your price but will share some commission, you can find our
privacy policy here
.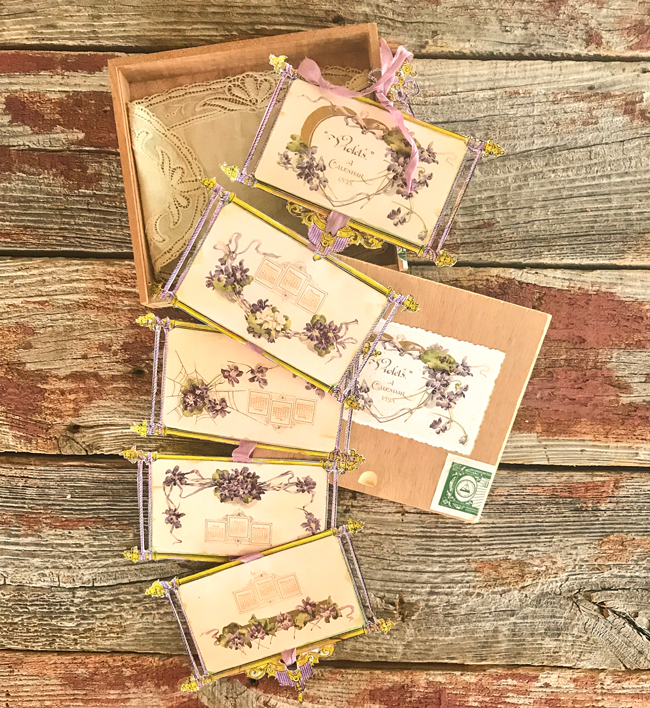 DIY Victorian Calendar Components
The moment I laid eyes on this gorgeous 1898 Printable Violets Calendar Set here on The Graphics Fairy, I knew I had to recreate the calendar as it was intended. Karen said the Violets Calendar was originally hung on the wall with ribbons. The year 1898 is special for me since it is the year my beloved Grandmother Anna Rebecca was born. I can just imagine it hanging on the wall in her home as her Mother counted down the days to her birth. Just for fun, I added this amazing frame Vintage Curtain Emporium Label, which was scanned from an 1880′s Rubber Stamp Catalog in Karen's collection. I would love to have a rubber stamp of this!
DIY Victorian Calendar Printable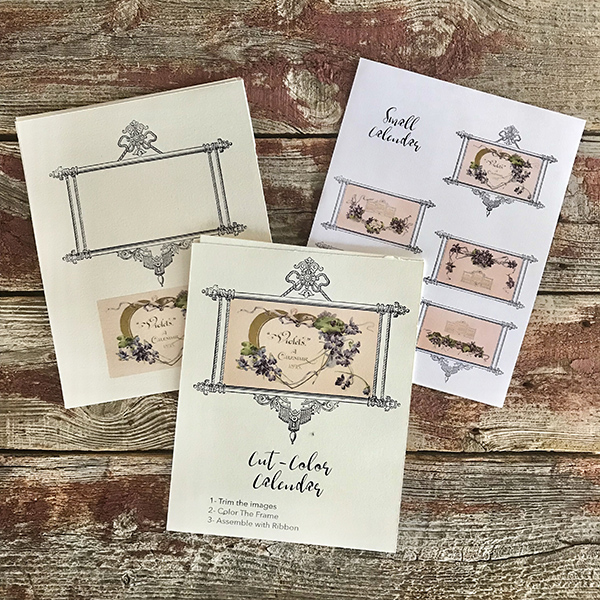 I created this 1898 Calendar Mixed Media Printable for you to print, color, cut and assemble. Of course, you can find a different frame and create your own design. For my experiments, I laser printed on heavy Watercolor Paper, Linen Cardstock, and a quality resume paper. I wanted to test things for you. The watercolor paper was the best surface for this project in my opinion. It accepts the pencil and markers beautifully and it is sturdy enough to hold up well when hanging on the wall. It takes a little patience to cut the intricate design of the frame I selected. But it is well worth the time and effort…I promise. 😉
Let's Color
Colored Pencils and markers are just plain fun. The more you play with them, the better you like them. It's funny how that happens. I have a fondness for them because of the huge range of colors available. Layering marker over colored pencil or pencil over marker created texture and shading. I love the subtle hues or the color depth I can achieve with this mixed media technique. I also love using these two materials together.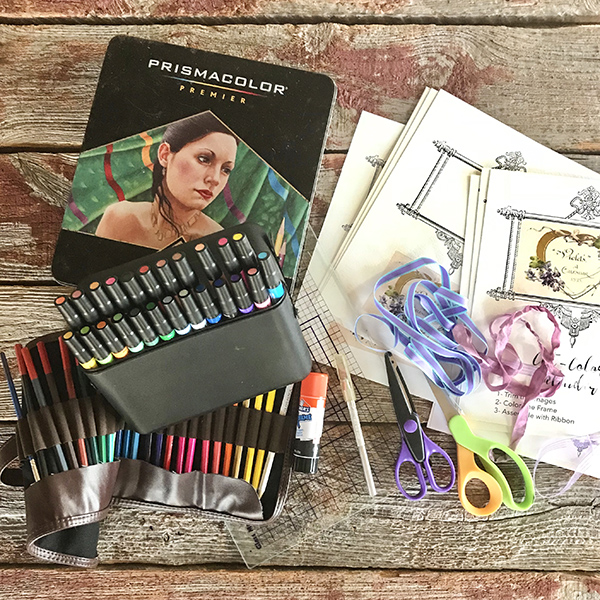 Materials
Canson 140 lb. Watercolor Paper
Prismacolor Soft Core Premier Colored Pencils
Prismacolor Art Markers
Art-C Pre-Filled Glitter Waterbrush
Distress Ink Old Paper
5″ Scissors
Swivel Blade Craft Knife
Silk or Sari Ribbon
Decorative Paper Sheet Music
Glue Stick
Cigar Box to fit (Mine measures 7-1/4″ Wide by 6-1/2″ Tall)
Color,
 

Cut, 

and 

Distress Calendar

The directions are few for this project, but the cutting takes some patience. This will take the better part of an afternoon, but the final result is so worth it.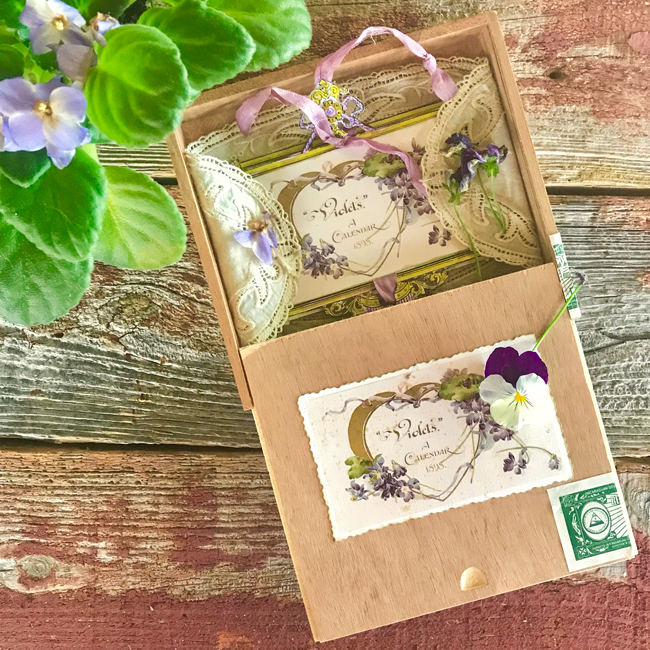 Color The Frame

 

Distress the Calendar Pages
Trim the Images
Assemble with Ribbon
Coloring
I love to color. Using good colored pencils and markers makes our little calendar project easier. I am working on a Colored Pencil 101 Workshop for you that will describe the ins and outs of the tool. For now, know that artist quality colored pencils are worth the cost. A good colored pencil will produce a saturated, deep color and is easier to use. Cheaper colored pencils may frustrate a beginner. Inexpensive colored pencils may scratch or mar your surface.
I use a colored pencil on its side for wide open areas like our frame edges as demonstrated in the left image below. For the intricate designs at top and bottom and on the corners, I hold the pencil like I am writing as you see in the right image.
At left below, I shaded the top and bottom of the frame in addition to most of the intricate areas with a sienna colored pencil. I then used a yellow marker over it. Be careful not to select a dark marker as it will overpower the colored pencil. I finished with an ART-C clear glitter marker to give it some sparkle. Below right, you can also do this by coloring with the marker first before going over it with a pencil. It is just the look you want that will decide the technique. You can see that I didn't pay too much attention to staying inside the lines since I was going to trim the boo boos off. 😉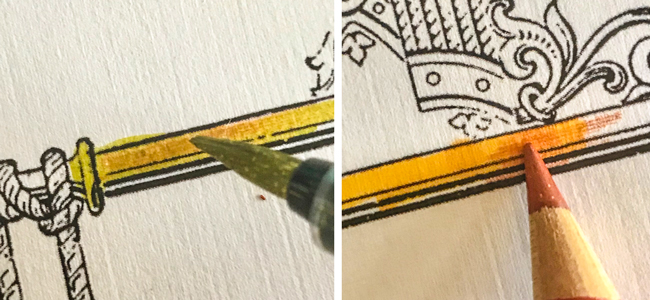 Distressing
Of course I distressed the edges of the calendar pages by dragging the ink pad over the edges. I used Old Paper because I love the subtle greenish look you see below. You can of course use your favorite technique and ink color. Just get some age on there. In this image you can also see the detail of the shading and shadowing of colored pencil over marker.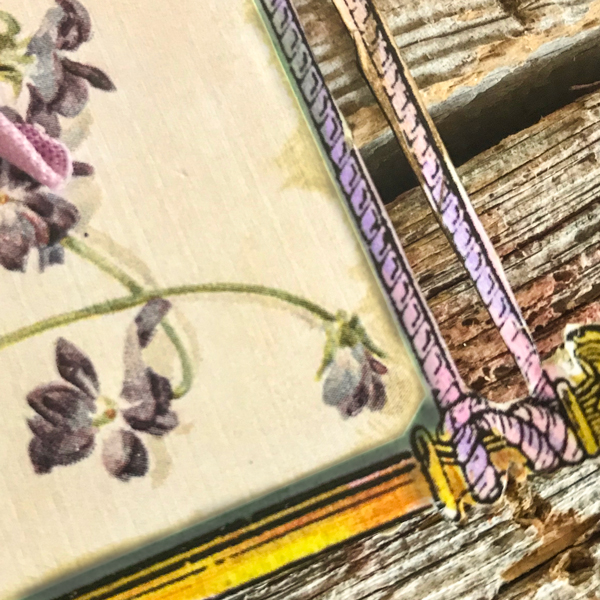 I am not the best fussy cutter, so I used the side of a brush marker to darken the edges of my frame. Just sayin'!
Cutting
This is a fairly intricate design. You must use scissors on the tiny areas of this frame. I use a combination of craft knives and scissors to accomplish this task. I am not the best fussy cutter due to arthritis in my fingers. So the craft knife is easier for me to use. I especially love the rotating blade for curvy areas. I use a regular craft knife for the straight lines. NOTE: If you used the heave watercolor paper, it may take a few passes with the blade to cut all the way through. Just take your time and enjoy the process.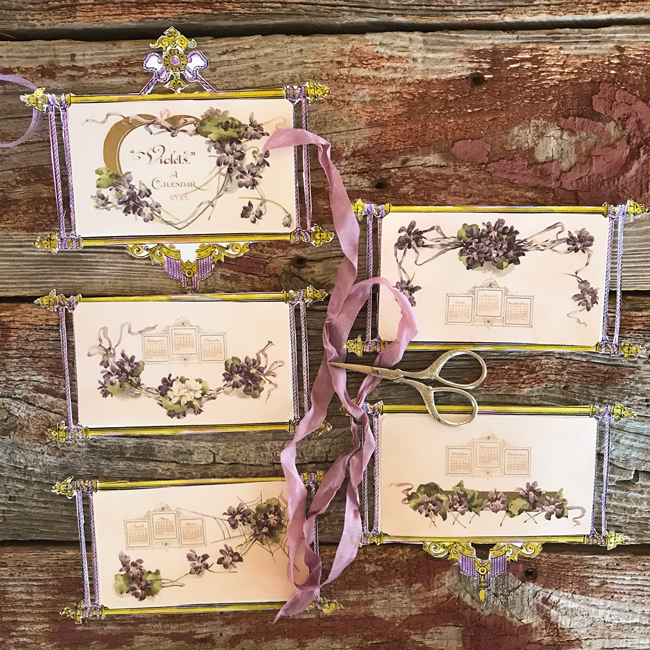 You might opt for not cutting the interior edges. No judgement from me. Just cut around the entire edge, leaving some of the paper showing.
Finishing Touches
As a pièce de résistance for this exquisite masterpiece, I found the perfect size wooden cigar box in my collection. All I had to do was print another cover image, cut it with fancy edge scissors, distress the edges, and glue it to the cover.
The 1898 DIY Victorian Calendar
I just love, love, love this work of art. I imagined I was a lady of leisure in the 1890s as I was cutting. All upper class Victorian women had a craft hobby and the time to execute it well. This project was a labor of love for me. HIMself says it is the best artwork I have ever created. He always kindly says that! But this time…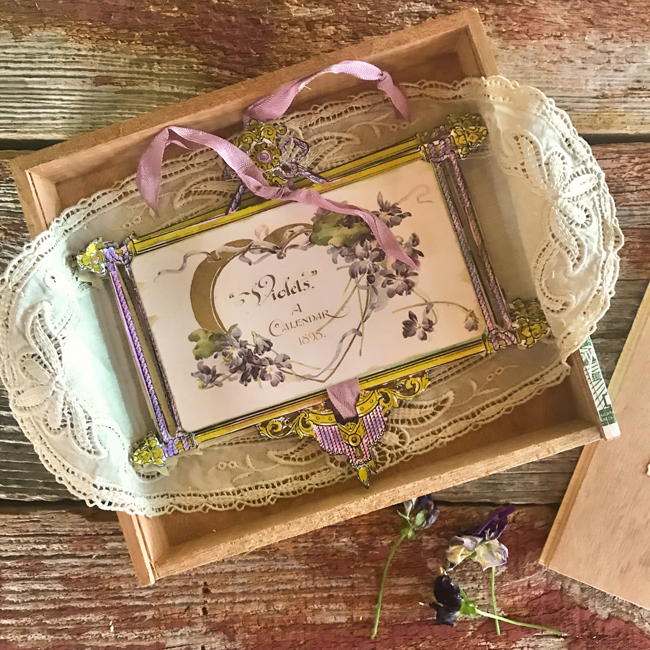 I hope that you have enjoyed the Mixed Media coloring and cutting techniques we used to create our beautiful 1898 DIY Victorian Calendar. I trust that you will enjoy yours for years to come! Coloring with pencils and markers is a zen like meditation for me. I hope it becomes so for you. You might also like my deconstructing Guides to Gesso HERE, Gel Mediums HERE, or Paper for Mixed Media HERE!
I also teach Photoshop Elements tutorials over on The Graphics Fairy Premium Membership site. You can find even more of my art, DIYs, and whimsical shenanigans on Cre8tive Compass Magazine, Cre8tiva (just launched), and loads of my digital art on Instagram.