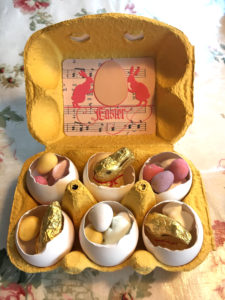 This morning's reader feature are these awesome Easter Egg Candy Cups, submitted by our friend Gunnvor Karita.  It took a while for Gunnvor to collect these 6 pack different colored egg cartons.  She first cracked the eggs as careful as she could, rinsed them off, and put them back in the carton so that they can be used as candy cups.  She then used my Vintage Bunnies with Egg image to create the inside label.  Gunnvor also covered the outside original labels with her own label, and accented the image with some glitter glue.  This is such a cute and fun project!  These would make great party favors and gifts!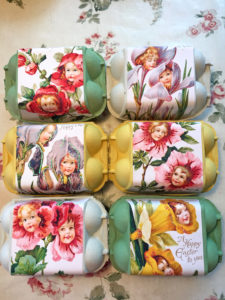 Thank you, Gunnvor, for sharing your talents with us! To visit more of Gunnvor's projects, please visit her Blog site here.  To learn how to transfer images yourself, visit the Transfer Methods Page.
Do you have a project you'd like to submit?  You can share your projects, HERE! We would love to feature you!