Faux Encaustic Technique – Vintage Mixed Media!
Hey y'all – it's Rebecca. I am excited to share this quick and easy Faux Encaustic Technique today. I was inspired by two beautiful collage images available on The Graphics Fairy's Premium Membership site. It's a tiny peek at one of the many superb printables available. This technique is a fave I use to age my junk journal, mixed media, and collage art. I love the foggy, buttery look of encaustic art. The smell and feel of beeswax makes me happy. However, the mess and tools necessary for this artform (plus the fact that you must use hot instruments) made it necessary for me to explore alternatives. WINK
This post may contain affiliate links which won't change your price but will share some commission, you can find our
privacy policy here
.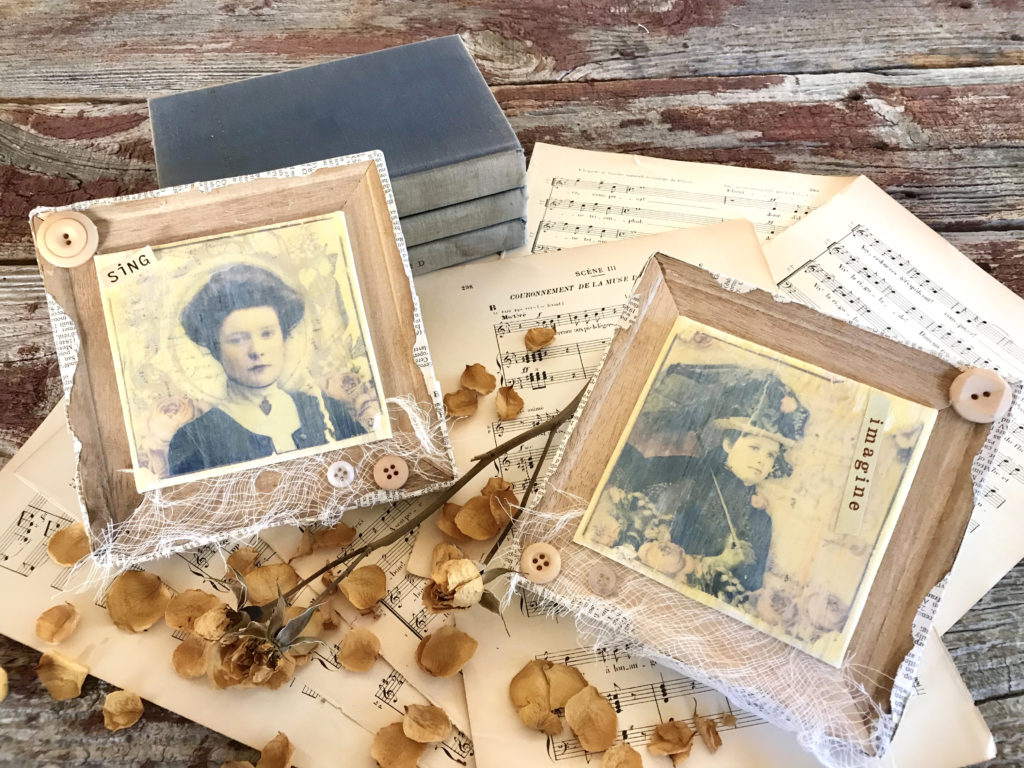 Explore I did. I first learned the basics of this process from my friends at Golden Artist Colors. After my further experiments and tweaks, I developed the super easy technique that I share with you today. I hope it will spark some experimentation and discovery time for your art. Take what I teach and make it your own is a foundation of my teaching method. I dream that you will create many delightsome artworks using this process. Let's make some art!!
Materials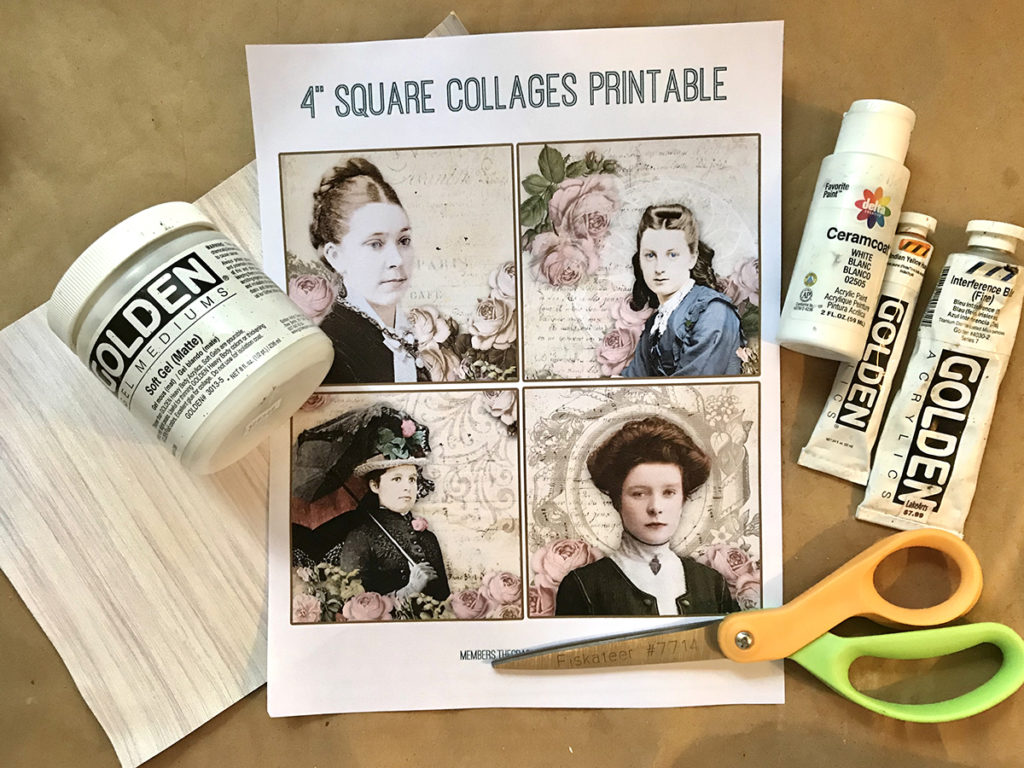 Image download  The Graphics Fairy Premium Site 4″ Collages Printable
Background Paper or surface (wood is best)
Golden Soft Gel (Matte)
White acrylic paint
Golden Acrylic Indian Yellow Hue
Golden Acrylic Interference Blue Fine
Artist brushes
Water
Foam Plate Palette
Palette knife
Rag
Optional – June Tailor Quilting ruler
Teflon Bone Folder or spoon
Brown paper bag
Embellishments from your stash
Faux Encaustic Technique
I used 2 images from the Antique Portraits 2 Bundle on TTGF Premium Site. Karen and Emily gave me extra special permission to use and share one of the magnificent Printables from the Premium Site with you. There are so many great printables and images over there – all expertly curated! I chose these two images because they have good dark areas that will show up well in our process. I glued the two collage images to a scrap of wallpaper. TIP: I use a quilting ruler to center my images and to place them in the same position on the surface. You can see how I do this in the image below. You can place your images on any surface you have available. I recommend that you do the faux encaustic technique for permanent art on a rigid surface.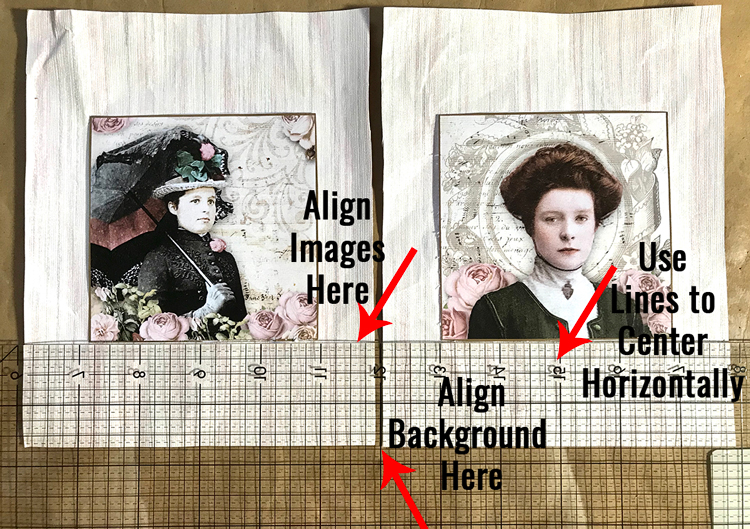 Distressing
Tears and rips give our images a great place for the faux encaustic mix to puddle. It looks yummy. Before the glue dried, I gently tore some of the edges to give it a more aged look. TIP: The glue wets the image enough to make it very fragile. If you do not want tears and rips, don't play with it too much. Allow the glue to dry.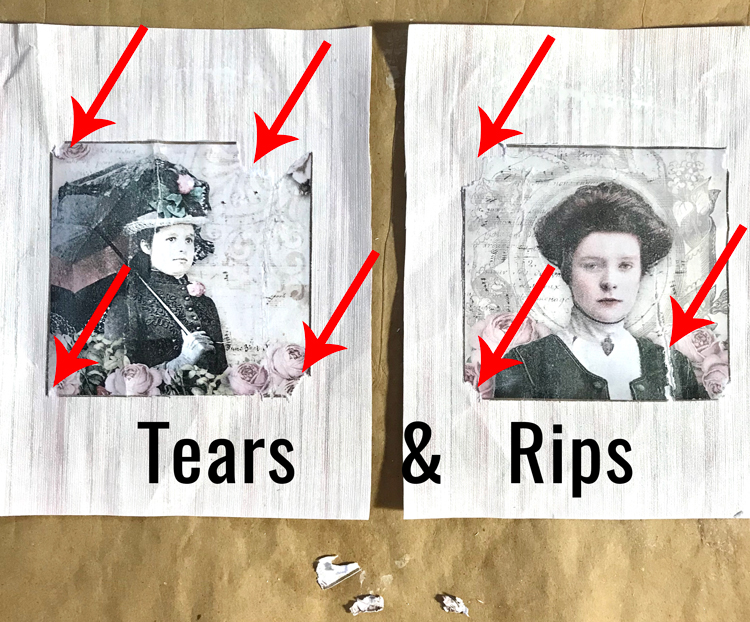 White Wash
This gives our image that dreamy, foggy look. Mix a tiny bit of white acrylic with water. I use about 2:1 ratio of water to paint. You want it fairly thin like inky-like mix. (See image below left for how much paint and water I used.) Brush it over the images in one direction. TIP: It is just a wash; you do not want it to obscure the image, just fade it a bit. Allow it to dry while you blend the faux encaustic mixture.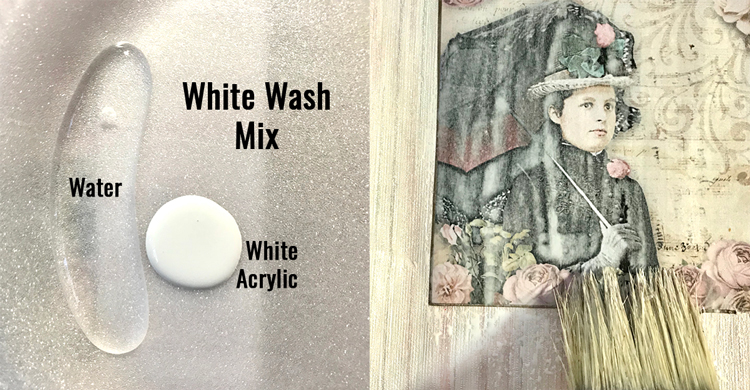 Secret Sauce Faux Encaustic
With a palette knife, mix about 2-3 tablespoons of Golden Soft Gel with a tiny bit of yellow. The Soft Gel dries translucent. It's just what we want! Note: You can use fluid acrylics as well. I only had the tube acrylics on hand. Then add the interference paint (about a dime size dollop) to the yellow gel mixture and blend well. Work quickly as it will start to thicken. You can add a few drops of water if it becomes too sticky. TIP: I will just dip my pallette knife in water if I need more spreadability!
Spread the faux wax mixture with a palette knife over your images in one direction. I went vertically. (left) Make sure you cover all areas and go beyond the edges of the image onto the background surface. The thickness for me is paper thin. A thin layer is all you need. A thick layer takes longer to dry. It is time to make a decision about texture. You can create texture with the movement of the palette knife or you can smooth it like frosting a cake. Just have fun. Let dry for about 12 minutes. After the 12 minutes, spread on a little of the interference paint randomly over the image with the pallette knife. (right) The image will appear cloudy like the image at right until the mediums are dry.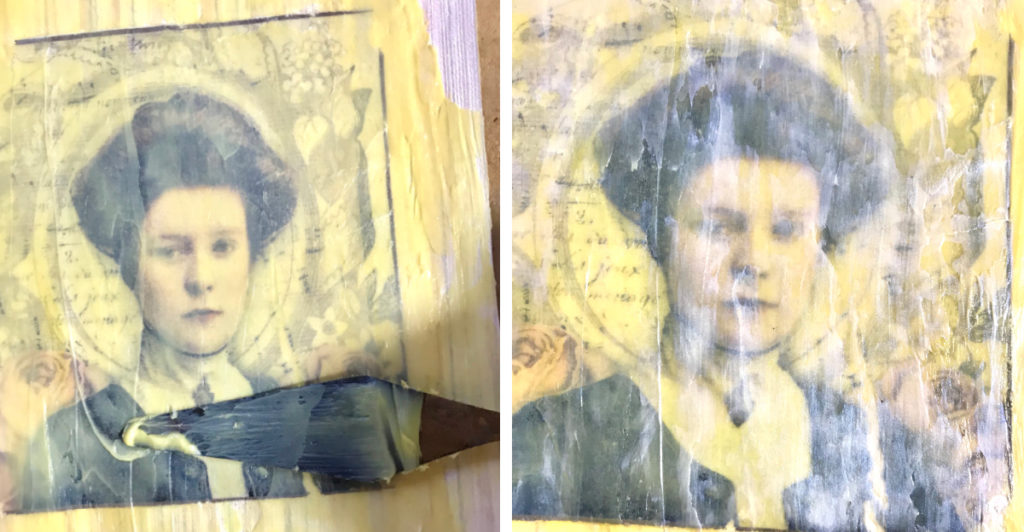 Subtractive Impressions
When dry to the touch, take a blunt instrument (I used a teflon bone folder) to gently create marks in the gel. You can even scratch it with your fingernails if you like. You just want a little indentation or scratch. See mine below. TIP: You can also add more soft gel and press a leaf or lace into the gel to leave an impression and build more texture.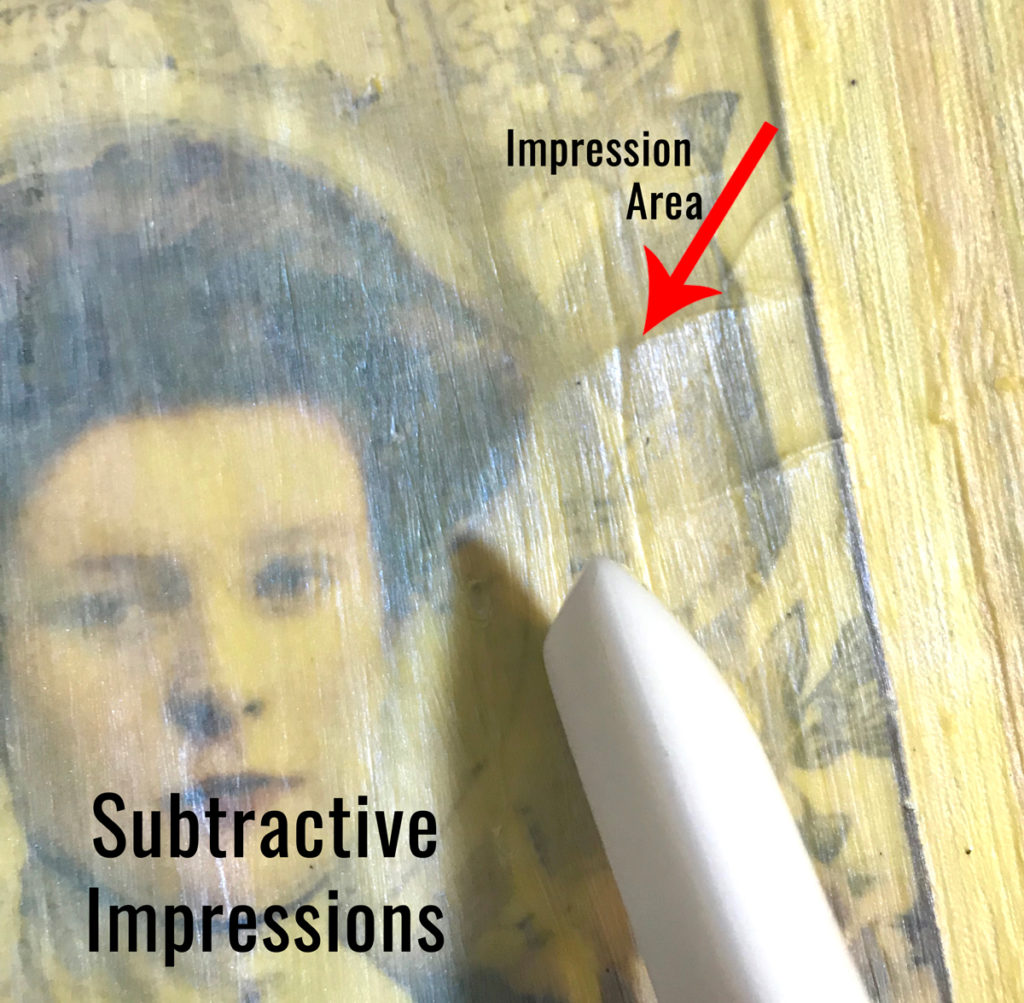 Allow to dry completely. Don't rush this process. I usually allow mine to sit overnight. Tick Tock!
Finishing Touches
With a piece of a brown grocery bag, sand over the surface – Gently!! You just want to remove dust or miscellaneous bumps. I personally like the art to have a smooth 'hand' or feel…even if it is textured. I rubbed in the same direction as I applied the gel. No heavy sanding please.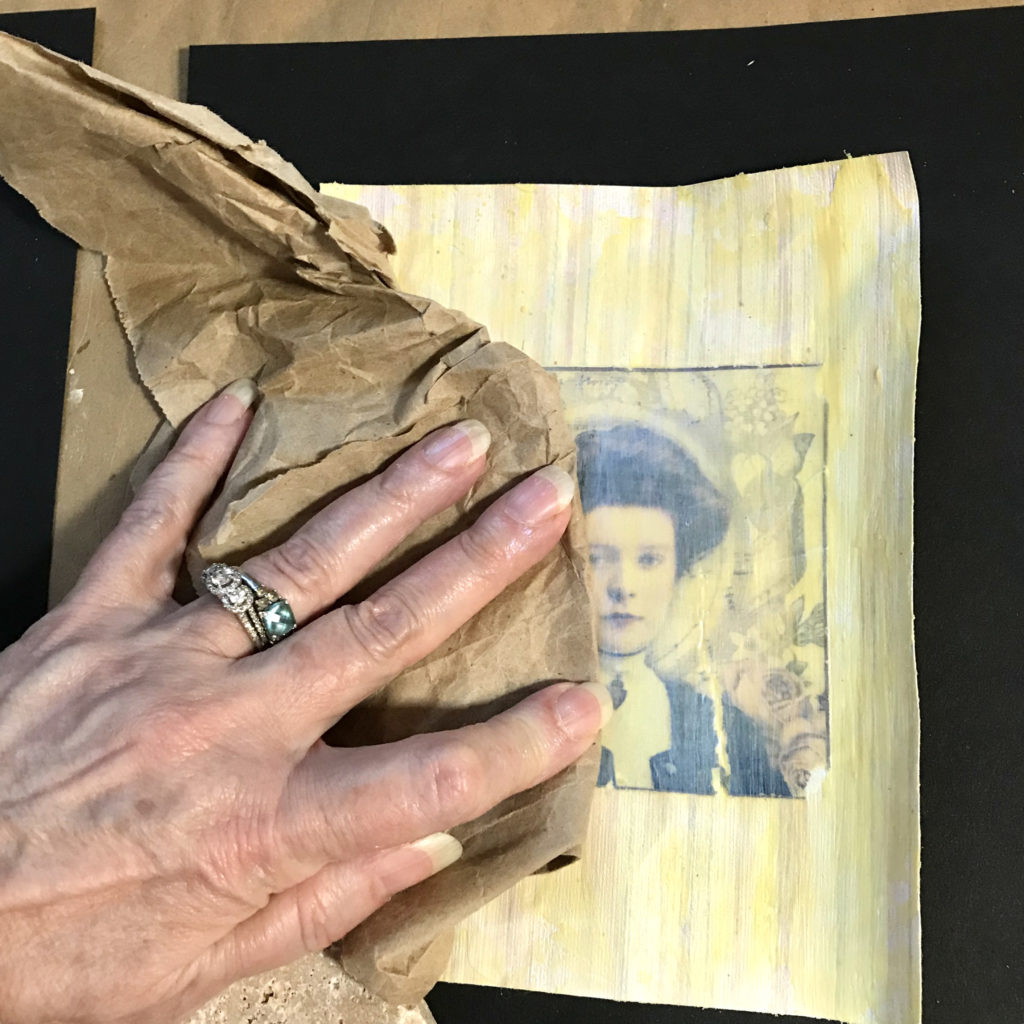 Embellish away! Frame or place in your journal, or add it to another collage or mixed media project. The possibilities are…you know!!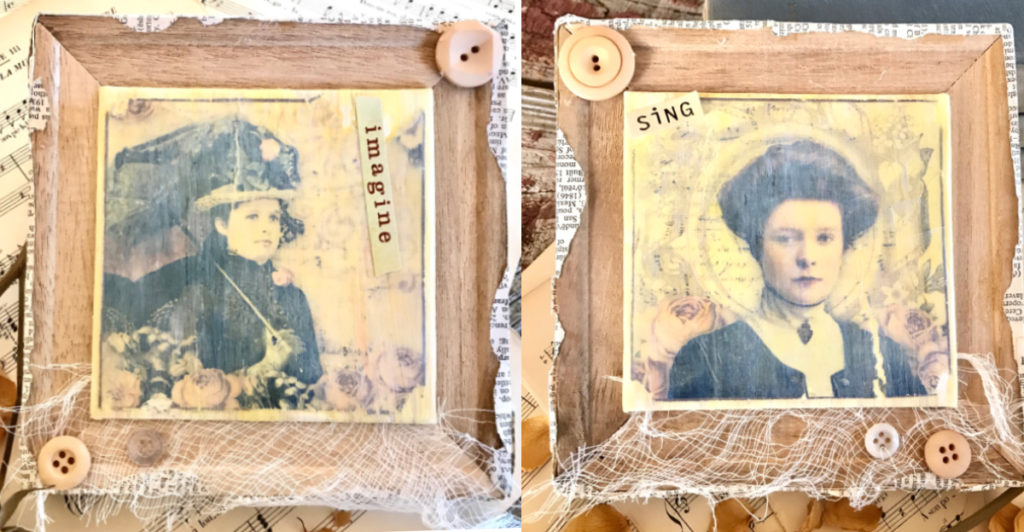 I hope you enjoyed my Easy Faux Encaustic Technique for Vintage Mixed Media artworks! I use this one all the time. Please check out another Faux Encaustic Technique! Softly Mysterious Layers on the blog. Have fun and let me know how you love it!! I will be back in two weeks with more mixed media mayhem adventures.
I also create Photoshop Elements tutorials over on The Graphics Fairy Premium Membership site. You can find even more of my art, DIYs, and whimsical shenanigans on RebeccaEParsons.com, Cre8tive Compass Magazine, and loads of my digital art on Instagram.