This post may contain affiliate links which won't change your price but will share some commission, you can find our
privacy policy here
.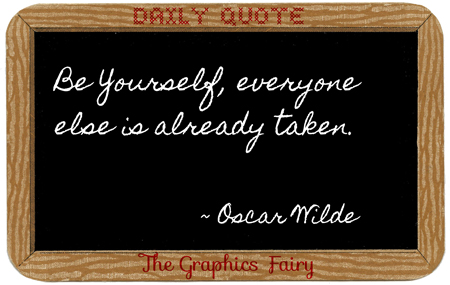 Today's post is all about having fun! I was recently introduced to a fun new Facebook App that will make you smile and giggle, and then you can share it with your friends and make them smile and giggle too.  How cool is that?!
The goal of this program, sponsored by Cigna GO YOU, is just to let people know that it's okay to let loose, be silly sometimes, and above all just be yourself. We often spend way too much time stressing about acting or looking a certain way to the people around us. We may act a certain way to fit in or to be liked. I'm guilty of that myself, even with this blog. At home, I am goofy and silly, and kind of a dork. I'm always afraid to show that side of myself to you guys, because I worry that if you see that side of me, maybe you won't like me, or want to read my blog anymore. When we put extra pressure on ourselves like this, it creates stress, which we all know is bad for our health! Well today, I'm embracing my inner dork, and sharing something silly with you… and maybe holding my breath a tiny bit during the process! haha.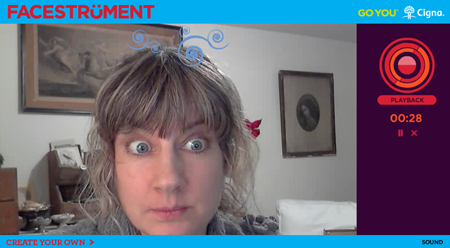 Me with my Bug Eyes on Facestrument!
So I want to introduce you guys to a fun little Facebook App called Facestrument sponsored by Cigna GO YOU! It's a Facebook game that turns your face into a musical instrument! Using a webcam and something called "facial recognition technology", you follow along with the instructions on the screen. The instructions will tell you to do all kinds of silly things, like wink, bug your eyes, and puff out your cheeks, coinciding with the beat of the song. You get a score at the end, as well as a video of you, that you can share with your Facebook friends! There are even some funny graphics that get added in for a little more pizazz! (Note the blue curlycues above my head.)
What do you think? Are you ready to have some silly fun? You can try Facestrument for yourself . Don't forget you need a webcam to play the game!  And if you want to see my crazy video you can go to my Facestrument video here. As it turns out, I've got quite a talent for Bug Eyes!
Visit the Cigna GO YOU Facestrument Brand Page on BlogHer.com to find more bloggers playing Facestrument!