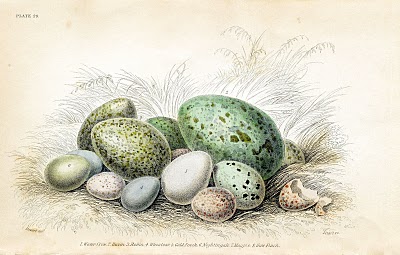 Click on image to enlarge
I love this!! These are some pretty fab looking bird eggs, done in soft pastel shades. I love how they're all together in a pile and I love the broken one too. This is another one from the circa 1830's print collection that I recently picked up.
UPDATE: Whoops! I almost forgot!! Kathy at Creative Home Expressions, posted a mini interview with me today. The interview is part of her "5 Things You Didn't Know About" series. You can read it HERE, if you're interested. Thanks Kathy!