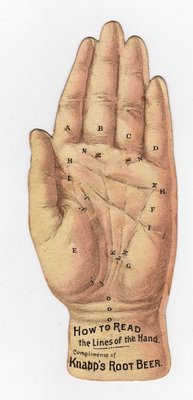 Today my husband and I went to a town in Pennsylvania that has a number of Antique shops known for carrying rare and early pieces. I don't go often as the prices can be quite high, but you can find some wonderful and unusual things. I was lucky to find this amazing Palmistry hand advertising card, it was damaged so I got a fairly good price on it. I thought you might like to see the progression of taking a piece like this and fixing it up digitally. I don't have photoshop unfortunately but I have Paint Shop Pro and it works quite nicely for me. The image above is the corrected image.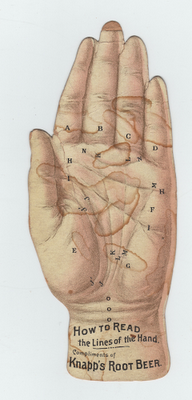 The one above is the original. You can see it was stained and torn and the top layer of paper on the tip of the middle finger had peeled off. The color is also a bit faded.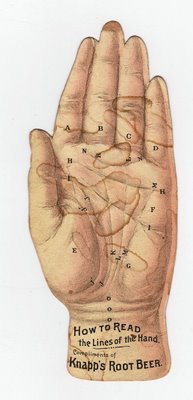 This is after I have sharpened up the image and adjusted the color slightly with the auto correct button (my favorite button, it's like magic!) Next I use the "make-up" button to correct the tiny torn areas.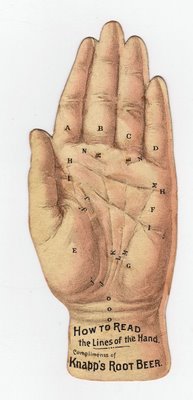 The image above is the final correction. I use the "make-up" button again to carefully take the stains out, making it smaller as I go to get in the tiny areas with out loosing any detail. Then I use the "Clone" tool to put the tip of the finger back on.
Above shows the results of one more step. I have take out the background using the "Magic Wand" tool (all Fairy's should have one of those, don't you think?!), and saved the image as a PNG file. Now this image is ready to be used for digital applications.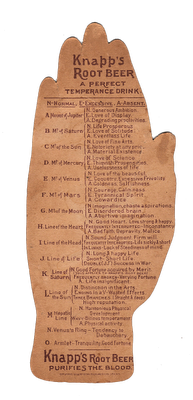 Lastly here's the back, it only needed a small amount of touch up. The whole process probably took me about 1/2 hour to 45 minutes. It can be a bit time consuming but the results are well worth it. Make sure you click on the images to get the largest size versions. I hope you enjoy this fun piece!
XXXOOO