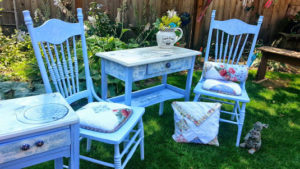 Today's reader feature is this Beautiful Bedside Table, Desk, and chair set, submitted by our friend SK Sartell.  She first sanded everything, and painted them with a pretty French blue. SK covered the drawers with patterned paper inside and out using a water based poly glue, and replaced the old knobs with lovely China blue ones.  She transferred my Grain Sack, and Hotel Sign image to the desk, and my French Wreath with Bird image to the bedside table using a carbon transfer method. After transferring the images, she used a satin polyurethane to finish.  Then she used a white wax to finish the rest of the piece to give it a chalky white look.  The chairs needed a complete makeover as well, so she first replaced the leg dowels, and replaced the old leather seats with a piece of wood. SK re-upholstered the seats with a quilted fabric.  She painted the chairs the same soft French blue to match the set, and used a white wax to bring out the existing design on the top of the chairs.  This is such a wonderful project!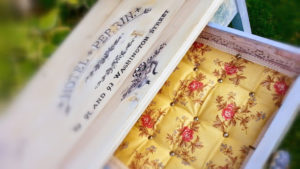 Thank you, SK, for sharing your talents with us! To visit more of SK's projects, please visit her Blog site here.  To learn how to transfer images yourself, visit the Transfer Methods Page.
Do you have a project you'd like to submit?  You can share your projects, HERE! We would love to feature you!