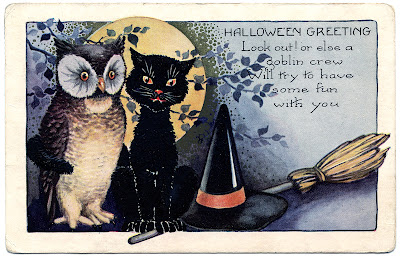 Click on Image to Enlarge
I know it's only July, but I've been noticing that people are starting to pin my Halloween Graphics on Pinterest more often, so I thought some of you might be working on Halloween Craft Projects already.  Also, I've been itching to share some of these things with you guys, since I've been holding onto them for awhile! Anyone, this is a dear little Vintage Postcard showing an Owl, Cat, Witch Hat and Broom and a Full Moon! Darling!
In Other News: There's still time to enter to win an Android Tablet on my Norton Review page!  You can learn about an awesome tool that will keep your passwords safe too. Go HERE for both!