This post may contain affiliate links which won't change your price but will share some commission, you can find our
privacy policy here
.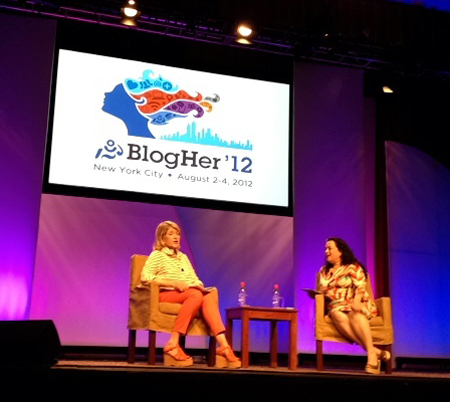 It's that time of year again! In just a few more days I'll be heading out to the BlogHer 2013 Conference in Chicago! Woohoo! Last year was the first time that I attended the BlogHer Conference, not including attending "BlogHer Handmade" the year before. I had wanted to go for years and I was so glad that I finally just signed up and did it! It was an amazing experience and I can't wait to go back again!
Some of the highlights of the conference, are the fantastic speakers, last year Martha Stewart was the one of the Key Notes, this year's line up includes Ree Drummond (aka The Pioneer Woman), Guy Kawasaki, Sheryl Sandburg, Randi Zuckerberg, and Producer Gale Anne Hurd, among others.
There are oodles of sessions and workshops that you can attend, for both newbie bloggers and advanced, including photography workshops, writing labs, marketing and monetization sessions and round table discussions. I counted them up and there are over 50 sessions listed on the schedule!
BlogHer does a fabulous job of lining up amazing sponsors too! The sponsors off set the cost of the conference, which reduces the price of the tickets we buy in order to make it much more affordable for all of us to attend. I'm so grateful for that!
This year I'm proud to have been selected as a White Cloud Ambassador! White Cloud is a Platinum sponsor at BlogHer this year, and they are BlogHer 13's exclusive paper partner. You guys know how much I love paper, in fact I'm pretty obsessed with paper, so it made sense for me to work with this premium paper company!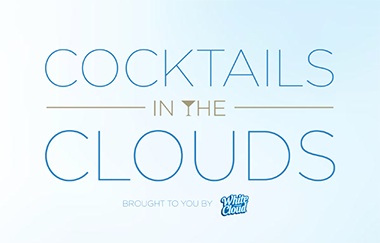 White Cloud will be located in Booth 2307 of the Expo Hall, and they have some fun events and activities lined up for BlogHer attendees. You can stop by their booth to enter to win a phenomenal prize package that includes, a one-year supply of new White Cloud Luxuriously Soft Bath Tissue, a one-year subscription to WordPress Pro and a 32GB white (Naturally!) iPad Mini. The prize pack has a total value of around $1,100! Woohoo! They are also planning on providing a unique augmented reality experience in the main concourse at McCormick Place. During this experience you get to immerse yourself in the clouds and get a feel for how White Cloud Bath Tissue is "Mysteriously Made from the Softness of Clouds". I'm thinking that sounds like a really fun photo opp, so be sure and bring your friends!
The fun continues at a posh party on Friday evening, that includes Cloud Nine Martinis (Yum!), a White Cloud Nail Bar (Fun!) and interactive art. (That art part has me really curious!). The party is already filled up, the good ones always get sold out super fast!
Also here's a little bonus, if you are staying at the Sheraton, you will get a free White Cloud Luxuriously Soft Bath Tissue sample, to try out during your stay. And be sure and look for a coupon for a FULL value 12 pack of  White Cloud, in your conference tote bag!! I don't know about you, but I love getting coupons at conferences! There is usually a lot of great free stuff given away at these events, but many times you get things that are too bulky to bring home on the plane. I can always squeeze another coupon into my purse though! 😉
Well, I hope to see some of you at BlogHer this year! And if you go I hope you have an amazing time, and enjoy all of the speakers, sessions, sponsors, parties and events.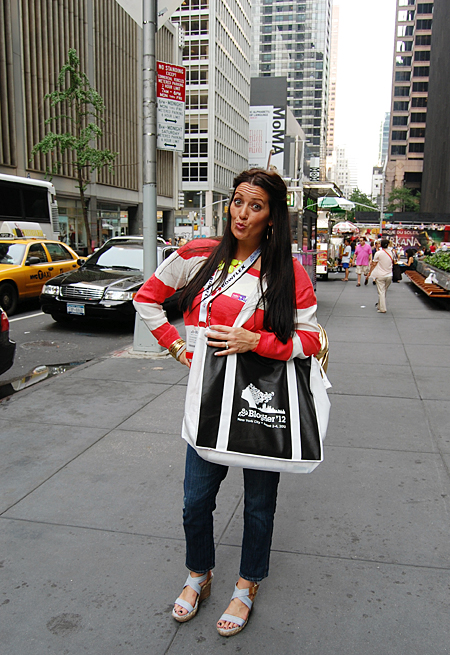 (My roommate Jaderbomb at Blogher 12)
I also hope you have an amazing fun roommate like I had last year! It's great to have someone to pal around with at the conference.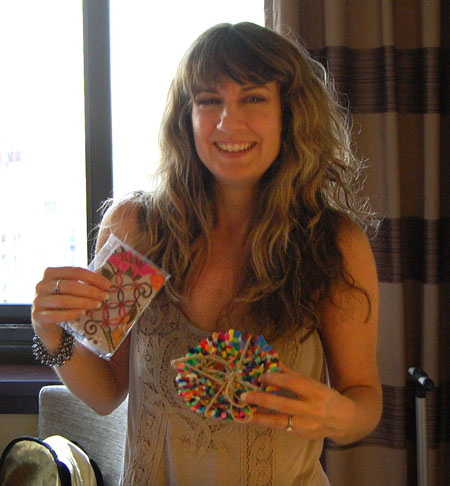 (Me with the gifts that Jaderbomb made me)
Maybe your roommate will even bring you some fun gifts that she made herself, like mine did!
For more info about White Cloud check out these links:
http://mywhitecloud.com/
https://www.facebook.com/mywhitecloud
https://twitter.com/whitecloudmom
http://pinterest.com/mywhitecloud/
I hope you get to attend BlogHer 13, I would love to meet you!
*Disclosure – This post was sponsored by White Cloud via my ad network BlogHer. All opinions are my own.