October is Breast Cancer Awareness Month, and Bank of America in partnership with the Susan G. Komen™ created the Everyday Portraits microsite. Everyday Portraits provides an opportunity to use your own words in a creative way to honor friends or family members who have been courageous in their fight against breast cancer. For every portrait you make, Bank of America will contribute $5 to Susan G. Komen™.
Today I would like to honor my mother, Marilyn. My mom is probably one of the strongest women I know. She has worked as a registered nurse her whole adult life, mostly in the operating room, and then later as a perioperative project coordinator.
Mom at work at the hospital. Also, my dad's painting is in the background!
She has officially retired twice, but at age 74 she's still working because she enjoys it. She finds the work rewarding and she loves helping people. She even volunteered with the Red Cross during 9/11, and went to New York City to help out.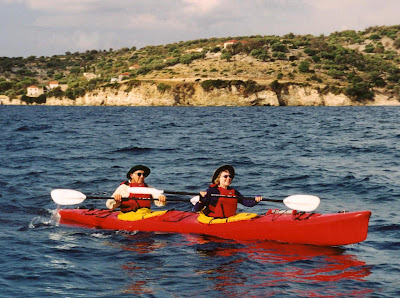 My mom and dad kayaking in Greece.
She loves being physically active; she runs, hikes, kayaks, swims, and snorkels. She and my dad travel all over the world, heading out to remote spots to get a look at amazing animals in their natural habitats.
Ten years ago, at age 64, my mom was diagnosed with breast cancer. She had a positive attitude right from the get-go, researching her options and gathering all the information she could to make an informed decision about how to best deal with the cancer. She ended up having a lumpectomy and opted for radiation treatments.
I remember calling my mom in the hospital after her surgery. (She lives on the other side of the country from me.) Instead of feeling sorry for herself or feeling depressed, she was excited because there was some sort of bar that was hanging from the ceiling over her hospital bed, and she was using it to do pull-ups! Go mom! I knew she would be fine. She is a survivor through and through!
After recovery she went right back to her active lifestyle…
Here she is running a half marathon, just 2 short years after having breast cancer!
Hiking at Pearl Lake in the Sierra Nevada Mountains, about 20 miles south of Lake Tahoe.
 Running across the Golden Gate Bridge in San Francisco!
 And hanging out with my dad and a slew of penguins on a trip to Antarctica!
Breast cancer touches the lives of so many of us…
This vintage photo shows me with my mom and her sister Wendy, at Wendy's wedding. At age 64, just like my mom, Aunt Wendy was also diagnosed with breast cancer. She is, thankfully, a five-year survivor.
Do you know someone who has or had breast cancer? Would you like to honor her? You can create a portrait, just like the one I made of my mom at the top of this post, by going to the Bank of America site HERE. For every portrait created in the month of October, Bank of America will contribute $5 to Susan G. Komen™.