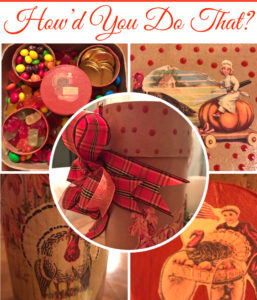 This morning's reader feature are these fun Hostess Gifts for Thanksgiving, submitted by our friend Joy Dewhurst.  Joy's DIL and son were hosing Thanksgiving, and Joy decided to make special hostess gifts.  Using my Chef with Turkey image, White Turkey image, and Boy with Patriotic image, for her final touches she created these awesome gifts.  For her first step she cut the paper mache boxes down to the size she wanted, and then sanded down the rough edges.  Joy printed the images out on a full sheet of labels, and then cut around the images.  She painted polka dots on some of the boxes using the end of a paint brush, and painted the small boxes red.  For her final step she used Annie Sloan's decoupage to seal the images onto the boxes.  This project would make such lovely gifts for any holiday!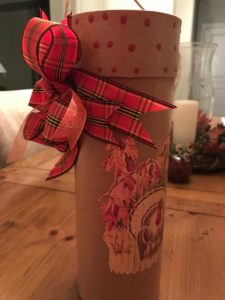 Thank you, Joy, for sharing your talents with us! To visit more of Joy's projects, please visit her Blog site here.  To learn how to transfer images yourself, visit the Transfer Methods Page.
Do you have a project you'd like to submit?  You can share your projects, HERE! We would love to feature you!