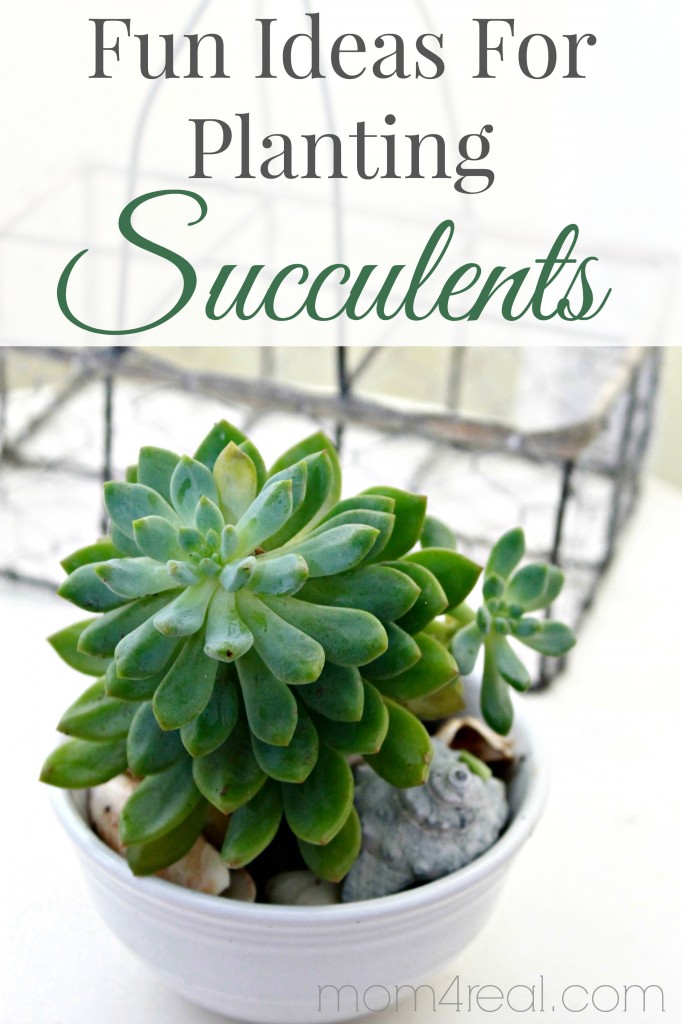 Hi there, TGF peeps! It's Jessica from Mom 4 Real, back to with another fun Vintage Household Tip! Today, let's talk about succulents! Succulents can be seen everywhere right now! I remember them from my grandmother's patio, and now they are making a quick comeback! I am sooo happy, because these little plants can really brighten up any space, and they are super easy to plant and care for! The greatest thing about succulents is that they can be planted in virtually any container! Since I am sooo in love with them, I have planted them in all kinds of different containers, and tucked them all around my home as well as on my patio! They can handle being indoors or out…win, win!  Here are a few fun ideas for planting succulents that I have tried…
I planted this cute little succulent in a small white ceramic bowl and tucked some seashells from our trip to the beach all around it. It's simple and beautiful at the same time…I bet a teacup would be perfect too!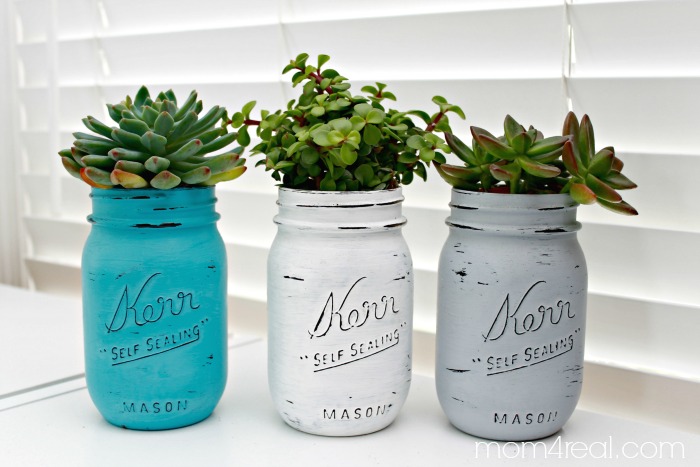 In my office, I planted 3 different succulents in some mason jars that I painted. (You can find the tutorial in the Craft section of my blog!)
These little mason jars all lined up in front of the window just keep me smiling!
These succulents are nested in an old chippy bowl that I found at the thrift store. I simply planted the succulents in some potting soil and sprinkled some broken seashell pieces all around them…they live in the full sun on our patio and have really thrived!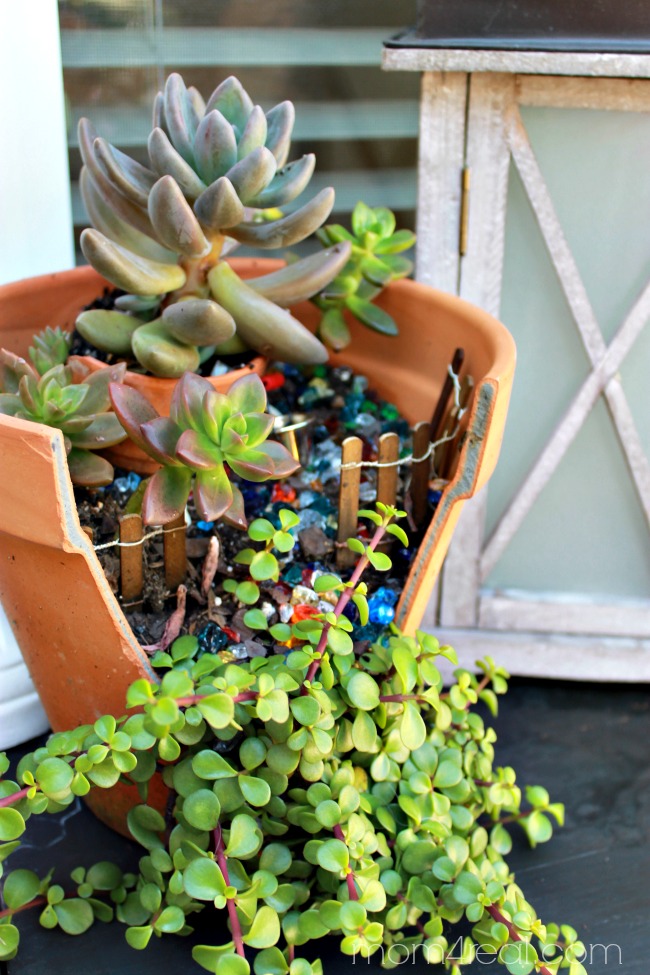 My daughter Kate planted this cute little fairy garden using a broken flower pot and some broken pieces of colored glass that my mom brought her! She's just waiting for a fairy to come move in!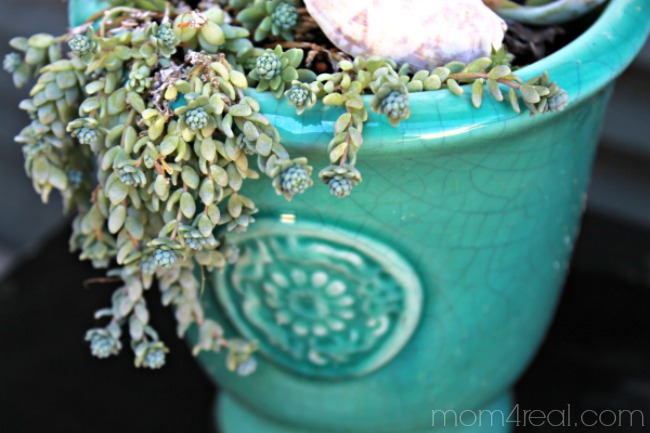 This sweet little trailing succulent is plopped down in a turquoise flower that I picked up from Michaels.
So, you see, you can plant succulents in just about any container you can find! I hope these ideas will inspire you to plant your own succulents! I'd love to hear any ideas that you have in the comment section below!
If you need a little advice on succulents, check out my post, How To Grow and Care For Succulents, HERE!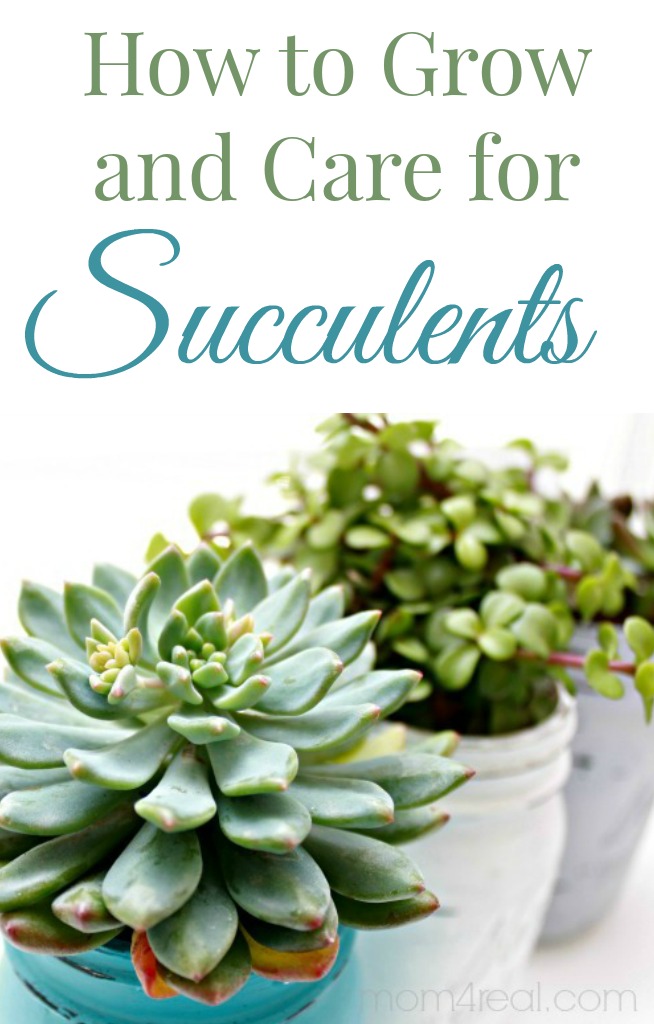 See y'all next month!