Image transfers on fabric…we've all tried a few methods, I'm sure.
Like me, you may have had ho-hum results in the past.
That all changes right now.
Hey, Graphics Fairy friends! It's Heather from Thicketworks. Today we are going to crack the code for getting awesome results with those pesky image transfers on fabric.

This post contains affiliate links
---
Image Transfers on Fabric
This is short and SWEET, my friends.
Here's a list of the stuff that I used for this project…
Supplies:
Natural Fiber Fabric from your stash (I used light weight muslin)
Ink Jet Transparencies. (I used Heirloom Traditions 1Gel and that worked BRILLIANTLY)
Your favorite Graphics Fairy images, printed with an Ink Jet Printer, onto the correct side of the Ink Jet Transparencies.
Here's a list of images used for this demo:
A firm but pliable work surface. (I use a piece of foam core board)
Scissors
A scruffy old paint brush
A smooth tool for burnishing (I use a Catalyst Tool)
A heat tool
         or
An iron + Parchment paper and ironing surface
Optional:
---
Okay, let's get started!
Print your chosen images onto the rough side of the transparencies.
Note: Don't forget to reverse any images that include text or numbers!
Allow them to dry.
Cut apart the images you've printed.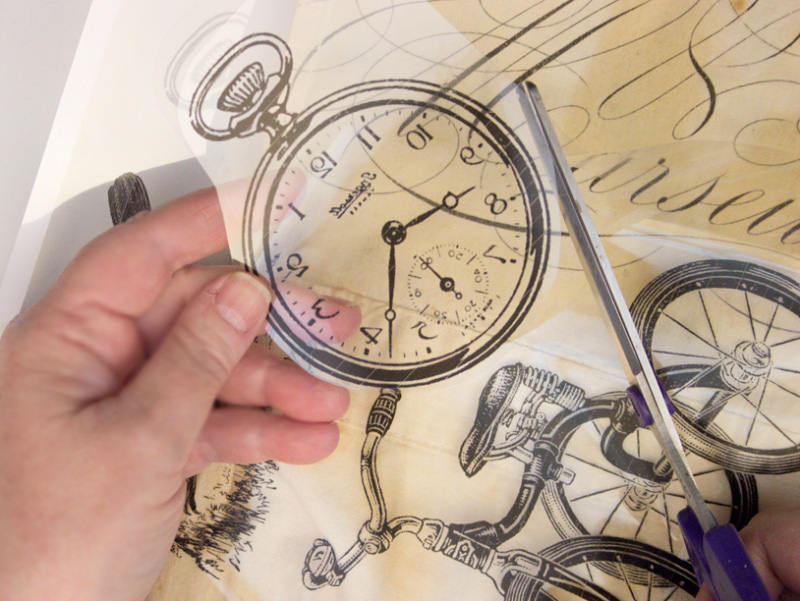 You can tape your fabric to the work surface if you like. I tried it both with and without tape, and got great results either way.
Spread a layer of Heirloom Traditions 1Gel directly onto the fabric, covering the area where you wish the image to be transferred.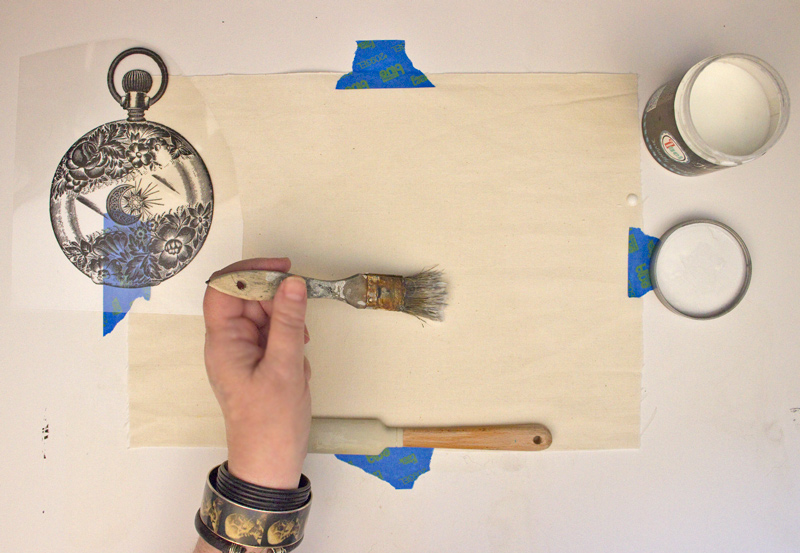 Place the transparency face down onto the 1Gel, and smooth with a burnishing tool.
Work from the center of the motif, smoothing toward the edges.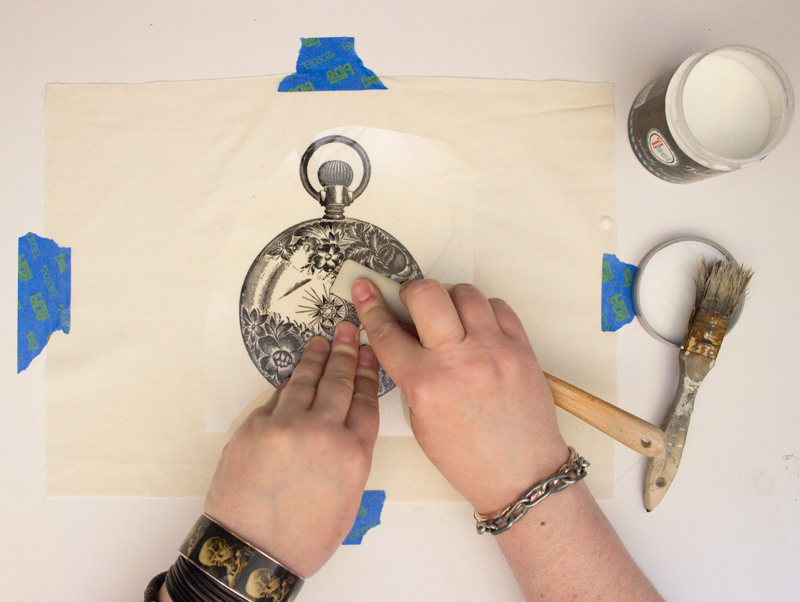 Burnish for about 20 seconds or so.
Gently lift an edge, and begin peeling it back.
If you find that all the ink didn't transfer, dab a bit more 1Gel on the fabric, press the image back down and burnish again.

Peel the film away, and be AMAZED at how clear and clean the image is, even with a 'repair':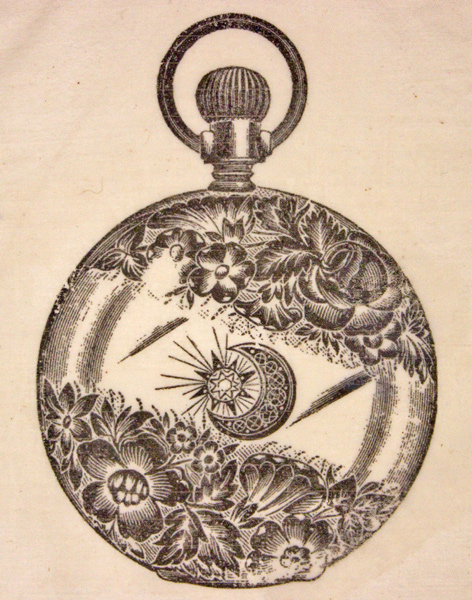 Stunning results – SO easily.
No waiting.
No peeling or soaking off paper.
Just 1Gel, burnish, peel.
That's it.
This motif took less than 1 minute to complete: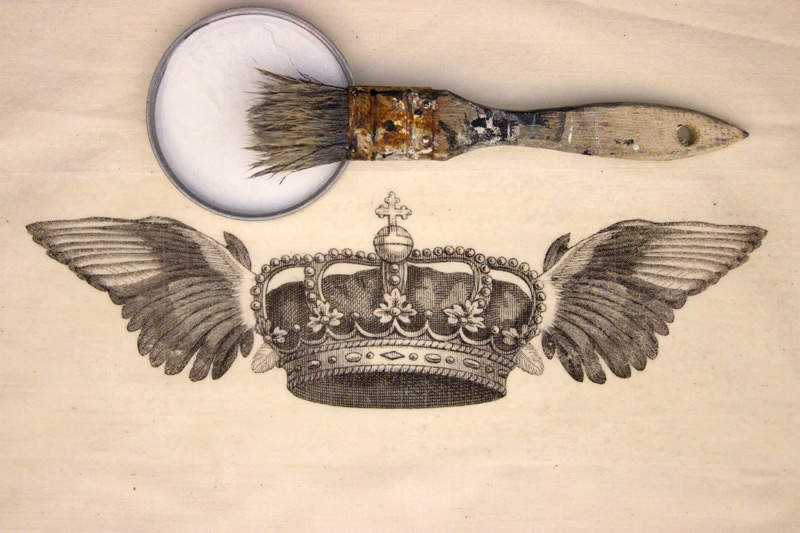 Just for fun, I tried it on an old scruffy art apron: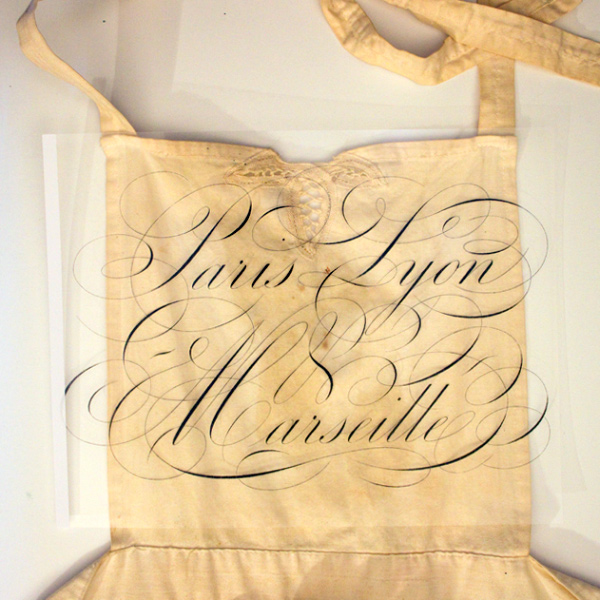 You can just burnish right over the seams and any stains…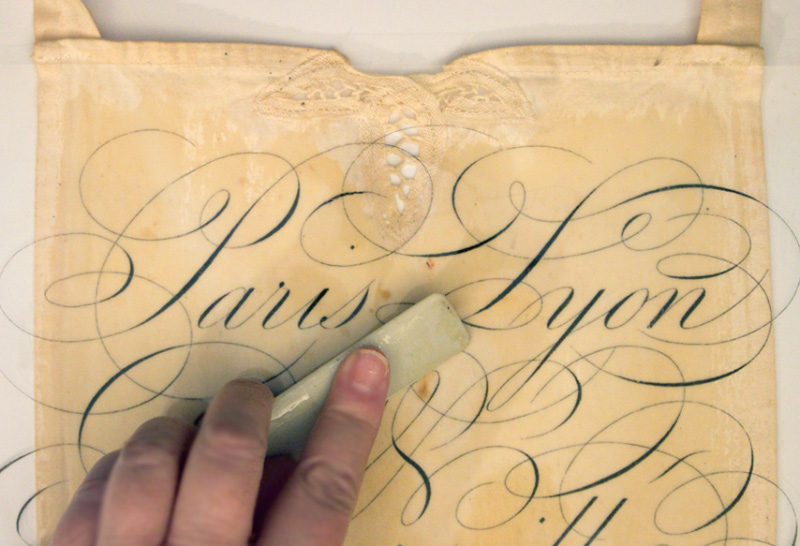 Peel it back: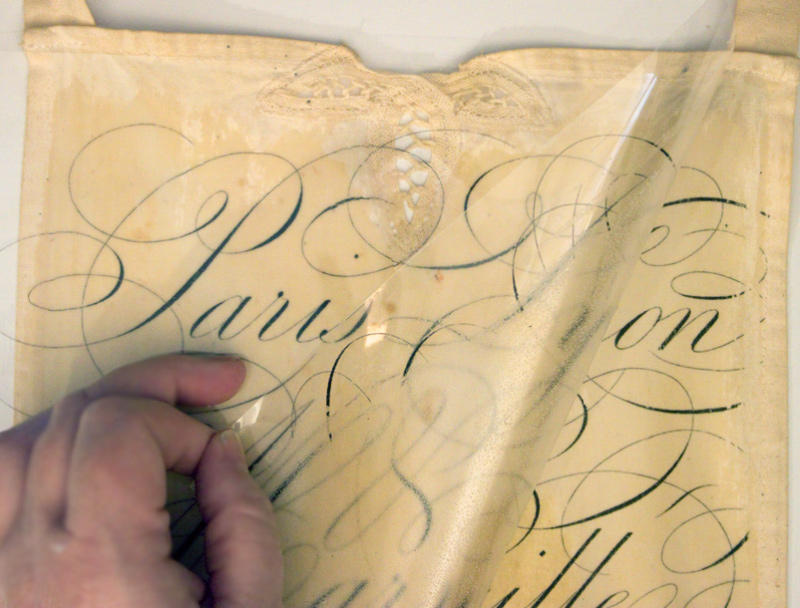 Enjoy the crispness of the image:
So, I wondered if I could get good results going over the 'bumpy' areas of this old apron.
The answer: Yes.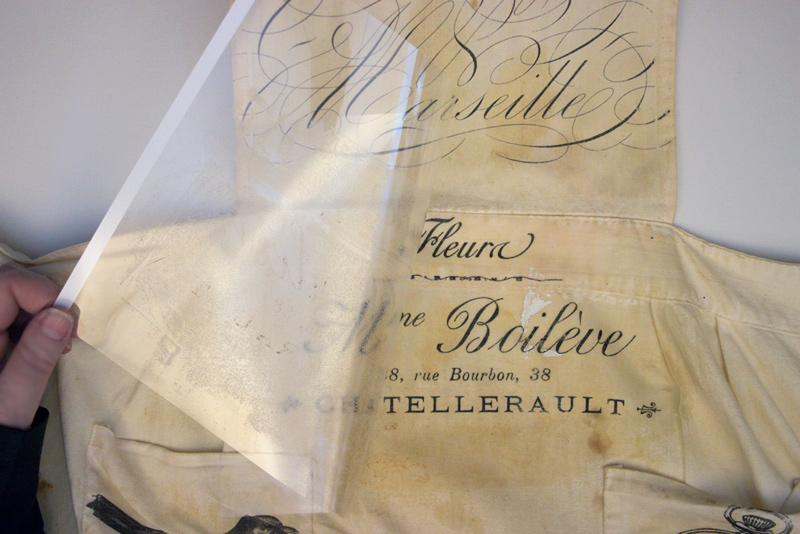 How about on a pocket?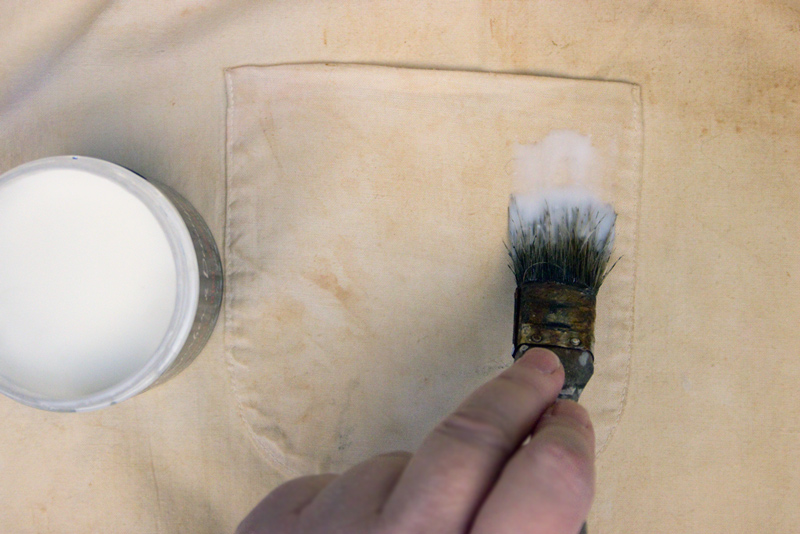 This sweet bird would be nice…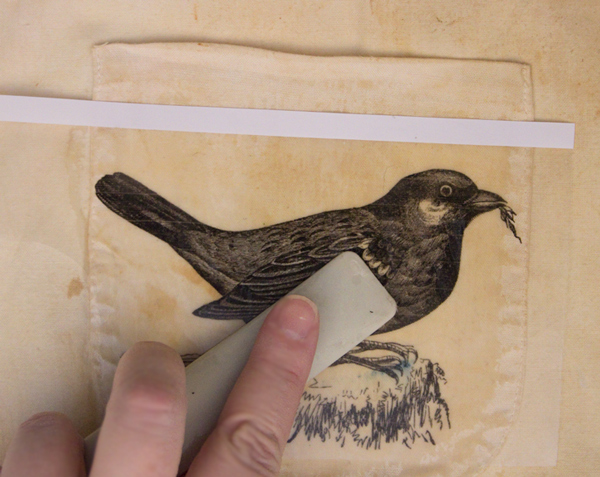 Well?
How will it turn out?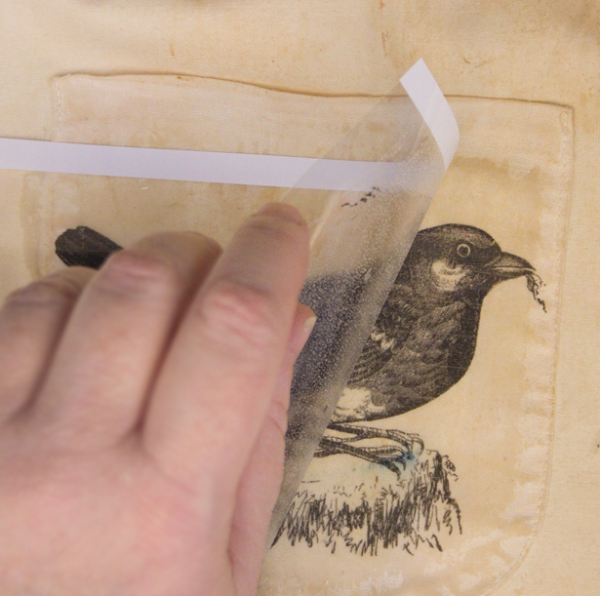 Pretty darn well, if you ask me!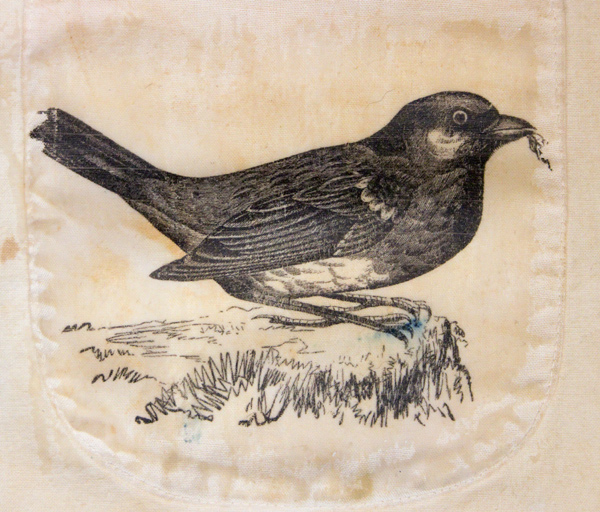 Must try an image with a lot of black…Will it come out okay?
Yep.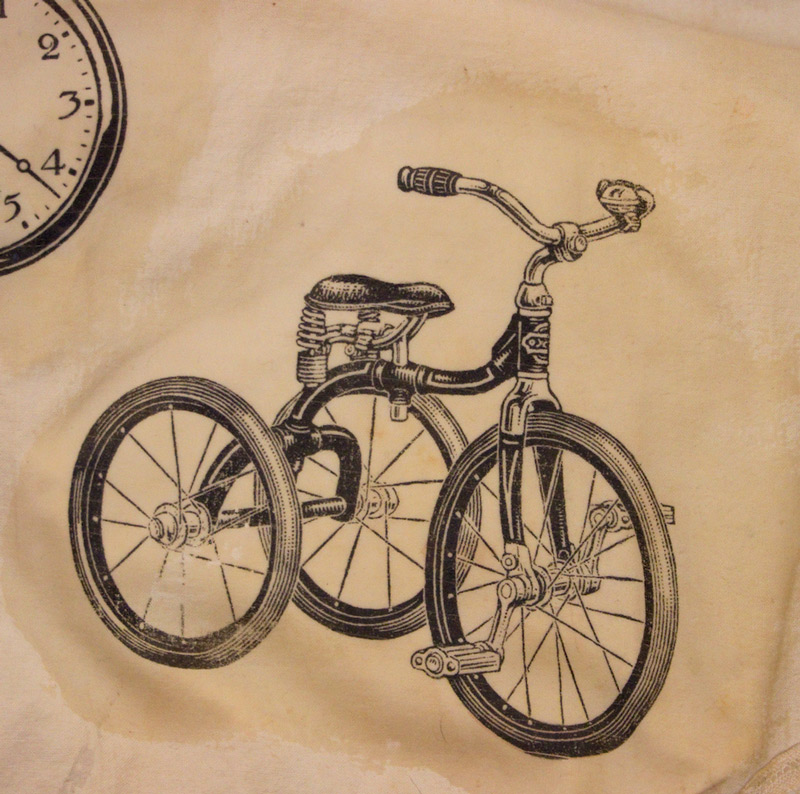 So, now I know what you're wondering.
Can you wash it?
Here's the answer. YES.
The trick? Heat set the graphics. Either cover them with a piece of parchment paper and iron them dry, or use a heat tool to do the same.
Yes, the fabric will be stiff.
Once it's been heat set, wash it by hand in warm soapy water, and yes: put it in the DRYER.
When it comes out, there will be a bit of stiffness remaining, and yes, a bit of the image will be 'distressed', but I'm happy with the results.
---
Note: I'll be you're also wondering if you can reuse the transparencies over and over?
Here's the thing:
The transparencies are coated with a special film that binds the ink to the surface. Once the transfer process is complete, this film has been transferred, along with the image. I know of no way to add that special film back onto the used transparency. If you find a way, let us know!
---
All the following images are after washing and drying: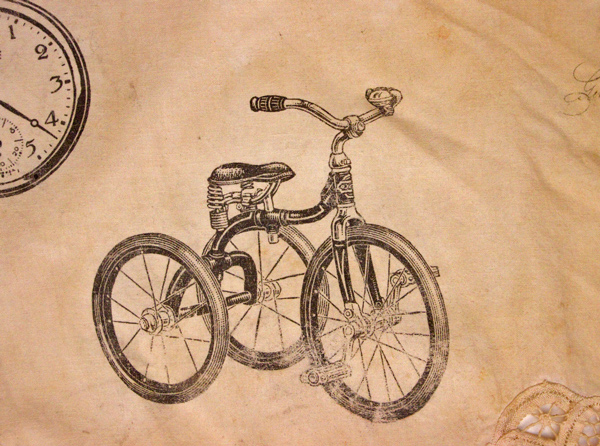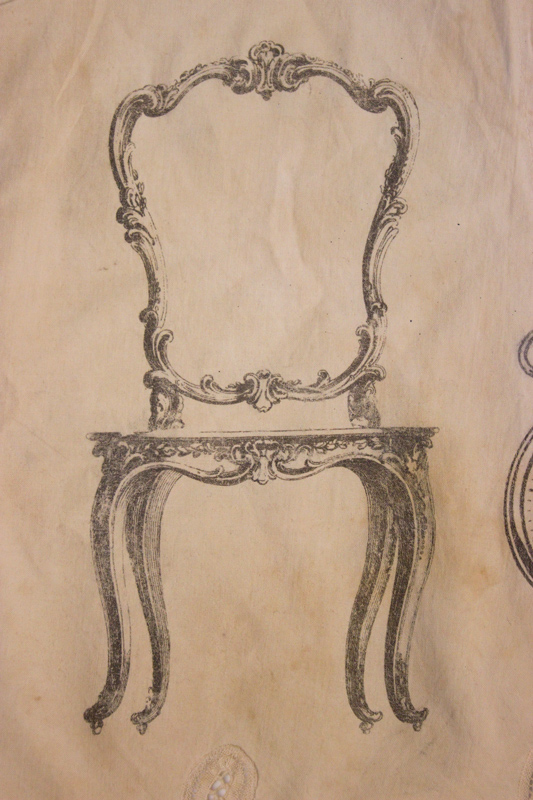 I'm in love with this look!
I can't wait to add Graphics Fairy images to all kinds of garments and fabric accessories.
I love printing directly onto fabric. I will always love it. For small projects, it's perfect.
But here's the thing: unless you have access to a commercial printing facility you're limited to a piece of fabric that will fit into your home printer.
This transfer method opens a whole new world of possibilities.
You can enlarge the images, print them out on several transparencies, and create an ENORMOUS graphic….
Just think: you can add large graphics to duvet covers, curtains, pillow cases…Oh my goodness. Very exciting!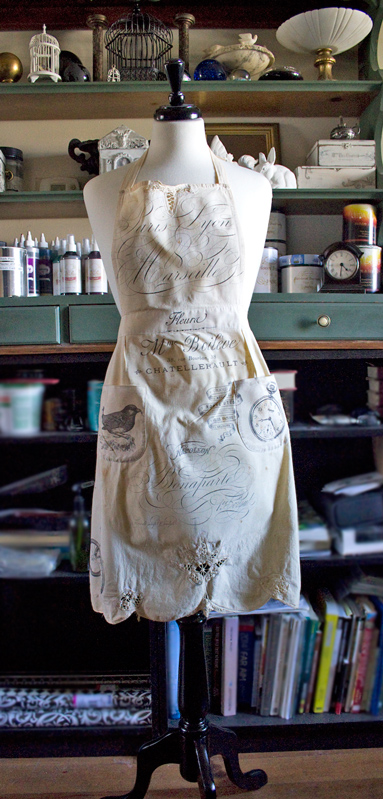 Well, I hope this has given you some food for thought.
I hope we see many, many Reader's Projects featuring your Image Transfers on Fabric!
Have fun with this, and take good care of yourselves! Come see me at Thicketworks sometime – it'll be fun!
Heather
You might enjoy:
Create a Shabby Chateau Finish: