We continue our 'Vintage French Junk Journal'  journey by taking in the streets of Paris with new page layouts and junk techniques. In this lesson, we will be diving into the junk (yes, junk mail) as we move to our second signature. If you missed the first three tutorials in this series, I recommend that you work through them before attempting this tutorial. You can find the first one here –>>> The Junk Journal Introductory Tutorial, the second –>>>Page Layouts 1, and the third lesson–>>>Page Layouts 2.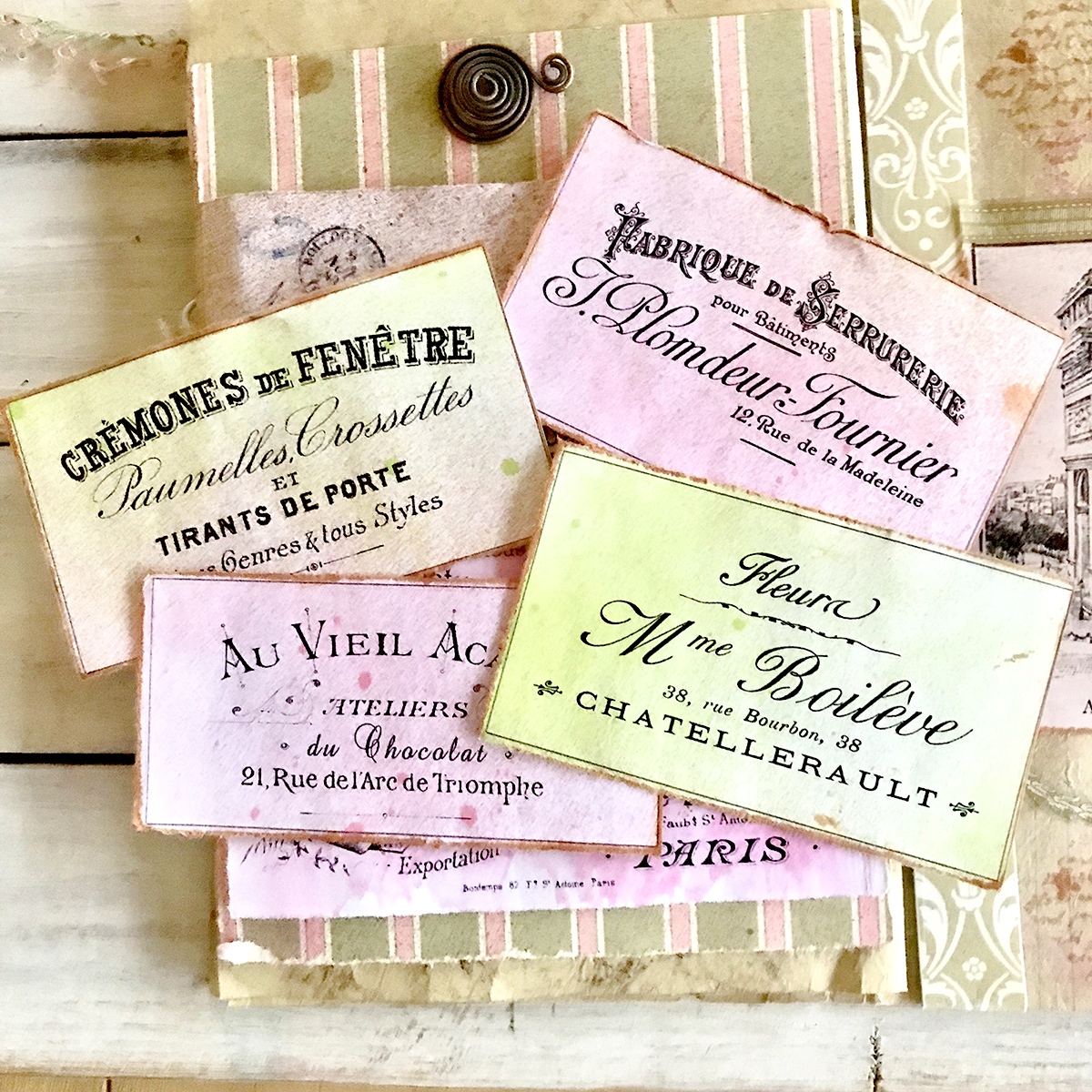 Junkin' with Junk Mail
I love to recycle, and using paper, cards, and envelopes from junk mail makes me happy. I have discovered some ways to use the pieces that will not expose your address or information you don't want to place in an art book. I have quite a stash of junk!! SIGH…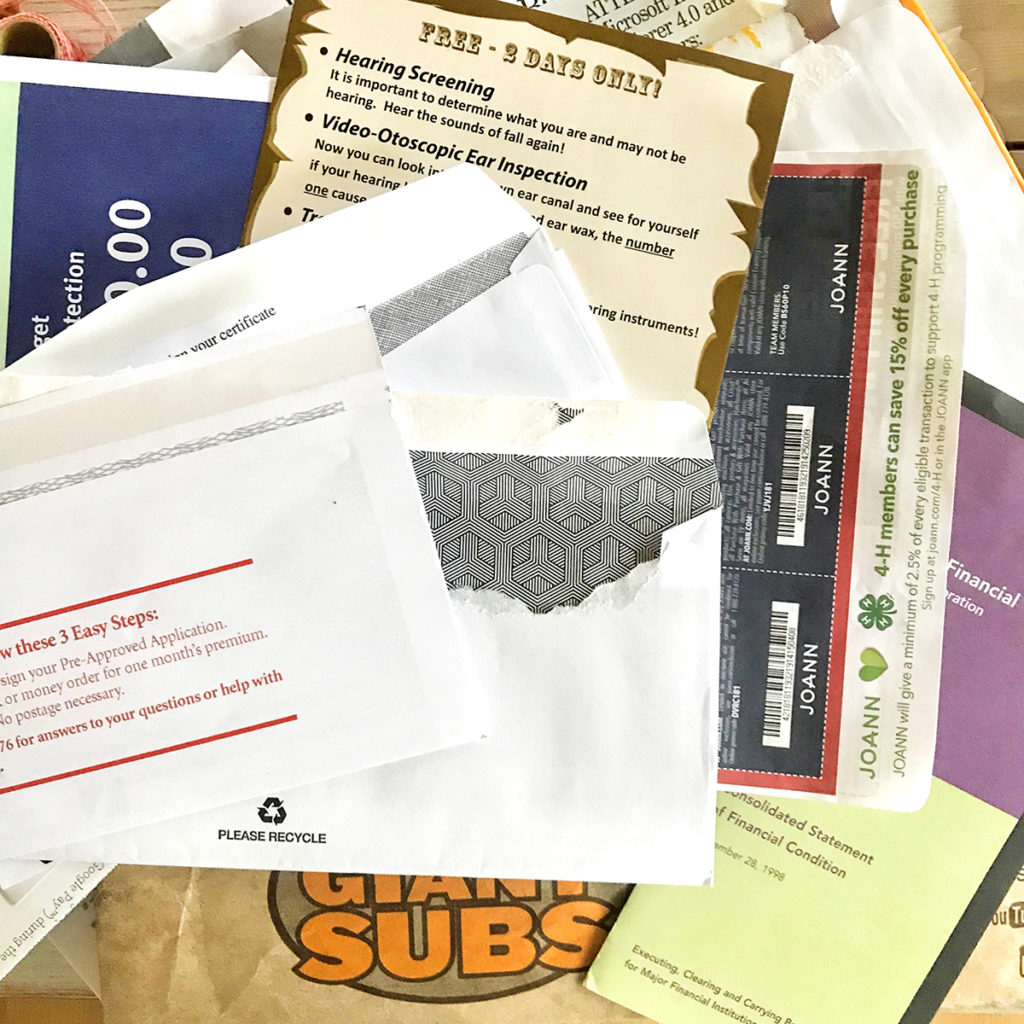 Disguises
Yes, I am talking about techniques that cover, erase, and repurpose those credit card notices, utility bills, flyers…just about anything that comes into your mailbox. We also reuse packaging and other things to create.
Techniques in this tutorial:
We are going to make several pockets, an accordion fold journal booklet, and assemble a postcard from two images. We will also learn another way of tearing the edges of our images to create a deckle.
Accordion Fold Booklet
Stenciling
Security Envelope with Napkin Disguise
Magazine Card Pocket with Ink Disguise
Repurposed Window Envelope
Repurposed Packaging Disguise
Gesso Disguise
BASIC SUPPLIES
*This post contains affiliate links for your convenience
In this tutorial we will be using the Basic Supplies from Page Layouts 1, plus found objects from our kitchen and stash. I use Distress Ink Old Paper for aging pages and edges of almost everything, but sometimes I use other colors. I think there are probably 20-some Distress Inks. 🙂 You can use the one(s) you love.
The Graphics Fairy images I used this time:
I also use old stickers, paper from my stash, lace edging and ribbon, rubber stamps, stencils, and paints and potions for this section. Create yours with thoughtfulness. 🙂 Please feel free to use a different image that suit your style more closely. Obviously, anything goes in this series. Let's jump into creating pages.
Accordion Fold Booklet
This booklet starts with a very wide junk mail insert. It is 15″ wide. I fold it back and forth (these are called mountain and valley folds in bookmaking) to make each section half the size of the original fold as shown in the center image below. Then I trim it to the height of my cover image.

I love the Tombes et Monuments image by The Graphics Fairy. It is aged and perfect as printed although I trimmed it tight around the frame. I glued it to the front of the accordion folded paper. That is our first disguise.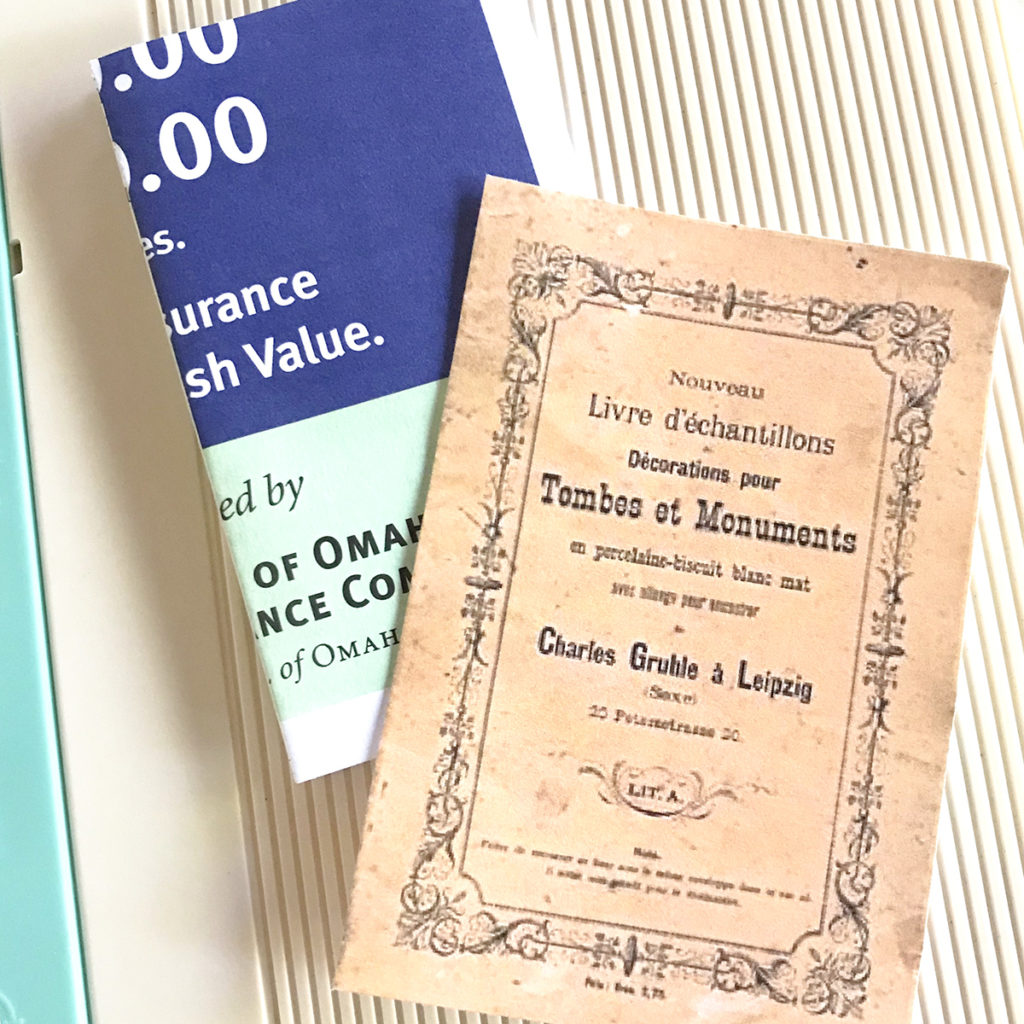 The rest of the pages need covered, so I chose this travel origami paper from my stash. It has aged, sepia-toned papers that work perfectly for this little booklet.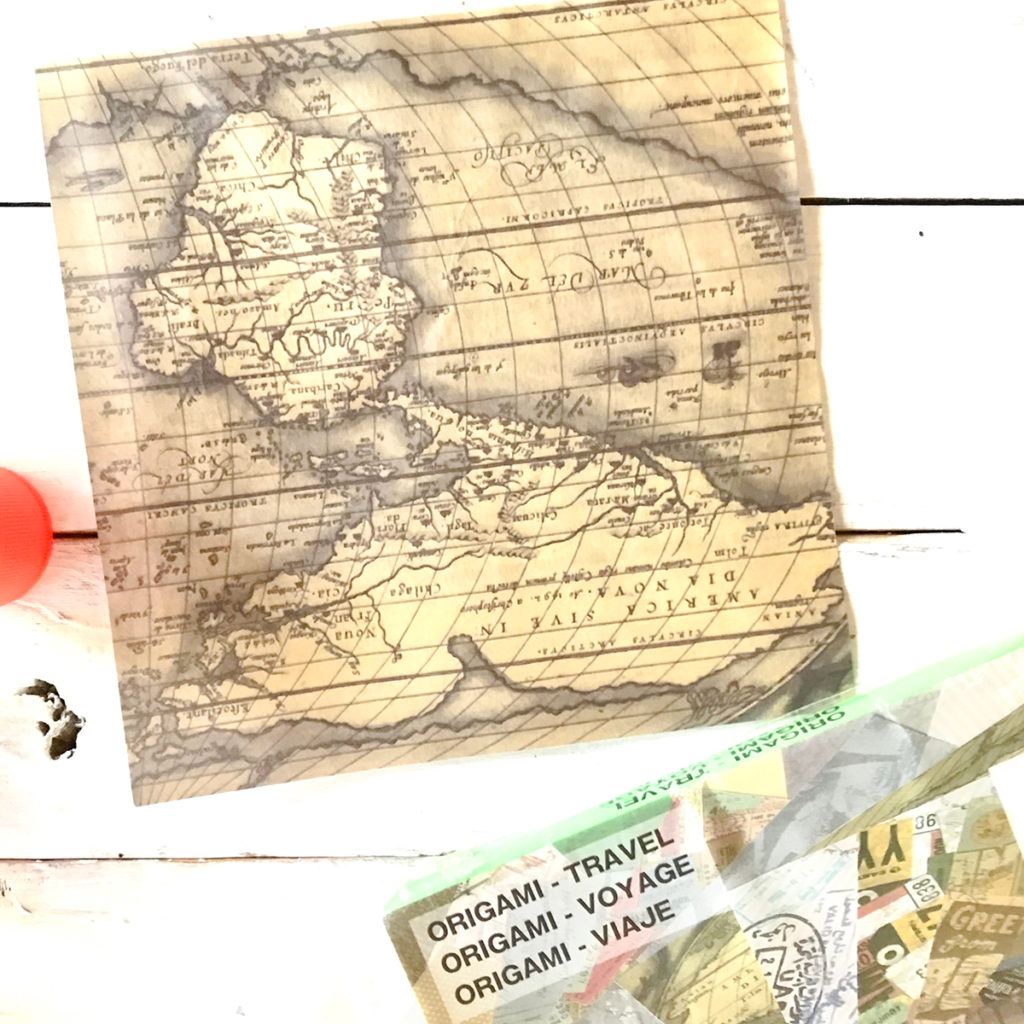 TIP: My hint is to wrap the folds with paper when you glue it. If you leave the folds exposed, it looks messier, but is fine if you need to conserve paper. 😉 You can see both sides of the booklet below.

Stenciling
I love to use stenciling in my books. This handwriting stencil from Stencil Girl is amazing. I use transparent Alizarin Crimson Mixed Media soft gel paint that is for this stencil with a stencil brush from Plaid. This paint is sheer and great for the translucent layered effects we all love. TIP: After I stencil, I offload the paint from my brush onto papers I will use on the pages. It helps with continuity and stretches the paint.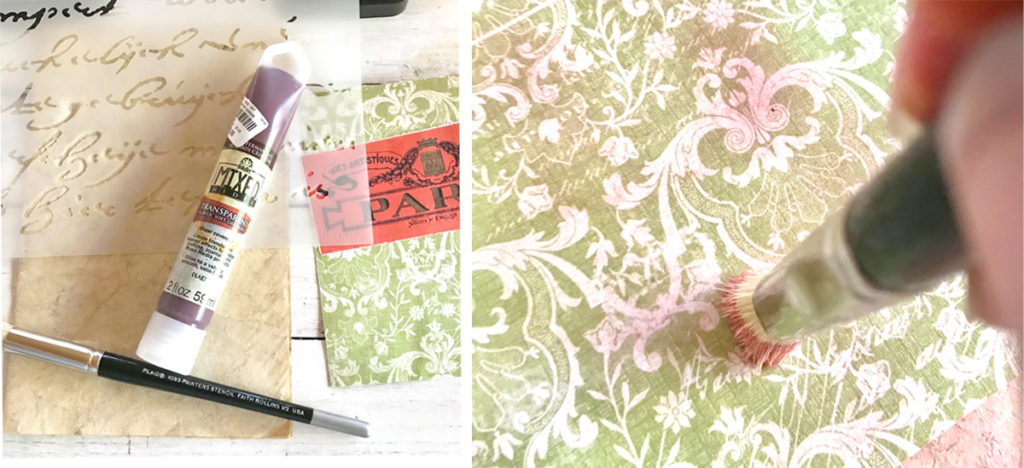 TIP: Stenciling is always done at a 90º angle to the surface as seen below. I have a few stenciling tutorials if you want more info – here and here.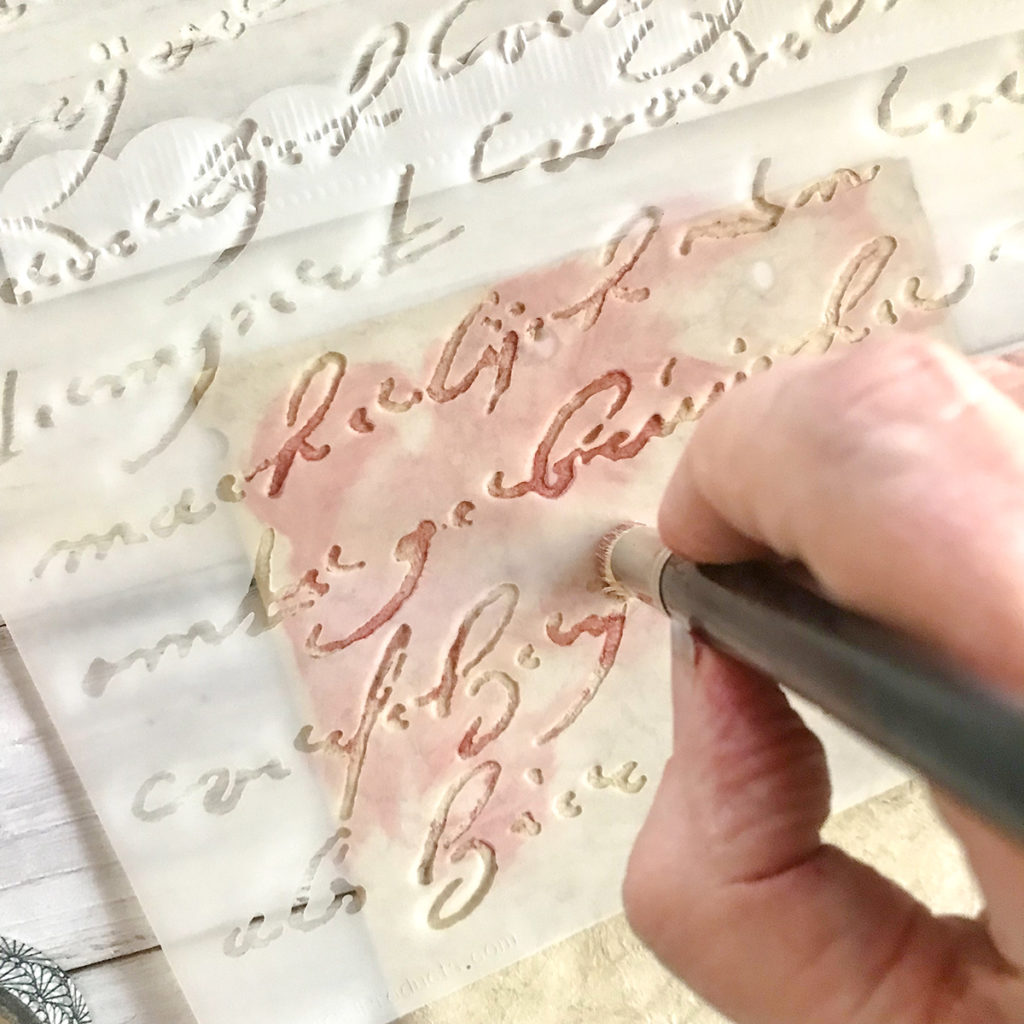 Security Envelope with Napkin Disguise
Security envelopes are way cool. The patterns inside that make it secure are always cool to work with. So save those always!! I slice the edges with a paper trimmer and turn them patterned side out. You can find a bazillion uses for them in mixed media!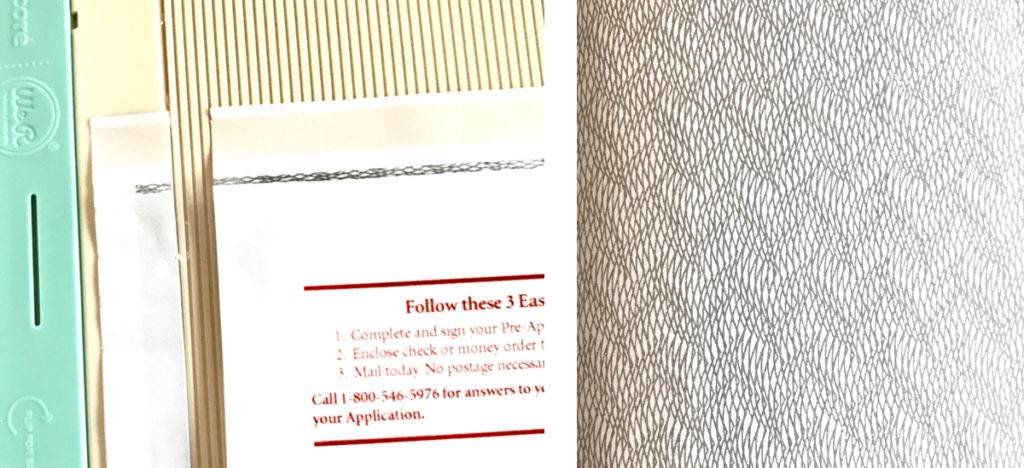 You can see that this one has some white patches. That doesn't bother me; I embrace them. I added the Eiffel Tower image and decorated the edge with some amazing border trim from my stash. TIP: I love when the scallop edges hang beyond the edge of the book pages.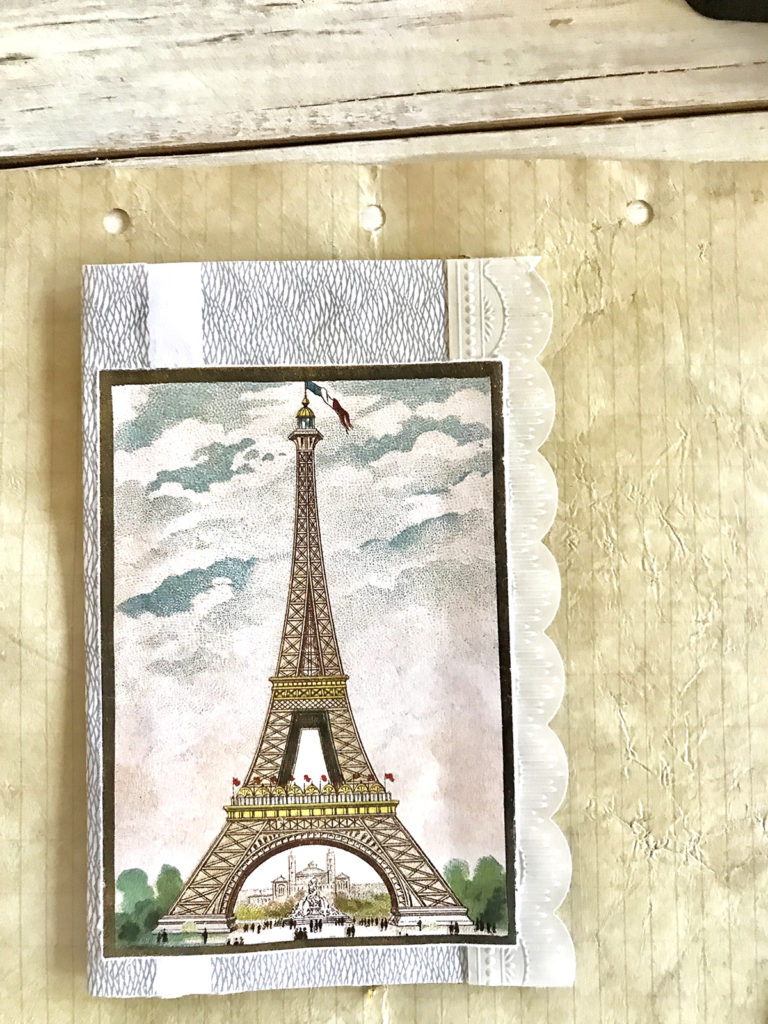 Napkin Disguise. I just love using napkins in my books. There are bunches of French themed napkins to be had. This one, from a discount store, has a great texture and color. Just cut to size and attach with your adhesive of choice.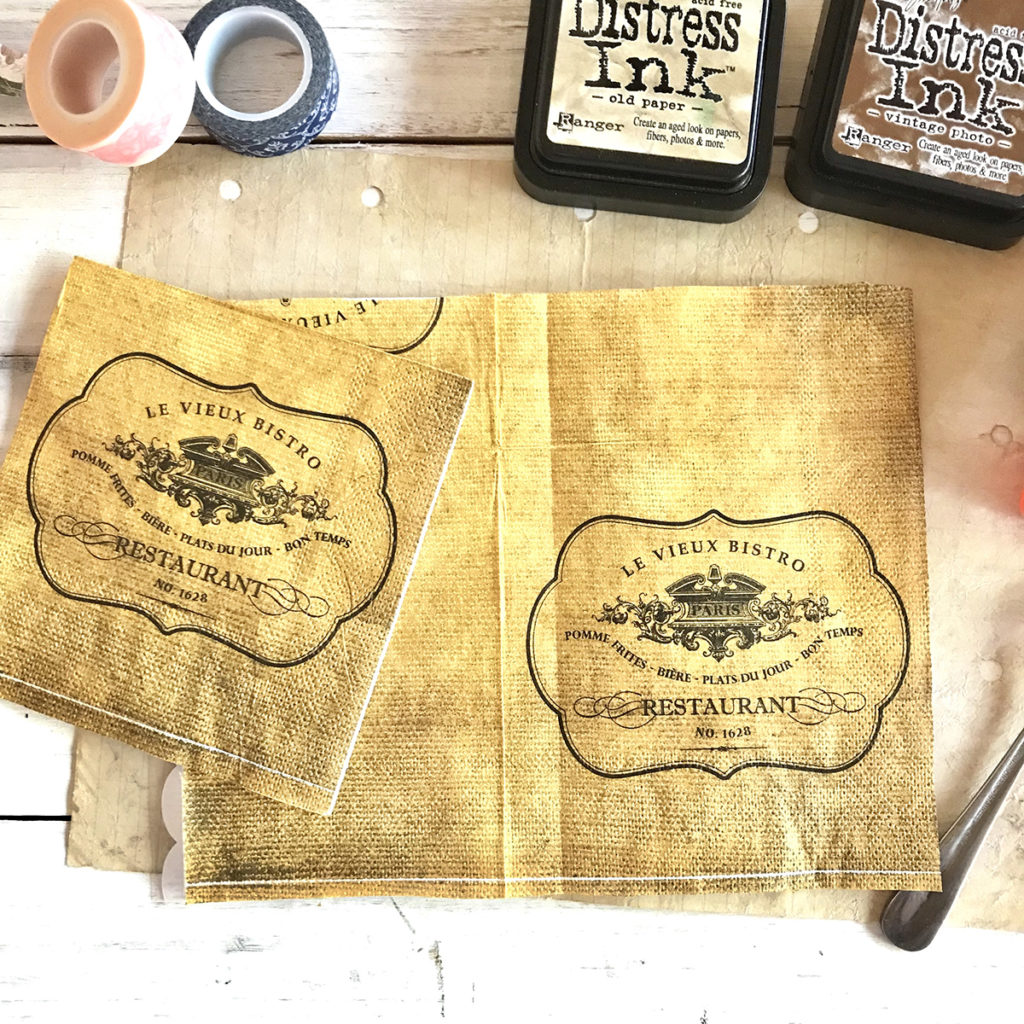 TIP: The page seemed a little MEH, so I loaded some of the Mixed Media paint (link above) and dry brushed a little on my page to give it some texture before I attached the security envelope card. I just love the soft color of this paint.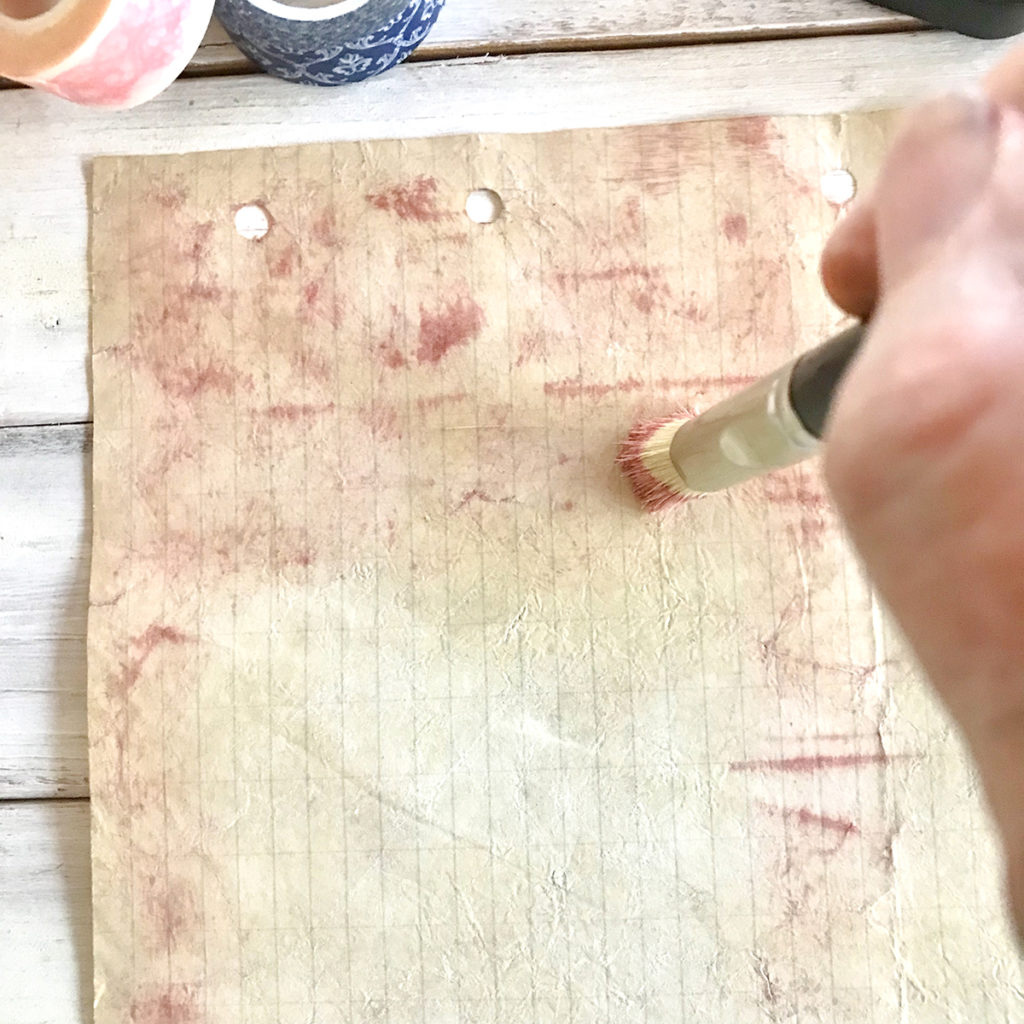 Magazine Card Pocket with Ink Disguise
Some techniques are almost too easy to teach…but I will share, just in case someone has never done it. In this instance, I am using a magazine subscription card to give the page texture and create a pocket. The technique is rubbing a Distress Ink pad over the surface as a disguise. It is transparent, but gives an added depth to the black and white card design. I will be covering over most of the card anyway. 😉 You can see that it is attached vertically in the second image of this technique.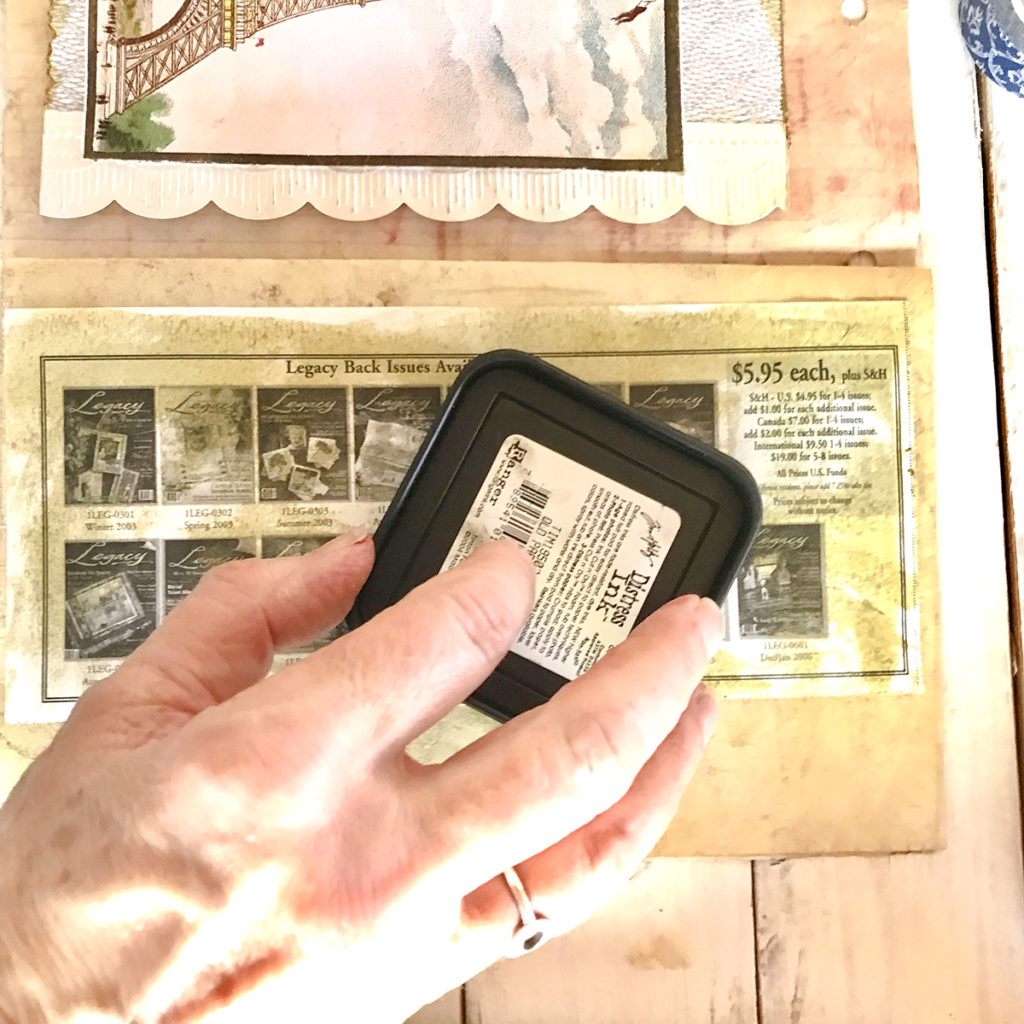 Just as an added quick tip, I stamped a French rubber stamp from my prized Cavallini Rubber Stamps Paris into a ball of air dry clay and allowed it to dry overnight. (TIP: I also make buttons and faux wax seals this way.) Then I rubbed on some of the Mixed Media paint to age and make the design more prominent. I love making designer touches with air dry clay. It is fairly inexpensive and can provide you with many little bits to make your mixed media special!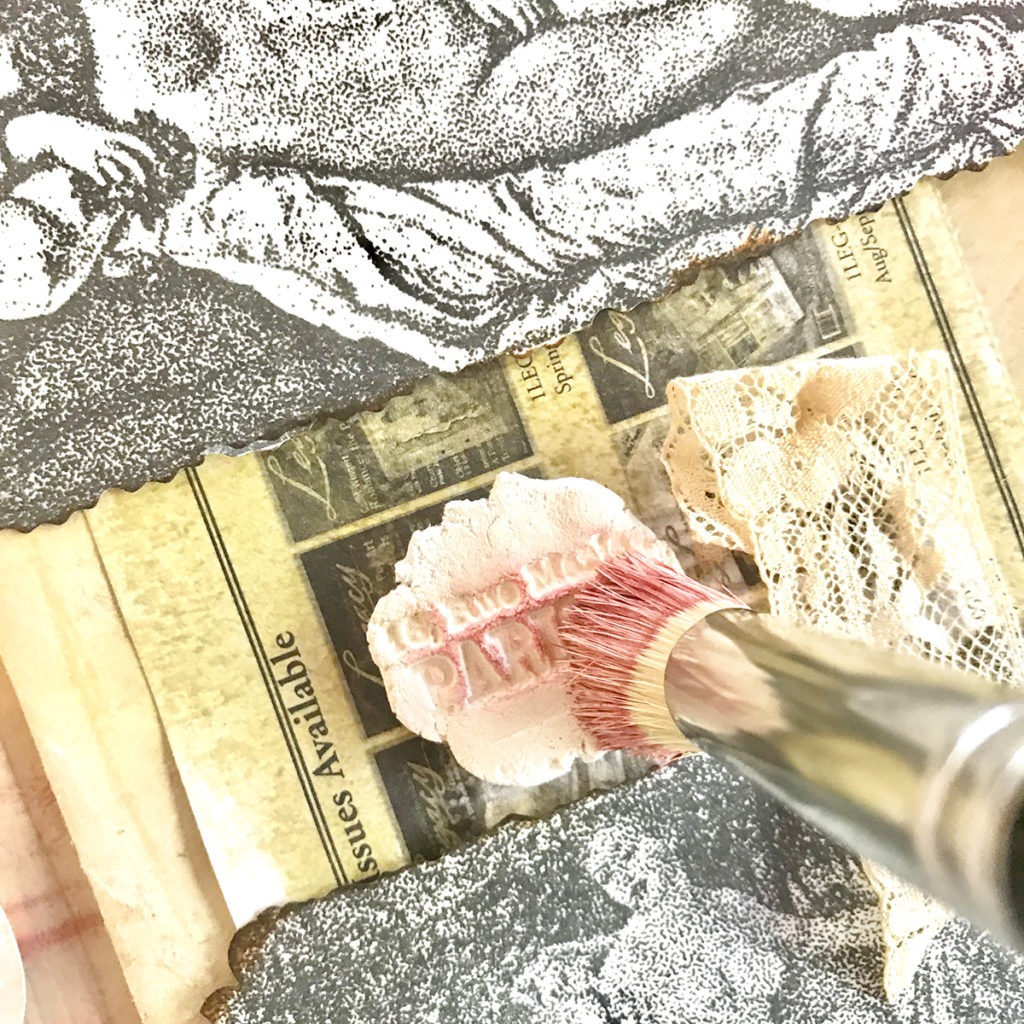 Repurposed Window Envelope
I use another security envelope in a different way here. I use the window to accent the word 'PARIS' that I designed on my computer. You can use this one from TGF if you don't want to create your own. The patterning of this design is just luscious. It inspired me to make a simple black and white page. (Oh so French sophisticated.) I trim and fold the envelope to the patterned side and affix the word PARIS with washi tape so it appears in the window when folded up. I left the word Discover exposed because I loved it so much in this design. 🙂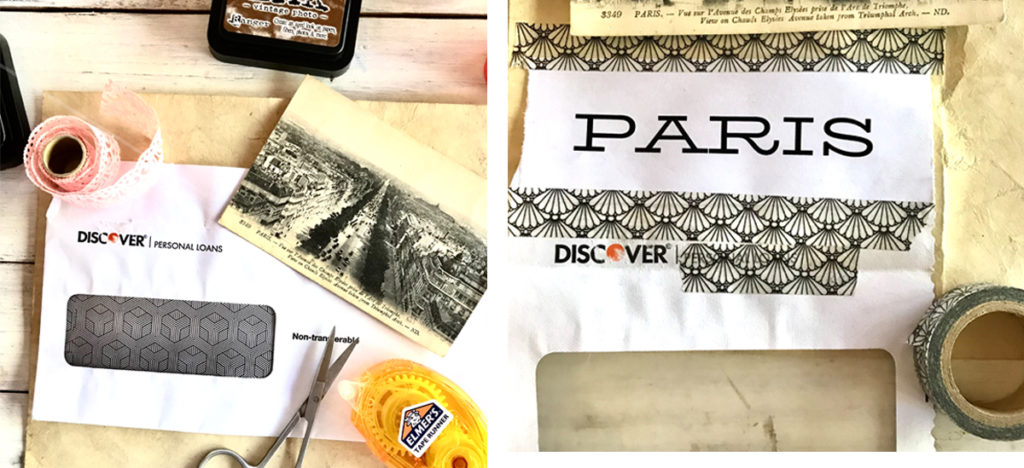 Here you can see I added an antique Champs Elysées postcard from my stash with a white paperclip. I could not believe I actually found the same card online for you!! It is pricey, but so cool. It even has French handwriting on the reverse, just like mine!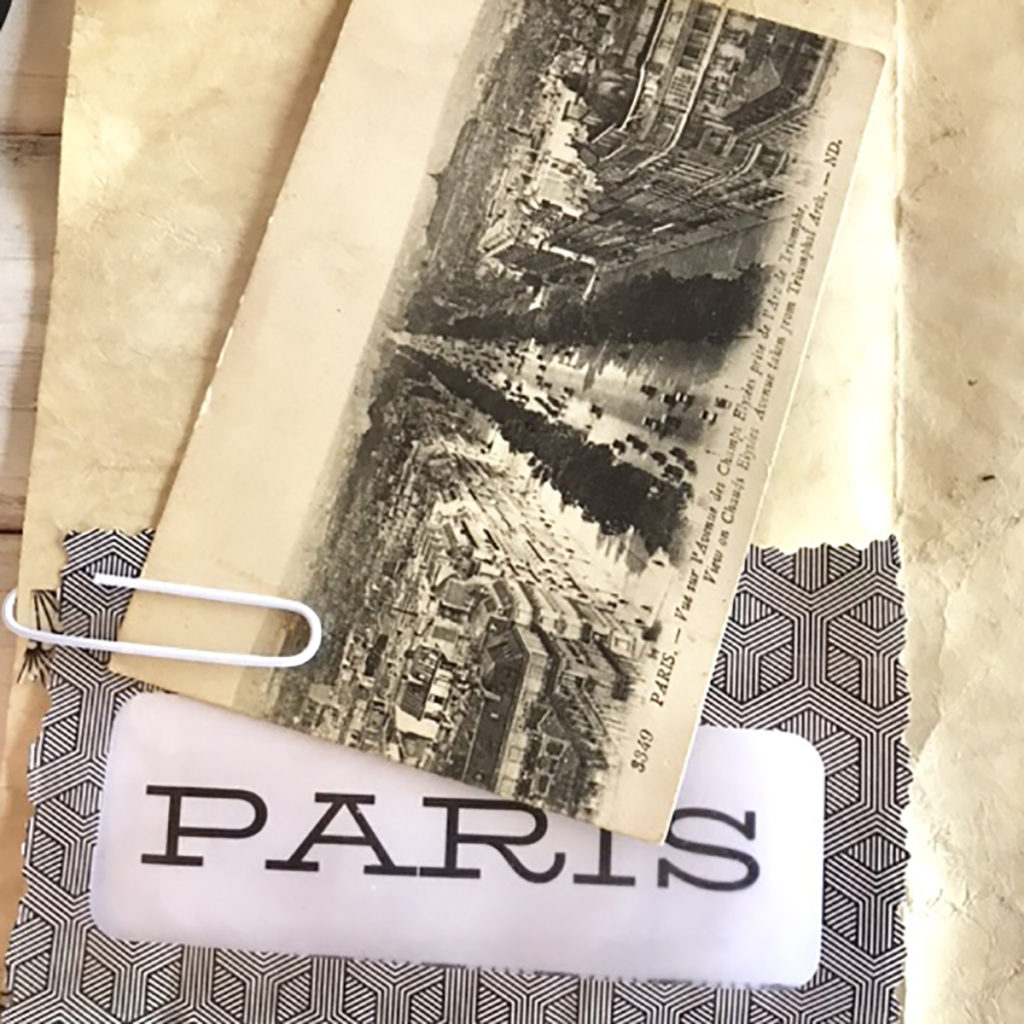 Spectrum Noir Disguise
As you can see, some of the disguises are not so over the top obliterating what is beneath. I love using Spectrum Noir markers in bookmaking projects. The colors are so juicy. They are alcohol blending markers, plus the pens are refillable and the barrels are ergonomic and hexagonal shaped so they won't roll around your work area. TIP: Here I have used a pink one in three ways – to scribble over a stamped image, to edge a Graphics Fairy image, and to faux dye a piece of antique, tea stained lace.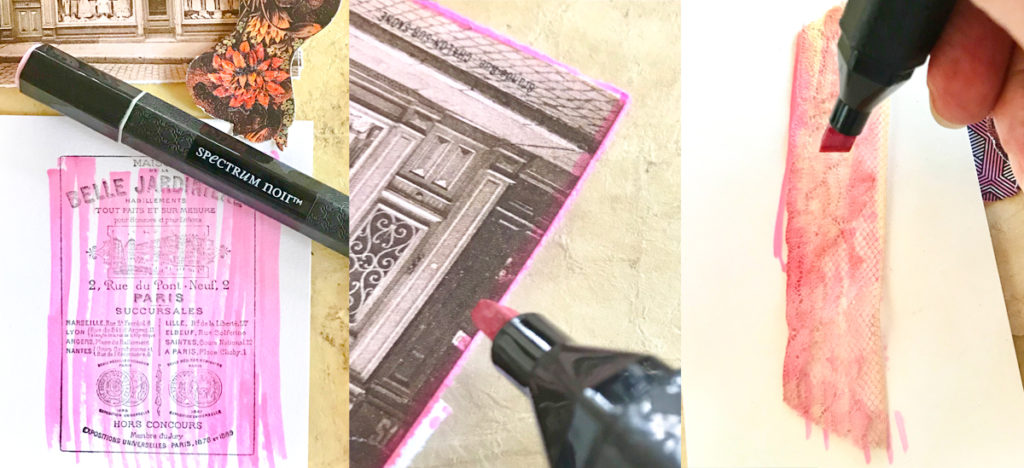 I also used it to accentuate the pattern in a torn bit of security envelope. TIP: I like to carry the same colors, patterns, etc. throughout the book in random places. It gives a continuity and cohesiveness to the book to see things three or more times. 😉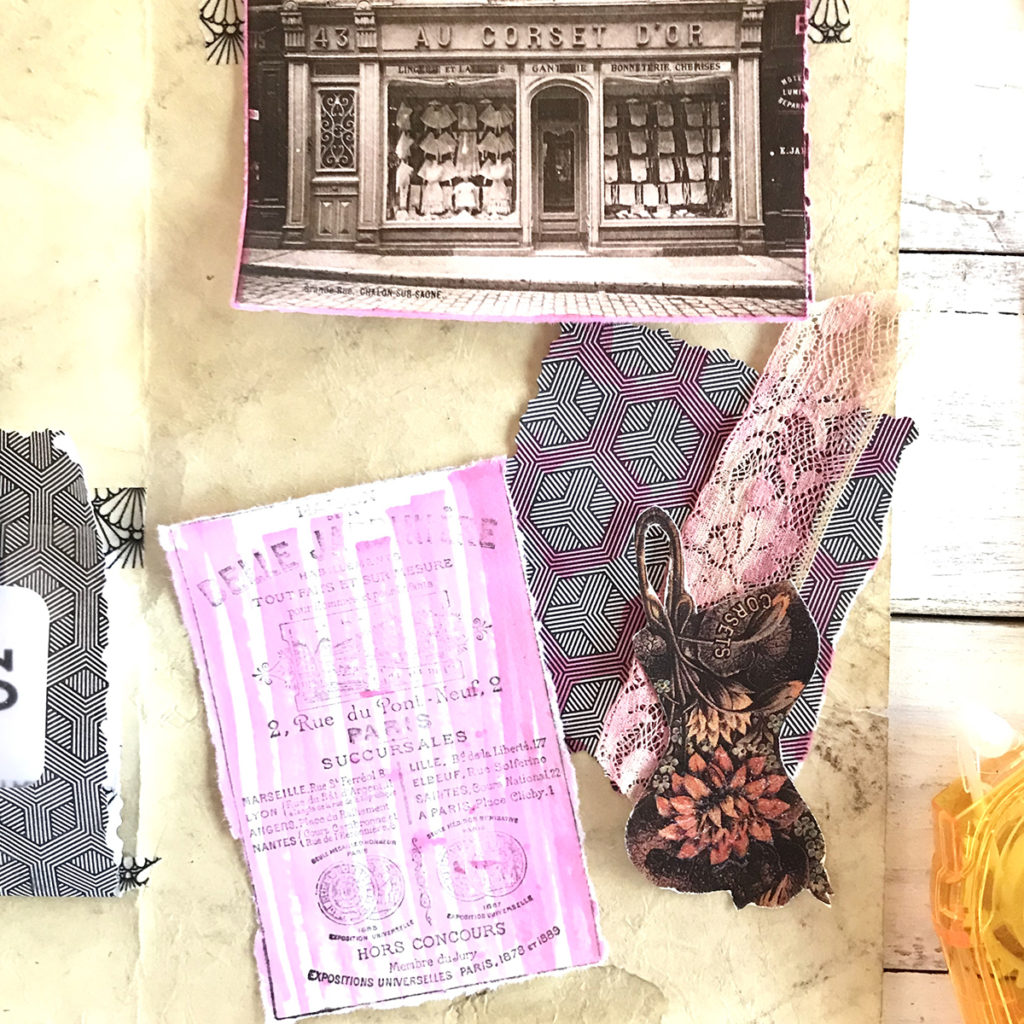 Repurposed Packaging Disguise
My daughter made some cards last weekend and I grabbed the packaging to use in the junk journal.  Perfect!! It has a lovely arm that folds over the backing page with cool inverse edges. It is heavy cardstock, so it is perfect for altering and disguising.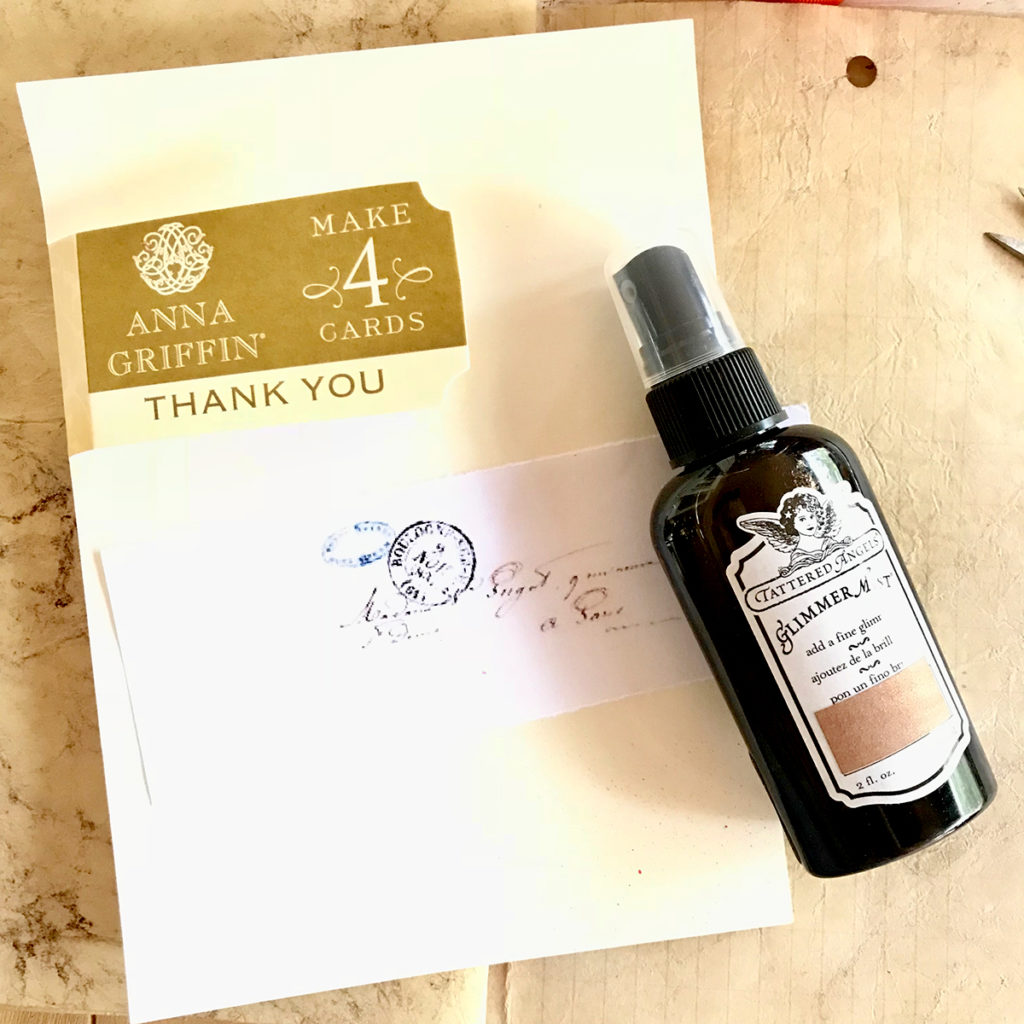 I used Tattered Angels Glimmer Mist in Bronze, Key Lime Pie, and Tropical Pink to age the paper elements before attaching them to the packaging. TIP: Be sure to give these a good shake to mix them before spraying. This is another simple, but effective use for something that would end up in the recycle bin.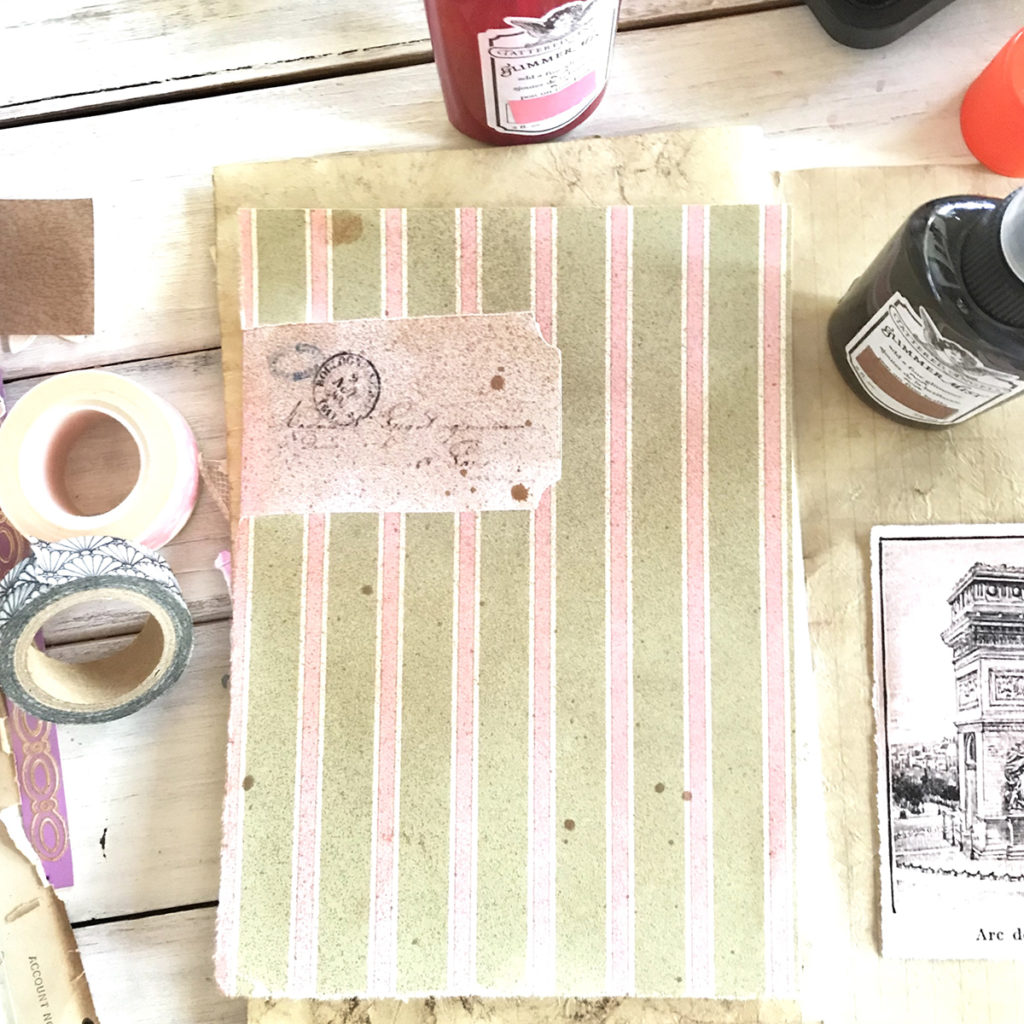 Potions and Paints Disguise
I used other potions and paints to disguise some black and white typography images. The Folk Art Watercolor Paint (Opera color) is simply my favorite new product. It is sheer and comes in yummy colors. Glimmer Mist is just a cool product that you spray on paper like we did above. It drips and mists and makes any aging project quick and easy. Paint Dabbers (Raspberry Sorbet) are fun to use. TIP: I dab them on an index card and then use a brush to smooth them on the surface, which defeats the purpose I suppose. Just have fun colorizing your black and white images!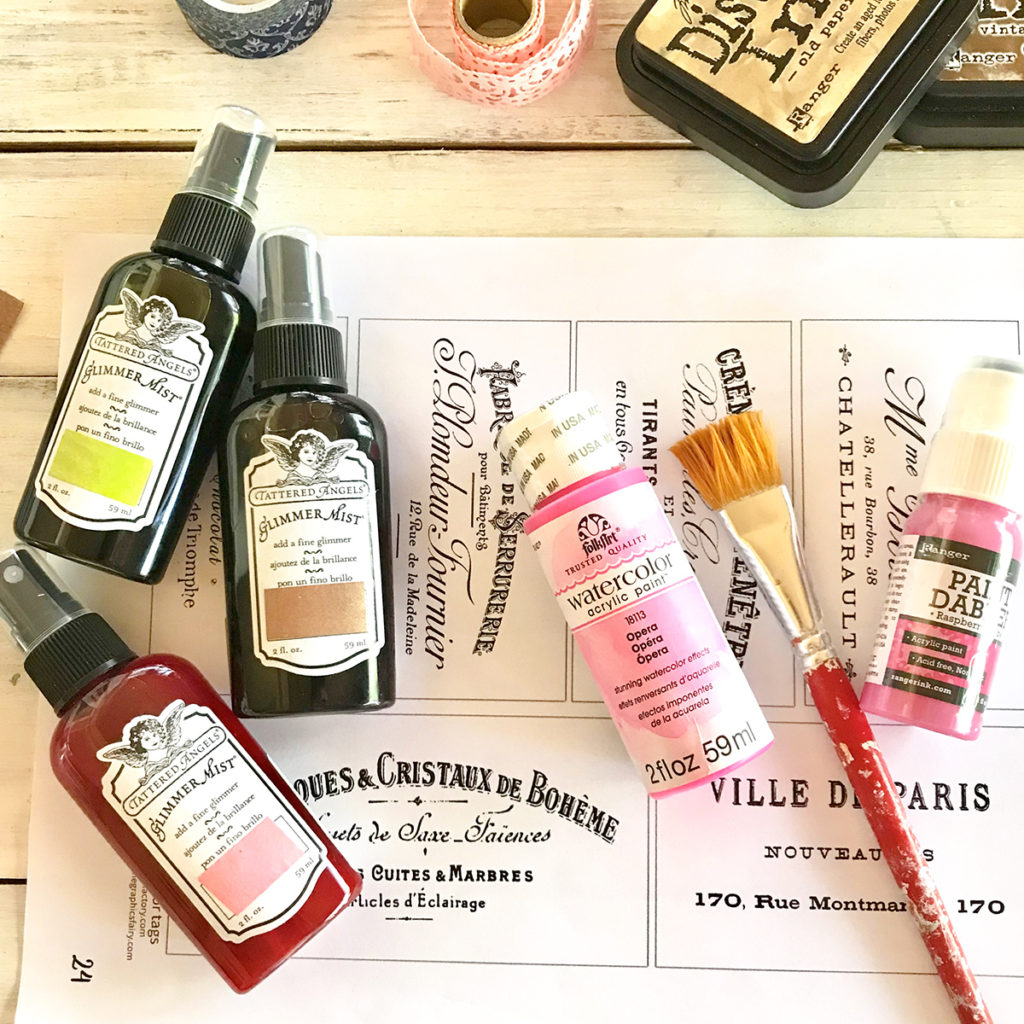 Here are the cards when completed.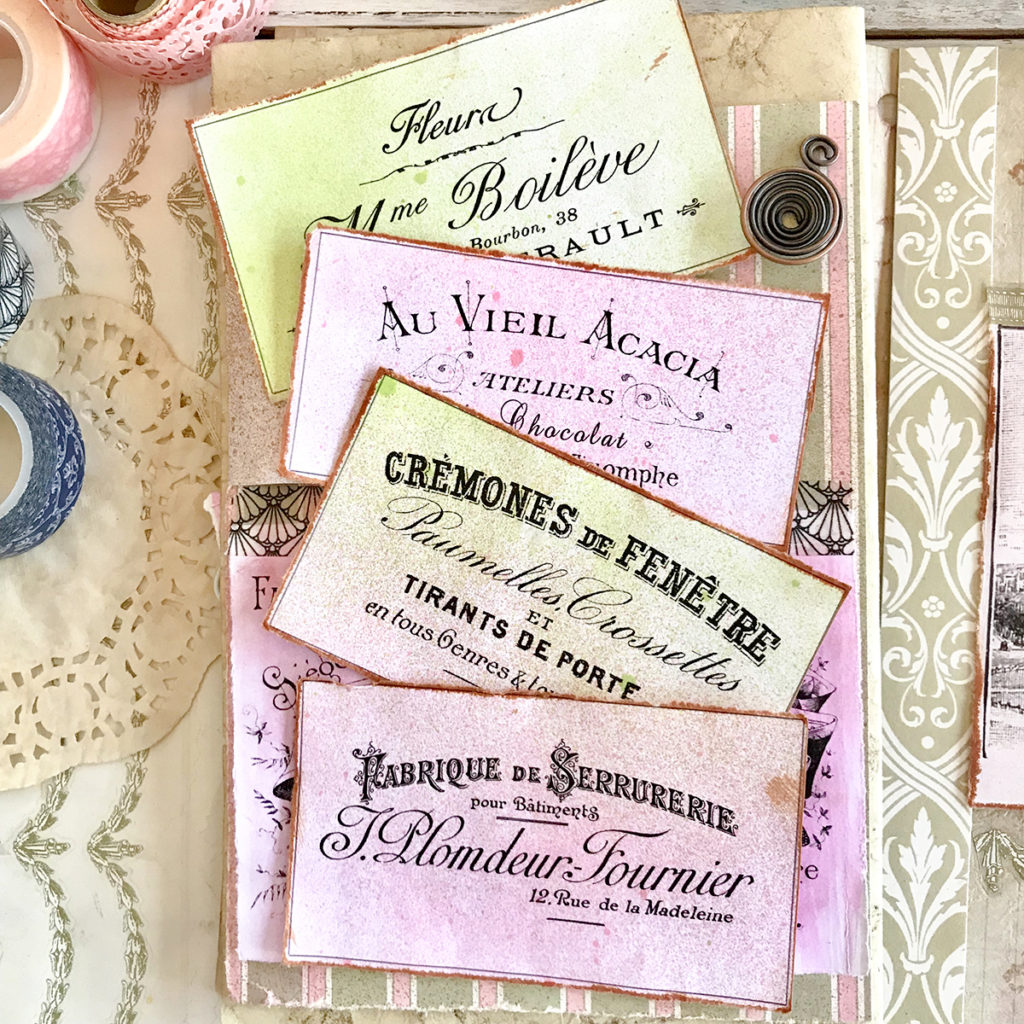 Gesso Disguise
I use gesso often to white out certain things or create a space for writing. I wrote a comprehensive guide to gesso if you want to find out all about the useful art material. TIP: Here I use scraps of paper to mask an area as I paint. I don't bother to attach them. I just want some guides for shape. It works perfectly. 😉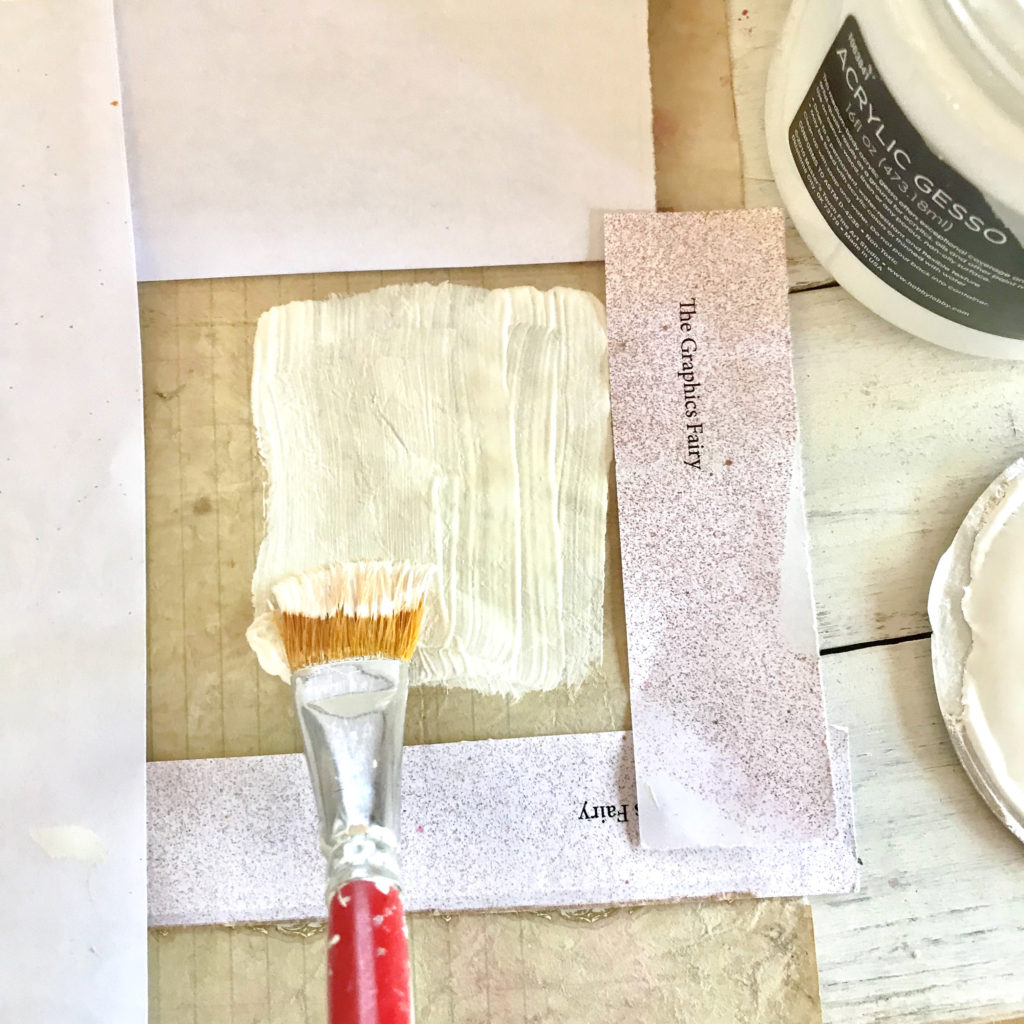 It creates a perfect space for journaling.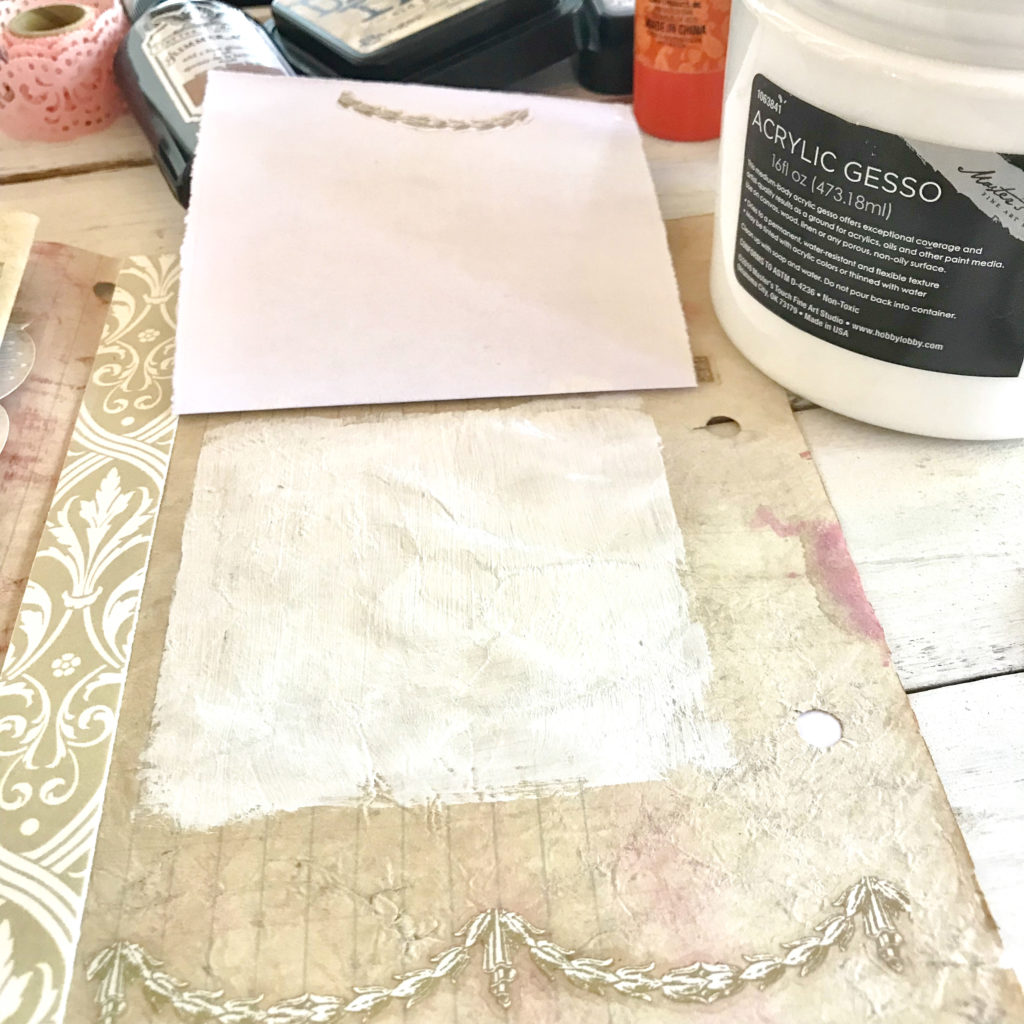 THE STORY
PAGE 17 – The first page of the second signature is stunning to me. Olivia is ready to begin exploring Paris. She collected this little Tombes et Monuments brochure from the concierge in her hotel and slipped it in the pocket of her journal. The pocket is a piece of double-sided scrapbook cardstock from my stash, folded at an angle and glued on the page as a pocket. The pink Paris sticker is a pop of color along with the stenciled handwriting.

PAGES 18 and 19 – Of course one must visit The Eiffel Tower first. Olivia did just that. Next it was on to the Louvre. I stamped art with these Toybox rubber stamps of real paintings that would hang in the Louvre. I don't think you can find these stamps now but you can tear photos from magazines to create this. And the little pink address stamp and piece of antique lace just adds something special to the design.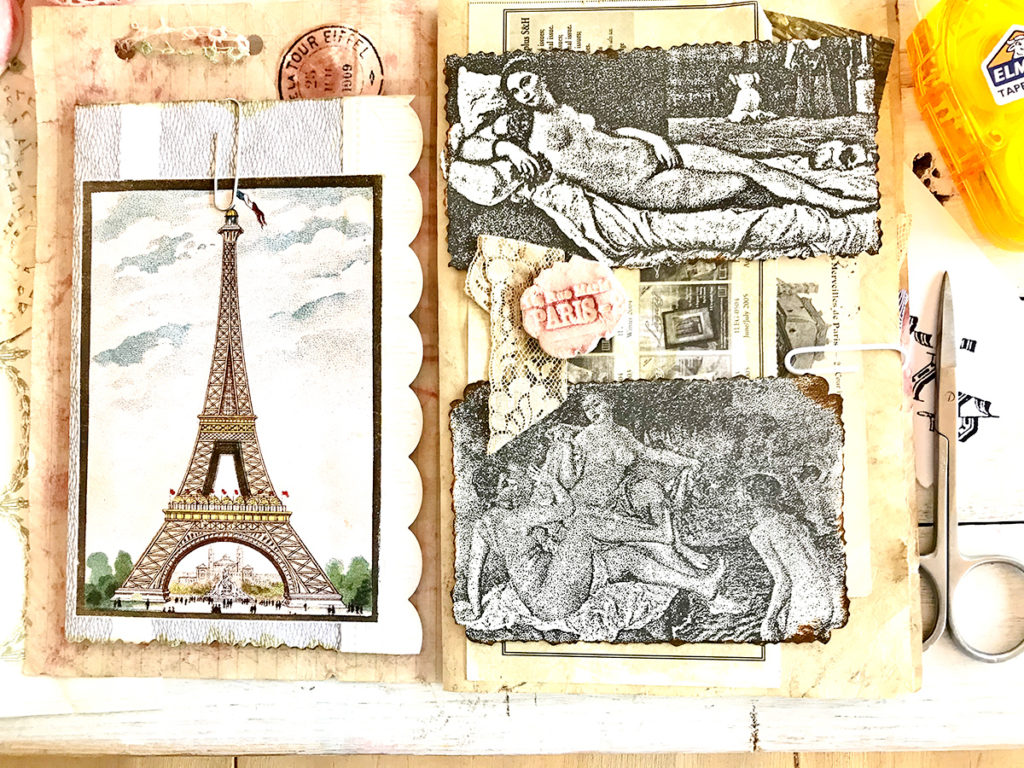 Creating a Postcard. This is a no-brainer from the last lesson. The Graphics Fairy French postcards glued to Carte Postale backs. Et voilà!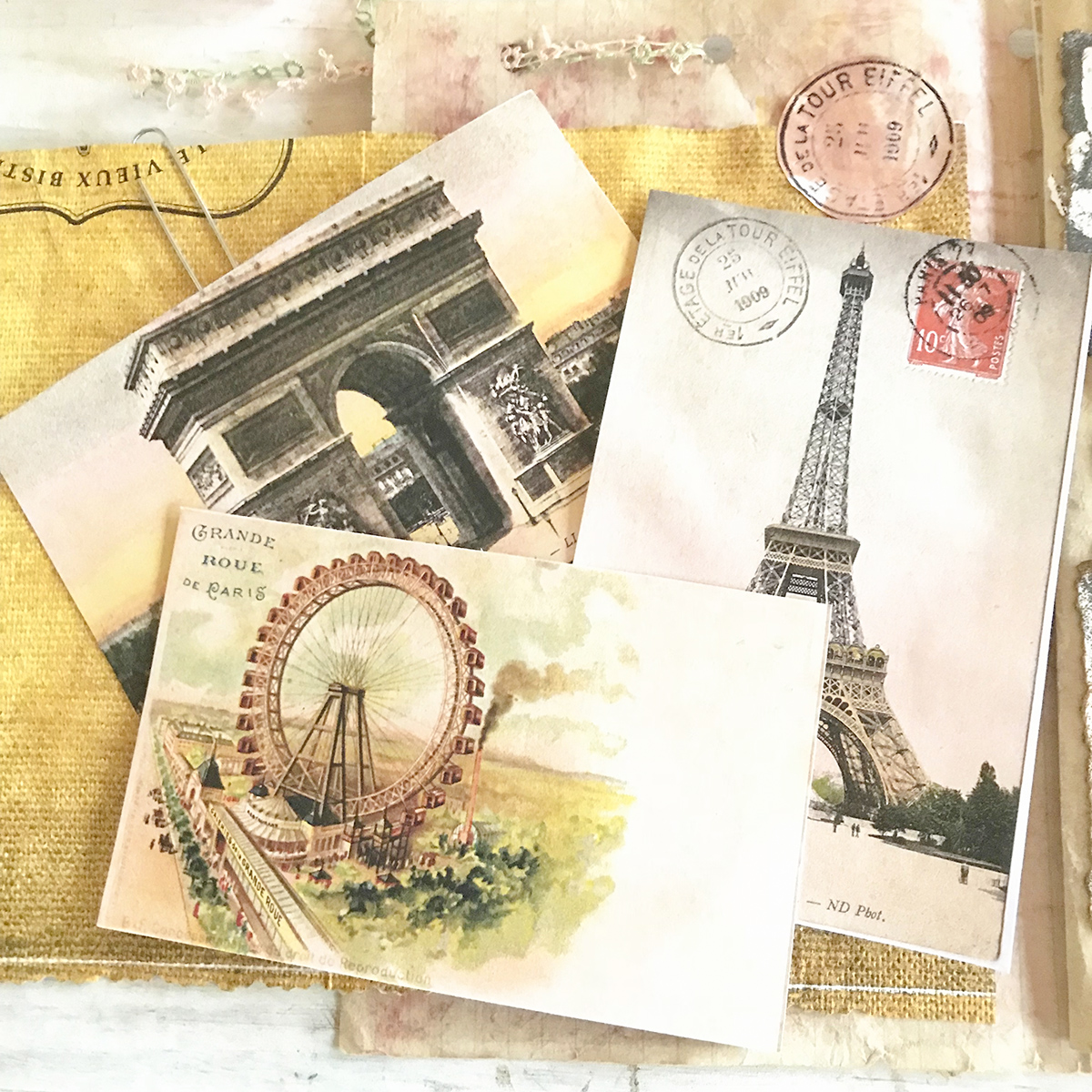 French (??) Paintings, created with out of circulation rubber stamps, grace this page that has a long pocket to hold an antique Les Merveilles de Paris /Louvre postcard (similar to mine) and a bookmark of a Degas painting.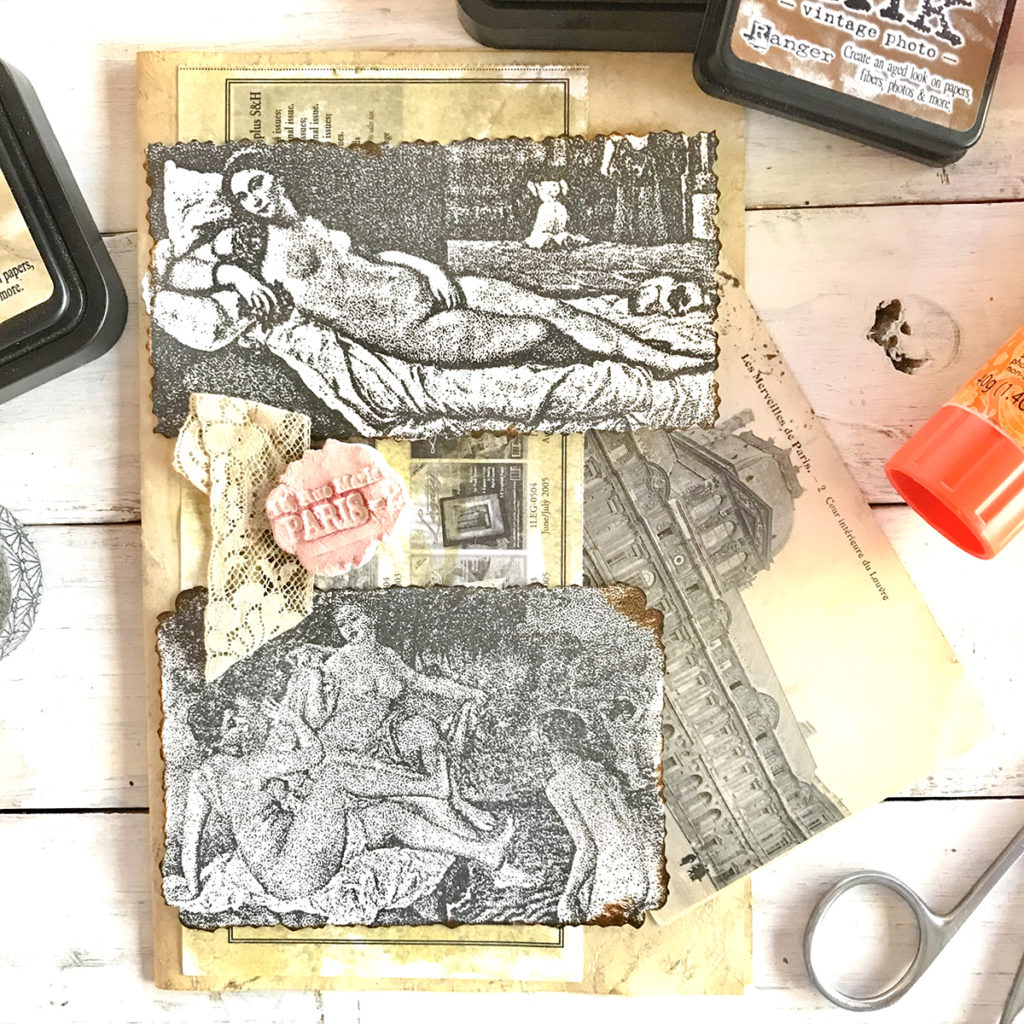 PAGES 20 and 29 – Sometimes you want a quiet page in a journal. Page 20 is one of those. It is black and white with sepia to match the antique postcard of the l'Avenue des Champs Elysées. Oh the shopping that will happen here!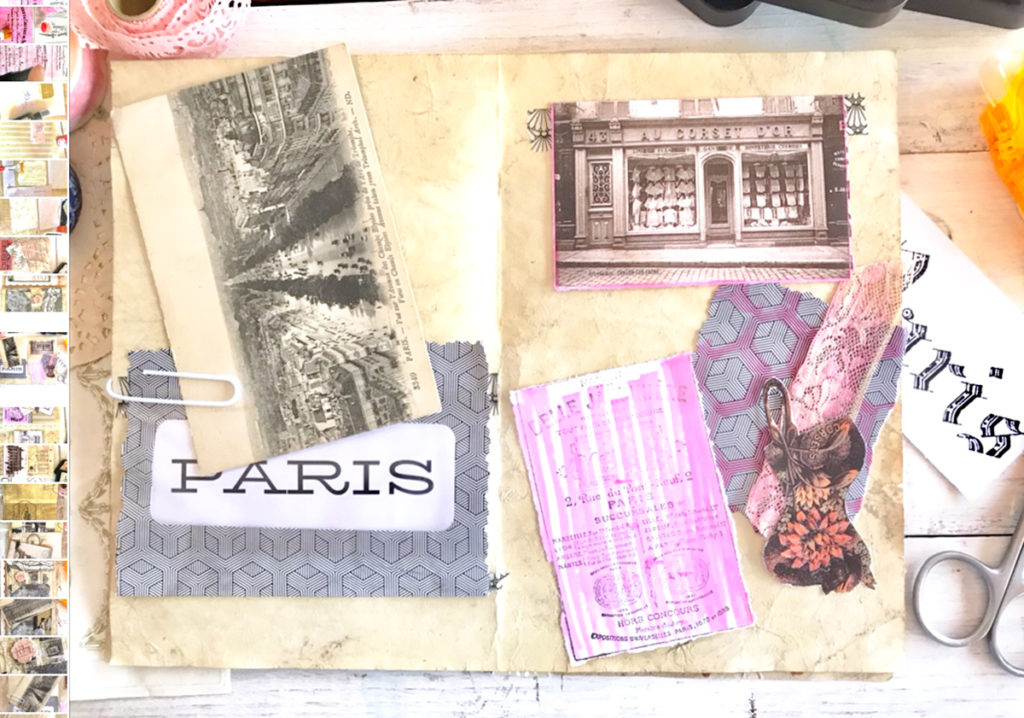 The back of the postcard is so sweet with lovely French handwriting.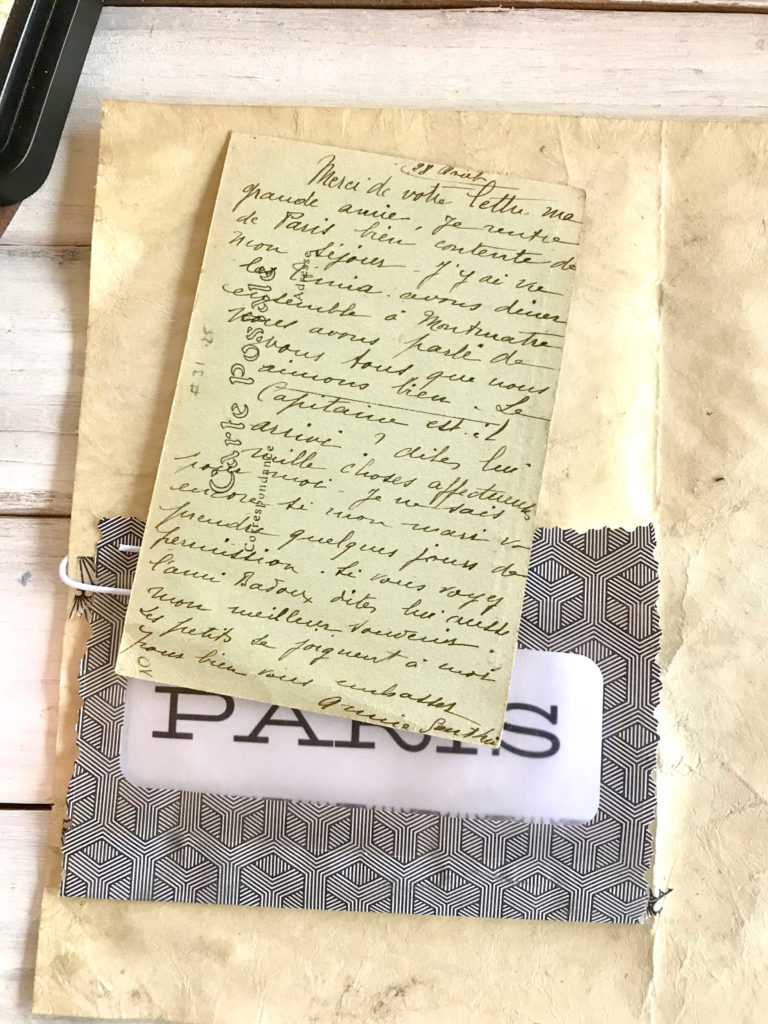 And Olivia happened into a corset store where she was taken with the beautiful handwork of the under garments. There is space for journaling under the photo of the store. The page is decorated with a fancy corset from my stash and the bit of colorized vintage lace. You might like this way cool silver corset embellishment (I may just order it) on your page. 😉 The stamped image is a vintage stamp from my collection. I am sure TGF has some corsets that will work for you!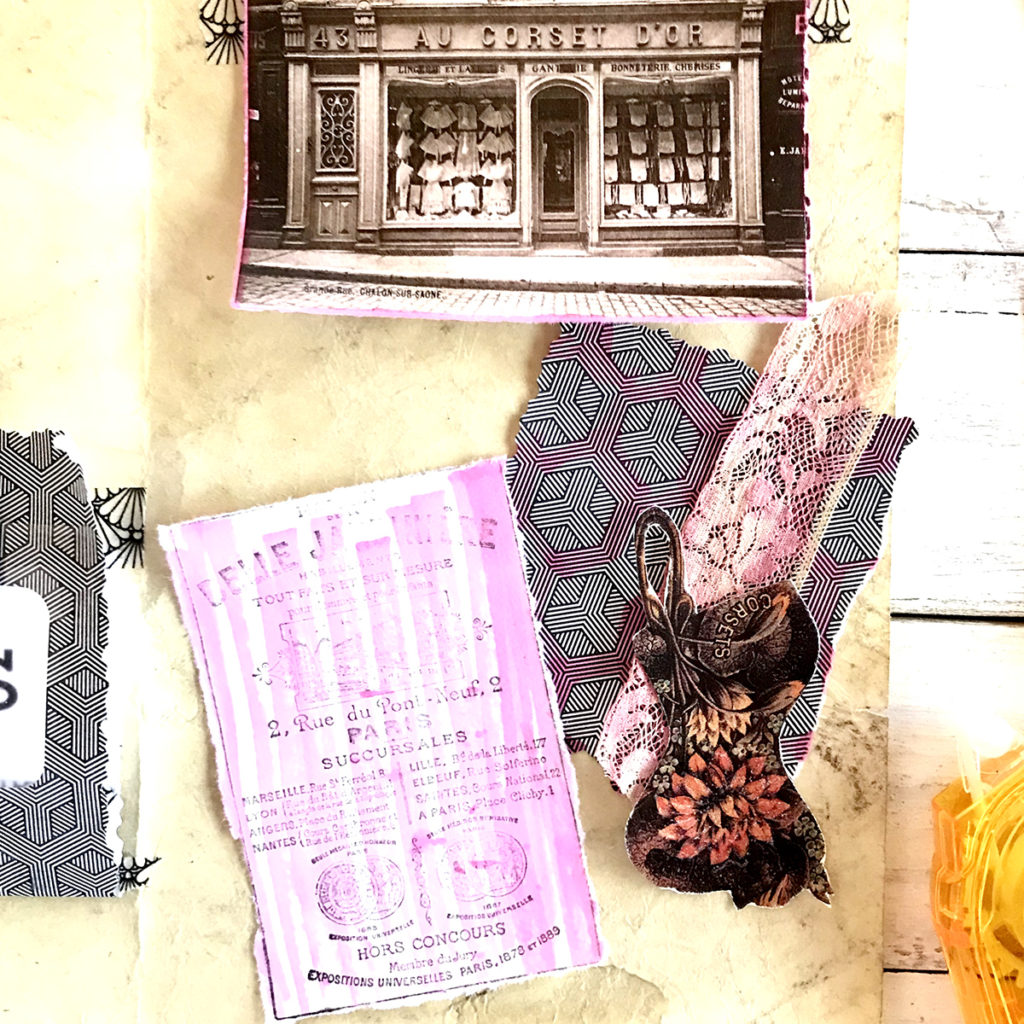 PAGE 30 and 31 – Cards from candy stores are attached to the little folding flap that features a postage mark and some writing. Olivia has a thing for fine chocolate! Next we are off to the Arc de Triomphe de l'Etoile. There is room for journaling under the Arc image.
PAGE 32 – Olivia loves the Opera and enjoyed several performances while in Paris. The Opera House postcard pocket holds a journaling card made with tea stained cardstock that has been embossed. It is held onto a snippet of music with a number brad and a tiny bit of pink lace from my stash.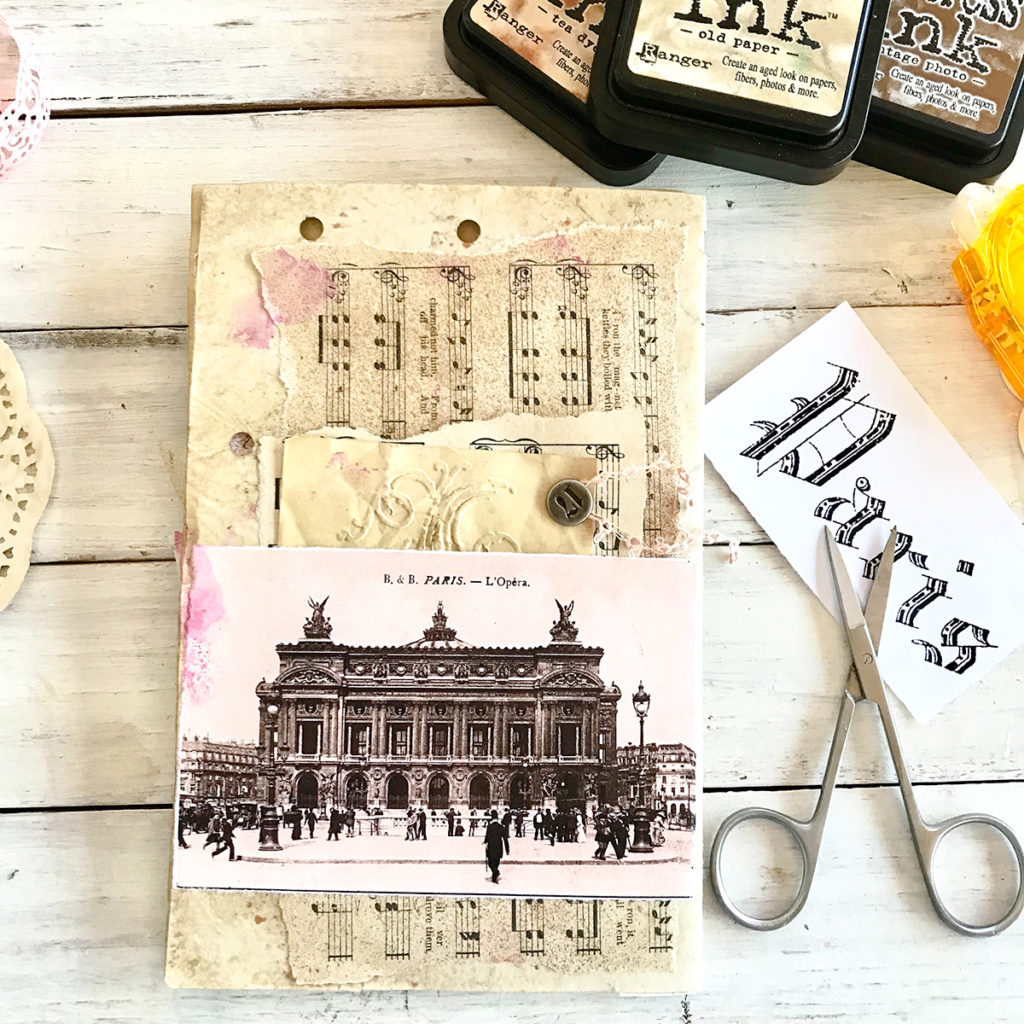 It was a good walkabout this week through some new techniques, tips, and tricks to help you create your junk journal. It should take just a few hours to complete the pages. We have two weeks until our Pages Layout 4 tutorial goes live, so you have plenty of time to complete your Junk Journal Page Layouts. It has been a delightful Summer so far for me. I hope it has been so for you as well. Here is your assignment.
ASSIGNMENT
Complete eight pages in your second signature using the above techniques. You will have four single pages, which will be Pages 17, 20, 29, and 32, and two, two-page spreads, which will be Pages 18 and 19, 30 and 31. You can create your own pages using your imagination or you can duplicate mine. Remember there is NO ONE WAY or RIGHT WAY!!! Just have fun!
Optional: Create your own story if you like.
Optional: Submit some of your pages here. 
In the next tutorial we will be machine sewing, hand stitching, and other processes as we continue exploring the streets of Paris. Please join me in the next part of this series for Page Layouts 4.
I hope you enjoyed this Mixed Media Junket Journal Tutorial! I also teach Photoshop Elements tutorials over on The Graphics Fairy Premium Membership site. You can find even more of my art, DIYs, and whimsical shenanigans on Cre8tive Compass Magazine, Cre8tiva (just launched), and loads of my digital art on Instagram.
Bonjour, May joy be with you all,