Our 'Vintage French Junk Journal'  Journey through the streets of Paris continues with new page layouts and easy techniques. In this lesson, we will be exploring junk journal sown elements as we complete our second signature. If you missed the first tutorials in this junk journaling series, I recommend that you work through them before attempting this tutorial. You can find them here –>>> The Junk Journaling Introductory Tutorial,  –>>>Page Layouts 1, –>>>Page Layouts 2, and –>>>Page Layouts 3.
This post may contain affiliate links which won't change your price but will share some commission, you can find our
privacy policy here
.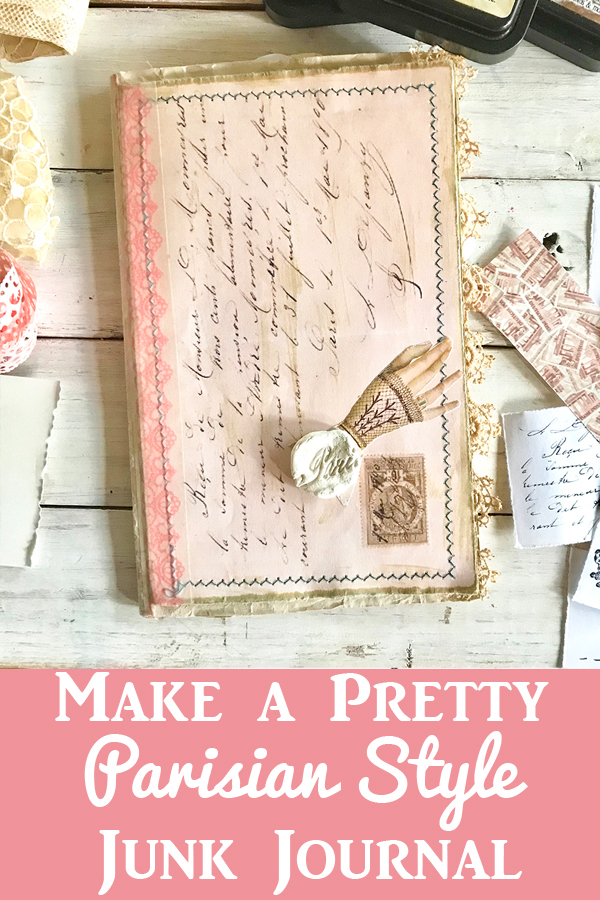 Explorers of Junk Journaling Mixed Media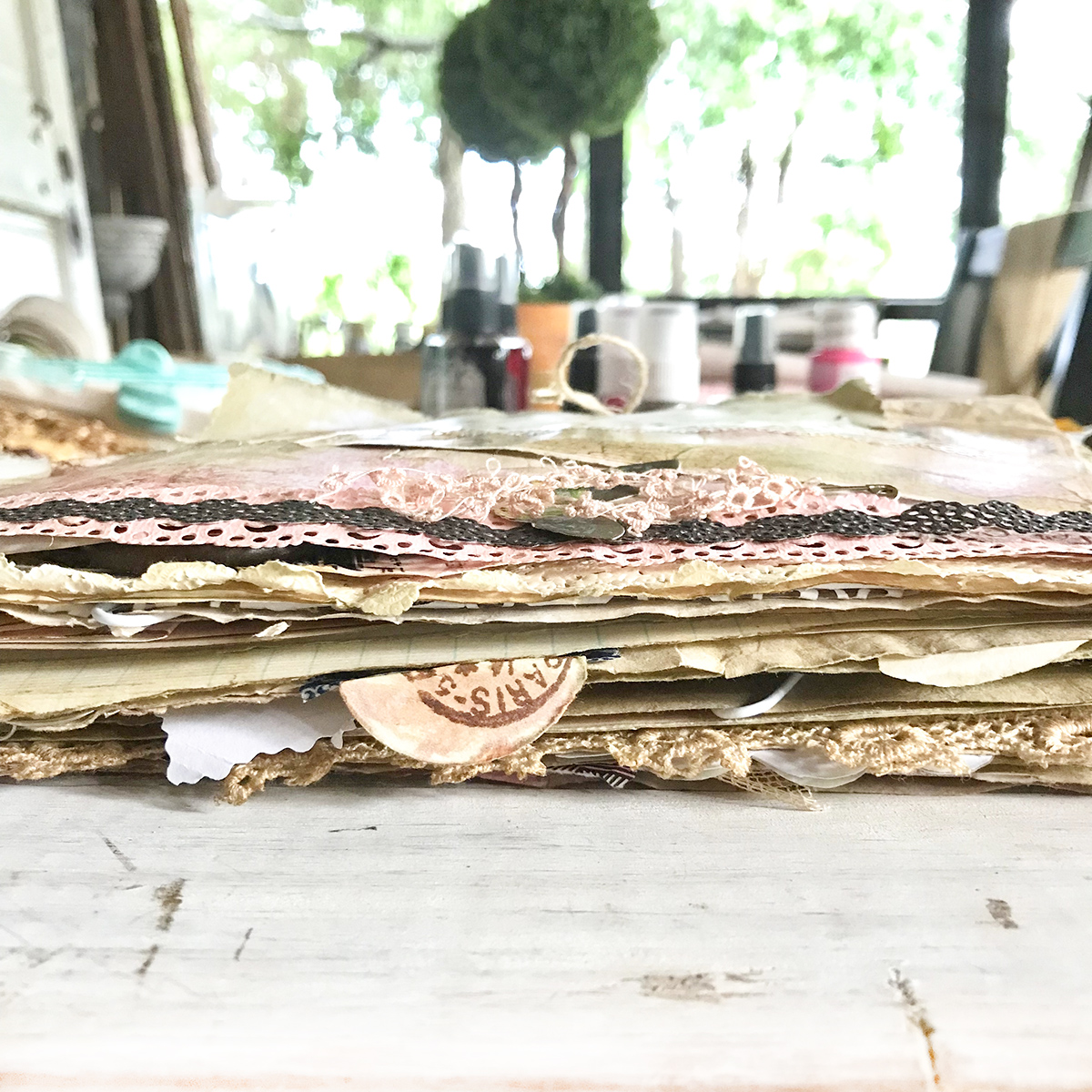 For me, Mixed Media is a truly explorative process that pairs perfectly with junk journal making. We learn to make use of layers and layers of utilitarian found papers, ephemera, fabrics, bits and bobs, etc. to create visually captivating pages, forms, and objects from our ever splendid imaginations. We print, color, collage, stamp, stencil, and stitch to transform the ordinary into the delightfully extraordinary. I love to see new surfaces and artfulness emerge as a junk journal unfolds before my eyes.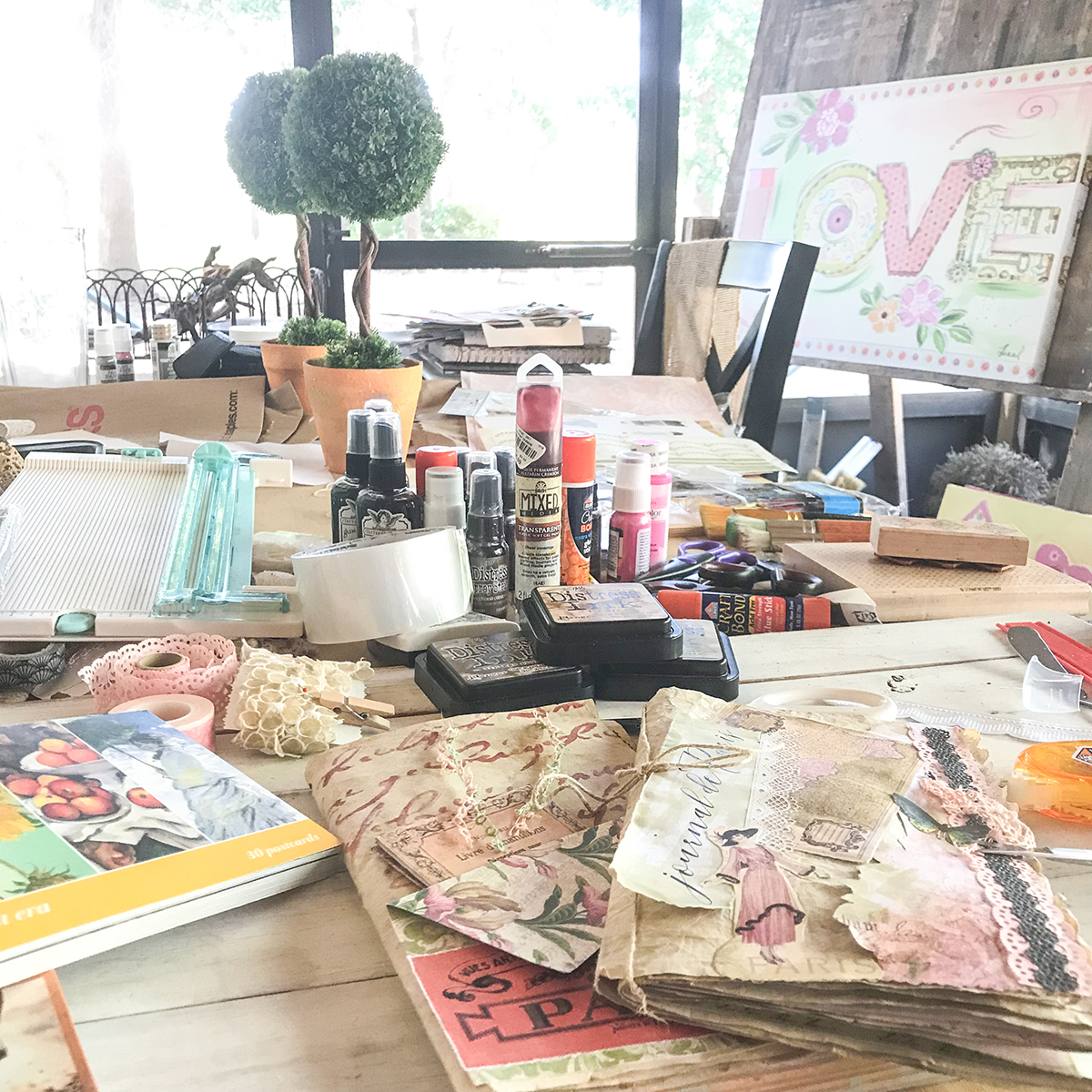 Techniques in this tutorial:
This week we take to the sewing machine (hand sewing if you do not have a machine). If you prefer to glue the images and add faux stitches with paint or pen–that is embraced as well. We will learn all of these below. Plus, we will wreck our journal pages as we trim them very small to create what I call my Hide and Go Seek Layers technique.
Machine Stitching
Hand Stitching
Faux Stitching
Hide and Go Seek Layers
Packing Tape Transfer
BASIC SUPPLIES
*This post contains affiliate links for your convenience
In this tutorial we will be using the Basic Supplies from Page Layouts 1, plus found objects from our stash and threads. I use Distress Ink Old Paper for aging pages and edges of almost everything.
The Graphics Fairy images I used:
I also used two fashions from my own stash and a postcard of a Degas ballerina similar to these.
I use old stickers, paper from my stash, lace edging and ribbon, rubber stamps, stencils, and paints and potions throughout the pages. In this session, I use sewing thread, embroidery thread, and pens to create stitches that add interest and texture to the pages. Create yours with thoughtfulness. 🙂 Please feel free to use different images that suit your style more closely. Anything goes in this series.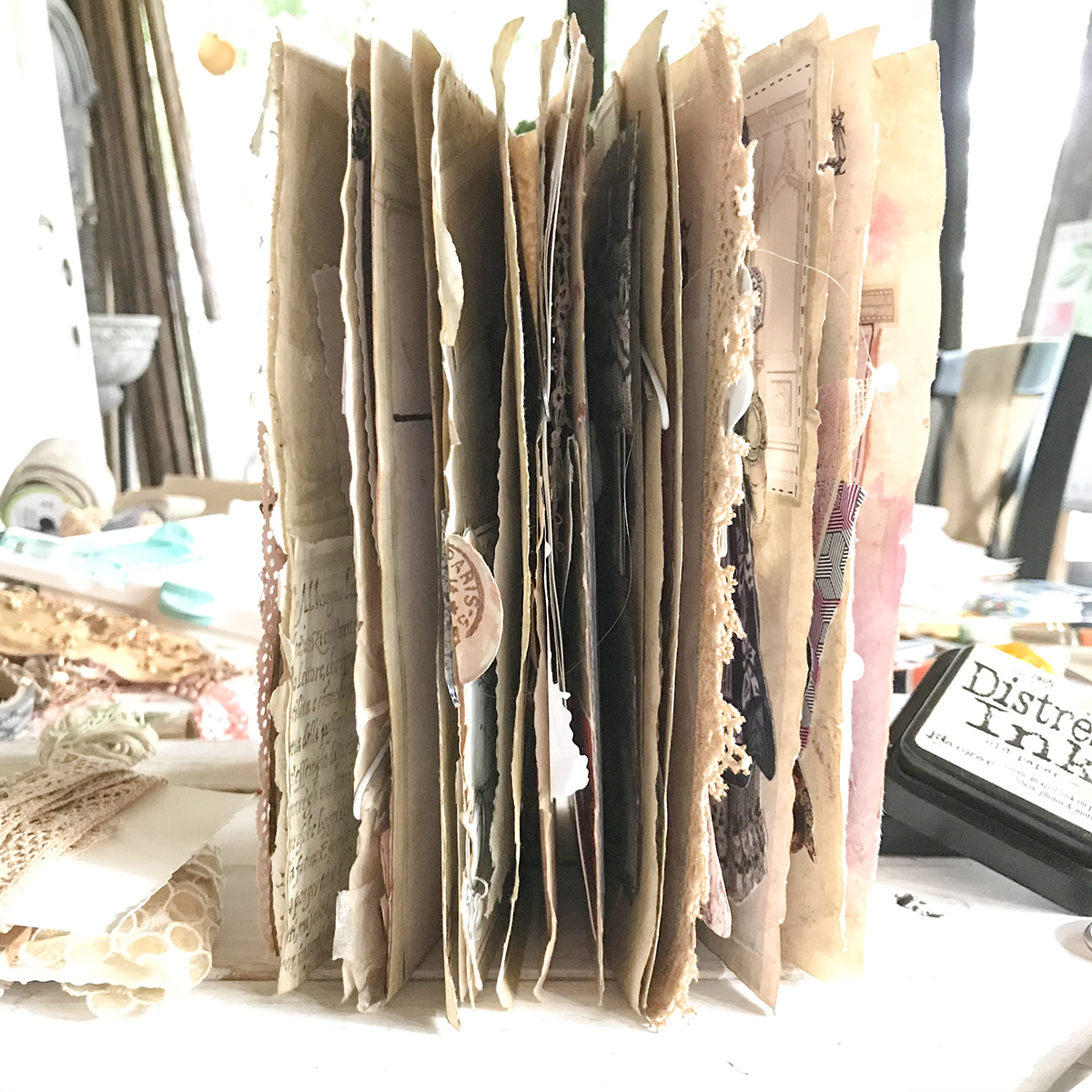 Machine Stitching
Oh la la…this is so much fun! Do not worry if you are not a seamstress…we are not making garments here. If you can thread the needle (my most difficult task) and sew a straight or zig zag line, you are skilled enough to complete these pages. You will see my stitches are anything but perfect and straight. I have learned to embrace my casual sewing skills. 😉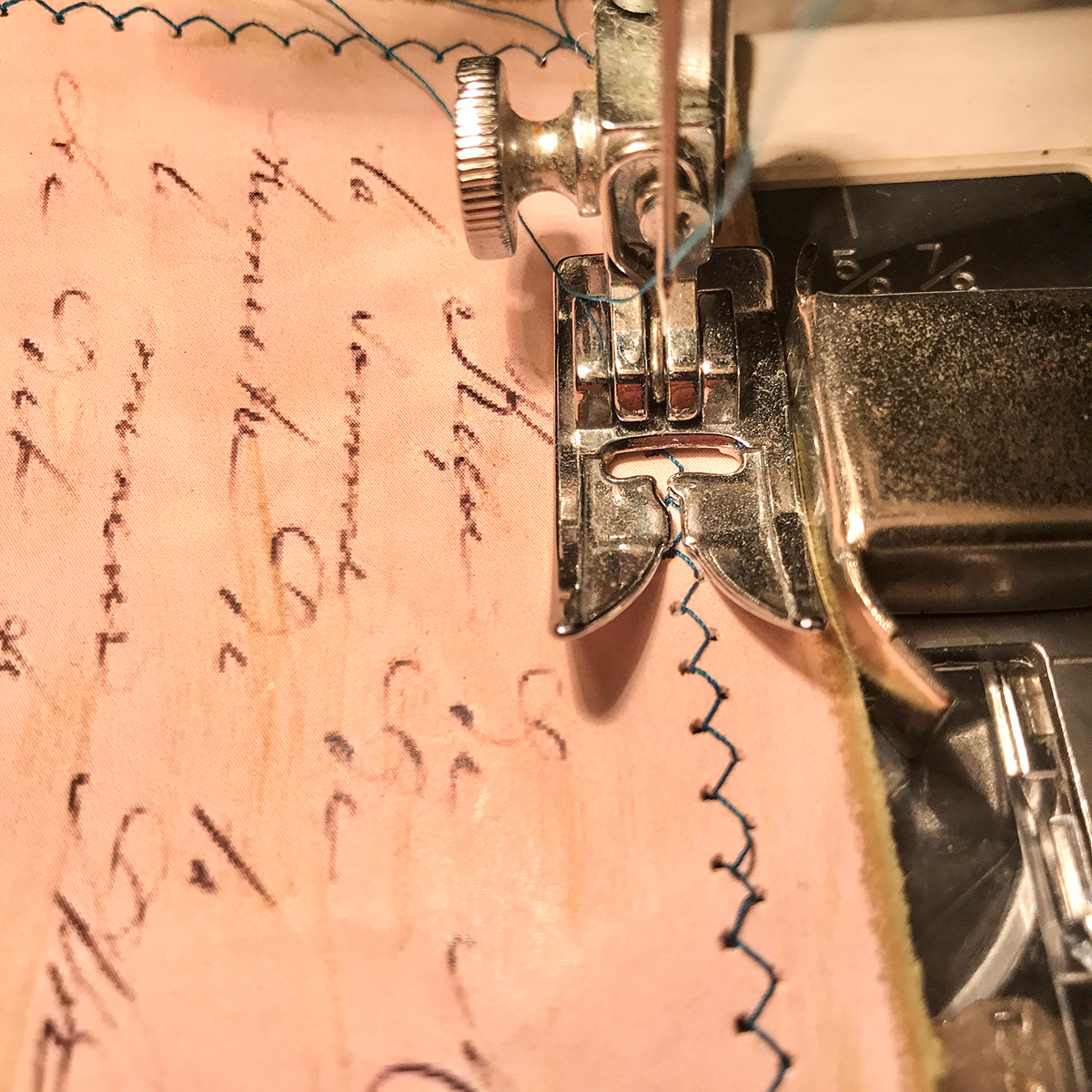 I am using a dark teal thread for my machine stitching so you can see it in the photos. You can use any color you like. TIP: You need to think about what goes on the pages with a little forethought and planning before you take to the machine. Stitching will show on both sides of the page! See front and back of page below. I stitched the pocket onto page 22. If I have a smaller element on one side of the page like I do on page 22, I usually sew those first so the stitches will fall inside or be covered by the elements on the opposite side page 21. TIP: Be cognizant of the pockets you want to create as you would not want to sew the top closed. 😉
TIP: I glued scrap paper to the edges of the Menu paper back to stabilize it for sewing. Allow the glue t dry before sewing or your needle will become gunky!!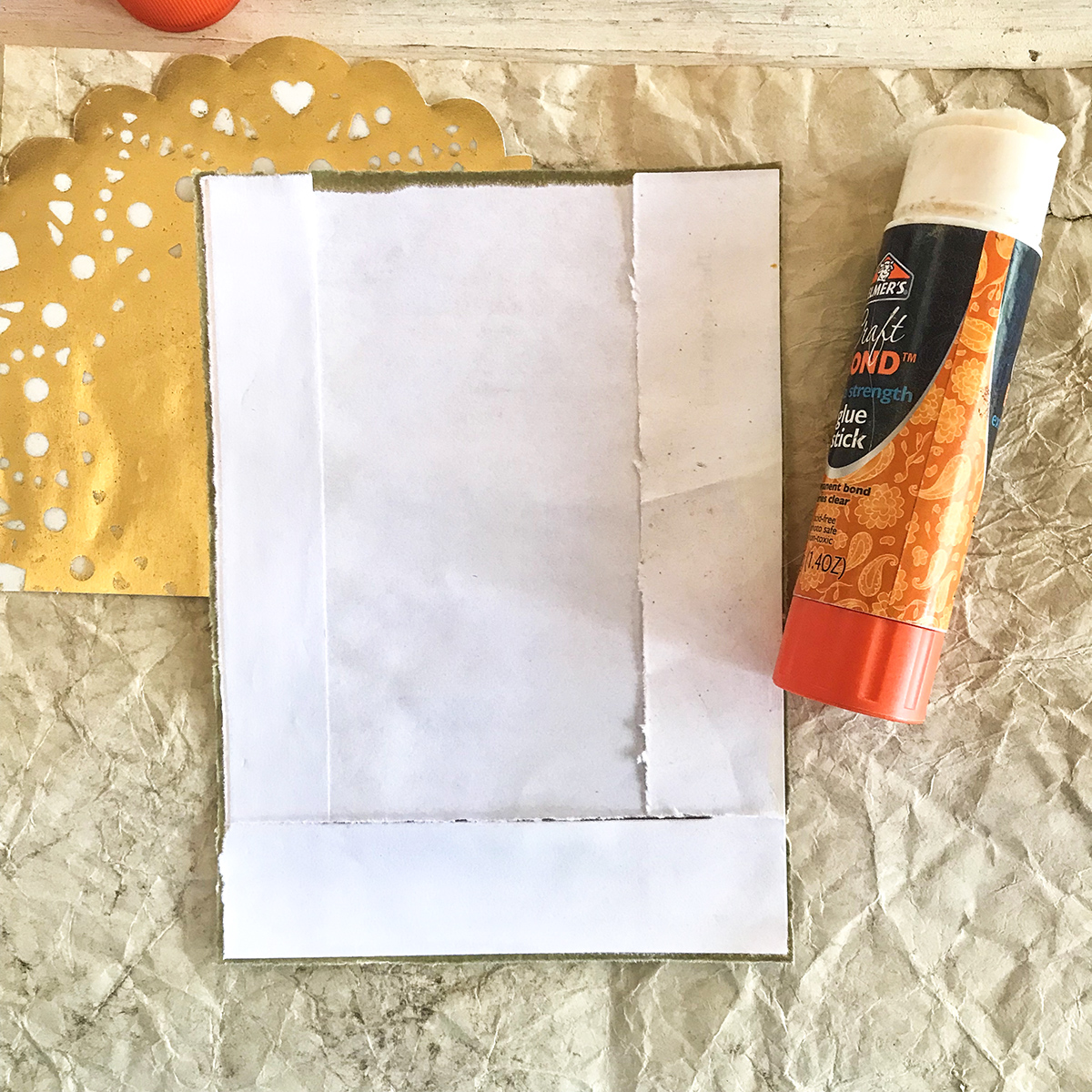 Below is my practice piece of paper. Always practice!! I wanted to especially see if it tears, or how wide my zig zag stitch is. I always back stitch at the beginning and the end to ensure that the stitches do not unravel.
TIP: When turning a corner while sewing, leave the needle in the paper and raise the foot. That allows you to be able to spin the paper around the needle. I also used large paper clips instead of straight pins to keep the paper in place as I sewed. Pretty ingenious of me, right?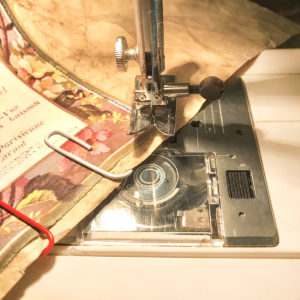 On page 21, I glued a piece of scrapbook paper to the back of the letter for stability and beauty.
I stitched the zig zag around the piece after the glue dried. Then I attached it to the page with washi tape, creating a hinge. I love the tiny hand.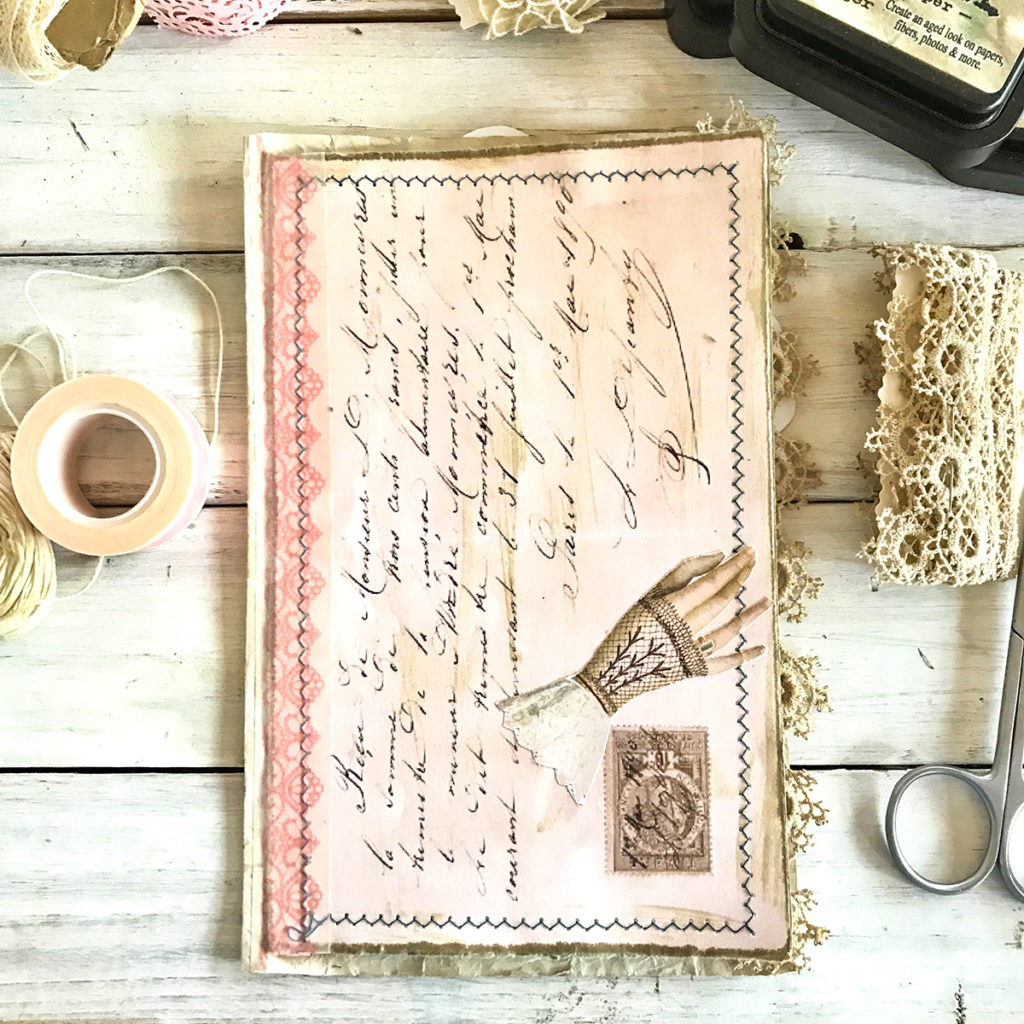 The back of this page: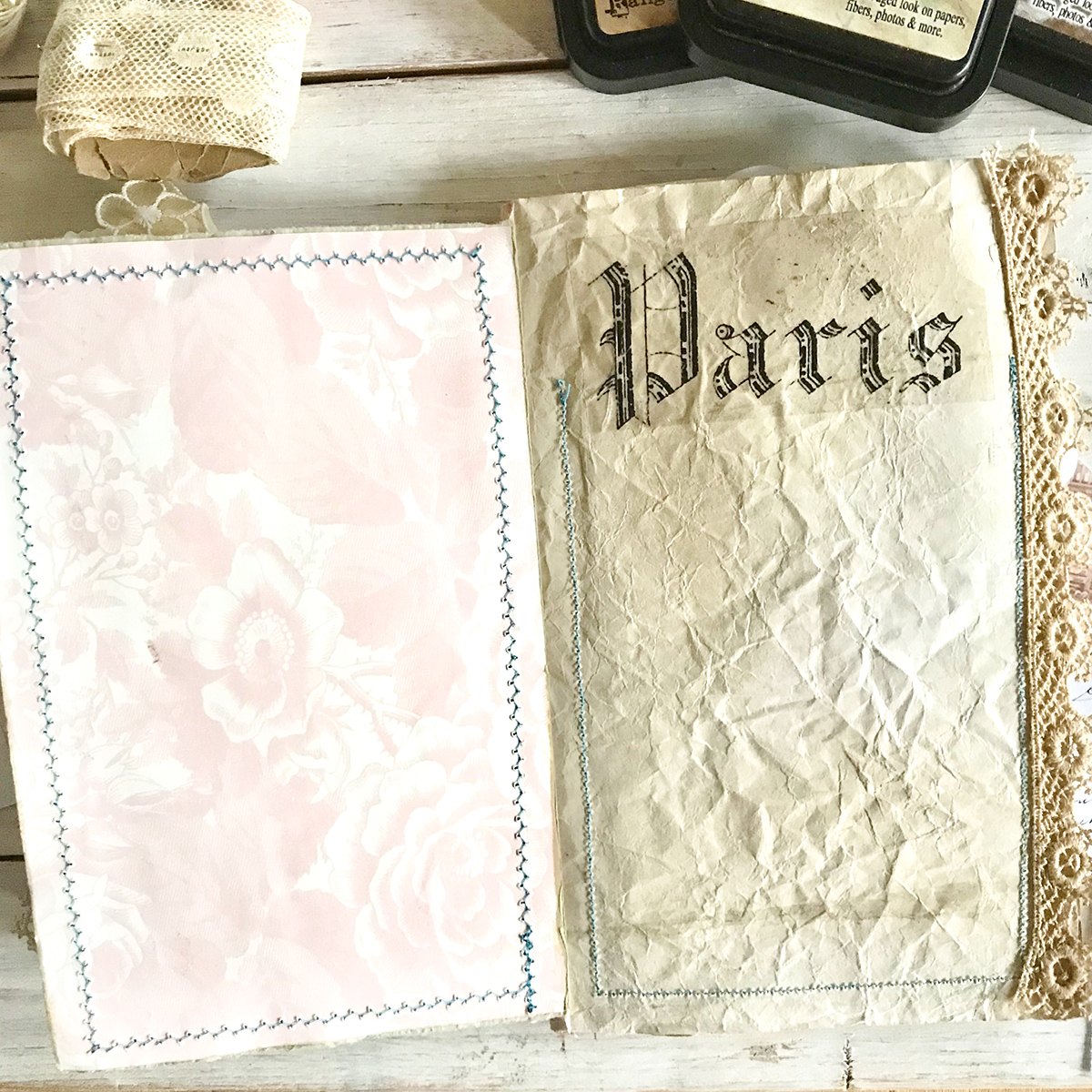 Hand Stitching
I love hand stitching. I believe that I love making books because I can use ALL of my skills (i.e., paper crafting, painting, textiles, sewing, etc.) in one art form. We are going to be adding some running stitches and some cross stitches to our pages.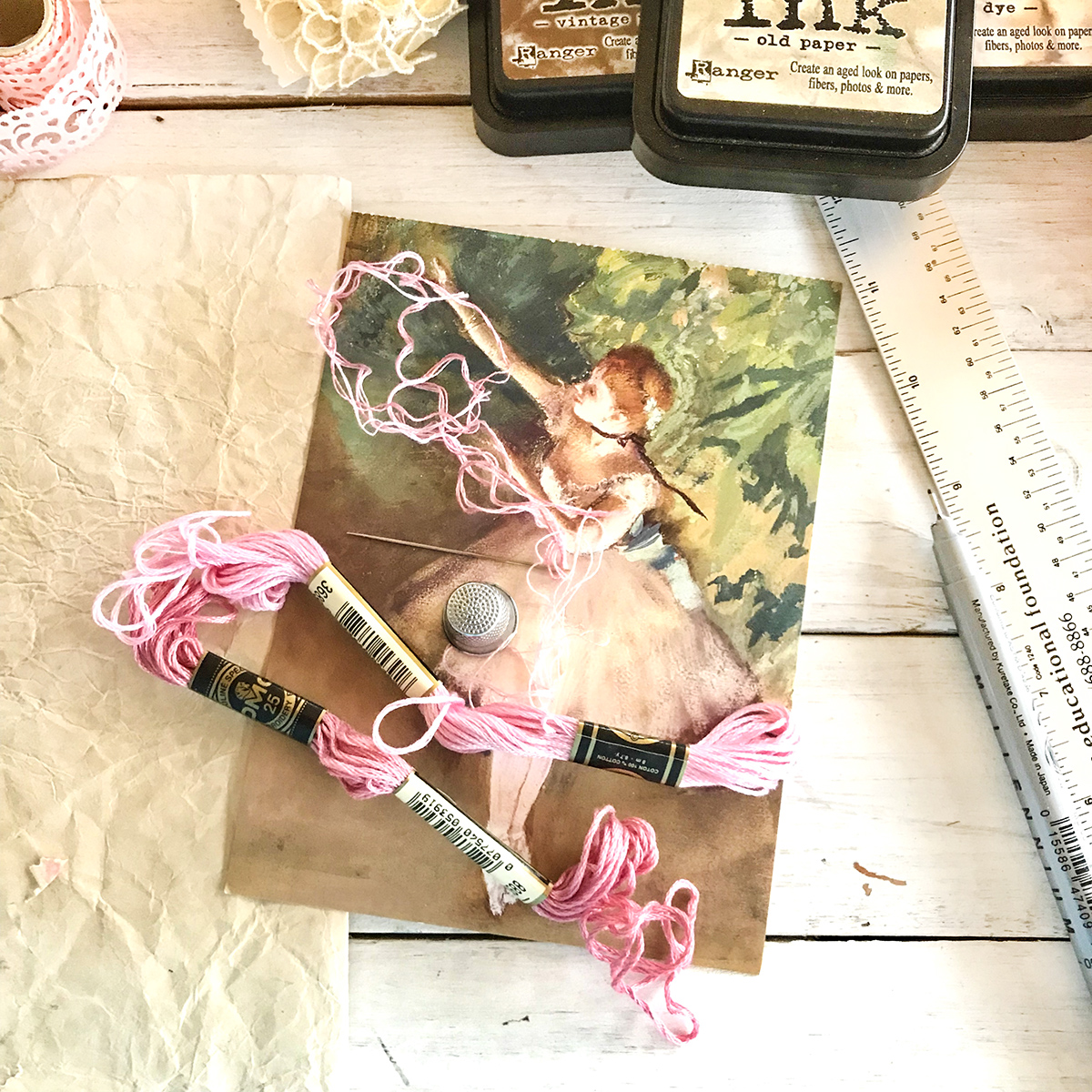 TIP: I used two shades (3688 and 3689) of pink DMC cotton embroidery thread to sew around the image on page 28 before attaching it to the page. I drew some guidelines around the edges of the card with a ruler. I made tic marks along the top line so my X stitches would be even. TIP: I did not go far enough down for the stitches, and some of them punctured too close to the top edge and broke through. Luckily, the perforations created a little trench that held the stitch in place. Next time, I would stay away from the edge.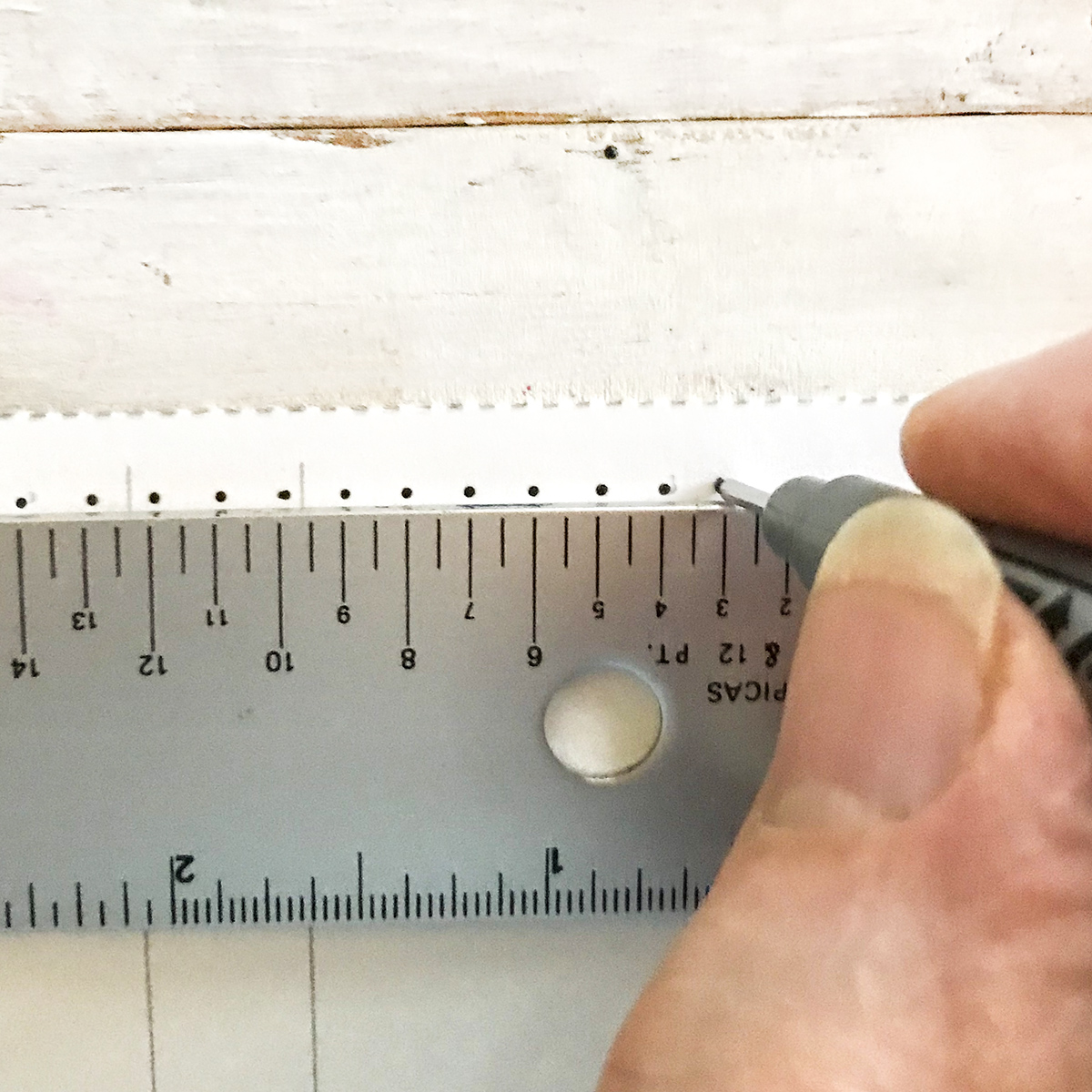 I used two strands of each color to add the stitches to the postcard. On the top, I sewed small Xs in cross stitch fashion. I found it easier to punch holes in the card with my needle before trying to sew. This way my needle went in easily and the stitches were fairly even.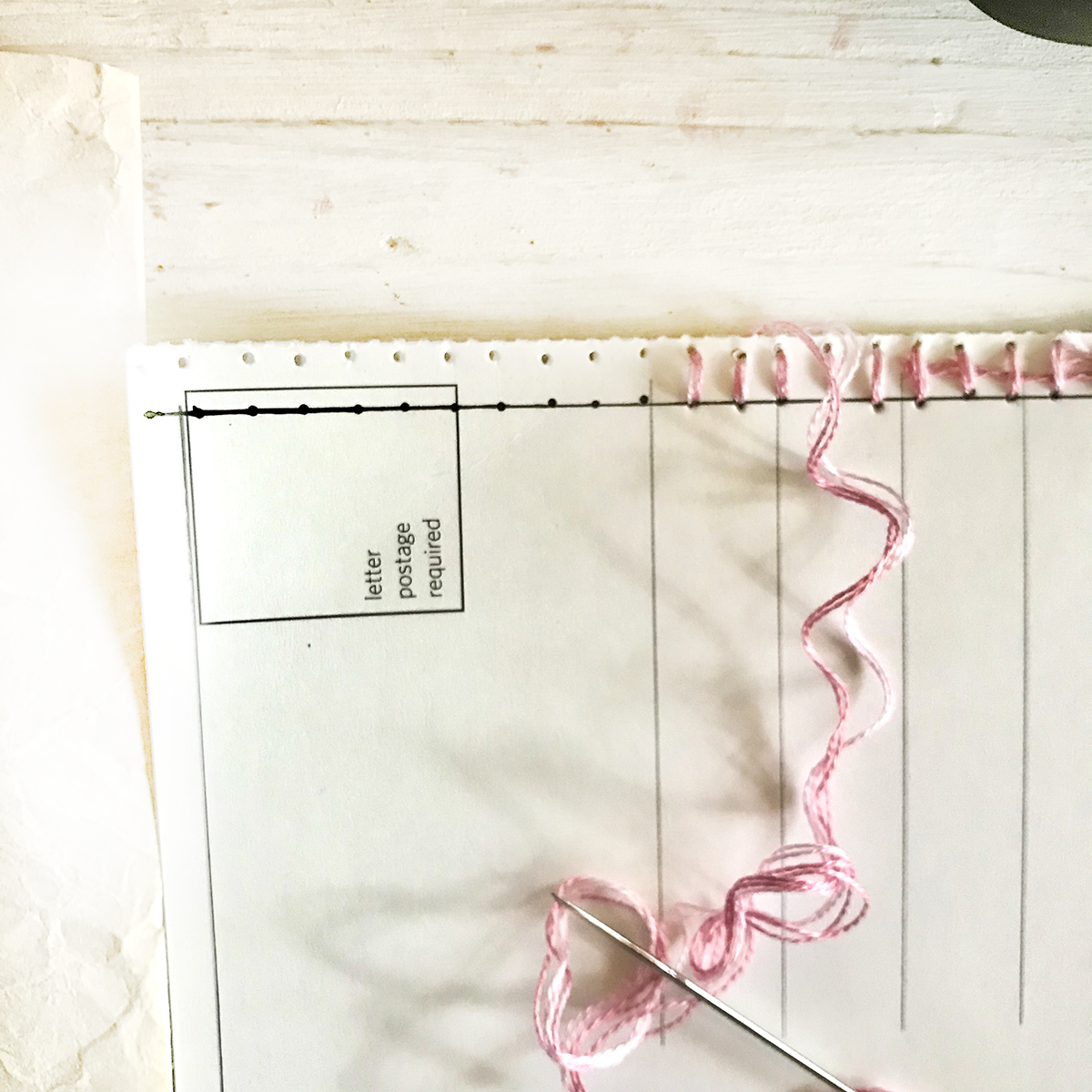 I poked holes along the guidelines for the straight running stitches also.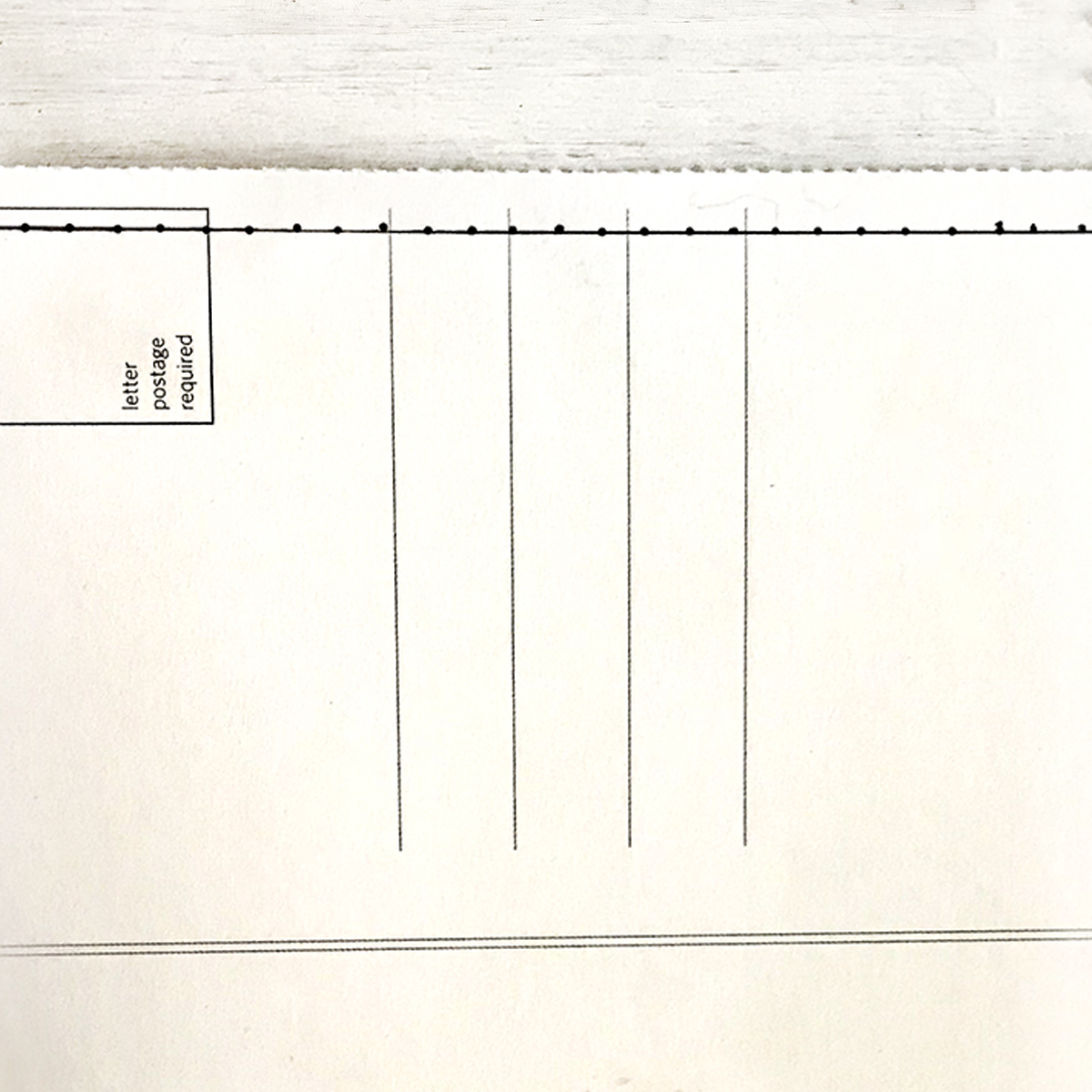 TRICK: It looks like I sewed it to the page, but it is attached with tape. This way, the stitches do not show through to the back side of the page. WOOT! It adds texture but does not disturb the look of the page behind it. A BIG WIN!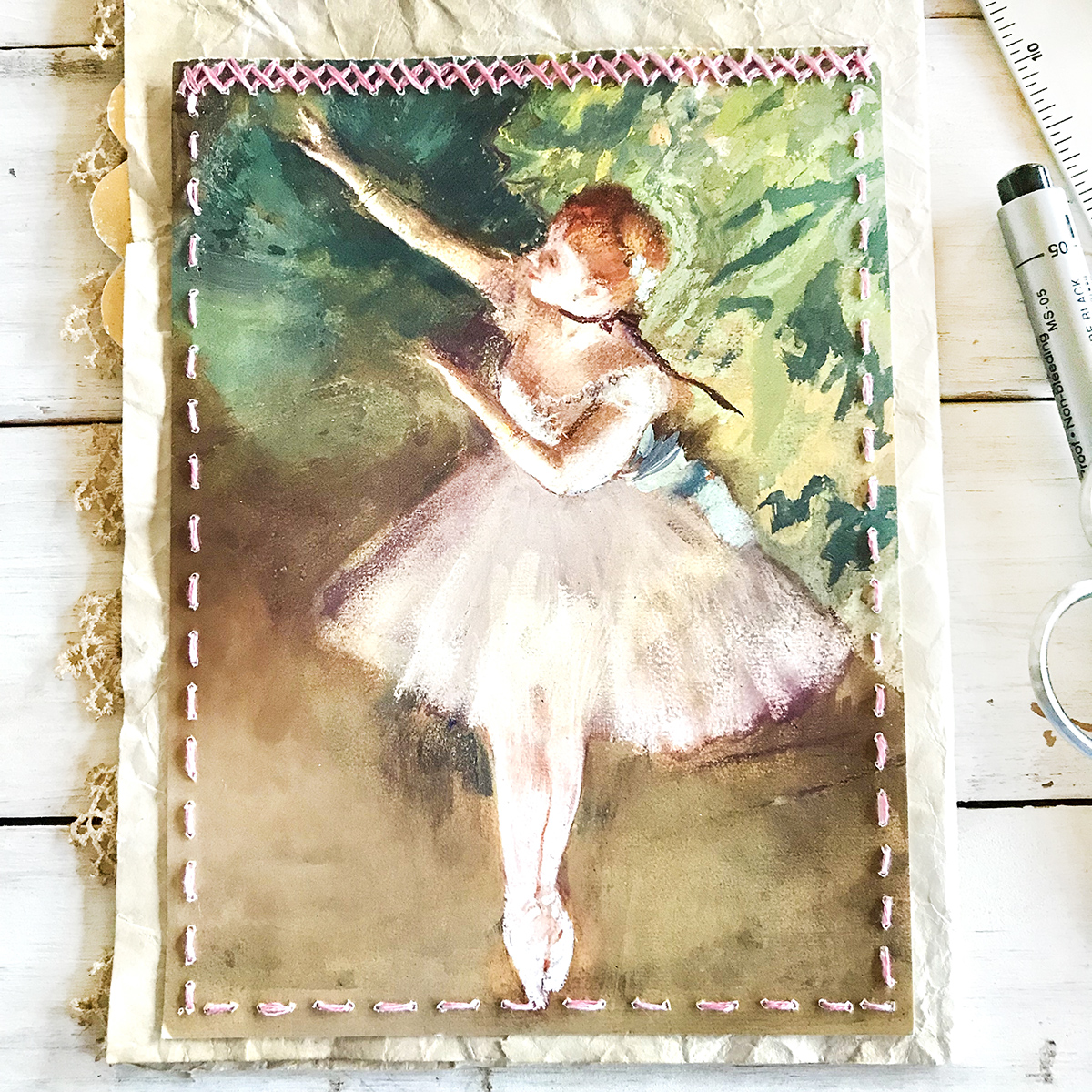 Faux Stitching
Just like the hand stitching on Page 28 above, adding faux stitching protects the backing page. There are several ways to do this simple technique. You can draw stitches with a pen or marker to paint them or stencil them. For this demo, I use a metal ruler to create even stitches with a ZIG fine tip pen, but it is perfectly acceptable to just go for it without worrying about every stitch being the same length. Casual and rustic quilts are made without guidelines and are perfectly beautiful. Have fun with this junk journaling technique and make your marks however you like!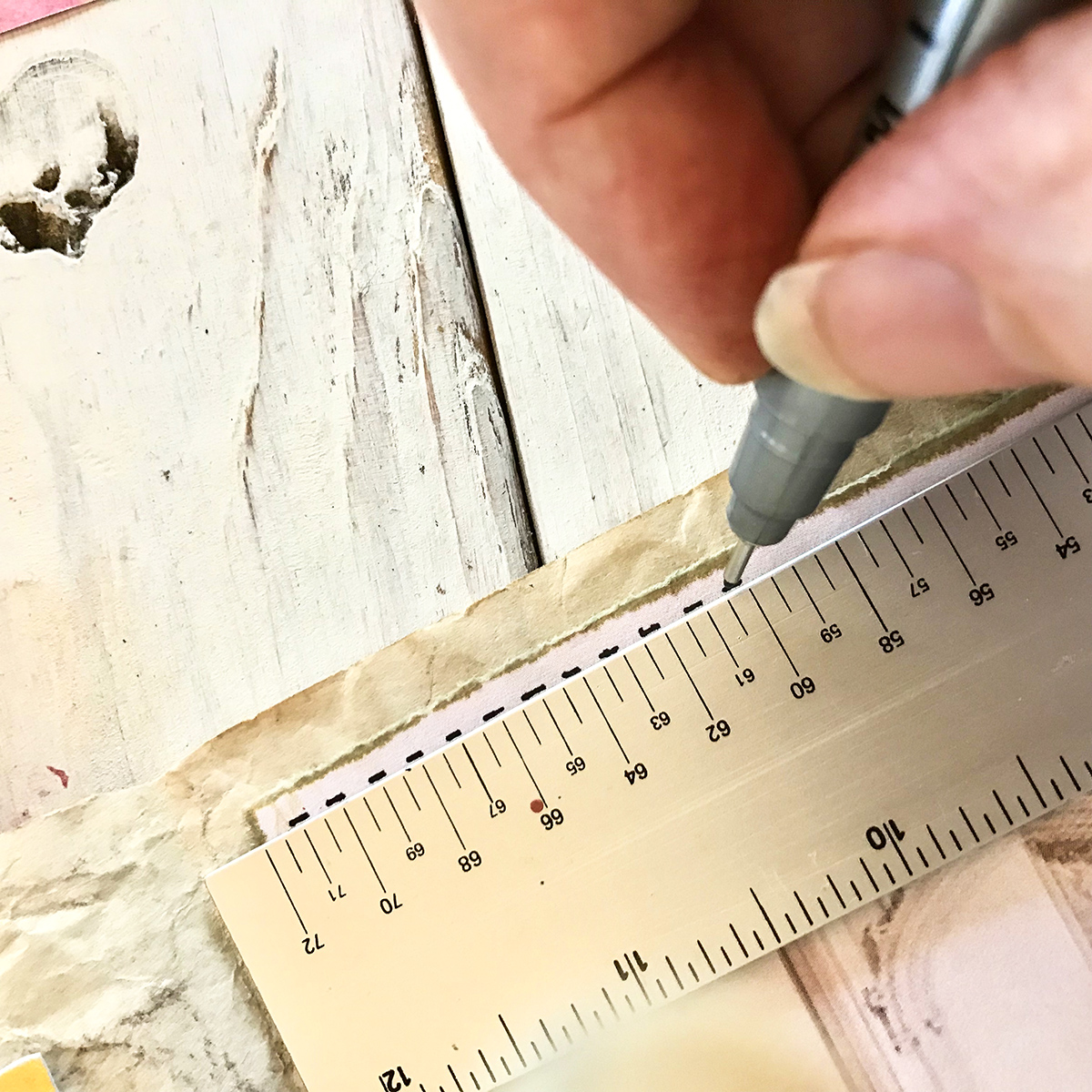 Stitching completed: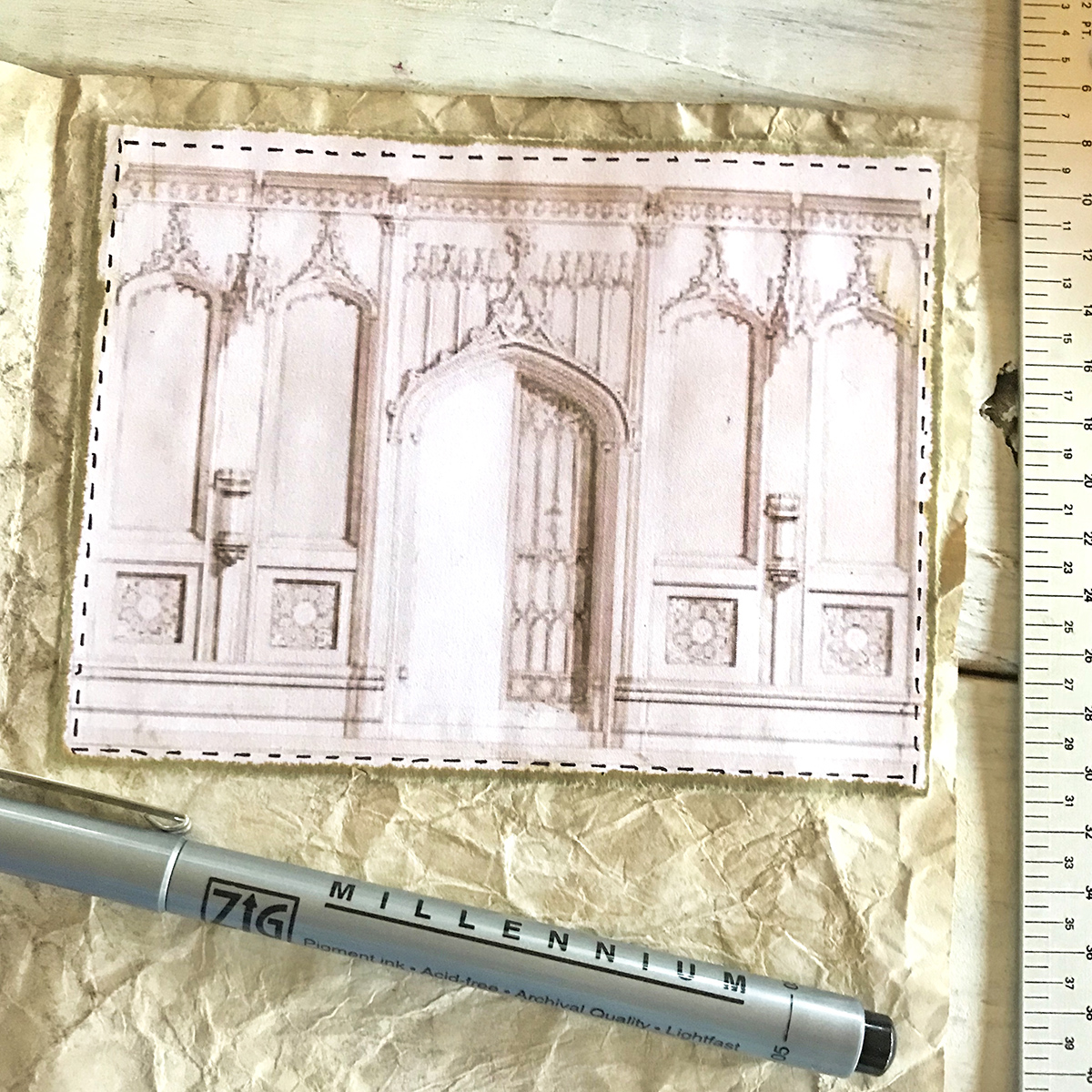 Hide and Go Seek Layers
This is a fun way to create texture and use a series of matching or closely related images like I did here with Edwardian/Gibson Girls in evening dresses. It looks like the girls are playing with each other when displayed in this manner.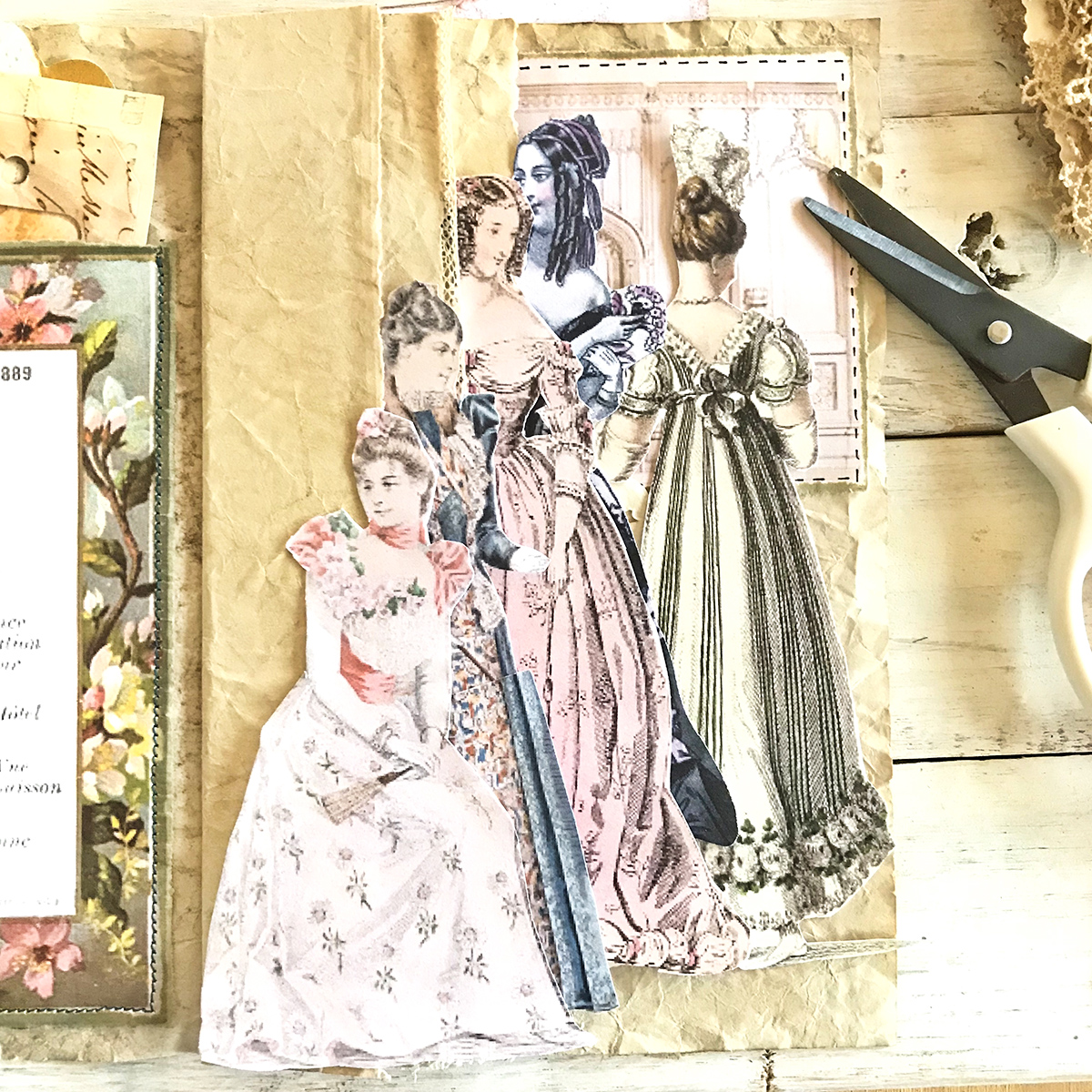 NOTE: This technique is really easy to do, but pretty difficult to explain in writing. I hope that these directions make sense. I suggest that you read through them ALL before beginning. What we are trying to do here is trim the center folio pages–the back page to 2″ wide and the front page to 1-1/2″ wide. Now let me give you the steps to do this!
I used the center folio (4 pages) of our 2nd signature to create this effect. I wanted each of the layers to be staggered or stepped at 1/2-inch spacing. I measured 2″ from the center fold on page 25/26 and made a pencil mark at the top and bottom of the page. I folded the page, matching these two marks, then tore along the fold. You can cut this if you prefer.

On pages 23/24, I repeated the process, except the marks were at 1-1/2″ from center. Your center signature will look like the folded paper in the right side image below. The front piece will be a 1-1/2″ wide folder over the back piece, which is 2″ wide. The 1-1/2″ piece is page 23 and 24. The 2″ piece is page 25 and 26. I hope this makes sense. You finish with a tall and skinny folio. 🙂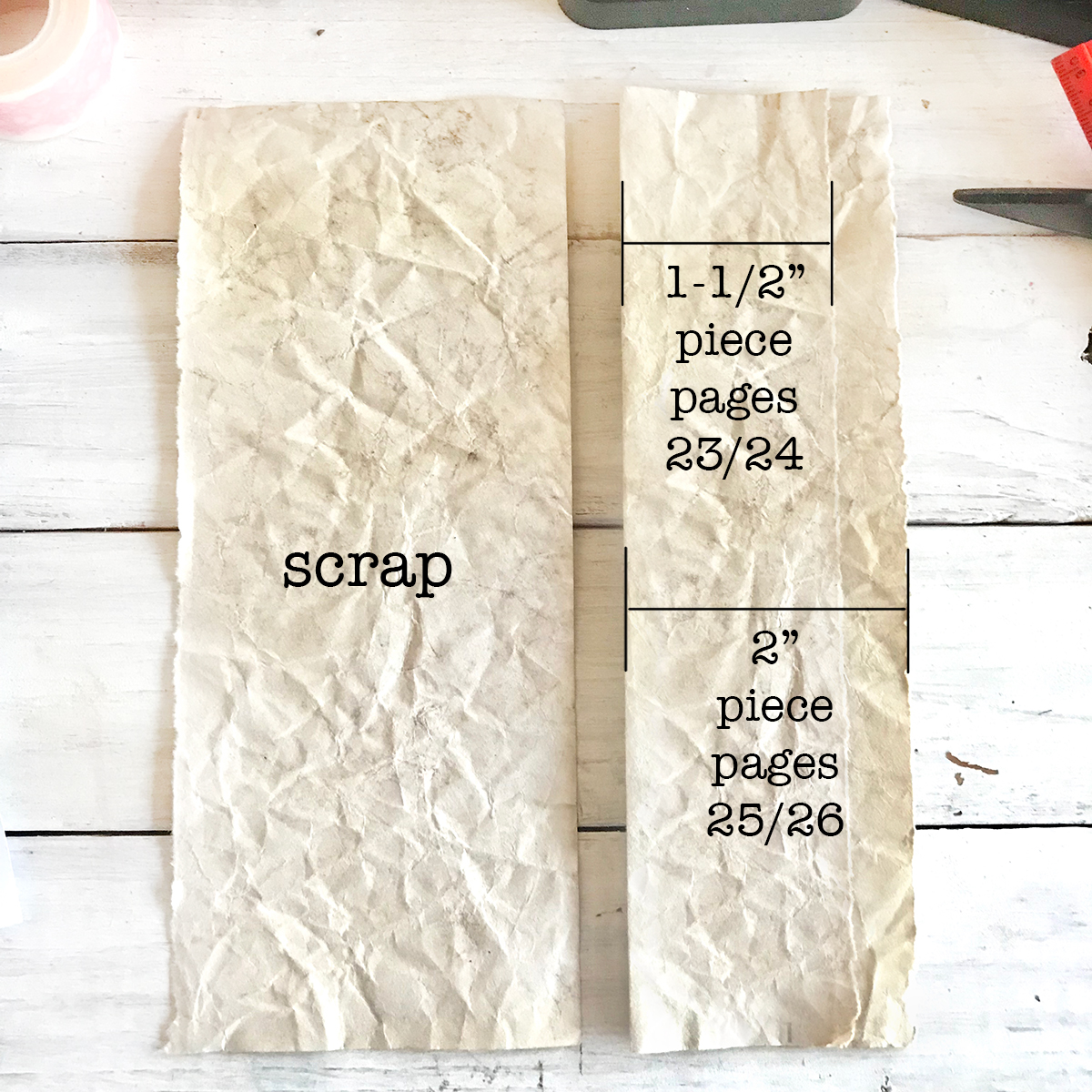 Then I folded the torn scrap at 1″ and wrapped it around the trimmed 23 through 26 pages. It will create a 1″ layer (left) on the front side and a 2″ layer on the back side (right).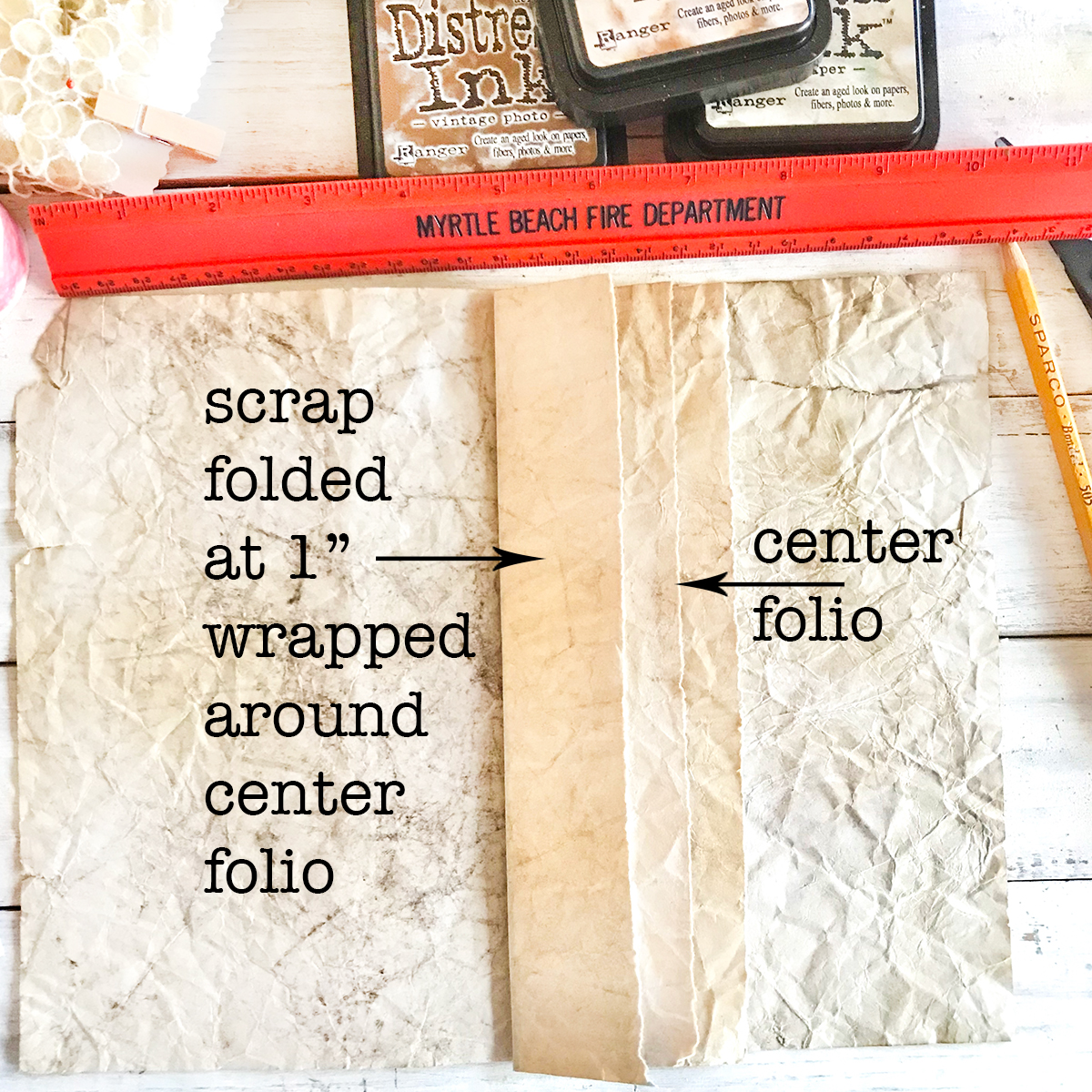 The two individual pieces: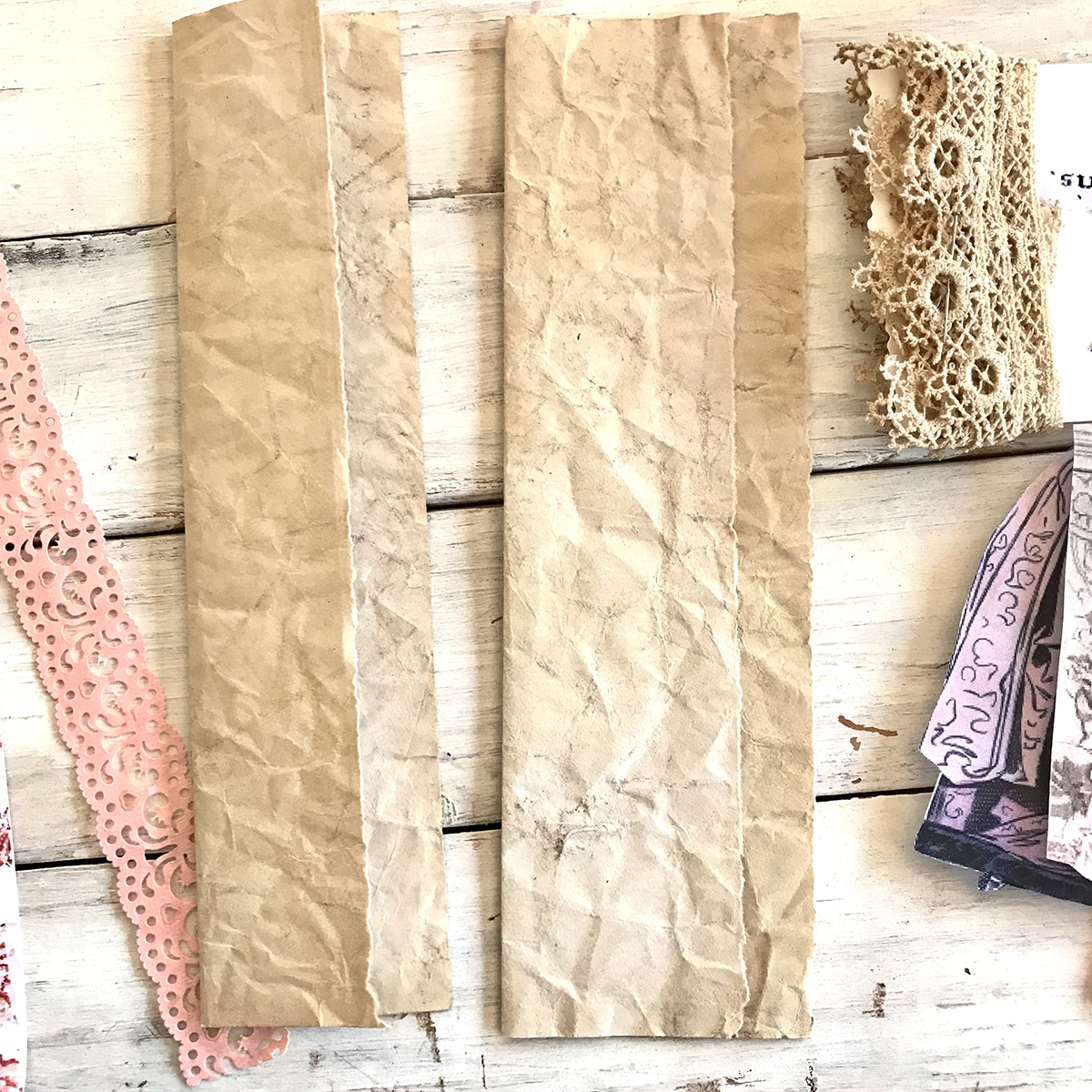 Nested together, the trimmed Hide and Go Seek layered center section looks like this when finished:
Then I fussy cut the four ladies in evening gowns and attached them to the graduated layers in a pleasing way. Feel free to attach yours in another configuration. TIP: I learned the hard way (usually the best) that I should have backed (glued) the four ladies with paper BEFORE I cut them out!! (SAD FACE) Yours will look better than mine! I just brushed inks on the backs after they were attached.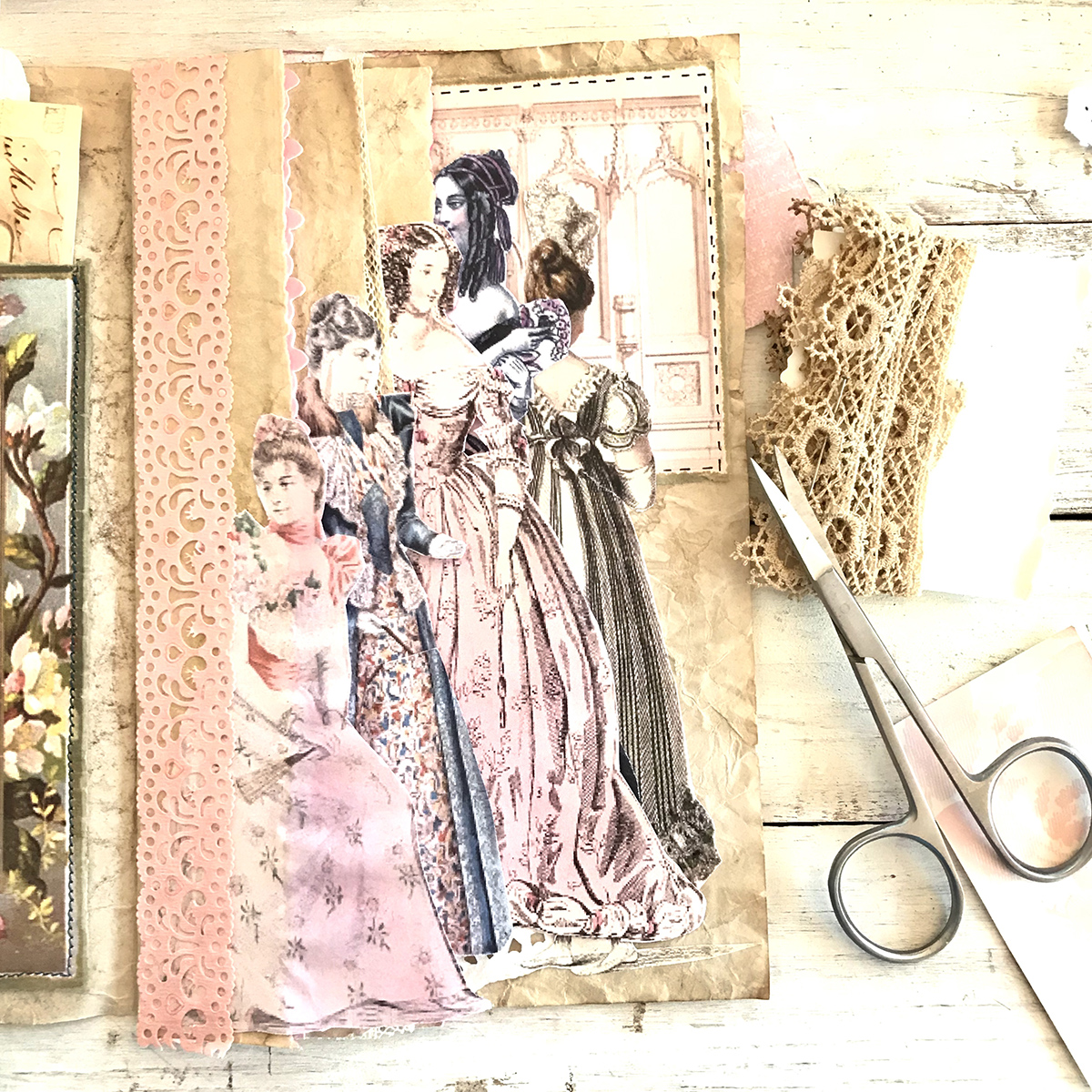 TIP: Before I attached the ladies, I decorated the back side of the stepped layers with glued bits and pieces, lace edging, sticker trim, scrapbook paper, and other techniques from previous lessons. NOTE: We will be coming back in our final lesson to add embellishments here and there. Of course, feel free to do it now if you have the time.
Packing Tape Transfer
Like most of you, I love making transfers from The Graphics Fairy images. I had to include one in our little junk journal. You can find the easy directions here –>> DIY PACKING TAPE TRANSFERS!


THE STORY
PAGE 21 – Olivia and her friends were invited to a very fancy dress ball in Paris. The invitation was handwritten (we are pretending this is an invitation). I love the little Graphics Fairy hand that appears to be opening the page of this section. The little Paris faux wax seal was made using air dry clay and stamped with the technique we learned in Page Layouts 3.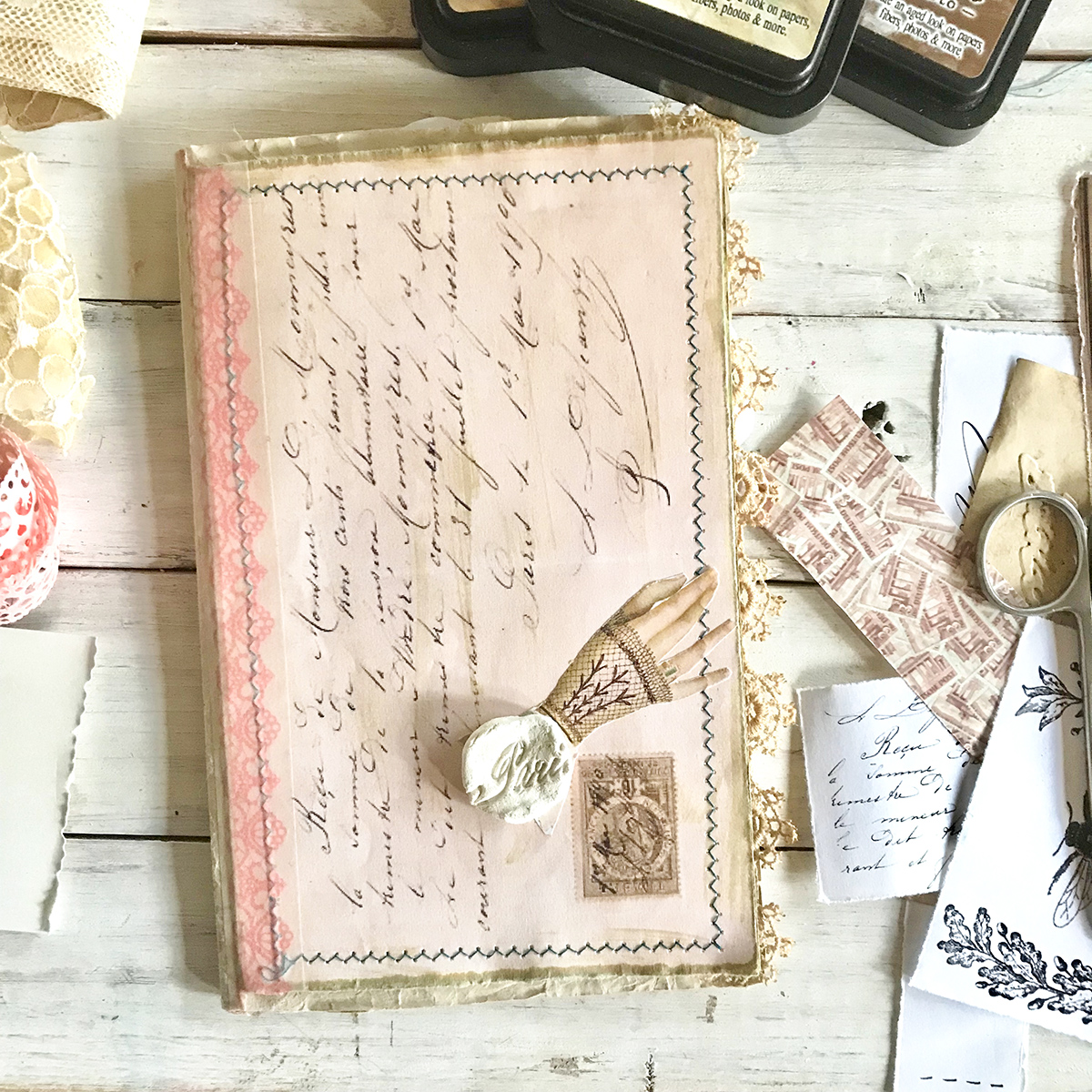 The flap opens to reveal surfaces for journaling.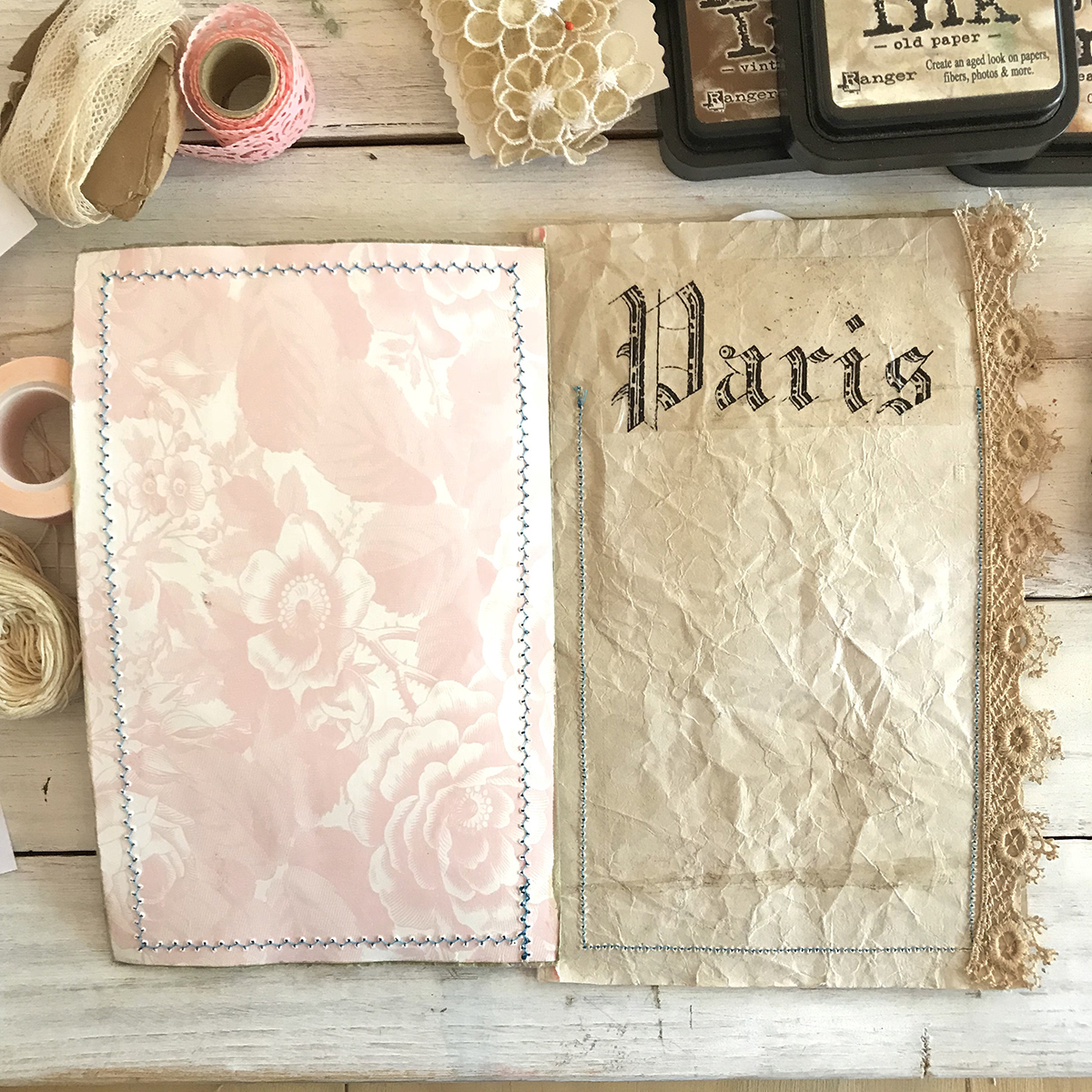 PAGES 22 – The Banquet Menu of the Ball was worth saving to remember the feast et fête. 🙂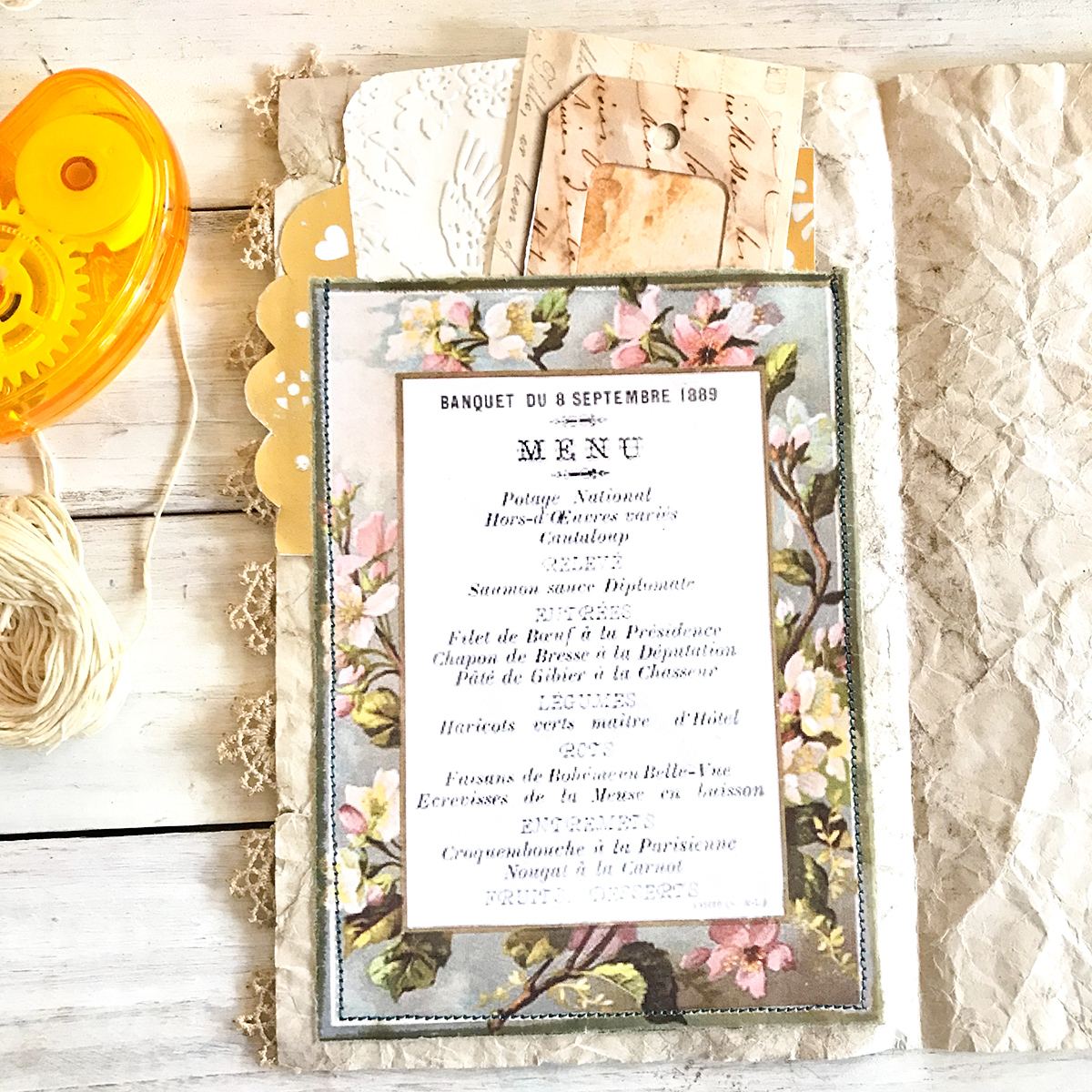 Tucked inside the sewn pocket are a few special momentos.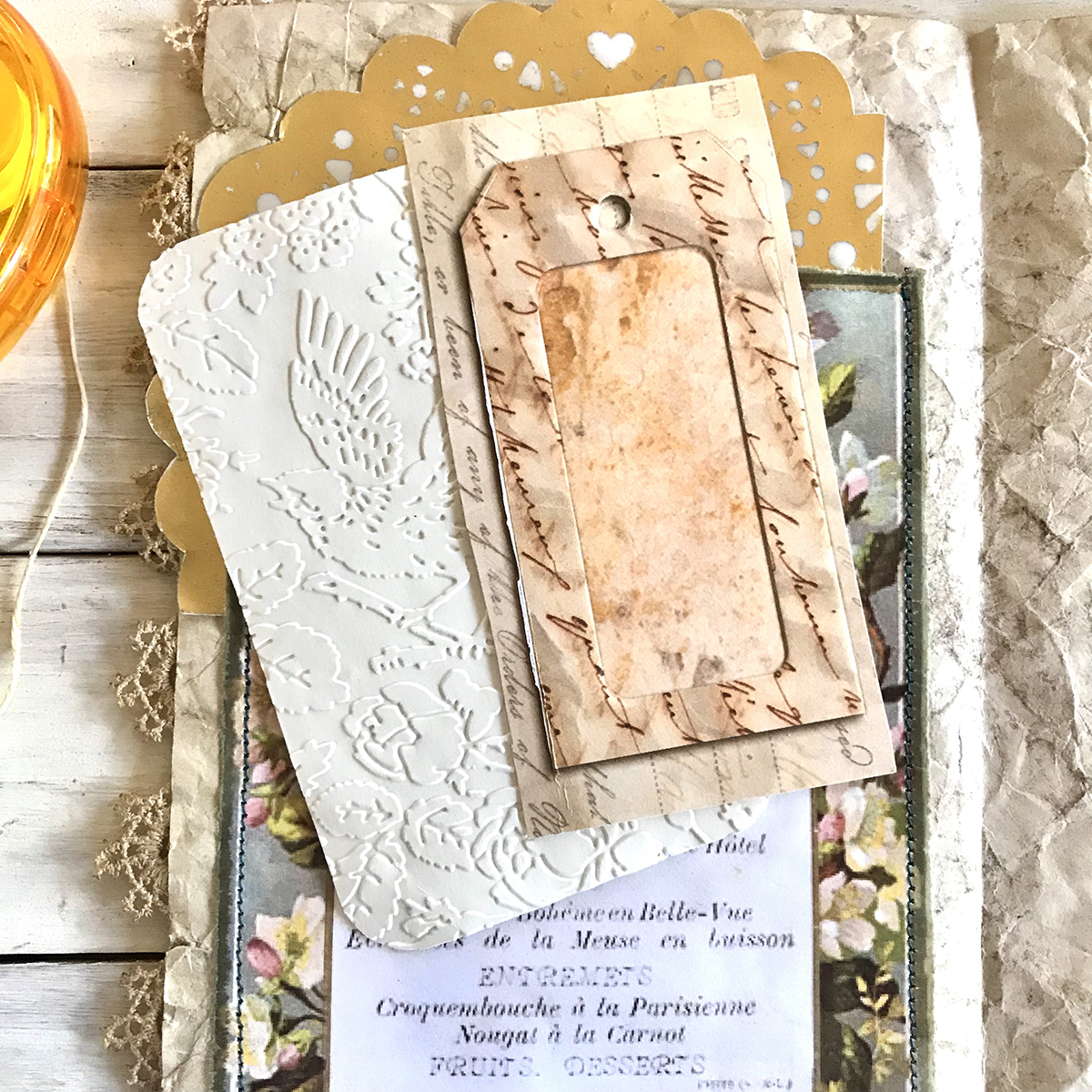 This embossed dance card was simply elegant. Here is the embossing folder I used on an index card and rounded the edges with a punch.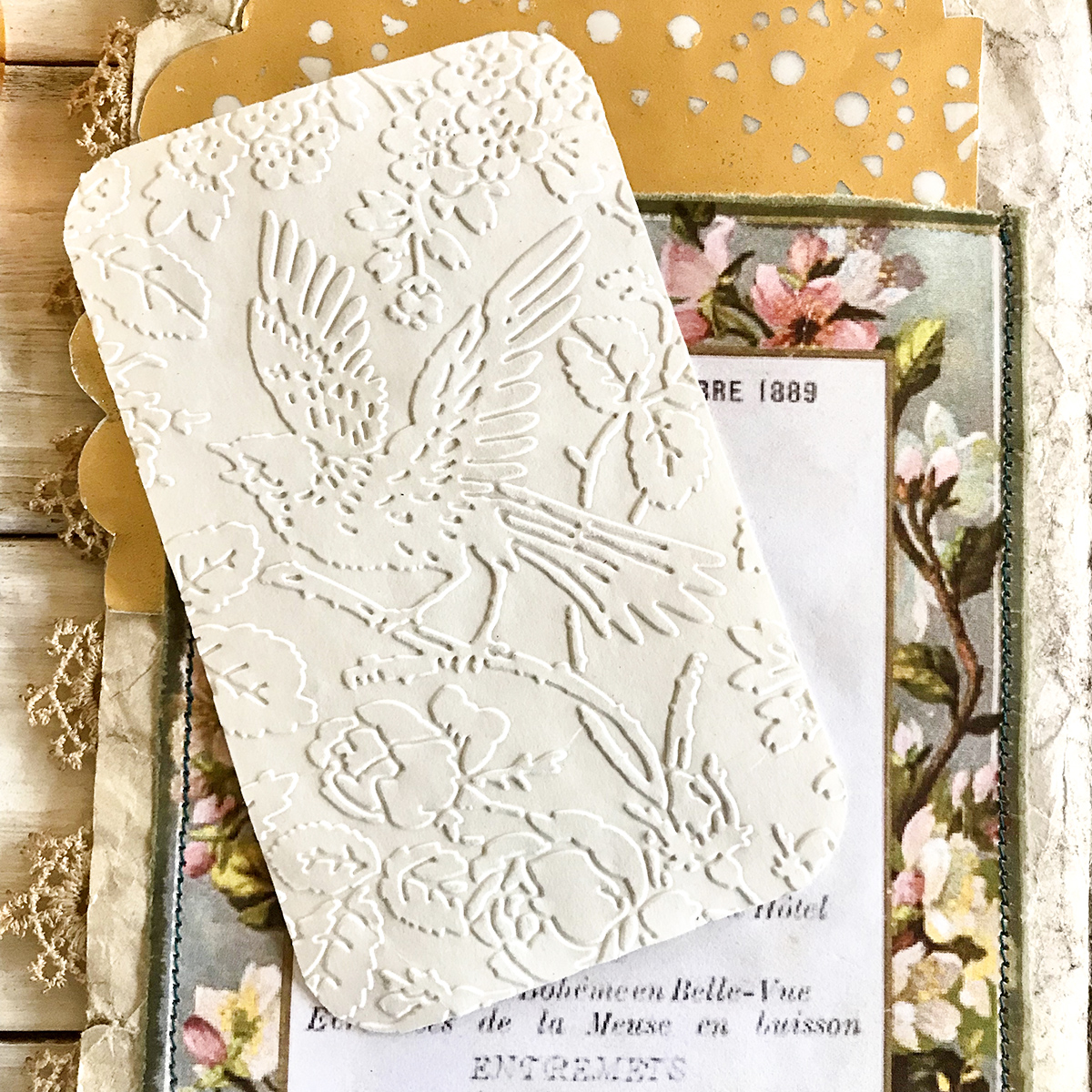 PAGES 23 – Here are photos of Olivia and her girlfriends in their elegant evening gowns. Olivia looked oh so beautiful in her pink embroidered floral gown with silk sash and ribbons on the shoulders.
PAGES 24– Maria is more modest in a green velvet gown with a floral insert on the skirt. The lace trimmed jacket shows off her tiny waist. TRICK: Since the skirt was cut off in the original image, I had to piece the skirt by printing out a mirror image of the picture and matching the design as closely as possible.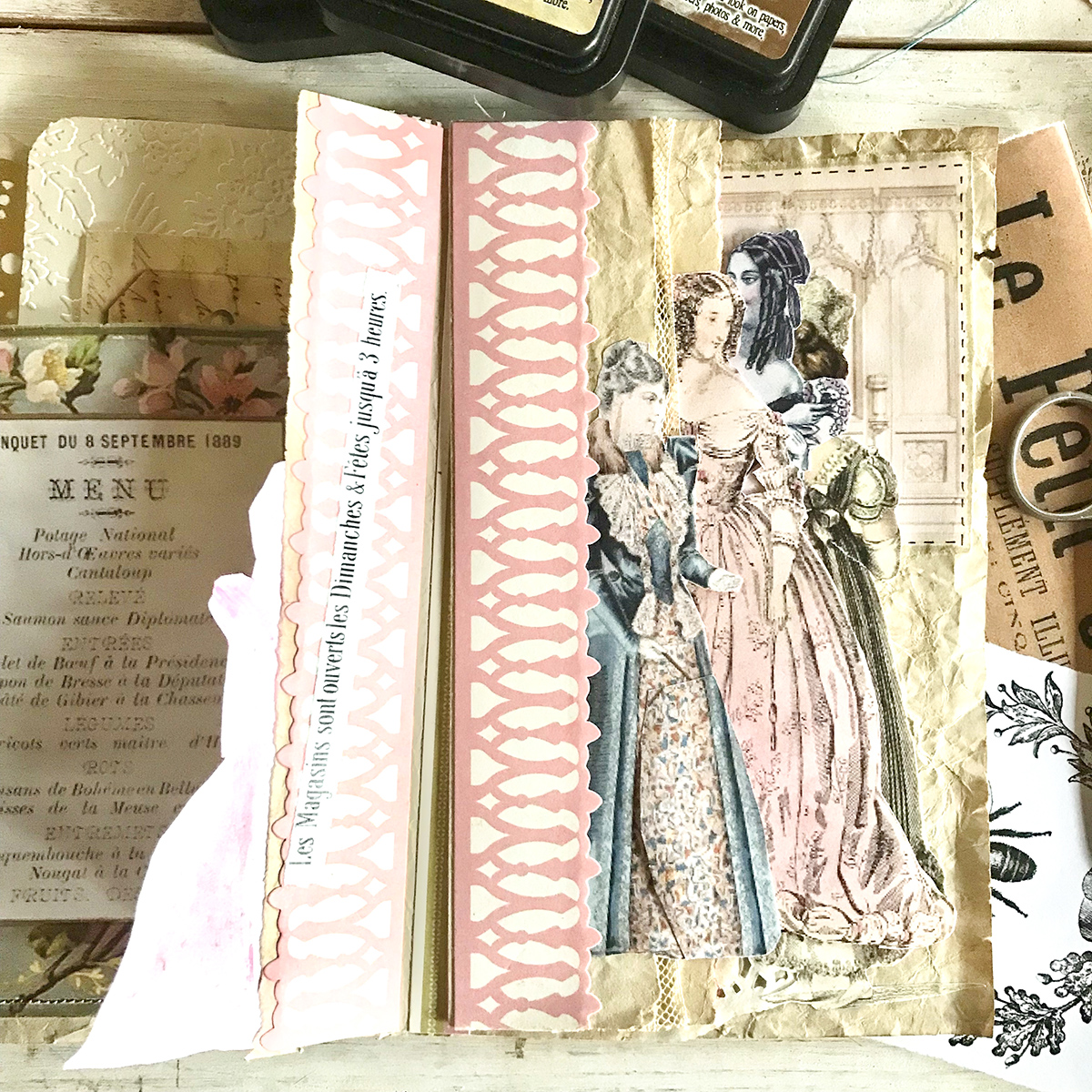 PAGES 25 – Juliette wore a pale pink silk brocade with draped décolletage and hemline. She is so sweet.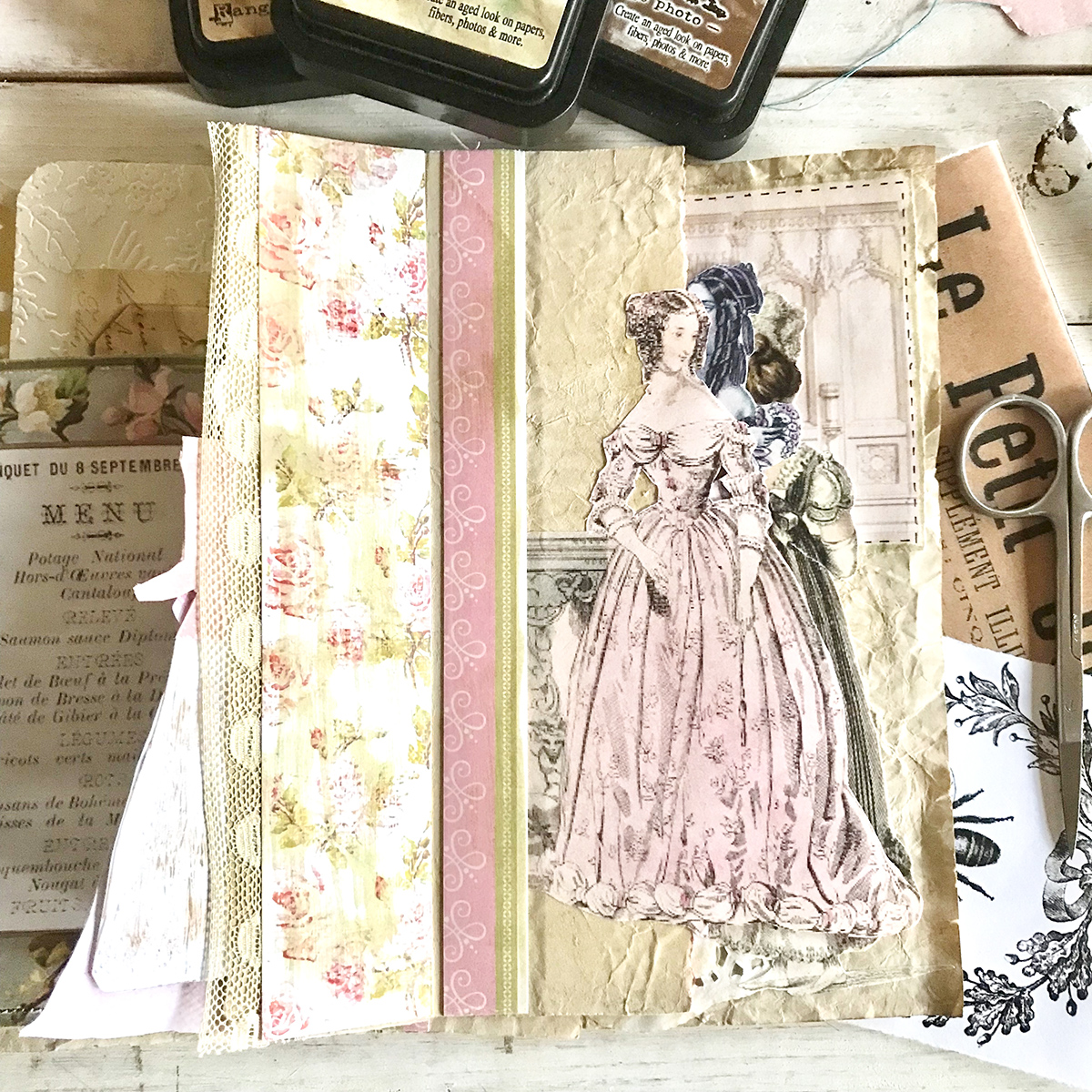 PAGES 26 – Saucy Sophie chose to wear a vintage purple gown from the 1840s. It belonged to her GrandMaMa. Her long curls are to die for!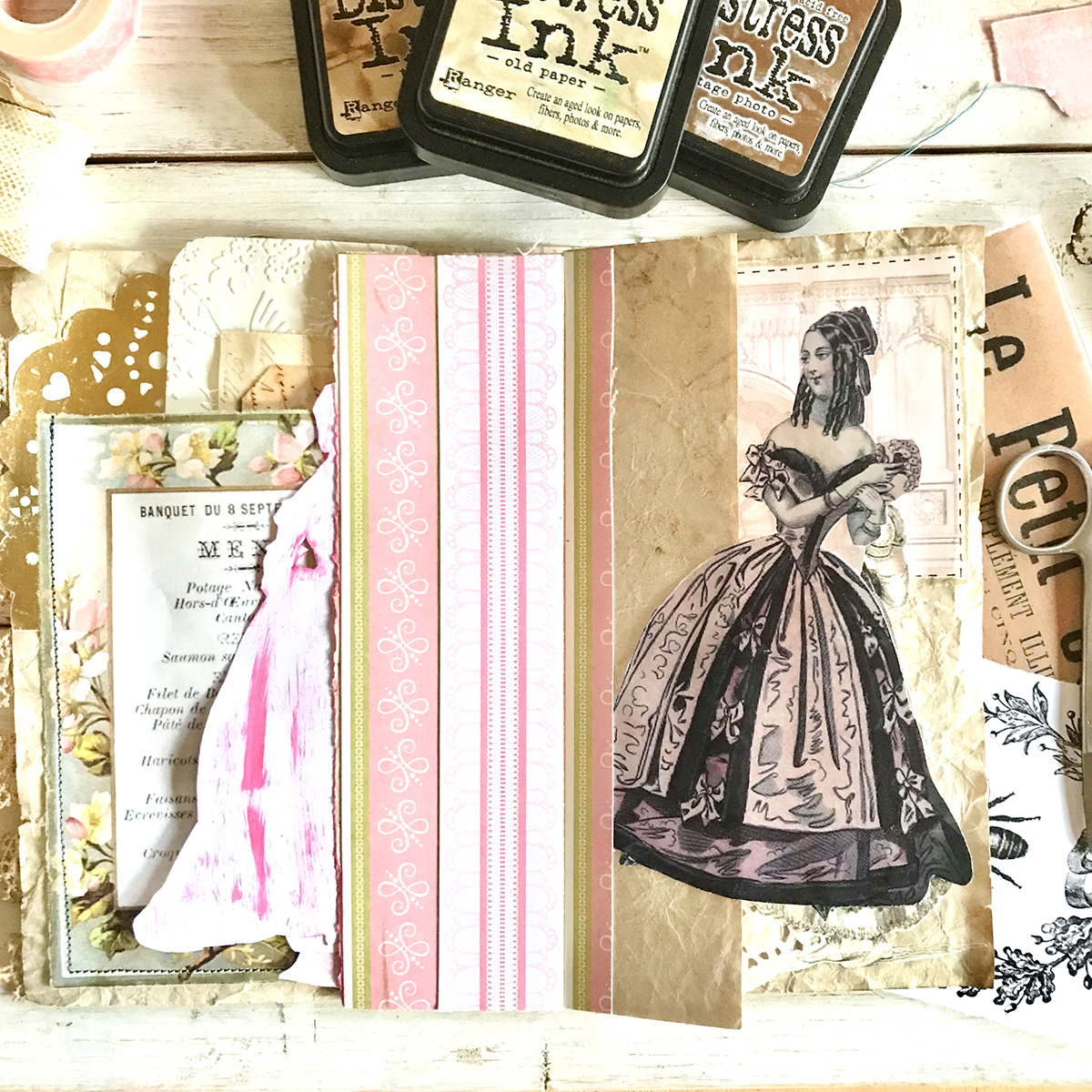 PAGE 27 – Shy Marietta loves music and her gown was just stunning with the flower hem, sweet bow, and plunging back. You can see the pink ballroom in the background. The tiny rose card is for journaling.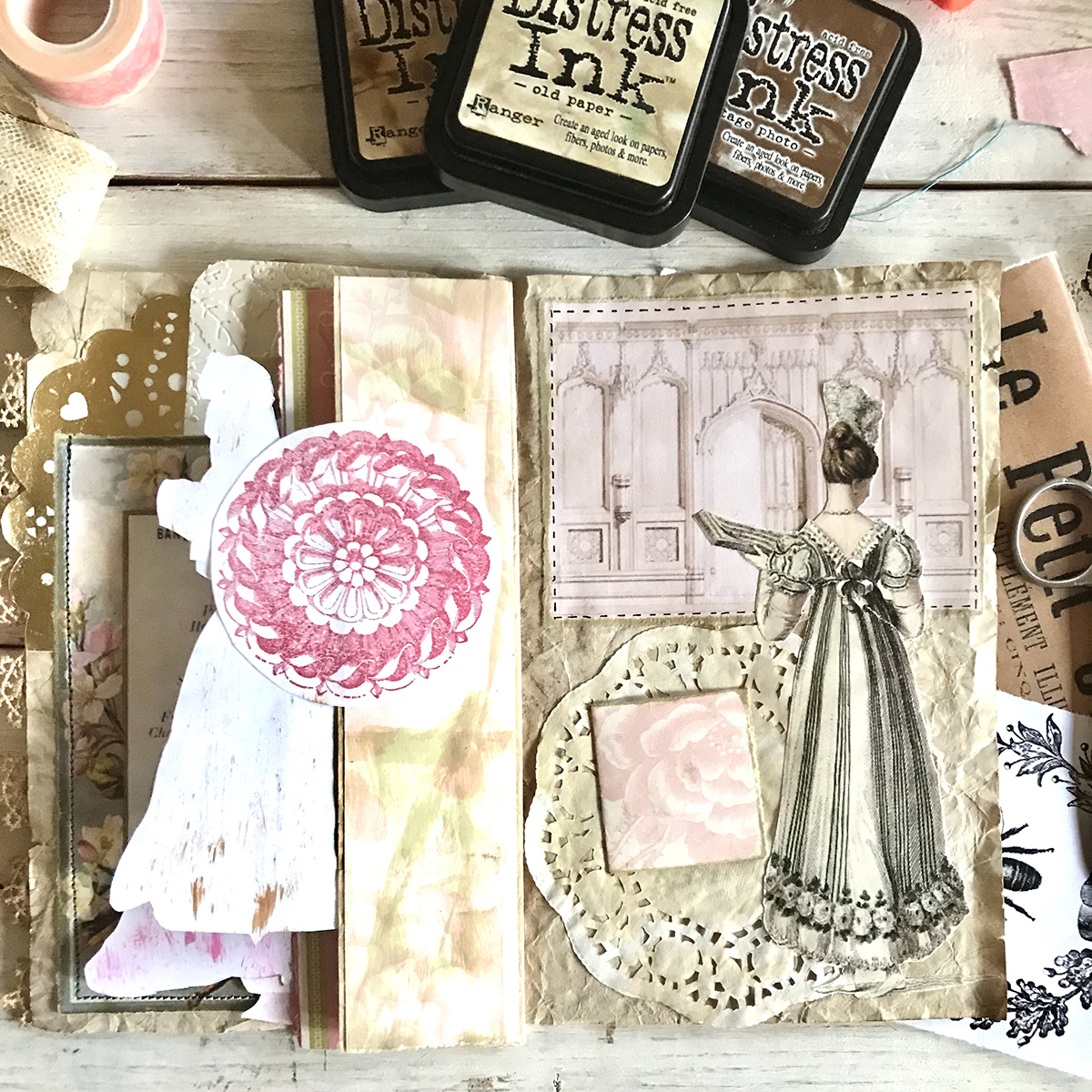 PAGE 28– A party favor of a Degas ballerina was hand sewn into Olivia's journal with embroidery thread and stitches. Every cultured girl knew how to embroider. 😉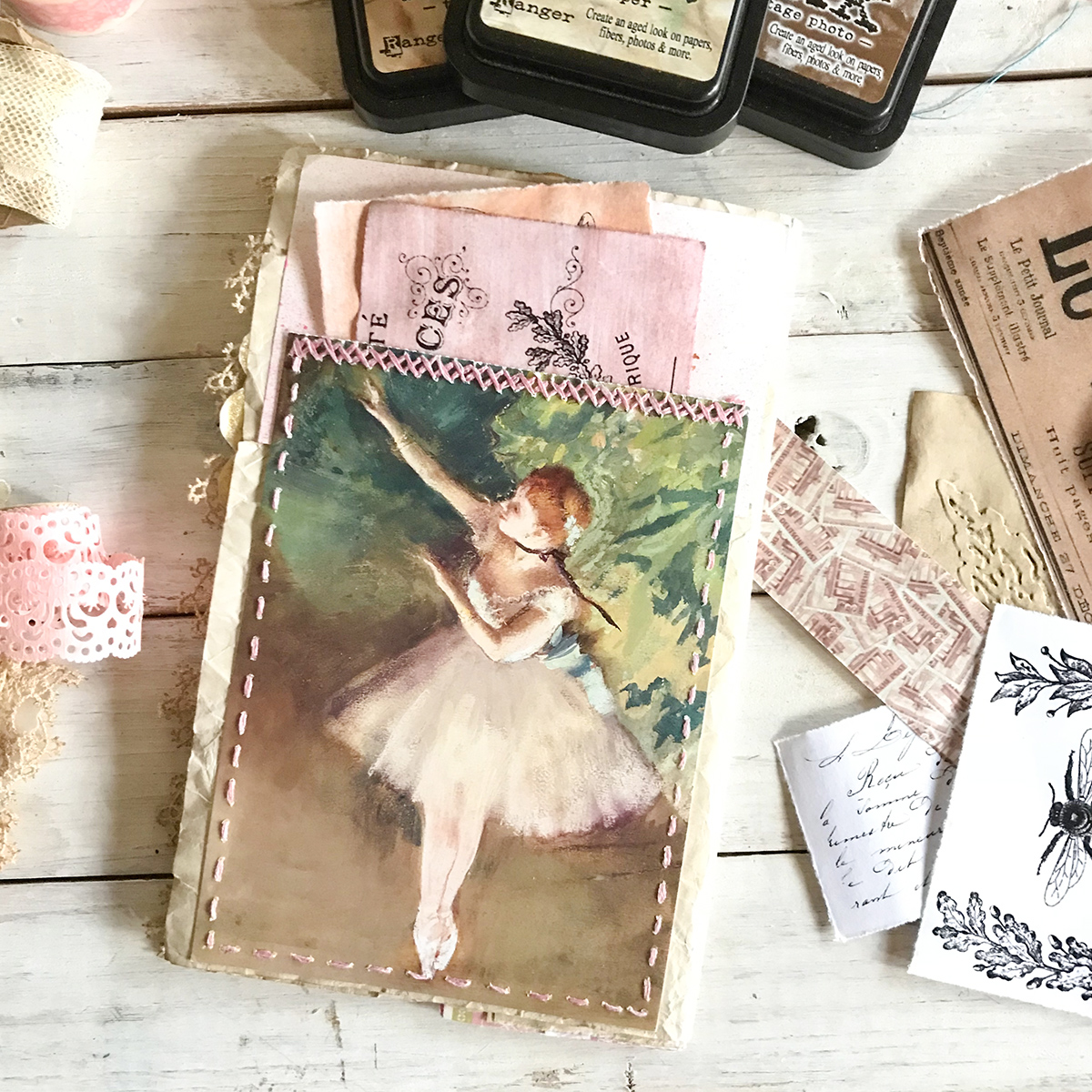 Two cards are tucked into the Degas pocket for memory keeping.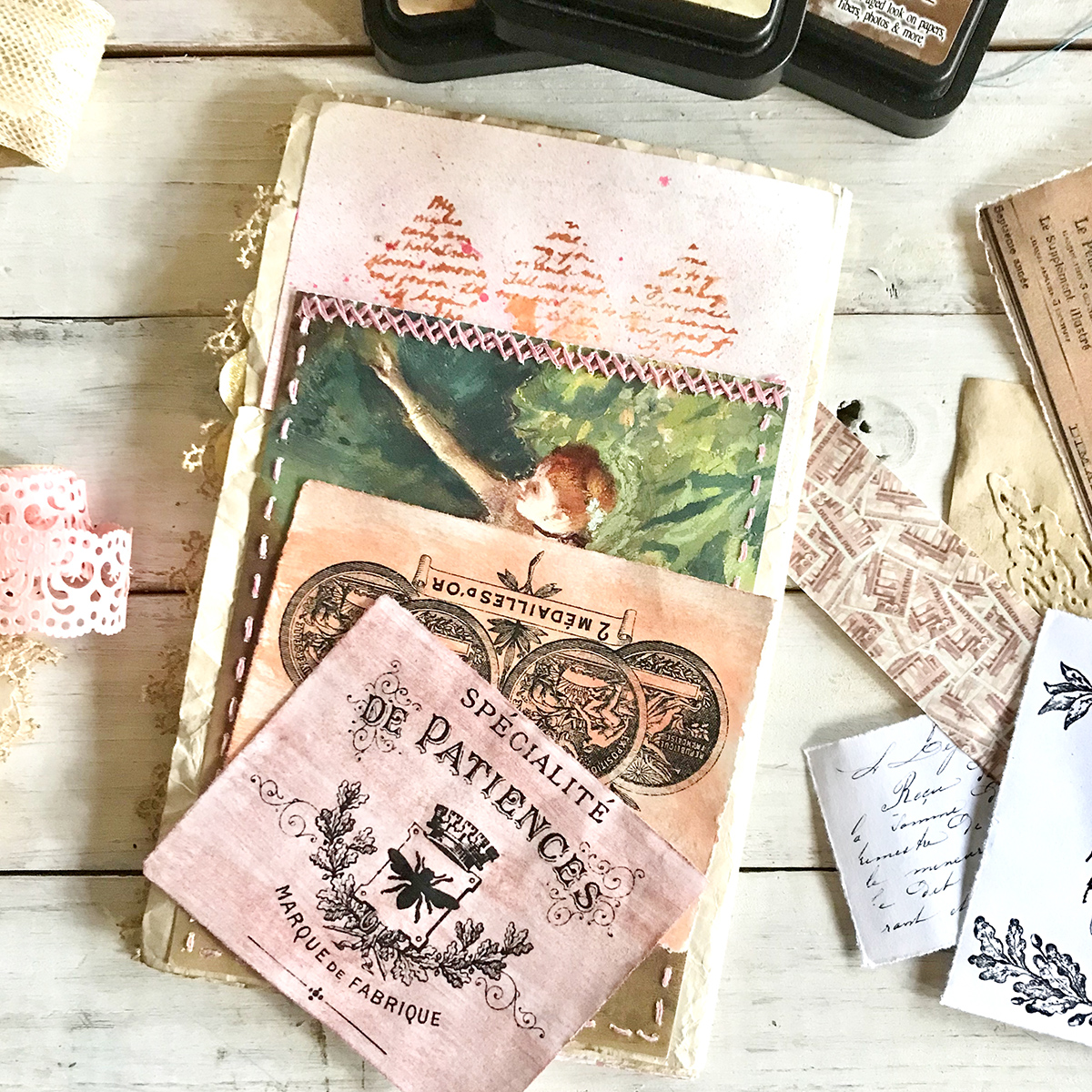 WOWzers! That was some signature. I hope you enjoyed the sown and trimmed techniques, tips, and tricks to help you create your junk journal pages. It should take just a few hours to complete the pages. We have two weeks until our Pages Layout 5 tutorial goes live, so you have plenty of time to complete your Junk Journaling Page Layouts. It has been a most delightful Summer for me to have the opportunity to create with you. I hope your are having fun too. Here is your assignment:
ASSIGNMENT
Complete eight pages in your second signature using the above techniques. You will have four single pages, which will be Pages 21, 22, 27, and 28, and a layered middle spread, which will be Pages 23 through 26. You can create your own pages using your imagination or you can duplicate mine. Remember there is NO ONE WAY or RIGHT WAY!!! Just have fun!
Optional: Create your own story if you like.
Optional: Submit some of your pages here. 
In the next Junk Journaling tutorial we will be letting our imaginations loose as we move out of Paris into the French countryside and Versailles. Please join me in the next part of this series for Page Layouts 5 HERE.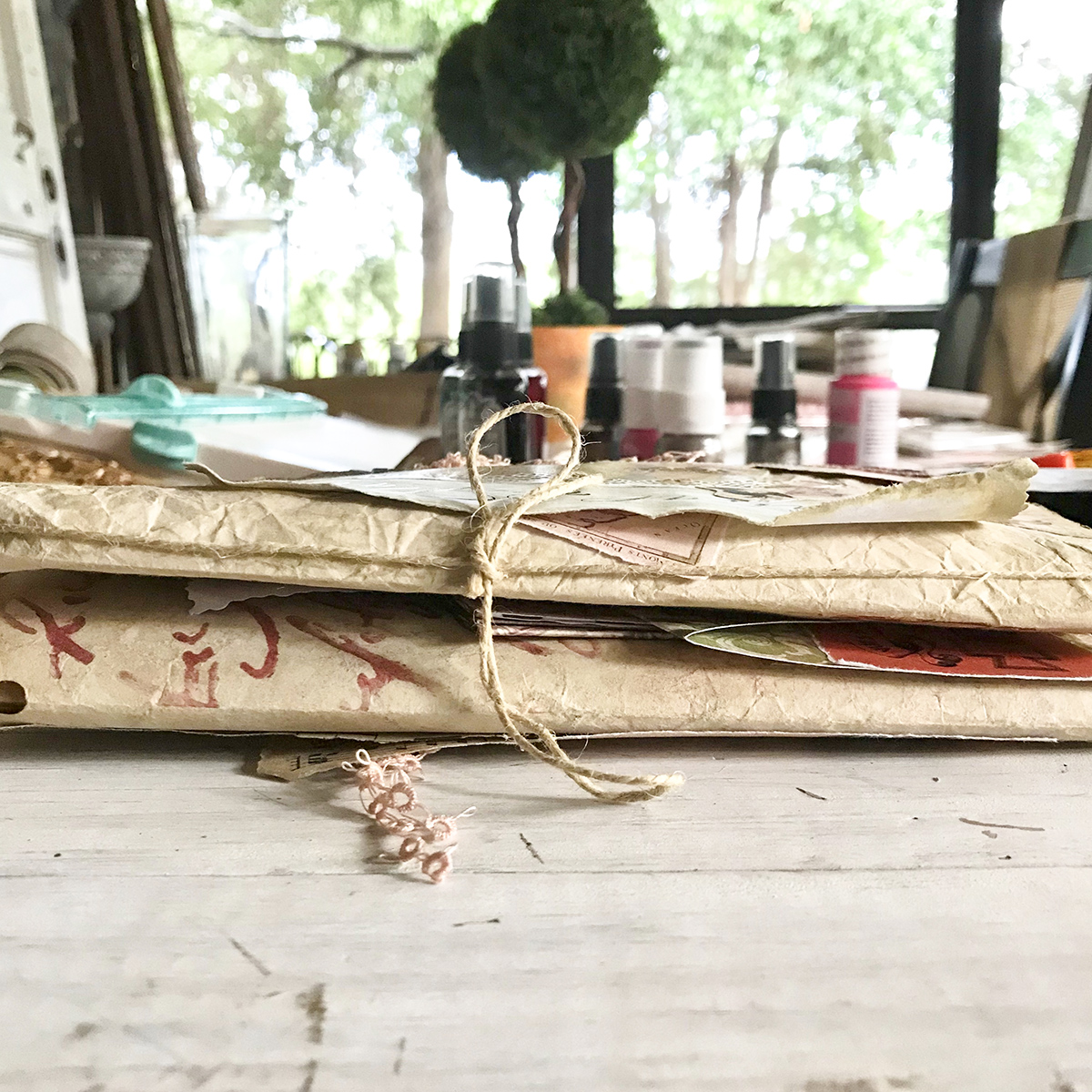 I hope you enjoyed this Mixed Media Junk Journaling Tutorial! I also teach Photoshop Elements tutorials over on The Graphics Fairy Premium Membership site. You can find even more of my art, DIYs, and whimsical shenanigans on Cre8tive Compass Magazine, Cre8tiva (just launched), and loads of my digital art on Instagram. Come follow me!
Bonjour, May joy be with you all,