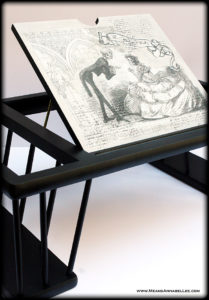 Today's reader feature is this Lovely Victorian Gothic Bed Tray, submitted by our friend Alexandra Walden.  After finding this solid wood tray table at a thrift store, she first cleaned and sanded the entire piece. Next, she painted all of the wooden tray black, leaving a spot where the image was going, and painting that area in a light color.  She then transferred our Gothic Arches image onto the table using a tissue paper transfer method.  Using Liqutex to secure the image on the tray, Alexandra then smoothed it out, and let it dry completely.  When it was all dry, she rubbed the excess tissue paper off using a wet finger.  For her final step, she used a Polycrylic spray on the image block, and then brushed with a coat of gloss glaze.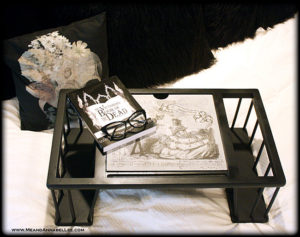 This is such a fabulous project! Thank you, Alexandra, for sharing your talents with us! To visit more of Alexandra's projects, please visit her Blog site here.  To learn how to transfer images yourself, visit the Transfer Methods Page.
Do you have a project you'd like to submit?  You can share your projects, HERE! We would love to feature you!