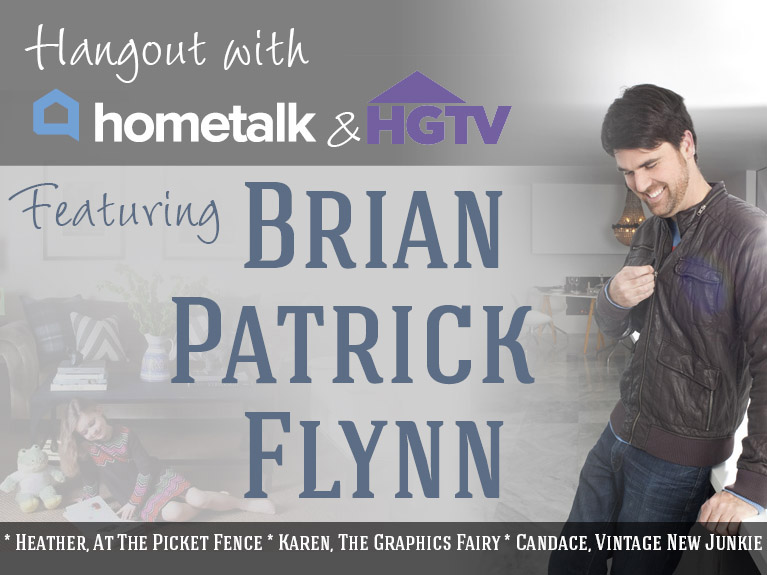 I have some exciting news! Next week I'll be participating in a live online event with Hometalk and HGTV! Woohoo! We'll be talking about Holiday Decor with HGTV's Brian Patrick Flynn!
Here's a bit about Brian… "Brian is a television producer turned self-taught decorator/designer. Brian is currently the Design Producer for the HGTV reality-competition series, HGTV Design Star, as well as a contributing designer, prop stylist, writer and producer for HGTV.com and HGTVremodels."
Do you guys watch Design Star? I love that show!!
Also participating are Miriam from Hometalk, Heather from At The Picket Fence blog and Candace from Vintage News Junkie.
All of this will take place next Tuesday, October 21rst, from 2 PM – 2:30 PM Eastern time. You can register to watch the Live Video Event, on the Event page HERE and then you'll get a handy little email reminder about a half hour before, so that you don't miss it!
Do you have any questions that you would like me to ask Brian during the event? Would you like to know what it's like to work for HGTV? Have any burning questions about what goes on behind the scenes at Design Star? Or maybe you want some expert advice on your Holiday Decorating for this year? If so, leave me your questions in the comments below and I'll ask as many as I can!
Update: If you missed it, but still want to watch it, you can see it HERE.