This post may contain affiliate links which won't change your price but will share some commission, you can find our
privacy policy here
.
This one is not a Graphics Fairy project, per say, but since I am the Graphics Fairy and it is my project, I'm popping it on to this blog! I just wanted to share a couple of pieces of Furniture that I worked on for my shop this week using the Annie Sloan Chalk Paint that we've all been hearing so much about lately. I wanted to see, for myself, what all the fuss was about!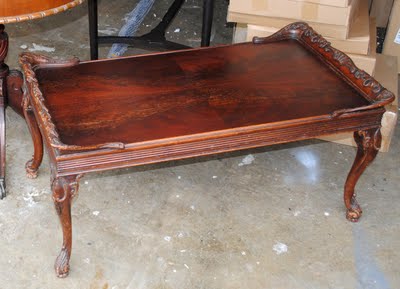 My neighbor sold me a few pieces from his mother's estate. I don't buy a lot of furniture anymore, but these pieces were small and had nice details. And I was itching to try out my new paint so, his timing was perfect! The photo above shoes a little decorative Coffee Table.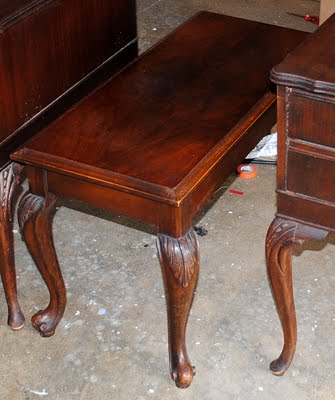 This piece is a small piano bench with ornate legs. Pardon my Garage floor!!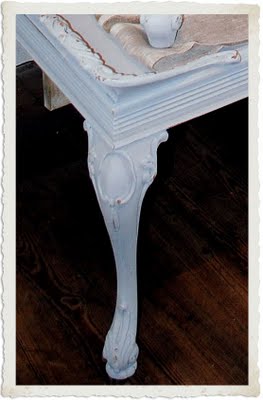 I used Paris Grey on both pieces. I did one full coat and then a second partial coat, although I probably didn't need the second coat. And then I distressed it. I still need to go back and wax the pieces, I didn't have any of the wax at the time, but I just picked some up. I have to say although the paint is pricey, a little goes a long way, and you save so much time by not having to do as many coats! The finish really is gorgeous, and I know it will be even better with the wax. My favorite part was how well it sanded, I thought I would need my electric "Mouse" sander, but just a few swipes with a sanding block was all I needed! Even more importantly, to me, is the fact that it washes off your hands and it's not harsh on your skin like regular paint! For many many years, I painted furniture every day for my business, and then a few years ago I had to stop, because regular paint suddenly began giving me horrible rashes on my arms. Ugly! Although, I will probably never go back to painting that much again, it's nice to know when I do want to paint I can grab some Chalk Paint and go to town without harming my skin! I just wanted to say thank you to my friend Marian at Miss Mustard Seed for introducing it to me. If you want to read more about Chalk Paint, just visit Annie Sloan's site. She also has a list of stockists so that you can find some near your location. I highly recommend it for your DIY projects!
(Just so you know this is my own opinion, and nobody paid me to say this!!)