Paper Craft Techniques – Paper Windows!
Hey y'all – It's Rebecca from The Bookery to share another of my favorite Paper Craft Techniques – Paper Windows! I use Paper Windows in my Mixed Media art, Junk Journals, and Collage projects. They are great to use with Scrapbooking and Handmade Cards as well. We learn four ways to add more life to your paper crafting. Below is a closer look at the techniques in this tutorial. You can review the previous Paper Craft Techniques in this series: Distressing Paper HERE and Paper Tearing Techniques HERE!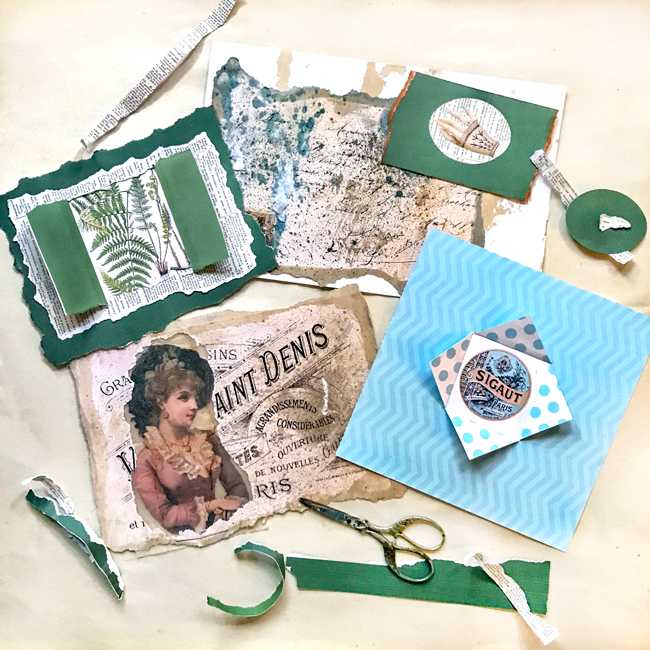 Windows to the World
Personally, I love windows and doors. The symbolism of entering new spaces, new opportunities, and new beginnings is in my mind as I create windows. I use them as portals that provide the transition point to engage the viewer with interactive elements of my work. I also use them to add dimension to my art. Think movement and highlight combined with space and time.
Paper Windows Supplies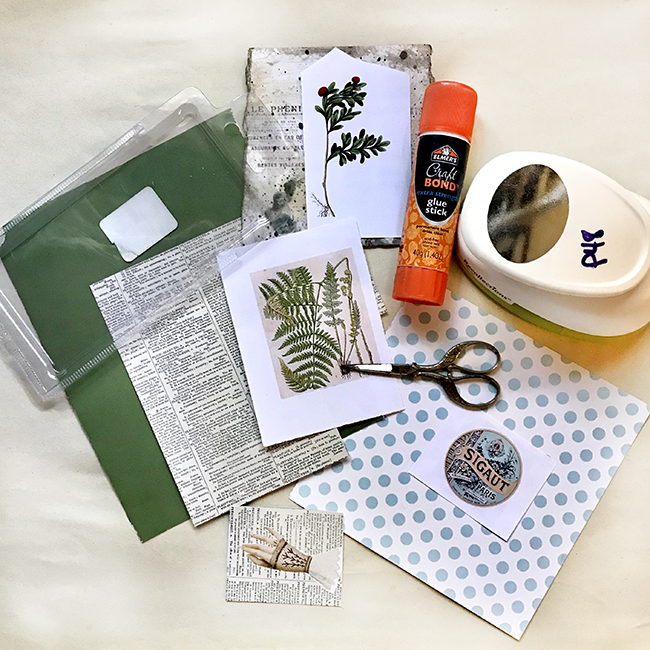 Paper – TGF images printed on high quality paper (24 lb minimum)
Scrapbook Papers and Cardstock
Glue Stick
Water Brush
Hard Plastic Packaging
Craft Knife
Ruler
Scissors
Making Paper Windows
Below you will find four easy techniques I use for making windows in my craft projects. You will find them most often in my books and Junk Journals. These are fun and quick ways to accentuate a certain element on your surface. I will be featuring several lovely Graphics Fairy Images. Please search through the archives here for images that you want to bring attention to. Importantly, we will concentrate on creating the windows. Any of the windows we make can be used on a journal or scrapbook page, card, paper craft, or art project.
Torn Shutter Windows
This torn window will resemble an open pair of rustic shutters. First, select a Graphics Fairy image to peek out of the window. I selected a Botanical Print. TIP: Use some of the techniques we learned in the Paper Tearing post in this series.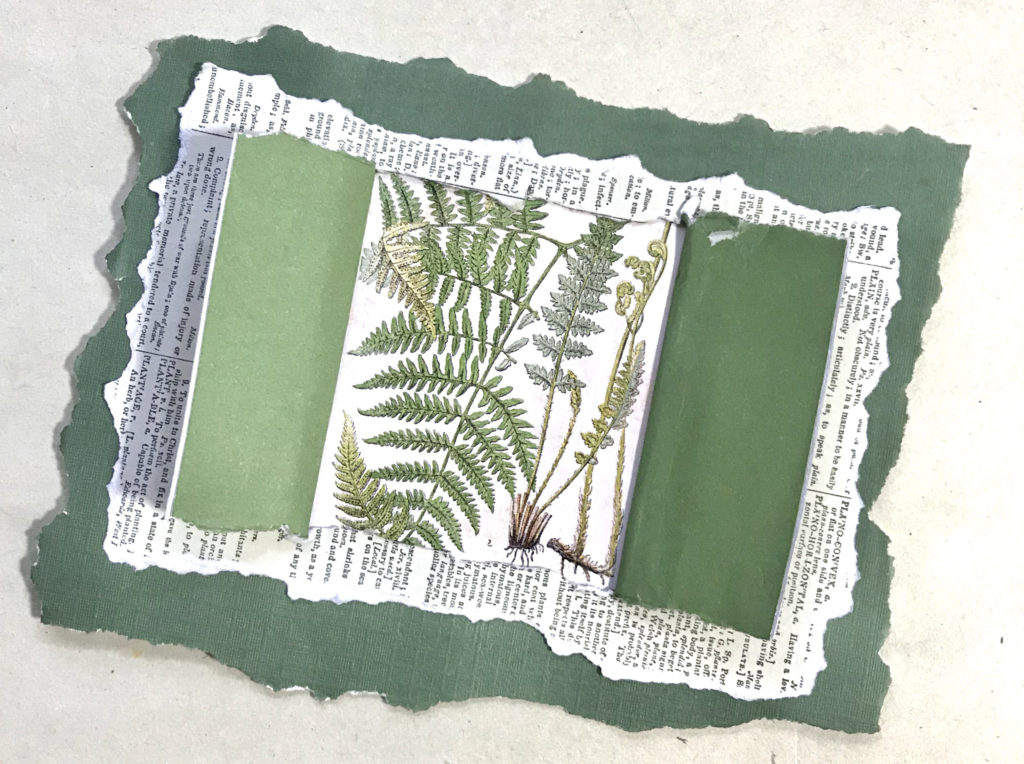 Tear a piece of solid color cardstock at least 1″ larger than the image on all sides. Tear a second piece of coordinating scrapbook paper or Graphics Fairy paper slightly smaller than the cardstock. Center the smaller image on the cardstock and glue. (see left image below) Measure the Graphics Fairy feature image. You want your opening to be slightly smaller than the image. Find the center of your cardstock element. Draw a light pencil line the height of your image minus approximately 1/8″. Cut a vertical slit in the center of the paper with a craft knife and ruler. (center image below) Turn the card over to the back and draw 'tearing' lines slightly smaller than your image. (see image at right below) Carefully tear from the back side along the top and bottom on both sides to create an opening. Fold edges to the front. Attach this window to your feature image.

Punched or Die Cut Paper Windows
This window will be more precise and the opening is cleaner. Punch or die cut an opening in a piece of scrapbook cardstock. TIP: I like cardstock weight for the opening as it is more stable.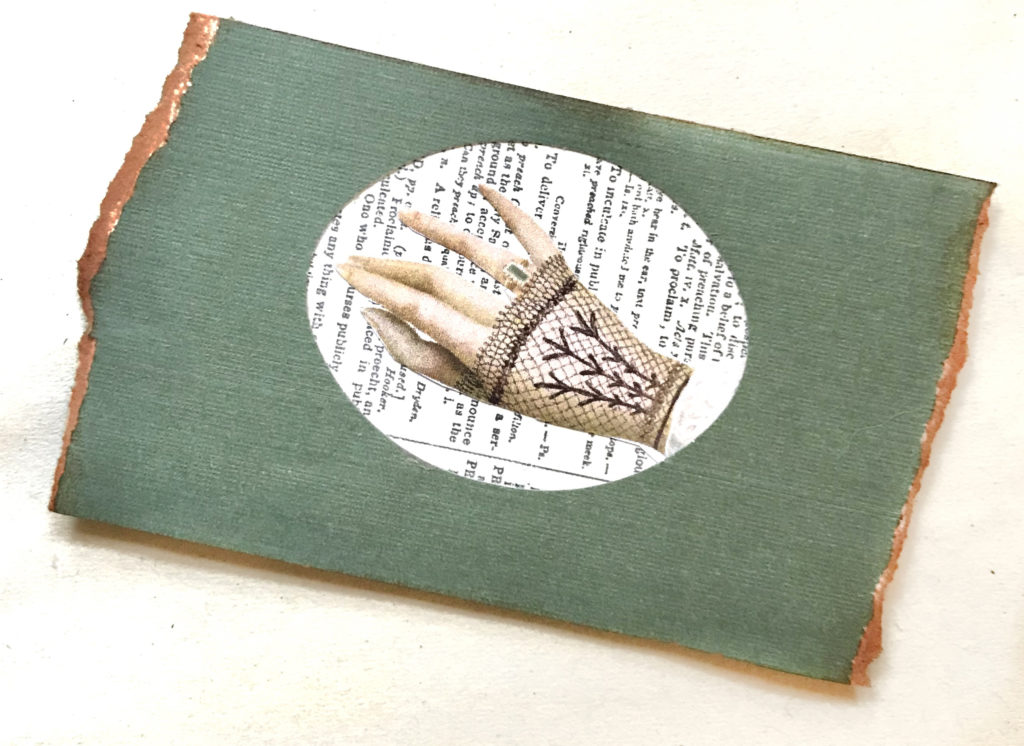 Punch your hole in the cardstock. (left below) Trim your feature image slightly larger than the punched cut. Position the Graphics Fairy image in the opening and glue in place. (center below) Tear edges as you like and age. (right below) Attach this window to your project. Simple and easy!

Wrapped Paper Windows
This technique makes a cool, embellished window design. TIP: Select a square or round feature image for this technique.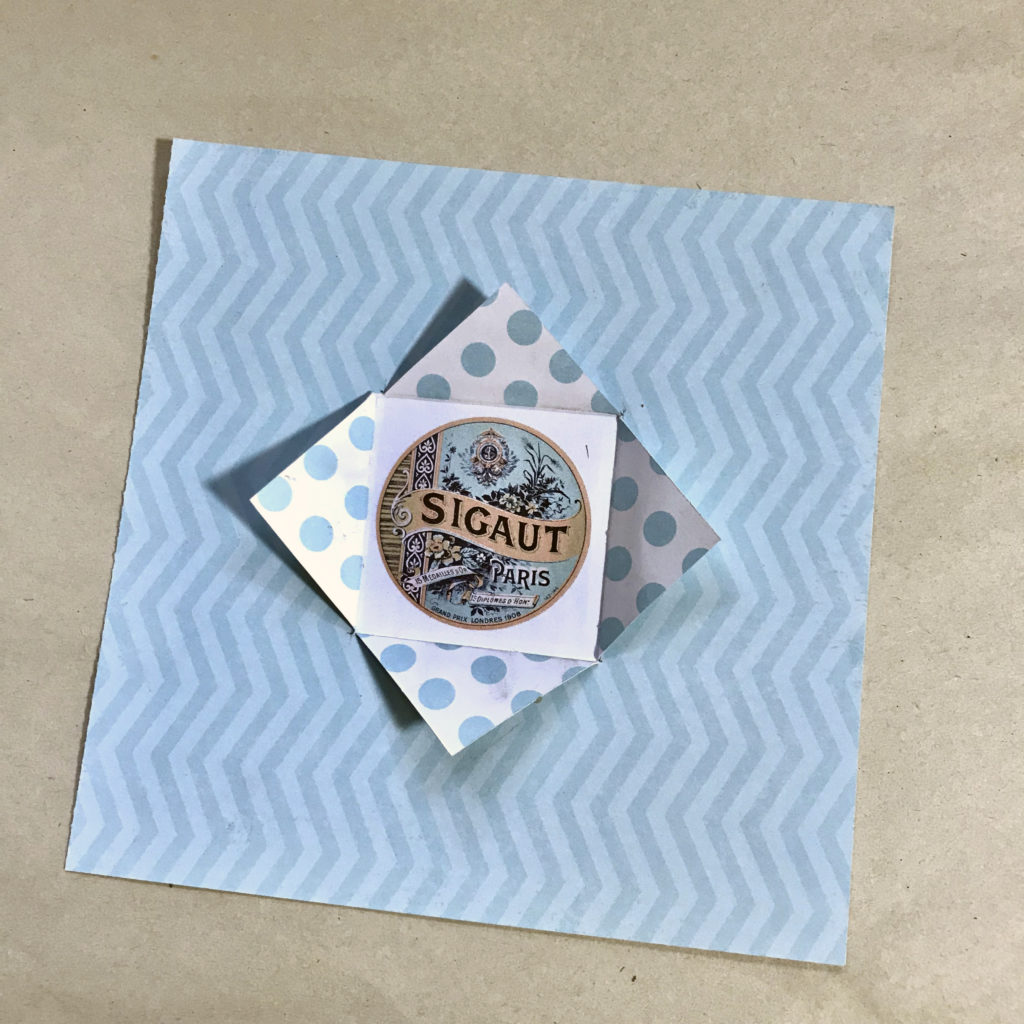 Measure your featured image and add 1/8″ to all four side measurements. TIP: Measure carefully on this one as the opening needs to be larger than your image. On a piece of double sided scrapbook paper, lightly draw a square using these measurements on the front side of the paper. Don't worry about the marks as they will be covered. Then draw a diagonal line from top left corner to bottom right corner. Draw a second diagonal line from top right corner to bottom left corner. This will create an X. (left image below) Using a craft knife and ruler, cut along the X lines. (center image below) Fold the triangular flaps toward the outside. This creates a wrapped opening. Attach this window over your feature image. (right image below) You can embellish the flap areas if you like. You can glue them down or leave them free. Just have fun!

Glazed Windows Using Plastic
The window we make here looks like a real glazed window because it has a covering of clear plastic or mica over the opening. TIP: On this sample, I use a piece of clear plastic I recycled from a die cut package.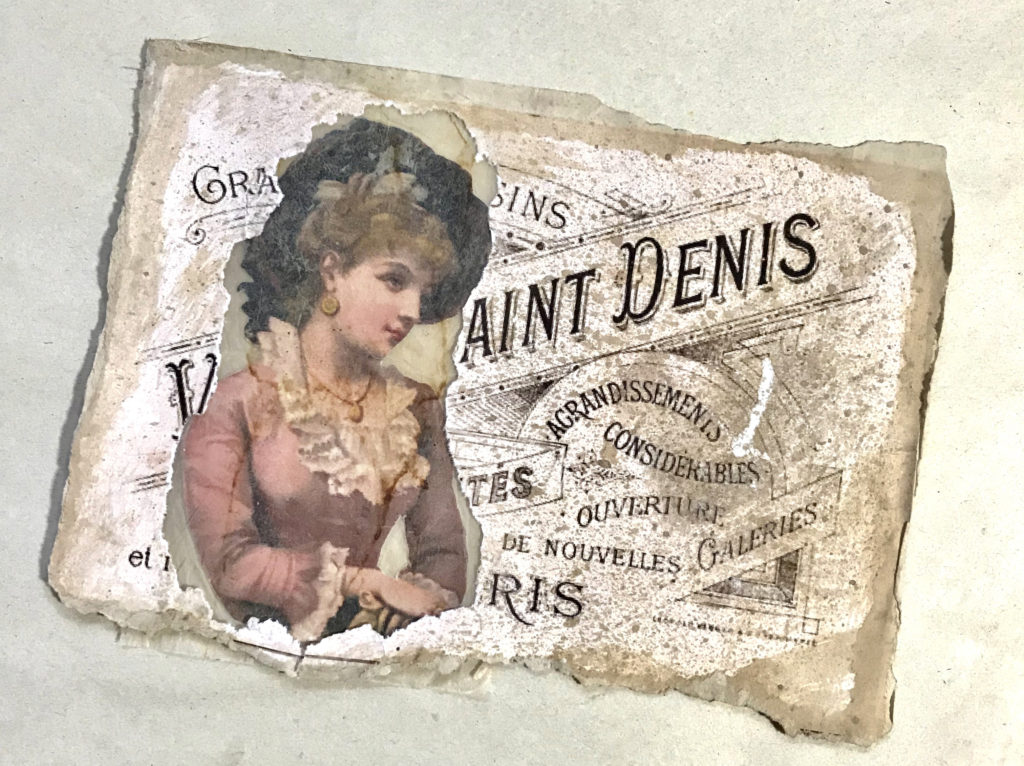 Create an opening larger than your feature image in any paper you like. I am using a lovely Graphics Fairy French Ad image that I tore and distressed first. I am using a beautiful woman in a hat image that I transferred to a tea bag inside the window. For my opening, I drew an irregular shape around my image using a pencil on the back of my ad image. TIP: Be sure the image is face down or the shape will be wrong!! Then I drew with water using a water brush just to the inside of the shape. You could use a brush if you don't have a water brush. (see left image below) Carefully tear along the edges of the water lines to create your window opening. TIP: I use my fingernail to pull against. (middle image below) Cut a piece of recycled clear plastic slightly larger than the opening. You might also use a piece of mica. Once the image is dry, glue the piece of plastic to the back over the opening. (see right image below) TIP: You can also do this with a Packing Tape Transfer Image inside the opening. Position a Graphics Fairy image in the window and glue in place.

How fun is this? In just a few minutes you have created four beautiful Paper Windows for your craft and paper crafting projects! They can be used so many ways. I hope you will use these techniques as a jumping off point to create other windows with a combination of them. Can't you see the possibilities? Here are a few of my creations using the window techniques.
I also create Photoshop Elements tutorials and craft videos over on The Graphics Fairy Premium Membership site. You can find even more of my art, DIYs, and whimsical shenanigans on The Bookery (just launching in Summer 2019)!
Hello! Are you new to The Graphics Fairy?
Welcome, I'm so glad you're here! Browse around to find 
thousands of Stock Images
 that you can use in your projects or designs! I post new Vintage images every day, as well as projects and DIY's too! Need more info about my site? Try my 
FAQ
 page.