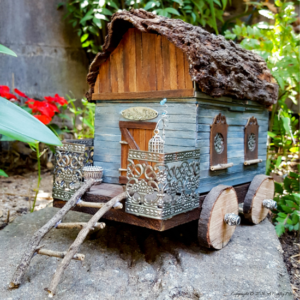 This morning's reader feature is this beautiful re-purposed Gypsy Caravan, submitted by our friend Michelle Leslie.  Using my Gypsy Fortune Teller image, Quirky Vintage Toilet Soap image, Pumpkin Man on Swing image, and Pumpkin Label image for her final touches she created this Gypsy Caravan.  Michelle loves taking odd pieces and creating lovely fairy homes.  She used an old plastic lunch box as the base, and spray painted it blue.  In order for the bark roof to take the shape of the lunch box, she had to soak it in water and then tie it to the top until it dried.    The windows are made out of wire bits, and the sides were created using ice cream sticks.  The door was created using ice cream sticks as well, and some beads for the handle and hinges.  She then cut four wide slices of wood for the wheels, and attached them with a skewer.  She finished off the base using embossed metal stripes she found.  This would make such a wonderful accent piece for any home garden!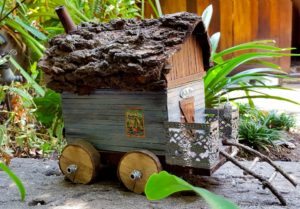 Thank you, Michelle, for sharing your talents with us! To visit more of Michelle's projects, please visit her Blog site here.  To learn how to transfer images yourself, visit the Transfer Methods Page.
Do you have a project you'd like to submit?  You can share your projects, HERE! We would love to feature you!