It's time for another Request Day! I'm doing these once a month now, the next Request Day will be on Thursday January 13th.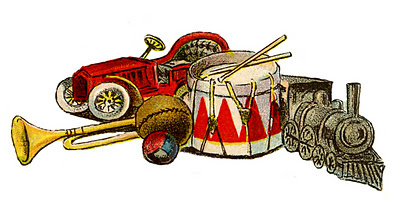 Izzwizz was wishing for some Toys for a Toyshop Window that she's creating. These are from an old Victorian Postcard, I just separated them from the rest of the card. Cute and colorful!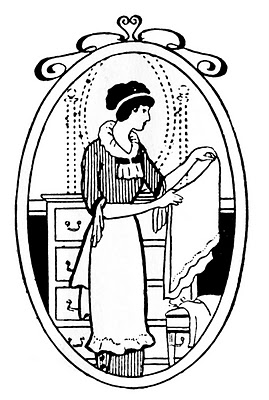 ThePowerOfMe was hoping for some type of cleaning related image, I believe for a Children's Chore Chart that she's working on. I found this image of a woman Folding Laundry in a 1915 Ladies Magazine.
And lastly Clare, who has perfect timing and made this request this morning, was wanting some Artist Paint Brushes. This set of Brushes is from an 1880's Pharmacy Catalog.
Well, that's all for this month. Do you have a request for an image? If so please leave it here in the comments section of my Request Day post, and then check back next month to see if I found your requested image (Sorry but I can't fill every request, I usually pick a few each time). I'm afraid I'm a very disorganized Fairy, so please, please please Do Not email requests to me, I most likely will loose it if you do. So sorry but I'm a complete mess when it comes to email! I'm afraid they're just aren't enough hours in the day to answer them all, and then I feel horribly guilty.
P.S. Don't forget to use the search box here on my blog, you might find that the image you want is already here!