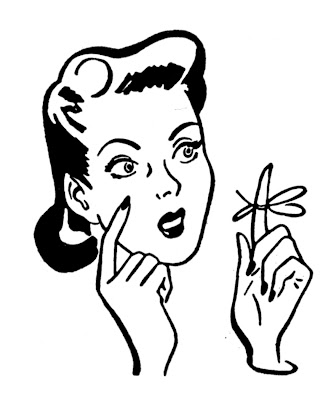 Click on Images to Enlarge
These are some fun Retro Graphics showing Reminders. I could really use some of these lately!! Included are a Woman with a string around her finger, an Elephant, and a Ladies Hand that also has a string around it. These would be cute to use on a DIY Memo Board!
In Other News: I have an exciting announcement to make! Some of you may know that I am a dealer at The Old Lucketts Store, I have been there for nearly 10 years now and all things Lucketts are near and dear to my heart. It's an unbelievably fun place to work at, and even more fun to shop at. However we only just have the one location, so if you didn't live in around Leesburg, VA, you were out of luck … until now that is!
 3′ x 5′ Bamboo Matt with Spencerian Script
I'm so pleased to announce that my dear friends Suzanne and Amy (Suzanne owns Lucketts & they both own the Design House jointly) have just opened Lucketts Online Shop!! 
 Cartographic Canvas Wall Art
They've been filling the shop up with some fabulous items, things that will make your home really special.
Postes France Pillow
Black Zinc Clock
Please Note: I was Not paid to write this post.