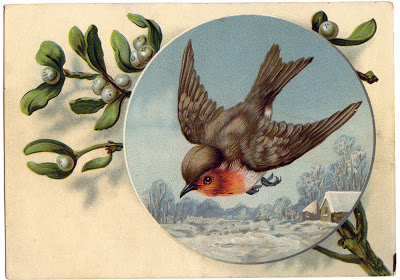 Click on Image to Enlarge
This is a sweet Royalty Free Image showing a Bird Flying across a Winter Scene! It looks like a Robin to me. I love the the branch of Mistletoe that extends beyond the scene. So nice for your Winter Craft Projects!
In Other News: My friend Debi makes the best DIY videos!!
She is funny, cute, quirky and so talented. Her
videos are so fun
that they always
brighten my day
and make me smile, in addition to showing how to make some sort of
awesome project!
She was recently
nominated
  for
"You Tube on the Rise"
and is one of 4 participants. The winner will get featured on You Tube, which would be huge for Debi's career! This girl really should have her own TV show!! 
I would LOVE it, if you guys would vote for her!!
And I know it would mean a lot to Debi too. Here's the
link to the Voting page,
it
only takes one click
! Her video is listed under
SheShellsSeaShellsCom
! Be sure and watch the video too, I know you will enjoy it!