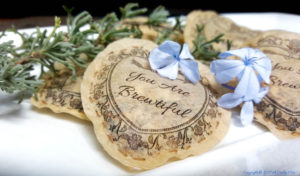 Today's reader feature are these Beautiful Scented Herb Infused Bath Tea Bags, submitted by our friend Michelle Leslie.   With Valentine's Day around the corner and Mother's Day soon to follow, what better way to spoil that special loved one with these wonderful tea bags.  Michelle first brewed the tea, dried out the bags, open and emptied the leaves while saving the tea bags.  Then she gathered some herbs and flowers, and baked them until they crumbled.  After the empty tea bags dried out, she taped them to a sheet of paper and using a laser printer Michelle printed my Vintage Sweetest Heart Frame image directly onto the tea bags.  For her final step she hand stitched around the image leaving an opening to fill the bags with the mix of herbs, salt, and oatmeal before sewing it closed.  This is such a lovely project!
Thank you, Michelle, for sharing your talents with us! To visit more of Michelle's projects, please visit her Blog site here.  To learn how to transfer images yourself, visit the Transfer Methods Page.
Do you have a project you'd like to submit?  You can share your projects, HERE! We would love to feature you!