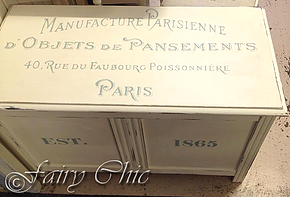 Today's reader feature is this Beautiful Shabby Chic Blanket Box and Sideboard, submitted by our friend Paula Rolls.  She first looked and found the perfect image for each piece which was my French Wine Typography for the sideboard, and my Paris Address Image for the blanket box.   Next, Paula saved the image, and used a third party website which allowed her to blow up the image to the size that she needed.  Due to the size of the images, she had to print them out onto several pieces of paper, and then pieced it all together on the top of the furniture using tape.  After that was done, Paula traced and shaded the image on the opposite side with a soft lead pencil, and then turned the image over to the right side laying flat onto the surface.  She then used a Biro draw round the edge of all the graphics, and once she was done she lifted the paper up and the image was transferred.  For her final step she handpainted the transfer with a chalk paint and a fine brush.  These are such beautiful pieces!!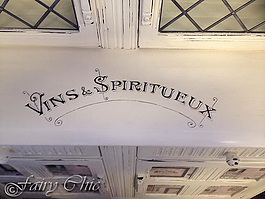 Thank you, Paula, for sharing your talents with us! To visit more of Paula's projects, please visit her Blog site here.  To learn how to transfer images yourself, visit the Transfer Methods Page.
Do you have a project you'd like to submit?  You can share your projects, HERE! We would love to feature you!