Happy Holidays, crafters – Heather from Thicketworks here, with a simple and quick Vintage Deer Christmas Ornament project!
This post may contain affiliate links which won't change your price but will share some commission, you can find our
privacy policy here
.
---
This post is brought to you by Plaid and Blueprint Social. They supplied the fun products to use in this demonstration, and compensated me for sharing it with you – however, the design, methods and madness are my own!
---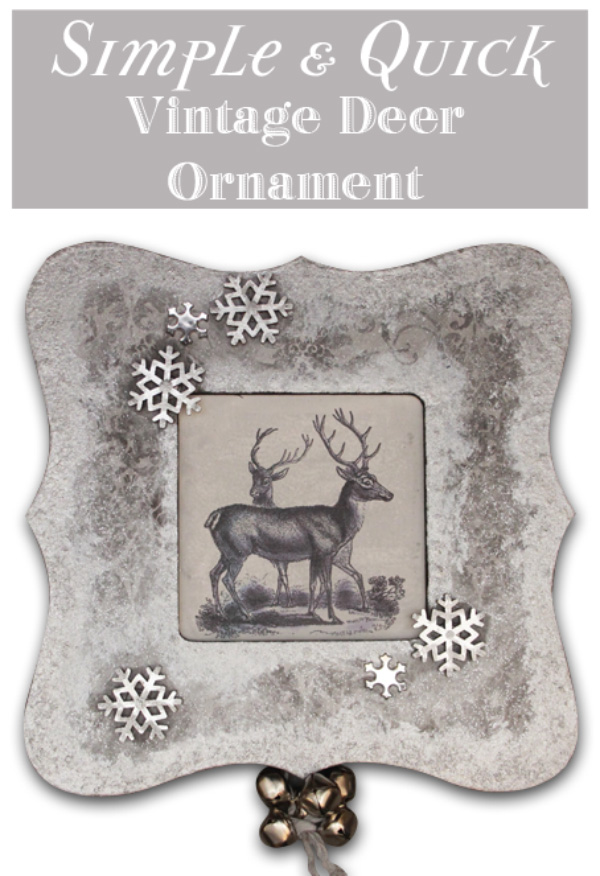 Simple and Quick Vintage Deer Christmas Ornament
Supplies:
Mod Podge®: New Pearl formula- works as a decoupage adhesive, and also acts as a translucent pearlescent topcoat – gives a mother-of-pearl effect to your work. Pretty!
Here's what you need to know about these paints:

This is the only paint you'll ever need! – Paint wood, glass, ceramic, metal, terra cotta, rigid plastic, canvas, Styrofoam, slate, paper-mache and fabric with the same bottle.
Our patented, self-sealing formula offers superior coverage for fewer coats and quicker drying times.
With a dishwasher-safe glossy finish, this water-based non-toxic formula resists moisture and rust and comes in a wide color palette including basics and trend-right shades.

Wooden Frame (I got mine at Michael's for $1.00)
A lightweight sheet of neutral black/gray/white patterned scrapbook paper
A print of the Lovely Deer image from The Graphics Fairy, sized to fit your frame
An ordinary large artists paint brush
A brayer or other device to smooth the paper
An emery sponge or emery board
A craft knife
Jingle bells in a silver finish
Self-adhesive Snowflake embellishments
White seam binding tape for hanger/dangling jingle bells
A spray bottle of water
Non-stick craft mat
Stapler
How-to:
 To begin, remove the inset from the frame and set aside – you'll be using it in a bit.
Apply a generous coat of Mod Podge® Pearl Formula to the surface of the frame. It works exactly the same way as the classic formulas.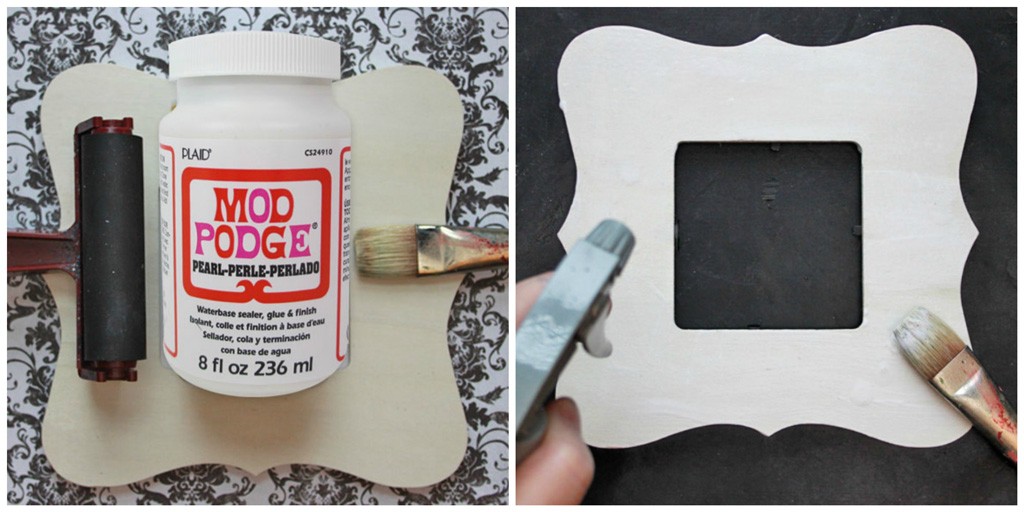 2. Optional: lightly spritz the surface of the Mod Podge with water. This extends the working time slightly, allowing you to reposition the paper. If you're like me, this is oh-so-necessary!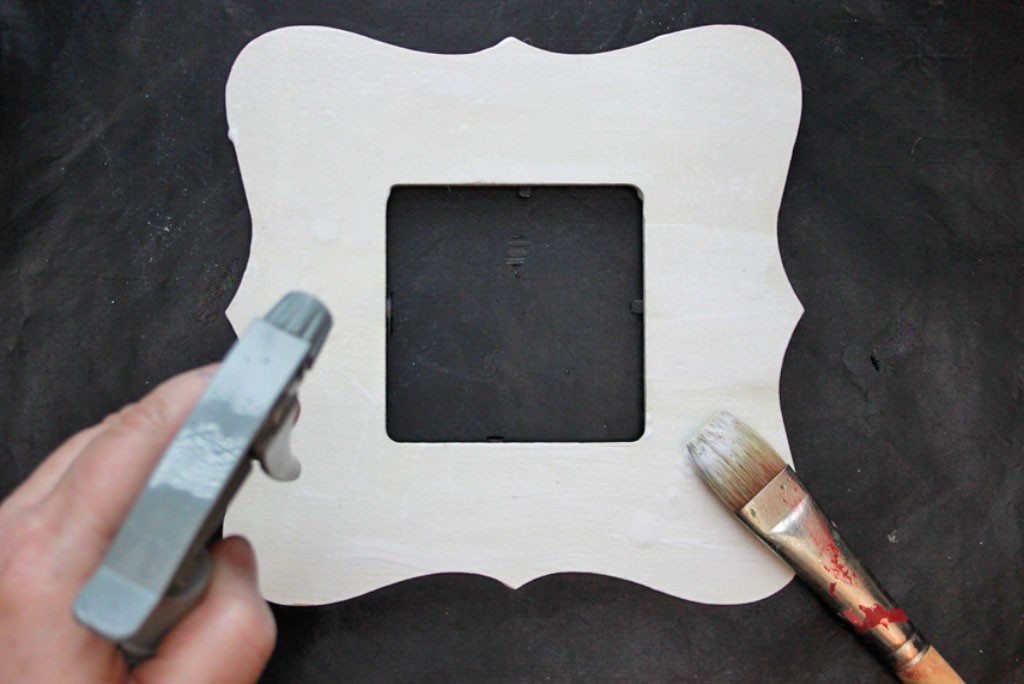 3. Position your paper on the wet surface. Do not cut the paper to fit, just lay the whole sheet right down!
4. Brayer the surface of the paper to eliminate wrinkles and to ensure even adhesion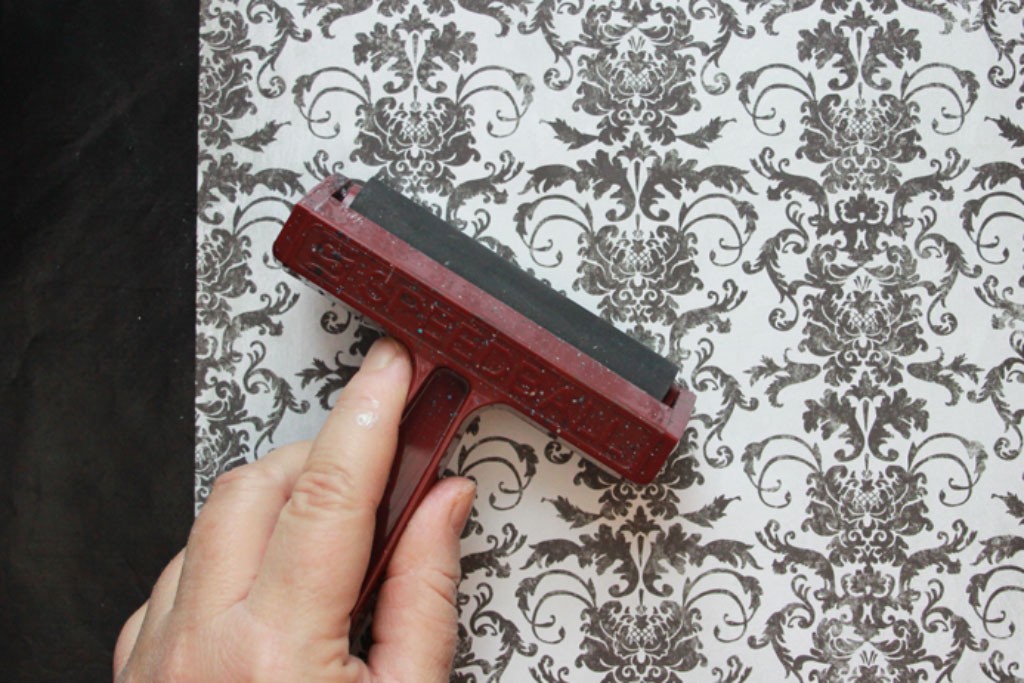 5. After a few minutes drying time (15 or so), use an emery sponge/board to gently sand along the outer edges of the frame. This will give you a perfect fit every time! Note: sand in an outward motion only – otherwise you may lift the edge of the paper.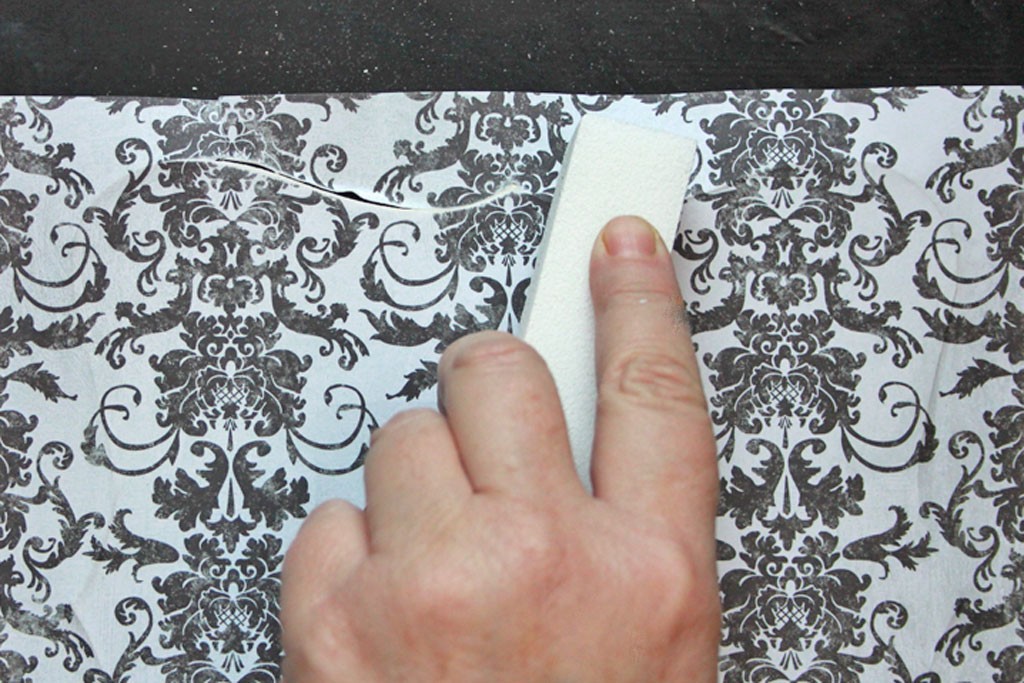 6. Use a sharp craft knife to cut away the paper covering the inset, then sand lightly to smooth.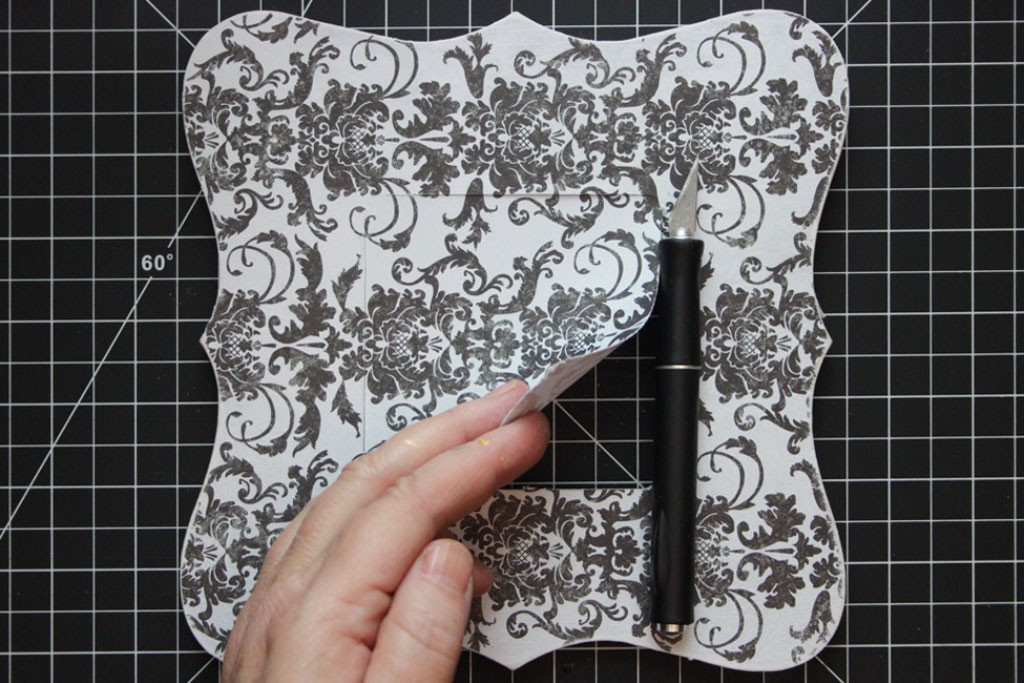 7. Decoupage your Lovely Deer image onto the cardboard inset. Allow to dry, then trim the excess paper away using an emery board.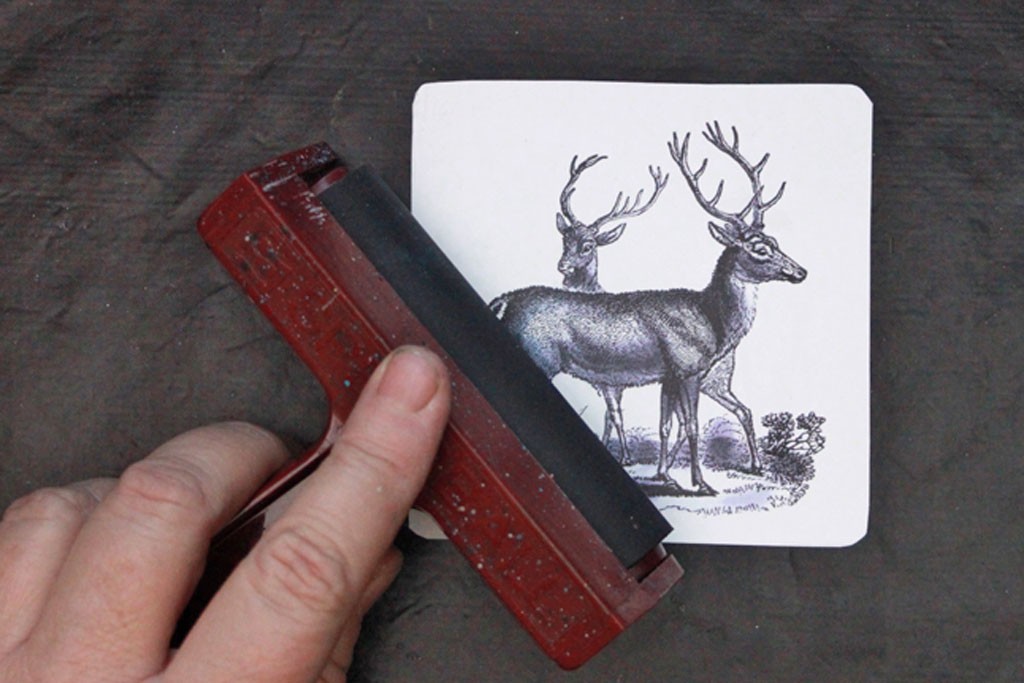 8. Paint the edges of the frame, outer and inner, with FolkArt® Multi-Surface Metallic Acrylic Paint in Charcoal Black.
9. Using a brush, dab a light layer of Silver Sterling Multi-Surface Metallic Paint over the upper surface of the frame, and around the inset opening, softening the pattern of the paper. Apply several layers of paint to create a lovely patina effect.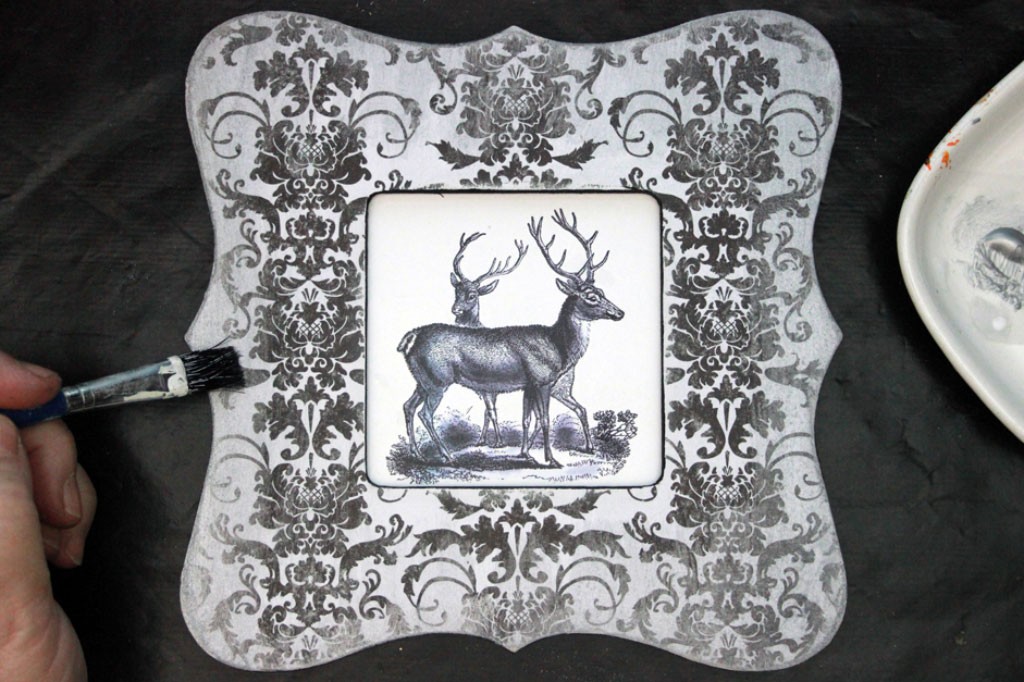 10. When you're satisfied with the silvery shimmer, randomly apply a coat of the White Pearl Multi-Surface Pearl Paint to evoke a snowy feeling.
11. When dry, apply a final coat of Mod Podge® Pearl Formula over the entire project for a gorgeous pearlescent gleam!
12. Apply snowflake embellishments in a pattern that pleases you.
13. To create a custom hanger/jingle bell dangler thingy, dye a length of white seam binding with FolkArt Multi-Surface Metallic Paint in Silver Sterling.
Just put a pea-sized drop of paint on a non-stick surface, spritz with water & mix thoroughly. Soak up the silvery goodness with your seam binding, scrunch it up, and dry with a heat tool.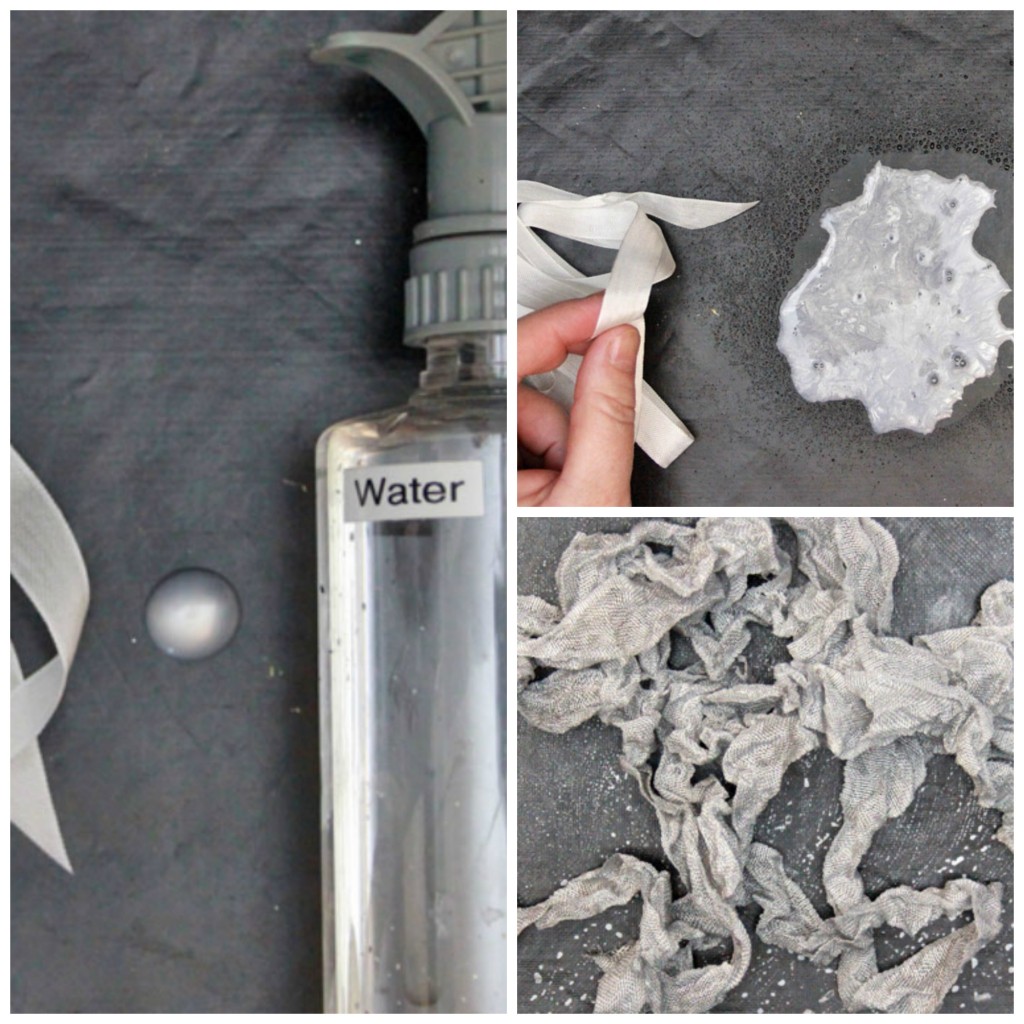 14. Thread jingle bells onto the ribbon, and fasten to the back of the frame with a staple. All done!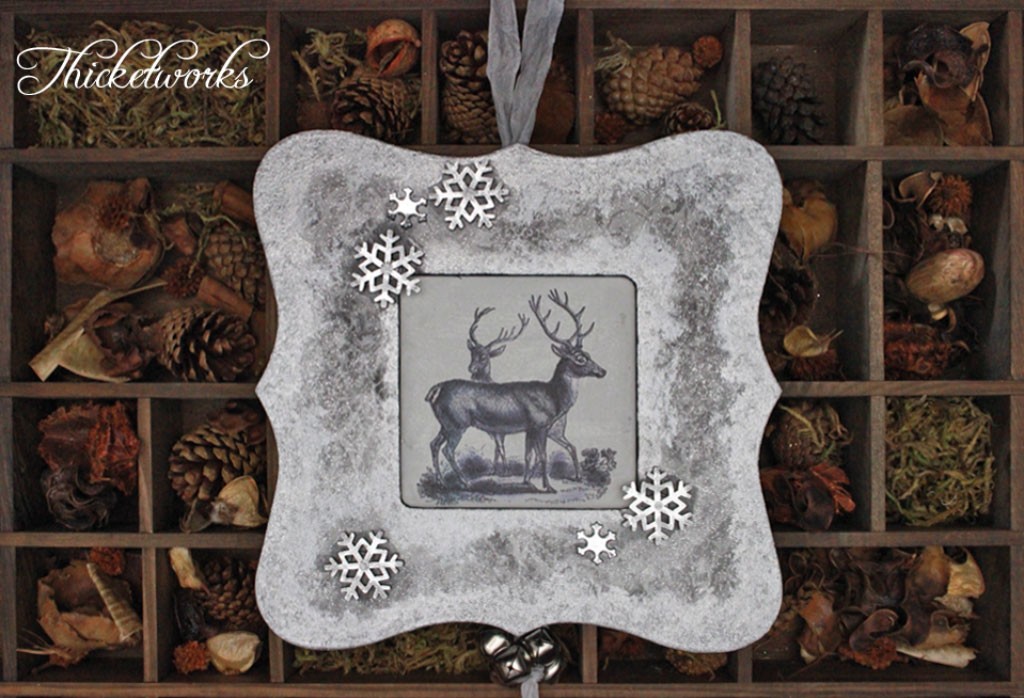 Note: Dabbing, rather than brushing these finishes worked best for me.
For more fun ornament projects, click the image below: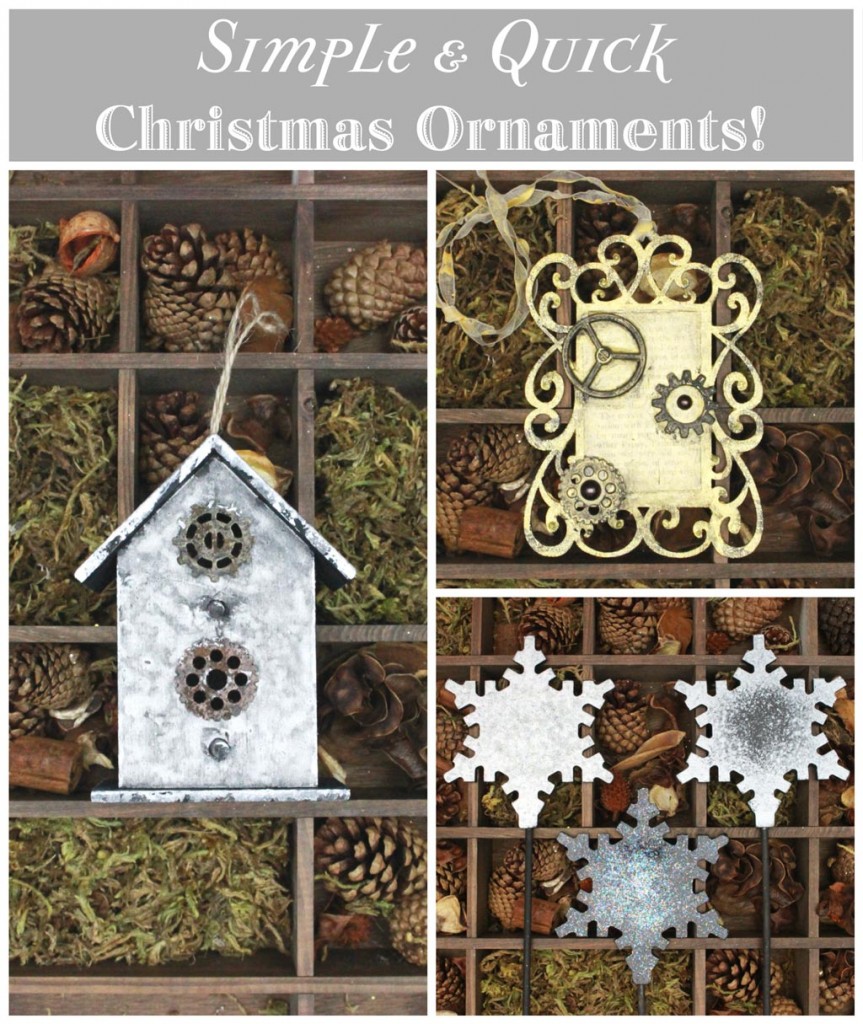 ---
Experiment, have fun! You'll enjoy yourself, and end up with a beautiful ornament, to boot!
I've been relying on Plaid products for longer than I'm prepared to admit – it was a real treat to learn about these awesome new products. Most of you know about Mod Podge, of course, but here are some great facts that you may not have known:
It dries in 15-20 minutes
Mod Podge is the original all-in-one sealer, glue and finish. Perfect for wood, paper, fabric and other porous surfaces, such as terra cotta, plastic foam, and candles, it's quick and easy to use. As a glue, it dries clear and holds tight. Non-toxic with a soap and water clean up makes it great for kids. As a sealer it protects acrylic paints, stains, decoupage and fabric. No crafter should be without it.
Mod Podge is an all-in-one glue, sealer, and finish of choice for decoupage and everyday crafting. Decoupage is simply the art of cut-and-paste, used with paper or fabric cut-outs to decorate virtually any surface. It's ideal for: Home Décor, Gifts, Upcycling, Kid's Crafts, Mixed Media and more.
Manufactured in the USA
America's number one decoupage medium
Waterbased and non-toxic
Easy to use
Available in a wide variety of formulas: Original formulas (Matte and Gloss), Furniture, Dishwasher Safe, Outdoor, Paper, Fabric, Wash-Out for Kids, plus much more like the new Pearl formula!
Mod Podge offers a variety of tools to make decoupaging easier and more enjoyable.
---
Thanks, Plaid & Blueprint Social, for sponsoring this post and supplying such fun tools to experiment with! You can visit the Plaid Website here.
---
Check them out on Social Media:
Pinterest, Facebook & Instagram
Thanks for sharing this Holiday fun with me! If you like to play with different approaches to crafting, stop by Thicketworks and poke around…you're always welcome there.
Take Care,
Heather