I'm back this week with another awesome Craft Product, and an awesome Crafty person too … from my trip to CHA, the Craft and Hobby Association Trade Show. This week the focus is on ImpressArt Metal Stamps and Margot Potter! Margot was demonstrating in the ImpressArt booth during the show. My roomie Jade and I, met up with her in the booth and got to do a fun make and take, along with some other bloggy friends!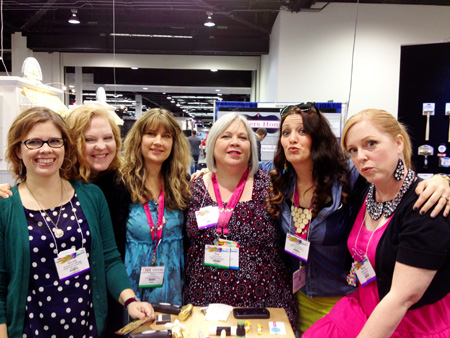 We all hammered our little hearts out and made some cute "Rock Star" metal necklaces. Of course we had to get a photo taken, to show off what we made!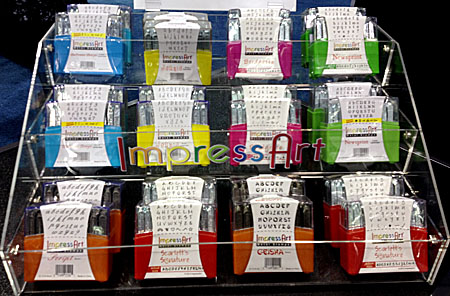 I've seen those little metal letter stamping kits before at craft stores, but I've never seen them like this! I was really impressed (haha!) with the variety of Stamps that ImpressArt had to offer. It's no wonder that they were selected as one of the Top 20 Products at CHA!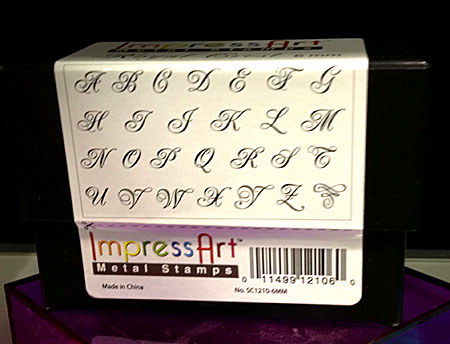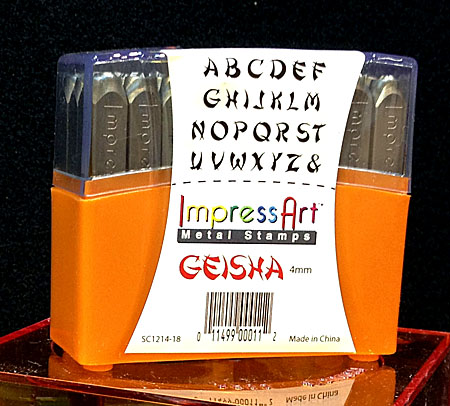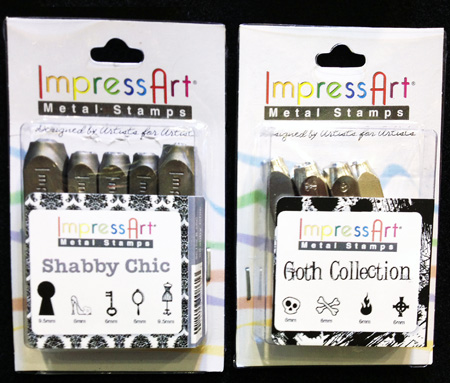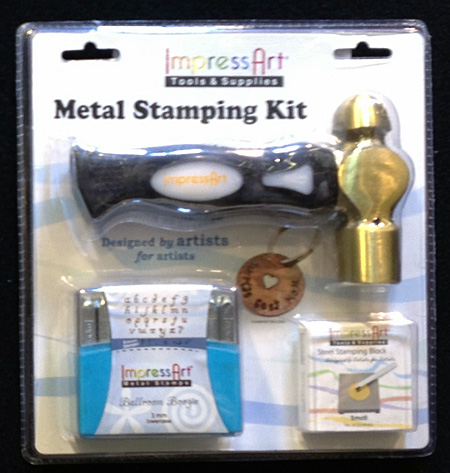 I love these kits because they come with the special Brass Head Stamping Hammer, that makes stamping a breeze! The hammer is just the right size and weight to make it super easy. You can see more of their fabulous products at the ImpressArt Metal Stamps Site!
It's not surprising that ImpressArt snagged Margot Potter to demo at their booth! She is fabulously talented and so much fun to be around! She's a super creative crafter and designer of course, but also she writes, acts and sings like a dream!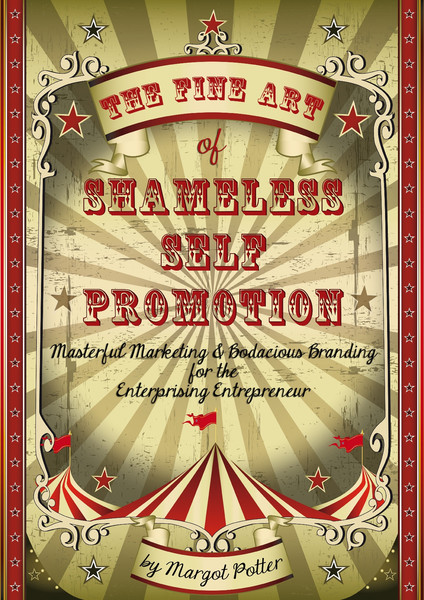 She's also a genius when it comes to marketing and branding and she's written a fantastic ebook, on the subject. Don't you just love the cover?!! It's called The Fine Art of Shameless Self Promotion.   I purchased a copy myself and let me tell you, it is worth getting! I actually got to experience her expert advice in person, and she really does know her stuff! I'm just awful when it comes to approaching sponsors, I never know what to say, or how to approach them. I was at an event with multiple sponsors and Margot pointed out exactly which ones I should speak to, and then coached me on what to say. She motivated me to talk to one of my favorite sponsors and I was able to establish a relationship with them, that has worked out well for me and them. Yay! You can learn more about the book in the fun video below:
To see some of Margot's fabulous crafty projects be sure and visit her blog at
The Impatient Crafter.
Or visit her shop at
MargotPotter.Com
to grab some fun vintage Ephemera, Digital Collage Sheets and More!

Hello! Are you new to The Graphics Fairy- DIY?
Welcome, I'm so glad you're here! This is actually a separate blog from my Vintage Image site. Browse around to find Projects and DIY Tutorials, as well as Free Iron On Printables (many of them French!) You can subscribe via email so that you don't miss a single project or printable, just click HERE to sign up!