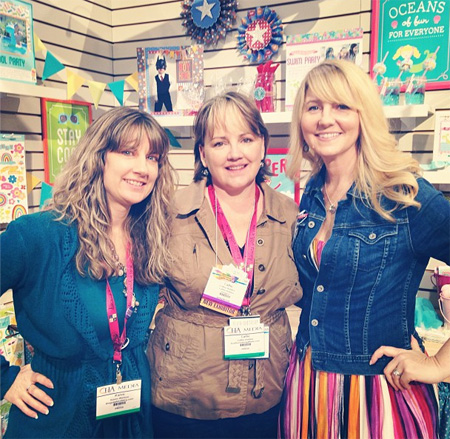 Me, Cathe Holden, Amy Locurto  (photo credit Amy Locurto)
In January when I was at CHA, the big Craft and Hobby Trade Show, I ran into two of my blog friends! I met both of these talented ladies, online around the same time, maybe around 4 years ago? I got to meet Cathe Holden in person about 2 years ago, and this was the first time that I've met Amy Locurto in person. We've all been blogging for quite a few years now, and it was so fun to all be together in the same room! In the photo above, we were standing in Amy's booth, with her new line of products! As I continue on with my series of "The Best New Craft Products at CHA", I couldn't be more thrilled to be able to include my friends, and their fabulous products, in the line up!
Amy's line is called Party by Amy Locurto! I found her in the Pebbles booth at American Craft. She's created an amazing selection of fun and colorful paper items, that are perfect for using to create Handmade Party Decor, Cards, for Scrapbooking etc.
Like these adorable stickers, made into cupcake toppers,from her Mermaid Party collection! There are lots of coordinating pieces too, like matching papers, more stickers, bags etc.
These are some of the pieces from her Rainbow Party Collection. Aren't the Bottle labels, made from her "Over the Rainbow" paper just so cute?!
She's even got the boys covered with her Super Hero collection. So fun!! Imagine all the fun you can have creating the perfect party with these darling pieces! It's just starting to get into stores now, and Amy will be selling these online in her shop, which should be open soon. In the meantime though you can shop, and see the rest of the line on her Blog HERE.
Cathe was also set up at the show, in order to unveil her new gorgeous book "Rosette Art"! Thankfully her publisher was nice enough to send me some photos, which were way better than the ones that I took with my little iPhone!
You guys will flip when you see the gorgeous projects in this book! Just look at that luscious satin Ribbon Rosette…
and this marvelous Paper Rosette Wreath! Gorgeous!!! The book will be coming out in May, but you can pre-order it now. There's a link to pre-order and lots more photos of the projects on Cathe's Blog, click HERE to find it!

Hello! Are you new to The Graphics Fairy- DIY?
Welcome, I'm so glad you're here! This is actually a separate blog from my Vintage Image site. Browse around to find Projects and DIY Tutorials, as well as Free Iron On Printables (many of them French!) You can subscribe via email so that you don't miss a single project or printable, just click HERE to sign up!