It's Thursday so that means it's request day here at TGF!
Here's what I found for you this week: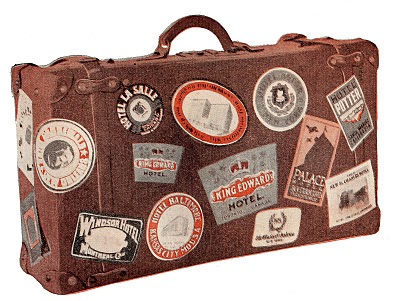 Quite some time ago a reader named Shoni, had requested some luggage with travel stickers. At the time I had found a plain suitcase and posted it, but today I came across this fabulous vintage leather suitcase just covered with travel stickers! This image comes from an early 1900's ladies magazine.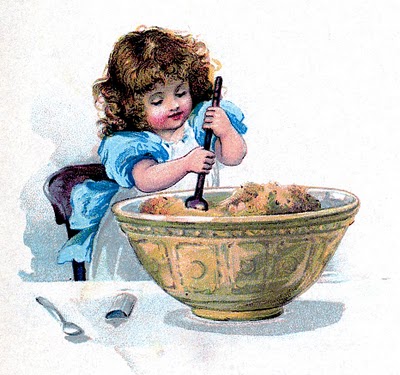 Christine was wishing for a graphic showing a child, who is baking or cooking, for her local school's cookbook. This darling little girl with the giant mixing bowl, comes from a very old Mother Goose book, gifted to me by a very sweet reader named Gayle. Thanks Gayle!!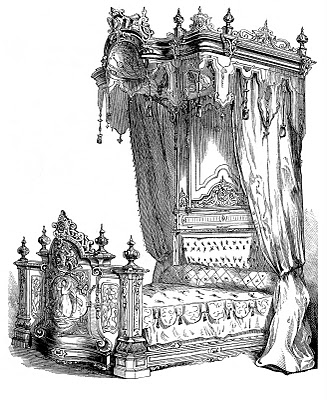 Denise was looking for a side view of a bed with linens on it. This bed is almost sideways, and it does have linens on it. I'm not sure if she was looking for something this Grand… but this was all I could find for now!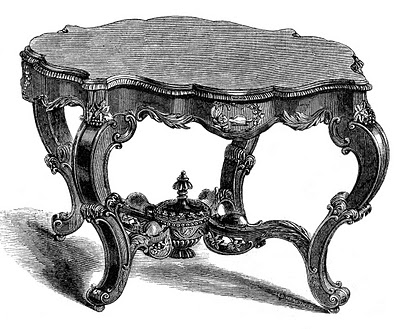 And lastly, an anonymous reader asked for a table to match some chairs that I had previously posted. I'm not sure which chairs, since I have several, but I think this Victorian table will probably go with most of them. This one dates to the 1850's, as does the Grand Bed above.
Well, that's all for this week. Do you have a request for an image? If so please leave it here in the comments section of my Request Day post, and then check back on Thursday to see if I found your requested image (Sorry but I can't fill every request, I usually pick a few each week). Each week I go back and check under my Thursday posts to find what your looking for, it's so much easier for me that way. I'm afraid I'm a very disorganized Fairy, so please, please please Do Not email requests to me, I most likely will loose it if you do. So sorry but I'm a complete mess when it comes to email! I'm afraid they're just aren't enough hours in the day to answer them all, and then I feel horribly guilty.
P.S. Don't forget to use the search box here on my blog, you might find that the image you want is already here!
Share