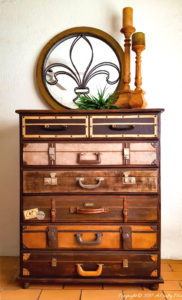 Today's reader feature is this Beautiful Chest of Drawers, submitted by our friend Michelle Leslie.  Michelle transformed this pine chest of drawers into a gorgeous stack of vintage suitcases.  She created this look by adding several bits and pieces from old suitcases that she was able to find at a thrift store.  Michelle first sanded the dresser, used a coat of Rustoleum's American Walnut Stain, and a sealer.  She wanted every drawer to be unique, so she treated each drawer individually to give each a different look.  Michelle then transferred my Vintage Pharmacy Label, and my Apothecary Label onto the front of one of the the drawers to make it look like a stamp or sticker.  I love this transformation!  This is absolutely beautiful!!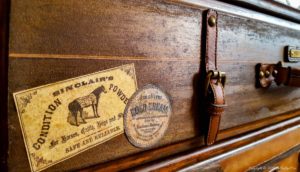 Thank you, Michelle, for sharing your talents with us! To visit more of Michelle's projects, please visit her Blog site here.  To learn how to transfer images yourself, visit the Transfer Methods Page.
Do you have a project you'd like to submit?  You can share your projects, HERE! We would love to feature you!