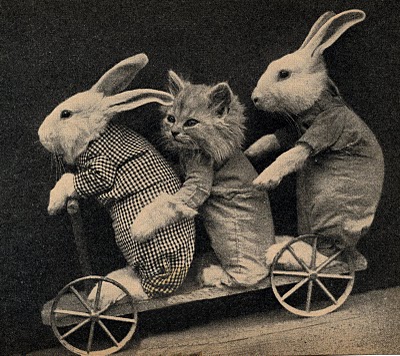 Click on image to enlarge
If you're traveling this weekend for Easter, please be careful, there were some crazy people out on the roads today. Okay, well… maybe not as crazy as these three, but you get the picture!
I hope you enjoy this funny photo of these 2 bunnies and their kitten friend. Just like the one I posted last week, I am offering the same advice, please read below.
Now a word of caution on this graphic, I would suggest using this one for personal use only. This is from a book that was published in 1937. U.S. copyright law states that if a book, published in this year, did not have it's copyright renewed prior to 1963, it falls in the public domain. I have researched this and have not found a renewed version, prior to 1963, so I feel pretty good about it. But I'm not 100% sure. So it's best NOT to use this one for projects that you will sell.
XXXOOO