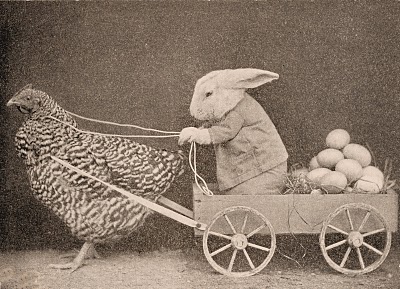 Click on image to enlarge
This graphic just cracks me up!! A funny little Bunny delivering eggs in a wagon pulled by a Hen! How cute is that?!!
Now a word of caution on this graphic, I would suggest using this one for personal use only. This is from a book that was published in 1937. U.S. copyright law states that if a book, published in this year, did not have it's copyright renewed prior to 1963, it falls in the public domain. I have researched this and have not found a renewed version, prior to 1963, so I feel pretty good about it. But I'm not 100% sure. So it's best not to use this for projects that you will sell.
P.S. I'm working on a blog page that will explain public domain in more detail so, watch for that, it should be done soon!
XXXOOO