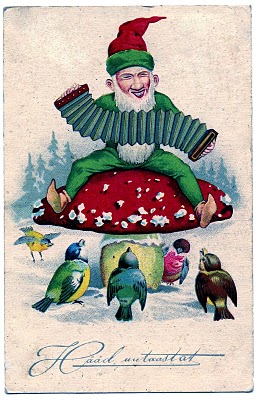 Click on image to enlarge
Isn't he cute?!! This is a funny green and red
Gnome
, sitting on a red and white
Mushroom
, and playing the
Accordion
. The sweet little birds seem to be enjoying his performance! This vintage image comes from an antique postcard.
I recently found this awesome
Movie clip site
and thought it might be fun to tie in some
vintage images with different movies,
that have related themes. This clip is from
Gnomeo and Juliet
. If you guys like this idea, I will do more of these in the future. Enjoy the clip … and the clip art!