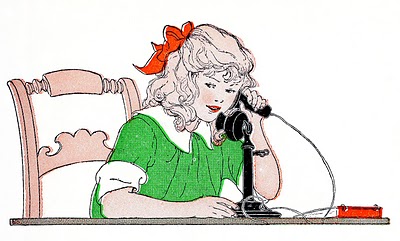 Click on image to enlarge
This pretty little girl graphic comes from an old children's book, about teaching children the basic skills of everyday life. This child is learning how to answer the telephone properly. What a great looking old fashioned phone she has!
Also, it's Monday again. You may recall that last week I wrote about how Blogher has selected me to be a compensated LG TextEd Ambassador, in order to help educate parents about texting and ways to combat negative behaviors, like bullying, gossip and inappropriate content being shared. This weeks topic is "Talk the Talk: Decoding your Teen's Texting Lingo".
There are five posts that have been written, by Moms, about this weeks topic. And just like last week, for each comment left on each post, a $.50 donation will be made to the wonderfully good people at DoSomething.org. (which is a great site about getting teens involved with volunteering)!!! You can see read all of the posts HERE and leave any questions that you might have, or your own expert advice for those of you that know a think or two about this topic.
Share
Full Disclosure: This is a sponsored post.