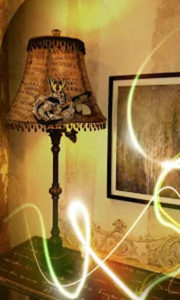 Today's reader feature is this beautiful Vintage French Lamp, submitted by our friend SK Sartell.  She saved this old lamp that only cost her $.50, and brought it back to life.  Sk first used 3M spray adhesive to attach the fabric onto the shade.  She then added a beaded braid trim that was originally purple, but changed the color to black using chalk paint.  Next, SK hot glued the beaded braid to the bottom and top of the shade, and spray painted the lamp base a hammered black.  SK antiqued the fabric using a watered-down brown paint, and added scraps of fabric, and black chiffon that she used to form into the shape of a rose.  She transferred my Swallow Tail Butterfly, and Mint Green Butterfly image by printing each image, flipping them, and then printing them out again.   SK attached both sides of each butterfly to a piece of curled wire using spray glue.  This is such a wonderful project!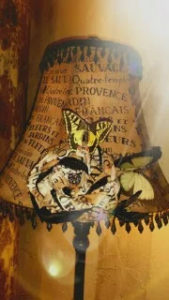 Thank you, SK, for sharing your talents with us! To visit more of SK's projects, please visit her Blog site here.  To learn how to transfer images yourself, visit the Transfer Methods Page.
Do you have a project you'd like to submit?  You can share your projects, HERE! We would love to feature you!