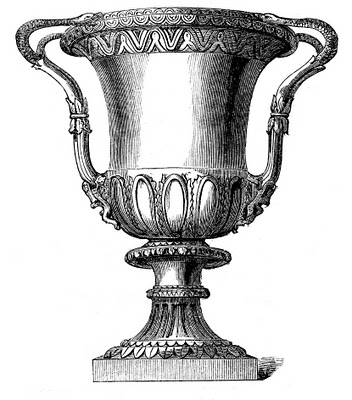 Click on image to enlarge
Sick, sick, sick! Ugh! No not this beautiful urn, it's me I'm talking about. I came down with, what I thought was a bad head cold, on Christmas Day, but I've gotten worse each day since then, and so today I'm finally breaking down and going to see the Doctor. Yuck! If anyone can spare a prayer, I could really use some right about now!!
Anyway, I most likely will have to cancel request day tomorrow… it's taking everything I've got to get off the couch each day just to scan and post, these images. And request day usually takes me hours to put together. The next request day will be on Thursday January 6th.
Alright, enough whining for today. I hope you like this unusual black and white urn, I didn't realize before I scanned this, that it had Snake handles, but now I can see that it does. So if you are in need of a Snake handled Urn image… then I guess today is your lucky day!
Share